Last Updated on Sep 19, 2023
Why are my AirPods not charging equally 2023? Here's Real Fix. Is your Apple AirPods Case Not Charging? and airpod case not charging but airpods are Or AirPod case turns off when unplugged? AirPods Pro, Apple AirPods 3, AirPods 2, and AirPods 1. AirPods are currently one of the best wireless earphones available in the market. Since it is wireless, you need to charge the AirPods every now and then after considerable usage.
What to do when AirPods Charging Case Won't Charge? If it happens with you there is no way out to use the AirPods again unless you fix Why My AirPods & AirPods Pro Charging Case Won't Charge or airpod case only operates when plugged in.
However, AirPods can harass you like every other electronic device including AirPods not charging. Forget the causes of the problem and let's focus on how to get rid of this bug and resume the functionality of AirPods.
My Apple Airpods Case not Charging: Lets a Look on Reasons and Potential Solutions
Note: End of the All solutions for Airpods charging case not charging – you can watch the hands-on video tutorial at last for the Advance trick.
Tips: Airpod Pro Case Not Charging No Light
What is the meaning of airpod case not charging orange light?
Why is airpod case not charging no light?
Here's your answer,
Orange Light: you will see an orange light on the charging case for 3 to 5 seconds while you connect the power source and its charging. after that Light will be turned off. So don't worry but it's charging. to Recheck whether it's charging or not, Open the charging case lid and it will show an orange light.
If you see the Orange light while pressing the back button of the charging case and AirPods is not connected to Power, that means a low battery under 10%.
Green Light: Your AirPods are charged enough when you press the back button of the charging case while not in the charging.
Solution 1: Reset AirPods to Factory Settings
Resetting AirPods is quite more reliable than restoring the iPhone to factory settings. Because in AirPods you don't need to take a backup of data or anything just the AirPods will get un-paired which can be paired later.
Hold The Setup Button, That is available on the backside of the charging case. When you see Status Light Flashes Amber and white then release the setup button.
Now Your AirPods Case is too much fresh like a new one recently purchased. But You Need to process for cleaning up the Case from the inside the charging port and the Left/Right Connector as well. Let's Move on to the second step.
Solution 2: Clean the Charging Case Using Teethstick And Earbuds
Don't Spend more, Another thing that should be done when the AirPods charging case won't charge is to clean the charging case as well as the charging port. The charging port is a narrow hole that can attract dirt and dust which are invisible to us. During Gym or Regular use, Sweet with a heavy mesh cover up the AirPods' connection after a long period of time, which depends on person to person.
Use Earstick to Clean up Left and Right AirPod' Charging Connector
Next, Use Dry Teeth Stick to Clean up Charging Case Lighting Charging port.
Take a magnifying lens and check the charging case. Otherwise, clean up the Charging case with a brush or toothpick and scrape the dirt out. Rolled Out stick inside the charging connector and lighting port. Remove all Debris and Mesh that gathers inside the hole and stick on the metal Connector. That's it.
After that Keep your AirPods On Battery Charge for At Least 30 Minutes.
Important: charging case charges for a second like the charging light is on for a few but then turns off, What should i do?

it will stay turn off even in charging mode. To check AirPods is charging or not, Use your iPhone's Battery Widget or AirPods Popup [iPhone popup will appear while you keep it near]
Also, Read – Fix Airpods Charging animation not showing up on iPhone
Solution 3: Try another lightning to USB cable
Still Not Fixed, Now Check the Supplying the power source or not. Use Your iPhone at first to charge with the same Power adapter or Cable.
if Not then you should inspect the Charging socket, used Adapter, and Lighting Cable in last.
Apple device works perfectly when you use the original lightning cable provided by Apple only. So in case you are trying to connect an uncertified lightning cable then avoid it and borrow from your friend to check if the charging case is working or not.
Solution 4: Don't Use an Extension Cord
If you are connecting the charger through an extension, Please don't do that. Sometimes due to the insufficient power supply or malfunctioning of the extension board the charging case won't charge. Instead, directly connect the charger to the socket and check if it is working or not.
Solution 5: Update Your AirPods Pro
I am glad to inform you that, Apple is giving a new software update for the AirPods and AirPods Pro. The process of Updating AirPods to all generations is very easy and automatic. Though, we can update Any AirPods Manually using the below steps. Kindly, Watch the below video for more hands-on help.
Prerequisite
Your AirPods pro must be on Charge with Both the AirPods [Left & Right] inside the Charging case and Keep Your AirPods' Charging case lid open until got the update. Also, Keep Your AirPods Paired with your iPhone.
On your Paired iPhone with Any AirPods for that, you want to look after,
Go to the Settings app
Tap General
Tap About
Scroll to Screen on iPhone
Tap on AirPods name
Look at the Firmware version.
Subscribe to our Howtoisolve youtube channel to get more latest tips and tricks
Solution 6: Use QI Certified Charger
This is an Alternate method to Charge AirPods, Also, Check Wireless Charging supported AirPods Model Name.
AirPods 2
AirPods 3
AirPods Pro
Internally Damage in Your Lightning port from inside of the AirPods' Charging Case. Apple is recommended to buy a New Charging case only.
Solution 7: Airpods Case Not Charging to 100
First, you have to make sure about the AirPods Case is charging or not? if it's not charging then try the cleaning up tricks for Connected inside the charging case and Lightning connector on the Charging case.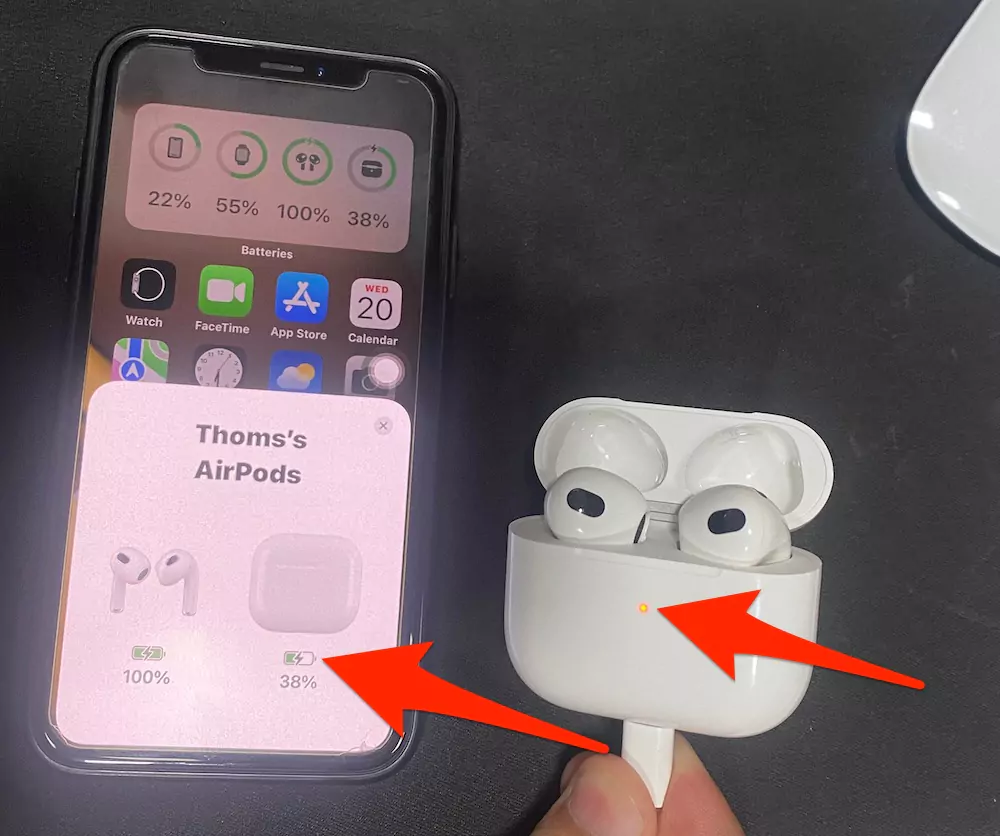 In the second case, the AirPods Charging case is charging while plugin to Original apple lightning cable but not complate 100%. then I recommend changing the Cable and Adapter and trying with another set. Becuase faulty Cable or Adapter.
Also, change the Wall Plug socket, try another good condition wall Plug socket, which you are using regularly.
Hope this works! But if not, then Contact apple support because of some Hardware issue in your AirPods charging case.
Overall, you have to take care of two to three things mainly. to Diagnose the issue for your Airpods Case Not Charging to 100. Also, follow the other solutions carefully and Hope you fix it like me.
Solution 8: Why is My Left Airpod Not Charging
If one of the airpods won't charge either left or right, then this solution will work for you! First, try to reset correctly with a proper connection between your AirPods and Charging Case. I assume that you clean up your AirPods like earlier.
Then, Press both the AirPods and push inside the case to connect the loose connection with AirPods charging case's connector. and Press and Hold on the back button of the charging case until the amber light flashes white. That's it. See Example for my AirPods 3rd Generation
I hope your AirPods will reset successfully. and Work again without any issue. Once everything is respected, Don't miss following the earlier solution to fix the all airpods issue from scratch.
Solution 9: Buy a New One
If you don't have a wireless charging case then we can buy it separately from Apple Store.
Pay for Apple Care Plus Fee for The Apple Care User and Buy New One. Who has no Apple Cover protection plan, Pay for Out of Warranty free for one.
Solution 10: Make Your AirPods, AirPods Pro Safe Using Protective Cover [Waterproof]
Get extra protection to your AirPods while not in use. Hundreds of Hundreds of daily cases of Damage are increasing because of Water, and internet Damage due to dropping from a height. and the ultimate solution for these kinds of problems is to Buy a Protective Cover.
9 tips to fix AirPods Charging Case Problem tips in the bottom video:
Video Solutions For AirPods Pro Users
---
Video Solutions For AirPods 1 and AirPods 2 Charging case issues