Last Updated on Sep 26, 2023
Why is my Mac not showing software updates in Settings? How to update the software on your Mac? how do i update my mac when it says no update? Some users have encountered an issue regarding their Software Update not showing updates after updating to mac or Mac Not Getting new macOS Sonoma updates. Usually, when an update for a particular app releases it directly showed in the App Store. But here in the scene, the app displays the keyword "Update your App" and when you open the App Store to update the app, you will get a pop-up displaying "No Update Available", "Update Not Found". So we can guess there is a disconnection between App Store updates and the App Store badges. Or Sometimes, the Settings page stuck at checking for updates.
In some cases, it also happens that your application is up to date through the badge is showing that the app needed an update, this is called ghost updates. So let's not discuss all these errors. We will directly check out some troubleshooting tips for this.
🗣Note for macOS Beta users: mac App Store only Shows and Allow to Download the Public Version of MacOS. So, mac users can't download macOS Public Beta or MacOS Developer Beta Version. To Download Public Beta or Developer Beta, We have to Sign in to your respective accounts and Download through macOS Profile.
Before you try to install MacOS: Check MacOS Check Sonoma, Ventura Supported Macs
macOS Sonoma Compatible Devices
iMac, 2019 and later
iMac Pro, 2017
MacBook Air, 2018 and later
MacBook Pro, 2018 and later
Mac Pro, 2019 and later
Mac Studio, 2022 and later
Mac Mini, 2018 and later
macOS Sonoma Supported Mac
macOS Ventura Compatible Devices
Mac Pro 2019 and later
Mac Studio 2022
Mac mini 2018 and later
MacBook 2017 and later
iMac 2017 and later
iMac Pro 2017
MacBook Air 2018 and later
MacBook Pro 2017 and later
macOS Ventura Supported Mac
Fixes how do I update my Mac when it says no updates available
Solution #1. Correct Date & Time on macOS
Because of Apple's privacy, your Mac doesn't show the new macOS update under the System settings. In this case, enable location service and allow your Mac to Set the correct time according to your Time Zone. Once you correct it using the blow steps, try again.
Enable Set Date and Time Automatically:- Go to the Apple Logo > System Settings > General > Date & Time > Enable Toggle "Set time zone automatically using your current location". In addition, the Location service must be on to enable this feature.
To Enable Location Service:- Go to the Apple logo > System Settings > Privacy & Security > Location Service > Enable Location Services.
Mac App Store Not Showing Updates MacOS
Try this bottom guide to fix the app store not showing updates mac Sonoma Ghost update on Mac. No Software Update in System Preferences, Don't worry, I will assist you here;
For macOS Sonoma (Watch the full video)
For macOS Ventura,
Step 1: Open Safari Browser on Mac.
Step 2: Get macOS Sonoma Download Link, Get macOS Ventura Download link) or (Open App store on Mac, Search & Find macOS Ventura, For MacOS Monterey, : Open This MacOS Big Sur app store link on Safari Browser.
For macOS Monterey,
Step 3: Click on View App Store. Now Safari launches Mac App Store on your mac and Option for Download MacOS Monterey. Click on the Get button to start the download. or You can search on Google for "Download macOS Monterey in App Store". and See the option for "View in Mac App Store".
Sometimes it will take a few seconds to open another window while the mac is slow. Fater that Click on the download button to start the download process. After download complete install.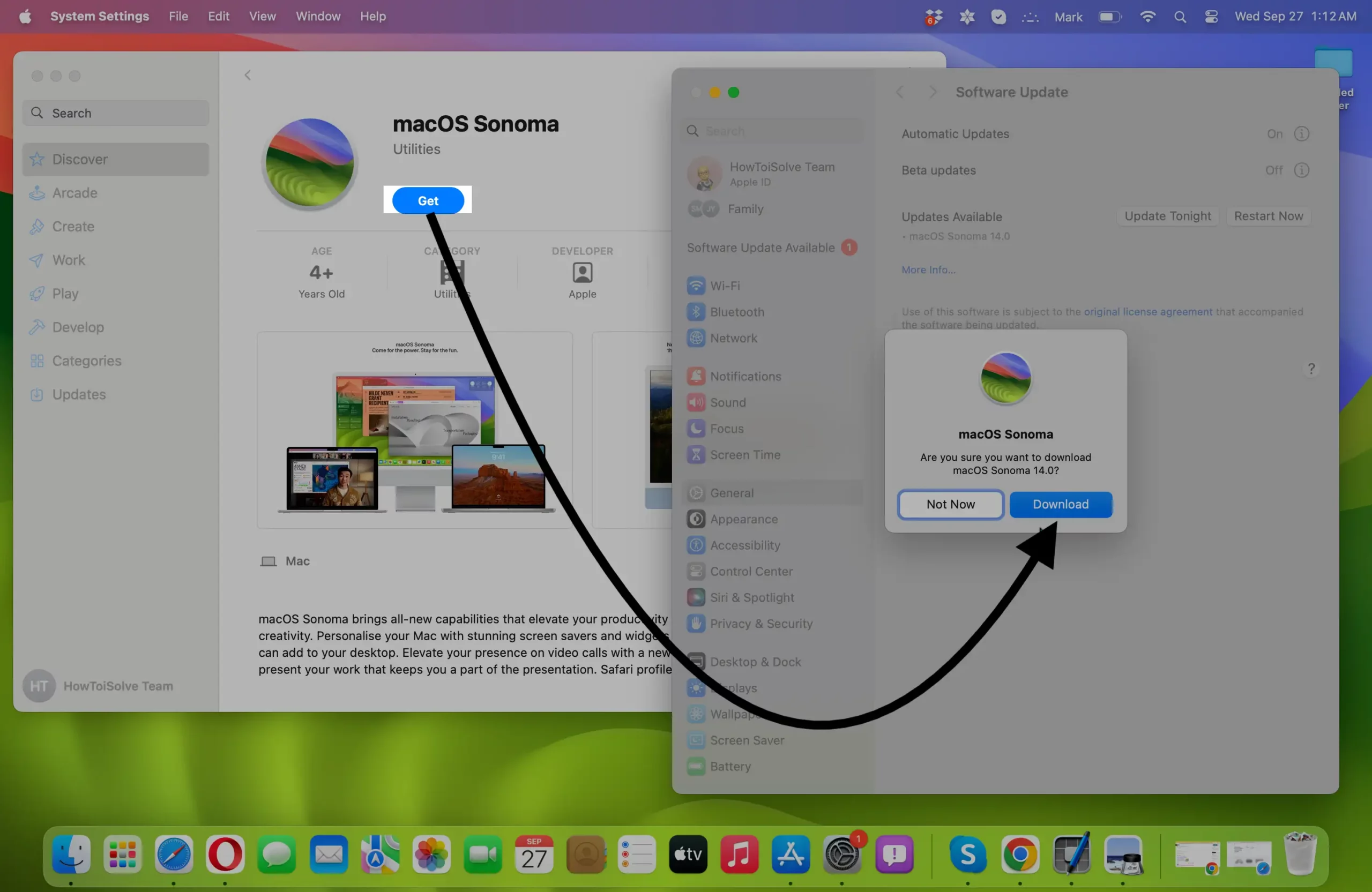 Note: Stoped Download error, Repeat the steps again and Start the download again from the left or stop. Your Mac will not download the setup file from the beginning if it is stopped in-between.
Troubleshooting! if your Downloading process is stuck on showing "Finding Updates", then Force close System Preferences [From top Menu Bar, System Preferences > Quit System Preferences] and Find Software Update again, And continue the download from the left.
Fix 1: Restart Your Mac device
Without trying any other tricks, we will refer to shutting down the system and then turning it on again. However, it might be possible when the load on the processor increases and the App Store started misbehaving. So when you shut down the Mac for a while and then restart it, the App Store may start to recognize which app needs an update and which are up to date.
It is advisable not to restart the system, just shut down fully to give a fresh start to the operating system and processors. If you will restart the Mac, then the Mac reloads the OS, and it is a waste of time.
Fix 5: Use Terminal command prompt on Mac
The Apple Mac terminal method should be used with precautions and by following step by step procedure. If you are using this method, then you will need all administrator privileges and admin password to execute commands.
Now follow the below command to download and install all the updates.
sudo softwareupdate -ia
After executing the command, the message will be displayed as "Finding Available Software". If all the updates appear on the screen, and you want to install then type the command.
Sudo softwareupdate – -install – -all
Still, it is unresponsive then we have one more command which will uncover the issue regarding App Store.
defaults read com.apple.appstore
Fix 6: Clear out App Store caches with the help of finder
Now we will take of Finder to complete our task.
Clear App Store cache
Step 1: Launch Finder and press command + shift + G.
Step 2: Or open "Go Menu" and then select "Go to Folder".
Step 3: Type ~/Library/Caches/.
Step 4: Delete the folder "com.apple.appstore" from it.
Step 5: Again, follow step 1 or step 2 to open.
Step 6: Type /private/var/folders.
Step 7: Open all the folders and subfolders to find "com.apple.appstore" and delete that folder.
Step 8: Restart Mac.
Fix 7: Delete App Store Preference
Step 1: Launch "Finder" and press command + shift + G.
Step 2: Else open "Go menu" and select "Go to Folder".
Step 3: Type ~/Library/Preferences/com.
Step 4: Search and delete com.apple.appstore.plistfile.
Step 5: Again, follow the same step 1.
Step 6: Type ~/Library/Preferences/com.
Step 7: Find com.apple.storeagent.plist and delete it.
Step 8: Restart Mac.
Useful:
Here all are the soft and hard techniques for updating the Mac App Store or Update Apps on the Mac App Store. You can get more on Apple Website.