Last Updated on Jun 1, 2023
Quickly Get Last Minutes Apple personalized airtag Ideas; what should Engrave on your AirTag? From Below AirTag Engraving ideas, and AirTag Engraving Examples. You have One more new Apple product that you can be engraving text, emoji, numbers- Free it's called AirTags. That has more powerful tracking on Apple Find my app, with Bluetooth LE Technology and Ultra-Wideband.
in this article, I will share with you Airtag engraving ideas, As like iPad, Airpods, and Apple Pencil. Now you can Free Personalize your AirTag by laser engraving if you Pre-Order or purchase it from Apple Store or Apple's Online shop only.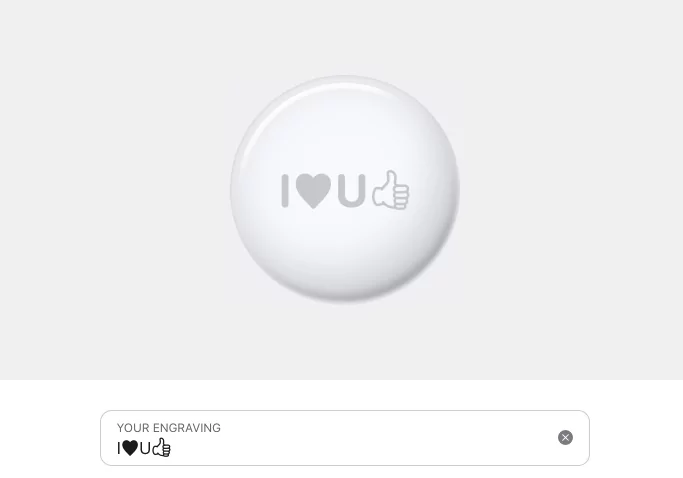 Here are the Best AirTags Name Ideas, that help in finding Easily on the "Find my" iOS, Mac app.
Airtag Engraving Characters Limit
AirTag Allows only six characters and 5 Emojis engraving either emoji, text, or numbers. See the Below Examples.
if you add more than 6 Characters or 5 emojis, then red-color underline highlights say – "Your message does not fit in the available space."
[Your Apple Keyboard Emoji Doesn't Support; otherwise, you will get Error "These characters cannot be engraved"]
Add emoji with a click. Type in text or numbers into Air Tag engraving options.
You can even mix multiple emojis with text.
So you guys, Let's See
what you should engrave on your All-new Apple Airtag.
Poop 💩 Emoji Engraving is one of the hot favorite emojis in our American culture. – Check Is Airtag waterproof?
MY💩 – one of the funny Airtag engraving
Single Emoji – To see a big emoji on your airtag, Only add one emoji which is your favorite one.
Numbers, you can add your date of birth and month number.
Or you can put the year of your birth.
Couple Emoji – You should add one emoji to your favorite one and the second is your loved one.
Get here – The Best Apple TV remote case with AirTag Holder
Here are Most Interesting, Funny, Cool & Best Personalised engraving Examples
MOM😘
LOVE(EMOJI) – LOVE♥
MY Cat(EMOJI) – CAT🐱
Your CAT NAME
DOG(EMOJI) – DOG🐶
Your DOG NAME
LO(EMOJI)L
LOVE (Emoji) FirstChracter of Your Name or Whatever your liked most
Your Birth Year – 1990
Up to Four Digit Lucky Number
Your Nickname
HKEY – For House Key
OKEY – For Office Key
BKEY – For Bike Key
CKEY – For Cycle Key
4MYKEY
BB2
BIKE
BLUE
BAG
First Character of Your "First Name + Last Name"
Print Your Passion
Print Your Achivement
Print Your Life Goal
Product Name that Attaches Your AirTag
Purchased Date & Month [30/04]
The number in Serial, if you have multiple AirTag
Your Brand Name
For AirPods & Headphone: [AirPods Pro] APPRO, [AirPods Max] APMAX, [AirPods 2]AP-2.
Funny AirTag Engraving Ideas & Examples
Labeled with, ➀, ➁, ➂ and ➃
🦄 – Hard To Find
👻
👍
👊
🚀
KEEP ME
BE RELEX
RUTHEFT (R U THEFT)
PLAYME (PLAY ME)
IHAVEEYE
EASYFIND
ICAN👍DO
ICANFIND
EASYFIND
NOLOST
NO-LOST
MEIHELP
IMWITHU
ICANDO
🦄BOOM
TRACKME
FINDME
IAMHERE
AIRTAG
GOTIT
👊2FIND
FINDMY🐱
FINDMY🐻
FINDMY😘
HELPER
SEVTIME
BEATME
IMSAFE
HAPPY
♥HIS♥ [own business name]
I-AIRTAG
ISMART
IFAMILY
♥ FAMILY
LISA
ALEX
IMGIFT
MYGOD
BACKME
NFC : [This Apple Airtag can read by NFC Tag Reader available on your Smartphone (iPhone and android)]
AirTag Engraving With Emoji Examples
ICAN👍DO
👊2FIND
FINDMY🐱
FINDMY🐻
FINDMY😘
♥ FAMILY
AirTag Engraving With BOLD Character & Number
Apply Font Style with a Black Button. Move to the last keyboard Layout while you apply for Engraving.
Type Character:-
Type Number:-
Promote Your Brand With AirTag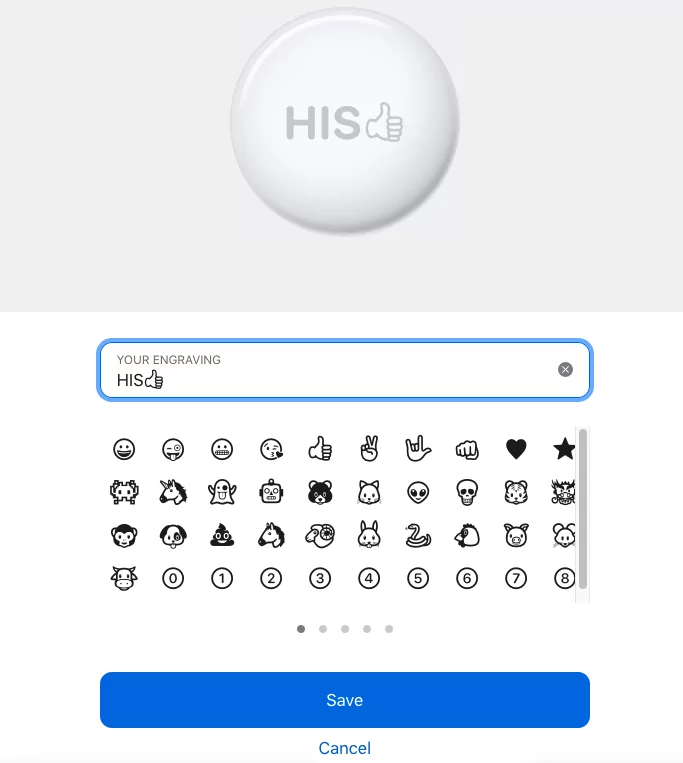 You can promote your Brand by Gift AirTag to your Friends, Family, and Company employees. Just Mention your Company Name or Brand Name in AirTag Engraving and Promote with Care. That's a worthwhile investment if you plan with Unremovable laser Engraving by Apple.

Also Know:- AirTag Name Ideas
Bottom Line:-
This is one of the Cheap and Worthy Apple Accessories that have more powerful tracking Object technology, Not People. Make your AirTag Engraved in-free on Purchase or Order time at Once. So Please Make your own for your whole life. Also, Share your Personal Opinion with us on What you should want to Engrave on AirTag? in the comment box.