🗓️
November 30, 2023
By ✍️
Jaysukh patel
For the first time, Apple has added Touch ID to the Magic Keyboard, which is only compatible with Apple Silicone processor's Mac devices. Several users have reported Touch ID not working on iMac, MacBook. As mentioned, Apple Magic Keyboard Touch ID is only compatible with M1 devices, not the M1 iPad. So if you're trying to use the Touch ID with M1 iPad Pro, to be clear, it is not compatible with M1 iPad. Nevertheless, if the problem persists with the iMac, refer to the below-listed solutions to fix the can't enroll a fingerprint in iMac, MacBook.
Keep note that an Apple Magic Keyboard can be paired with only one Mac at a time, whereas the Mac can maintain up to five Magic Keyboards with Touch ID support. Here's how to fix Apple Magic Keyboard Touch ID problems like Unable to complete Touch ID setup, unable to activate Touch ID on this Mac, etc.
Touch ID isn't Working on your Mac Keyboard with Touch ID
Solution #1. Check Compatibility
Alongside iMac, Apple introduced Wireless Magic Keyboard with Touch ID, exclusively compatible with all the M1 Mac. That being said, Apple's Magic Keyboard with Touch ID only supports the M1 Mac/Apple's Silicone Processor-equipped devices. Besides, the Mac must be updated to macOS 13 or later. So if you're trying to use the Touch ID with an Intel-based Mac, it won't work at all.  
Solution #2. Clean Touch ID
Did you clean the Touch ID Sensor of the Magic Keyboard? Over time, dust and debris obscure the Touch ID Sensor and prevent your finger from detecting it. Apple recommends cleaning the Touch ID sensor with a clean and lint-free piece of cloth to avoid extra damage, and it gets clean easily.
After cleaning the dust and debris, still can't unlock your Mac using Touch ID, then jump to the next solution.
Also Read:- How to Clean Keyboard on Mac
Solution #3. Delete and Re-Add Fingerprint
Have you added multiple Touch IDs to the system? If not, then enroll the fingerprint and see if it is working or not. Usually, enrolling more than one fingerprint in the system is advisable because, due to a system glitch, the M1 Mac won't detect Touch ID. For one particular account, Mac accepts three fingerprints; in total, it could store five fingerprints.
On MacOS Ventura
Go to the Apple logo from top menu > System Settings.
Now, Open Touch ID & Passcode Option > Add FingerPrint.
Enter your Mac login password,
Place Your Finger
Lift and rest your finger on Touch ID repeatedly.
That's it.
On MacOS Monterey & Earlier
Click on the Apple Logo icon.
Choose System Preferences.
Go to Touch ID.
Click Add Fingerprint.
Enter the admin password and then follow the on-screen instructions to complete the setup.
Once you're done adding the Fingerprint, choose the programs and apps for which you wish to use the fingerprint.
Solution #4. Cover Touch ID with Your Finger
Sometimes, our dusty finger could be a reason why Apple iMac Magic Keyboard Touch ID is not working correctly. Secondly, when you use Touch ID to unlock the Mac, make sure to cover the Touch ID Sensor entirely unless the device detects your fingerprint.
Don't press the Touch ID for too long or lift up the finger too early; even a system like Mac needs a few seconds to verify your identity.
Solution #5. Update MacOS
To use the Touch ID on Apple Magic Keyboard, the Apple Silicone-based Mac needs to be updated with the macOS 13 or newer version. Though I presume your Mac should already be running the macOS 13 or, but still, the pending updates needs to be installed to deal with these bugs.
On MacOS Ventura
Go to the Apple Logo > System Settings. [Make sure your Mac is connected to the Internet]
General > Software Update.
Download and install the latest macOS update.
On MacOS Monterey & Earlier
Ensure the Mac is connected to the stable Wi-Fi network.
Click on the Apple menu.
Select System Preferences.
Select Software Updates.
Download and Install Software Updates if available.
Solution #6. Check these Settings
Apple lets you choose for what purpose do you want to use the Touch ID, whether to Unlock Mac, iTunes Store, App Store, and Apple Books. If Touch ID is working for App Store, but you can't unlock Mac with Touch ID, then make sure the settings are correctly set in the System Preferences. If these options are already selected, then deselect and re-select them.
On MacOS Ventura
Go to the Apple logo from the top menu > System Settings.
Now, Click on Touch ID & Password > and Enable Touch ID for the below,
Use Touch ID to unlock your Mac
Use Touch ID for Apple Pay
Use Touch ID for purchases in iTunes Store, App Store and Apple Books
Use Touch ID for auto-filling passwords
Use Touch ID for fast user switching
On MacOS Monterey & Earlier
Click on the Apple icon.
Go to System Preferences.
Select Touch ID.
Ensure the Unlocking your Mac, or iTunes Store, App Store & Apple Books" is checked. Furthermore, if it is already enabled, then uncheck and check these settings to refresh them.
Solution #7. Restart the Mac
Still, can't use Touch ID to enter your password on Mac? Try rebooting your Mac. Before doing so, make sure to close all the running applications and save the files like Word, Excel, or any other if it is active; otherwise, you could lose the data. Here's how to restart your Mac.
Click on the Apple Logo() icon.
Select Restart.
Almost, issue is resolved by restarting mac, suppose your M1 iMac 24-inch has a complicated problem with Wireless magic keyboard. It would help if you restarted your iMac in safe mode; the process is mentioned below to do this. Please follow carefully.
Solution #8. Restart Mac in Safe Mode
Safe mode in Mac helps us determine whether the ongoing issue with Mac is due to startup apps that load up whenever you boot the Mac. Plus, when you boot the Mac in Safe Mode, it simply boots up the Mac without loading the login items, system extensions, non-system items, and other programs. Here's how to restart your Mac in Safe Mode.
First of all, click on the Apple icon and choose Shut Down.
Now turn on the Mac, and immediately press and hold the Power button until the Startup Options window appears.
Click to select the startup disk.
Hold down the Shift key and then click on Continue in Safe Mode.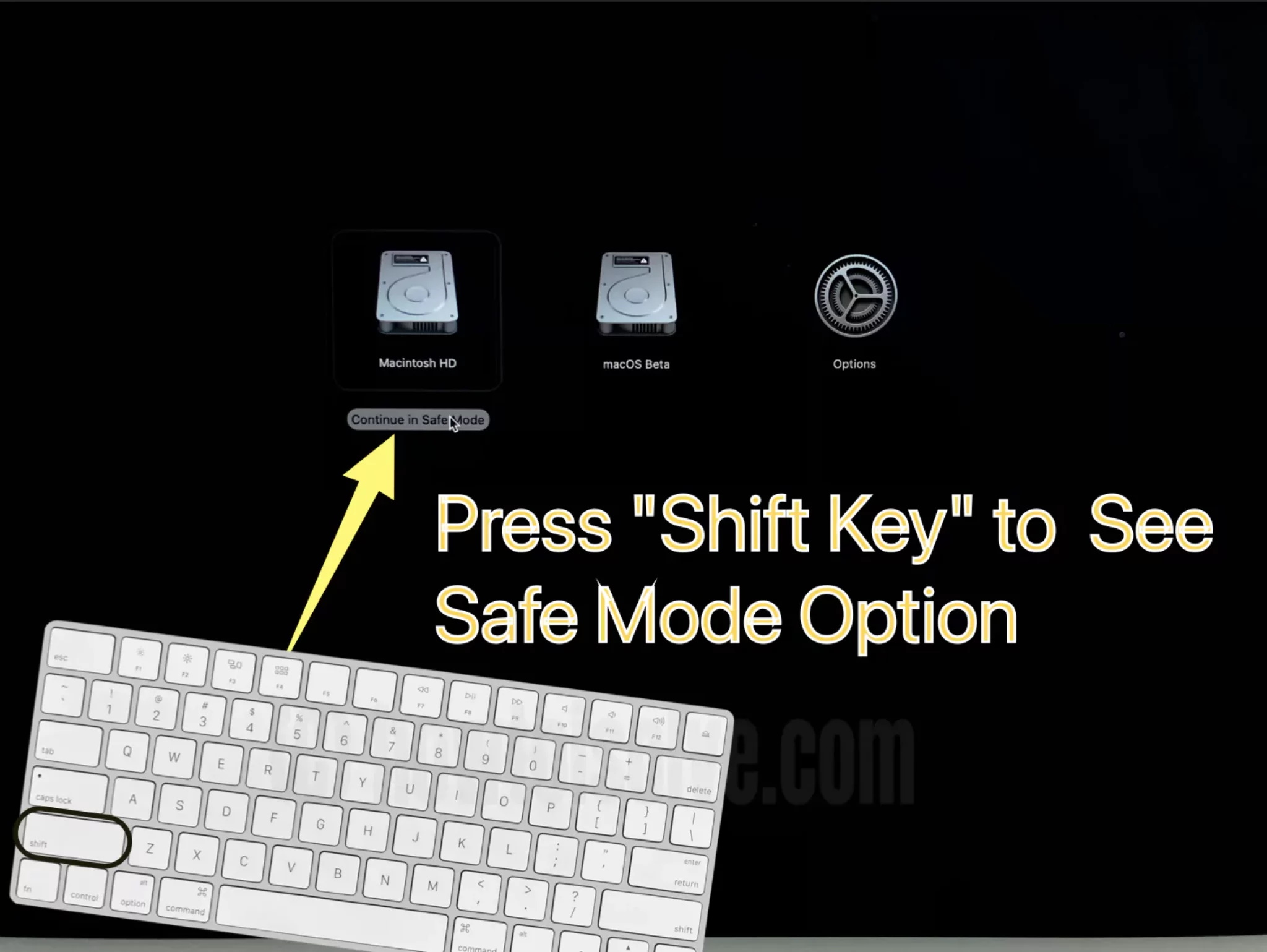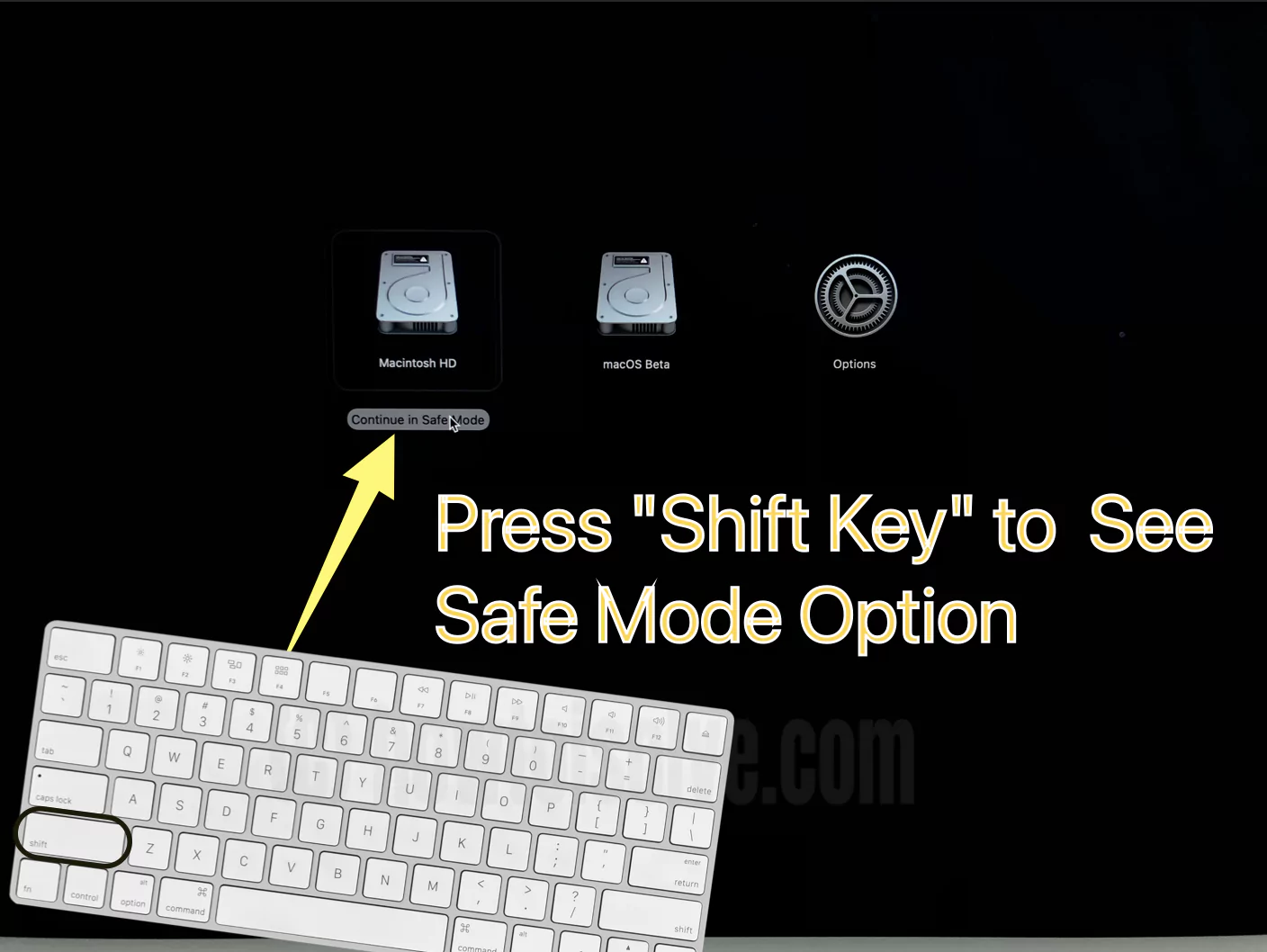 Leave the Shift key.
The red labeled Safe mode will be there on the upper-right screen—login to the Mac.
Solution #9. Contact Apple Support
If none of the above solutions works for you, then contacting the Apple Technicians is the right choice to go for.
It seems like a hardware fault that could be dealt with by the Apple Team correctly. You can Book Genius Bar Appointment before getting there.