Last Updated on Aug 15, 2023
Here's a fix on App Store issues like Apps won't download and won't install Apps or Apps can't update after iOS 16 update on iPhone, iPad, and iPod. iOS users also have an issue on the iPhone that cannot download or Update apps after the iPhone operating system or iPadOS Update. At a glance in App Store looks like the App Update Tab is Missing on iPhone, but moved to a new location due to the App Store's new family member called Apple Arcade.
The Apple App Store is the flagship Organ of its iDevice (iPhone, iPad, iPod touch). And after a long time, the brand new iPhone comes with All-new Apple Arcade (Game Zone) App Store, and it is the most significant iOS update that causes iOS 13 or later Allows Download Apps more than 200MB. The new ecosystem is pretty much stable as compared to other brand's Smartphone operating systems. But sometimes, some of the features might work due to the Apple Server issue or annoying glitches. So among all of the bugs, the user reporting problem like Unable to download App, Apps installing, Apps updating issue automatically, Apps Won't download as well.
Note:- Apple iPhone iOS 13 or later – would you like to update an App manually? Follow these steps – open App Store – tap on the Profile icon – now scroll down the screen and see the Update App section – on the screen appears All available Apps update list.
Don't worry. It is a common problem, and you are not alone. For that, we recommended optimal troubleshooting to get rid of. All workarounds are listed below, so go step by step without the jump. If one clue's settings are okay, then keep continuing for given sequence fixes. Update– before getting started with the following guide, you should check your device running with the latest operating system.
Go to the Settings App– Find General– tap Software Update The latest software update iOS/iPadOS is available. Take the most recent backup to iCloud or iTunes and start to download and install. Hope, is valid for all iPhone, iPad, and iPod Touch users.
App Downloading Stuck and Not Processing, Then Delete the app from iPhone Home Screen (Tap and Hold on the app icon on Home screen until All icons jiggle with a cross mark on the app), Re-download App from the app store.
Way to Fix iOS 16 Apps Won't Download, Install, Update on iPhone, iPad with pictures
⇒Are you switching to the new iPhone? Re-download purchased apps on the iPhone from the app store
Fix #1. Wait a While For The Apple Server Outage Response
Find the Online Status for the App Store and Other Related Services based on your Geo-Location Area. Check out the Below country; use Your country code in the URL to Show up in your browser, if your country is not listed below. Also, Comment me on your location's name and share more problems with us. Here's a complete guide on How To Check Apple System Status.
System Status in Canada:

https://www.apple.com/ca/support/systemstatus/

System Status in France:

https://www.apple.com/fr/support/systemstatus/

System Status in the UK:

https://www.apple.com/uk/support/systemstatus/

System Status in India

https://www.apple.com/in/support/systemstatus/
Sometimes your iPhone App Store takes a significant amount of time to synchronize with the Apple App store server [USA]. Because of delay server response so that you should wait until connecting your Device.
Fix 2: Sign Out and Sign In Apple ID for App Store
Apple Asks to Verify your Apple ID with a password randomly anytime because of security and update your services. However, most of the time, after a software update or After a long time of period, you haven't downloaded the app from the App store. So follow the steps below to Sign out Apple ID and re-enter your Apple ID on iPhone/iPad App Store.
To do this, first of all, open the App Store on your iPhone from the home screen.
Tap on the Profile icon that appears in the top-right side corner of the screen.
Now Scroll to the bottom of the App Store screen,
and Tap on Sign out the option to remove Apple ID for the app store.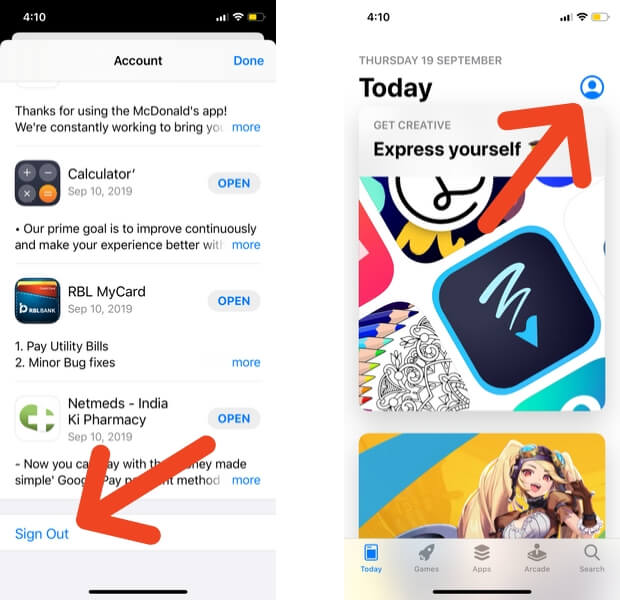 Now Force close app and Re-login with Apple ID and Password.
Tap on the Top right corner of the screen, And Enter Apple ID/Password. After that, Tap on Sign In.
If it has not worked for you, kindly scroll down the page and read my next solution that users use to fix all Apple mobile problems.
That's it.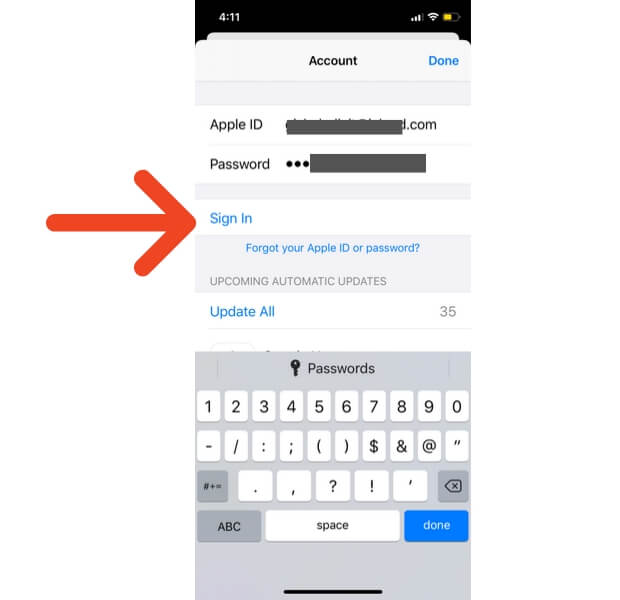 Fix #3. Force Reboot/Hard Reset and Clear RAM
Let's tap and hold on the Power and Home buttons simultaneously for ten seconds to restart hard. And then again, press the same buttons to Start your device.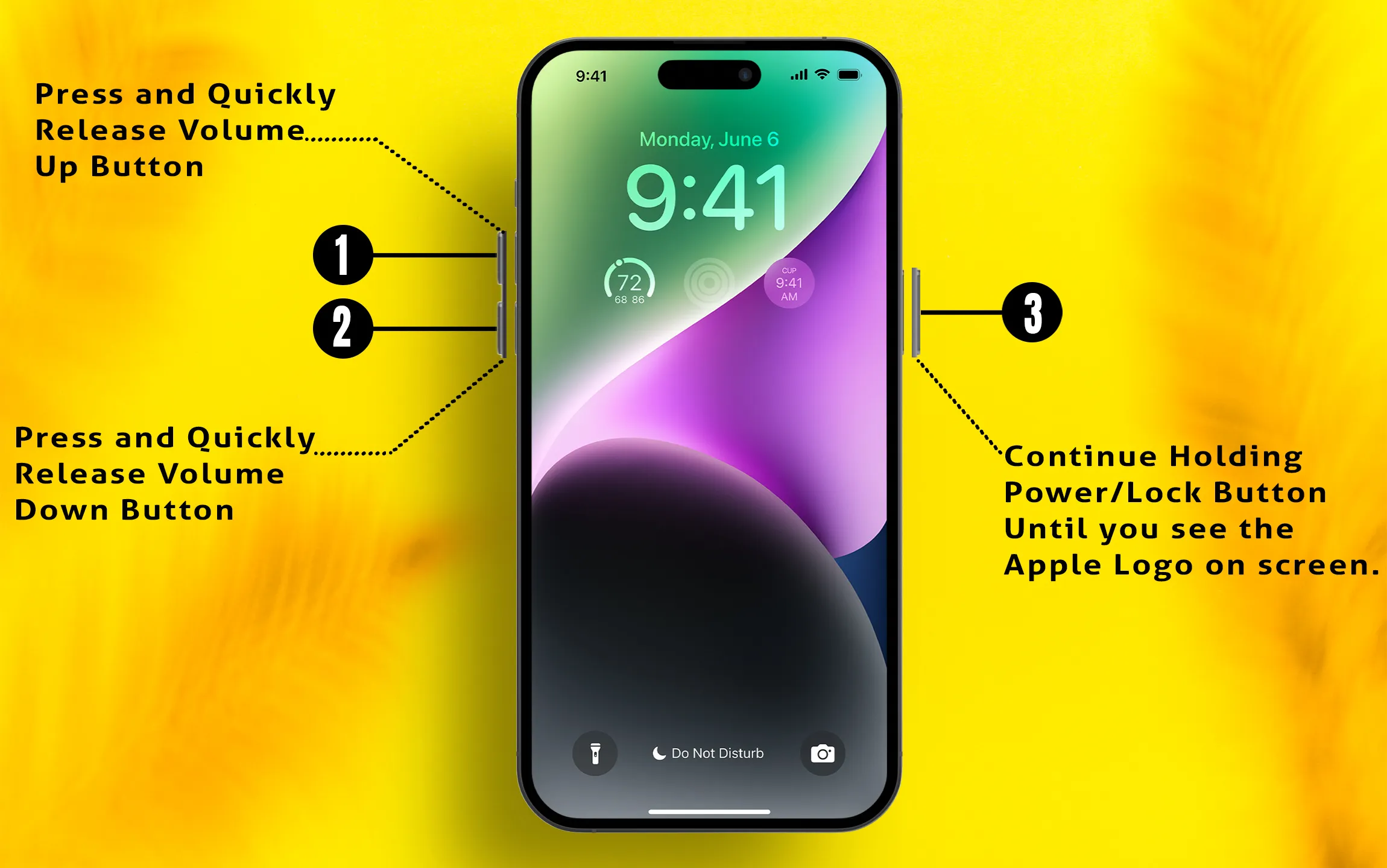 For iPhone 12 pro max, 11, 11 Pro, 11 Pro Max, XS Max, XS, XR, iPhone 8 Plus, iPhone 8 Plus:
1: Press and Quickly Release Volume Up button,
2: Press and Quickly Release Volume Down Button,
3: Now, Only Press and Hold the Side Button until you see the black screen iPhone. After 1 minute, Try to turn on using the Side/Power button, Press and Hold on Power button to turn on.
To Start the iPhone, Again press the Side button until the startup apple logo is on the screen.
For iPhone 6S and Earlier: Press and hold the Sleep/Wake button + Home button at the same time for 15 seconds and then do slide to turn off your phone. after that, turn back On.
For iPhone 7/7: Press and hold the Sleep/Wake + Volume Down button Explore: How to Reboot/Restart & Hard Reset iPhone 8/8 Plus and iPhone X.
Fix #4. Check Date & Time on your iPad and iPhone [Odd issue]
Some users say that their iDevice automatically, or some have accidentally changed region, date & time. And, after setting up the correct time zone, the and Date & Time got fixed.
You can change your iDevice Time & data on iOS go with given steps. Launch Settings App – Find General – scroll the screen to Time & Date setting.
Fix #5. Fully Restart Your iPhone, iPad
In most cases, restarting the device will open the door to download and update the already installed app on the iPhone. And now you can Reboot Your iPhone Without The Power Button.
Fix #6. Reset All Settings
None of the above workarounds work in your case; please Reset All Settings on iPhone, iPad Air, iPad mini, iPad Pro, and iPod touch.
Head over Settings App.
Tap General.
Scroll the screen all the down then tap Reset.
Tap on Reset All Settings.[Follow on-screen instructions]
Fix #7. Check your iDevice Internet Connection
First, Remove VPN from your iPhone/iPad. There are two ways to download online stuff from the Serve using Wi-Fi and its alternative Cellular data. We all-time suggest that Wi-Fi is an ideal tool to fast download new iOS update, items from the App Store, and iTunes Store.
Here we are lecturing about the App Store before getting started underneath the given solution. First, you make sure that your iDevice has enough internet fluid. Then, check that Wi-Fi works up to date on your iPhone, iPad with the latest version.
Suppose your Wi-Fi is not working On iPhone (Update to the latest firmware because it fixed major updates on WiFi Vulnerability) and trying to download or update the Application using Cellular data. In that case, you should check your mobile data speed is fast and you have turned on cellular data for the App Store into the Settings App.
Launch the Settings App → Find Cellular or Mobile Data→ Turn Cellular data ON and Scroll down the Screen to App Store → now, turn trigger App Store toggle ON/Green.
Now in iOS 13 & Later iPhone can download App over 200MB Size with Celluar Data
If you've already installed App but cannot download the update with Cellular Data, check out here given settings steps.
Open up Settings App → Navigate and tap iTunes & App Store → Now scroll the Screen and verify that Use Cellular Data trigger tuned ON.
If the internet connection is working well, you cannot update or download the App and get an issue. Instead, refer to the second clue.
Fix #8. Check your iDevice Storage Space
Apple iDevice must require enough storage space to install an available update for the particular App. For example, suppose You're trying to install the latest available App update, but it may not be possible due to insufficient storage space on your iPhone, iPad.
You are getting a problem with iOS 13, iOS 14, iOS 15, iOS 16 or later App store. So please get rid of it; you need to check Available Storage Space on the iOS device.
This case happens most of the small onboard storage memory users like 16GB, 32GB iPhone, iPad users. Settings App → General → iPhone Storage (appears above the Background App Refresh) → Here you can see the bar chart by Apps, Photos, and others. In more, now the company gives the latest facility to free up storage space recommendation in iOS 12 or later device like Optimize Photos, Review Large Attachments, Messages on iCloud, and Offload Apps in iOS through these ways you don't need to delete/ uninstall App or game from your iDevice.
Fix 2.2 iPhone Apps not Updating Automatically
Why are my iPhone apps not updating automatically? Are you facing an error like won't update App after iOS update? Would you mind making sure the toggle to auto-update app is enabled? Go to the Settings App and tap on Apple ID profile name and Choose iTunes & App Stores settings and now, check out toggle is turned ON/Green next to the Updates.
Some users can't change this setting because of Enable restrictions under the Screen Time feature of the latest iOS. So kindly Turn off restrictions by following Steps: firstly,
Open Settings App
– Tap Screen Time [You may be asked to enter Phone unlock screen Passcode, so please enter to go next]
– Tap Content & Privacy restrictions
– turn the switch on next to the Content & Privacy restrictions
– Choose iTunes & App Store Purchases
– Now, on the screen appears three options; make sure all settings on the screen are to be set on Allow position, not in disallow.
Installing App choose Allow, Deleting Apps- Choose Allow, in-App purchases Choose Allow
After doing this, you can easily access the Automatic App Update toggle.
Fix #9. Verify your Apple ID and Payment information
This is the ideal fix; major users have a problem updating/ download Apps because of different Apple IDs when updating the application.
Hmm, users can't update Applications with the second Apple ID. The same Apple ID is mandatory for the Apps Download, Install, and Update time.
Sometimes missing or incorrect billing information cannot be downloaded or updated, and your card might be declined in the end.
Check out Apple ID by going to Settings App → iTunes & App Store, Alternate you can also check Apple ID by tapping on user information above the AirPlane Mode into the Settings App.
Fix #10. Complete Delete App from the iDevice Settings
This effective tactic will provide you to install the latest version App on your device. Whether you won't update your favorite Application or game, once try to delete entirely and then again install from the App Store. How to remove App on the iPhone?
Go to Settings App → General → navigate and tap iPhone Storage General → wait until completely load screen and scroll down to find a particular App/ Game that you want to delete.
Tap on App then tap Delete App, you'll be asked Delete App confirmation. Tap on it and then reinstall the app from the App Store. We recommend you offload App that will delete the only App but keep its documents and data as it is.
Use and Validate Face ID for Download App From App Store
Unable to validate Face ID on iPhone X or later iPhone for Download apps and games from the app store.
Turn on Face ID for App store on iPhone (Go to the Settings > Face ID & Passcode > Enable Face ID for iTunes & App Store)
To Validate Face ID on App Store, Double Tap on Side button, and Scan your Face.
Fix #11: Restore iPhone/iPad
Install New iOS on iPhone/iPad using Restore option. Some internal software glitches and outdated apps can't install new App and Update running on the device. The restore process is beneficial and fixes all types of issues related to buggy iOS. Before starting Restoring process, Read the below point.
macOS Catalina or later macOS users can use Finder on Mac. Because of no more iTunes on Mac. And MacOS Mojave and Earlier macOS, Windows users can use iTunes. Also Restoring process will erase all your data first and then install new iOS. So, at last, we can restore the latest Backup to the iPhone.
Open Finder/iTunes on Mac/PC.
Connect your iPhone to Mac/PC Using Lightning cable. Unlock your iPhone using the Passcode and your iPhone will appear on the Finder sidebar or iTunes window.
Click on Device name/icon to get the Summary page.
Click on the Restore button, So iTunes/Finder will ask about Erase this device first and install New iOS after that. Go with the Restore button. Wait for a few minutes.
Keeps connected your iPhone to Finder/iTunes and Setup a new iPhone with Restore latest backup option.
Now all the issues will be fixed automatically. I hope I helped with this.
Fix #12. Download App on iTunes Mac/ PC and Sync it with Your iOS device
According to lifewire recent update, Download App using iTunes to iPhone/iPad on Mac/PC is no longer supported. But Older than macOS Mojave on Mac Users can use it. Install App with iTunes; here's the helpful download source that is recommended by apple. Steps are straightforward,
Download Deploy Apps with iTunes older Version (12.6.5).
Sign in with the same Apple ID on iTunes that you are using on iPhone/iPad.
Click on iTunes Store on the iTunes window, Otherwise, we can switch to the App store from the music Category. Choose App Store from the Drop-Down menu.
Search, Download your Game & App as like-new iTunes.
Open the app and click on the Get button to download the app or Game on Mac/Computer.
Let's drop your feedback in the comments and tell us what fix helped you get rid of iOS 16 Apps Won't update, Download, Install on iPhone, iPad.
Cannot Update App Clash of Clans Cannot be Updated because it was Refunded or Purchased with a different Apple ID
In many cases, users have more than one Apple ID, and they forget which Apple ID they have used to download or purchased the particular app. And while trying to update the app with different Apple IDs, Update Unavailable With This Apple ID error occurs. What you can do is, delete the app and re-download the app. Even if the app is purchased, forget the subscription fee because you have to spend money once again on the same app.
If you find other fixes except given above, please don't forget to share!! Thanks for reading us.
Also, Use more Features in iOS.