Apple App Store is the #1 store available for the iPhone, iPad, and iPod Touch. You might also be familiar, from them the user can get various popular categories Apps including games, Photo & Video, Entertainment and much more. The iOS users can download and bookmark App Free and Non-Free App from the App Store using Apple ID and passcode. Download an App is not a big job. So that when I was trying to download Waze Social GPS via iOS 11 App Store. I faced a message screen like Unable to Download App (item App or Game could not be download at this time) with Done and Retry buttons. Then, I followed several troubleshooting steps to get rid of the terrific issue. Ideal solutions mentioned below.
If you are having the similar issue, let's try step by step to fix it. Hope you will get the precise answer within minutes. This error may have come in Third-party (Youtube, Facebook, Twitter, WhatsApp, Snapchat, Instagram or Vine, etc.) or official apps (Numbers, Pages, Keynote, iMovie, GarageBand, iTunes U) update.
Potential Clues Unable to Download App on iPhone iPad: iOS 10/ iOS 11/ iOS 11.2/ iOS 12 or later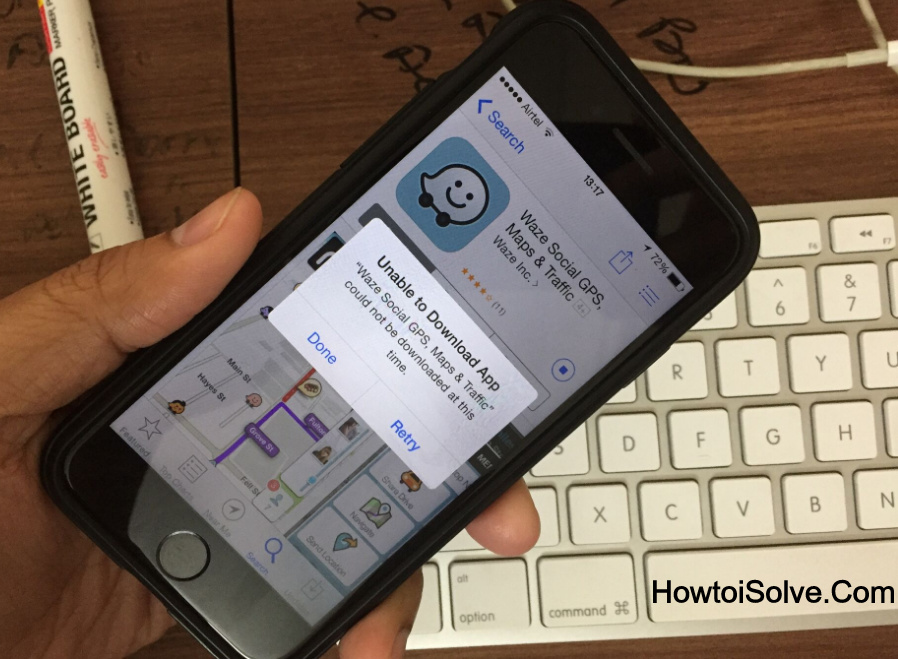 For iPhone X
Verify Face ID for Download app from app store on iPhone X. Enable Face ID for App Store app download app. Then Double tap on Side button to turn on Face Detection, Scan Your Face and Start Download app.
Fix 1. Low Server Response Time
Due to billions of download request, Apple Server may be down. It happens mostly in a big app update. If you notice message also says that please try again later. (Apple Server maintenance due to technical reason even possible) Check here Apple App Store Server status is okay/Green. If it is green, however, App cannot be downloaded at this time, then keep continuing below fixes.
Fix 2. Set Correct Date and Time Setting on Device
wrong time/date bring interrupt to download and install an app, game, etc. After verify it's correctly or not. Reset or update date and time.
Go to the Setting > General > Date and Time > Set Automatically (Enable Toggle). This trick will auto select the current location.
Fix 3. Try to Sign Out/ Sign In App Store
Your login session not verified for download app from app store. For reset or generate a new one, please sign out (Settings > iTunes & App Stores > Sign Out) old one re-login with Apple ID and Password.
Fix 4. Make Sure App Store region is Okay:
You have correctly selected your app store's country region. Make sure by going to check out have correctly selected your app store's country area. Make sure by go to the Settings > iTunes & App Store > Apple ID > View Apple ID > Country/ Region.
Fix 5. Restart your Device Interrupting other service or app in the background
Close all application using multitasking screen, Still getting error – Restart iPhone (Press Sleep/ Wake button until you appear Slide to power off or in most of the case – Force Restart will fix the problem.
Useful – Restart iPhone without Power button iOS 11
To Hard Reboot iPhone – press and hold both the Sleep/Wake and Home button for at least 10 seconds, until you see the Apple logo. Here's a way to hard reboot iPhone 7/ 7 Plus, Hard Reboot iPhone X/8/8 Plus.
Fix 6. Wrong iPhone/ iPad settings configuration iOS 11 or later
Reset All Settings iOS 10/ iOS 11/ iOS 12 or later, Go to the Settings > General > scroll down the screen to Reset (Reset All Settings).
Fix 7: Verify Wi-Fi and or Cellular data connectivity is Good
Turn off/Turn On Wi-Fi and then try again to download App. Useful – iPhone Wifi issue after update iOS
Extra tidbits
Check out Storage Space on your iPhone, iPad or iPod. Many users are reporting us that they are facing Unable to Download ''App and Games'' could not be download at this time. Because of having not enough storage space on that iDevice.
Use iOS 11's new feature called ''offload'' to free up Storage Space on iPhone. Get here how to turn on Offload Unused Apps in iOS to delete fewer use Apps automatically without losing documents and data.
In more, you can re-install app via App store without any extra technical knowledge. Doesn't matter you're able to apply this solution for All iPads (iPad Pro, iPad Air, iPad Mini, iPad 2017), iPod Touch 6Th.
What fix successfully work for you to fix iPhone Unable to download App at this time? Share it in the comments. Thanks!