🗓️
September 26, 2023
By ✍️
Jaysukh patel
Desk View is an in-branch Continuity Camera feature. When the feature is in working mode, it allows iPhone Camera as a webcam to present the cool top-down of stuff in the Desk to video call participants; without hindering the face feed. But over time, collaborating iPhone as a webcam on Mac to share the view of the desk seems to work faulty.
Is it the same with you, "Desk View Not Working On Mac". Or Mac screen showing "No Desk View Camera Is Connected"?
Conspicuously, why Desk View isn't working on your Mac with Zoom, Google Meet, FaceTime, or Microsoft Team can be due to the wrong method to Setup Desk View on Mac. Or else your iPhone or macOS needs to reach the requirements to use the feature smoothly. Whatever the reason is, following this blog will make you free from the issue.
iPhone Not Working As Webcam for Desk View On Mac
With macOS Ventura & later and iOS 16 & Later, you can use the desk view to make video calling on Mac more advanced. But some requirements need to be fulfilled, and as a result, you encountered the Desk not working. This blog will go through the handy troubleshooting steps to fix it. 
Fix #1. Ensure The Version Of OS On Your Peripherals
As I said earlier in the article, both the device Mac and iPhone should be updated with the latest OS version to use the Desk View Feature.
For iPhone iOS 16 & Later and Mac, macOS Ventura & Later. To check the versions on both devices, follow the given below 
Note: The desk View feature is only available in the iPhone with a Wide-Angle Camera.
iPhone 11 Pro and iPhone 11 Pro Max.
iPhone 12.
iPhone 12 Mini.
iPhone 12 Pro and iPhone Pro Max.
On iPhone: Settings > General > About.
On Mac: Apple Logo > About This Mac > macOS
If they still need to get the latest OS, update it immediately.
Fix#2. Setup Same Apple ID
Nothing more is required; just you should Setup Same Apple ID on Mac and iPhone.
On iPhone:- Open Settings app > Profile name > See Apple ID using on iPhone.
On Mac:- Go to the Apple Logo > System Settings > Profile name > See Apple ID.
Fix #3. Ensure Wi-Fi And Bluetooth are Turned On
The must-have characteristics that should always be activated while preparing to utilize the Desk View are enabled Wi-Fi and Bluetooth on Mac and iPhone. Unfortunately, if Wi-Fi or Bluetooth keeps disconnecting on Mac or iPhone, there's no other alternative except to troubleshoot it.
Suppose it's already activated; try switching them off and On. Doing so will refresh the feature. Then, re-set up the aspect once again to verify. If the issue continues, scroll through the following troubleshooting.
Fix #3.1 Use USB-C to Lightning Cable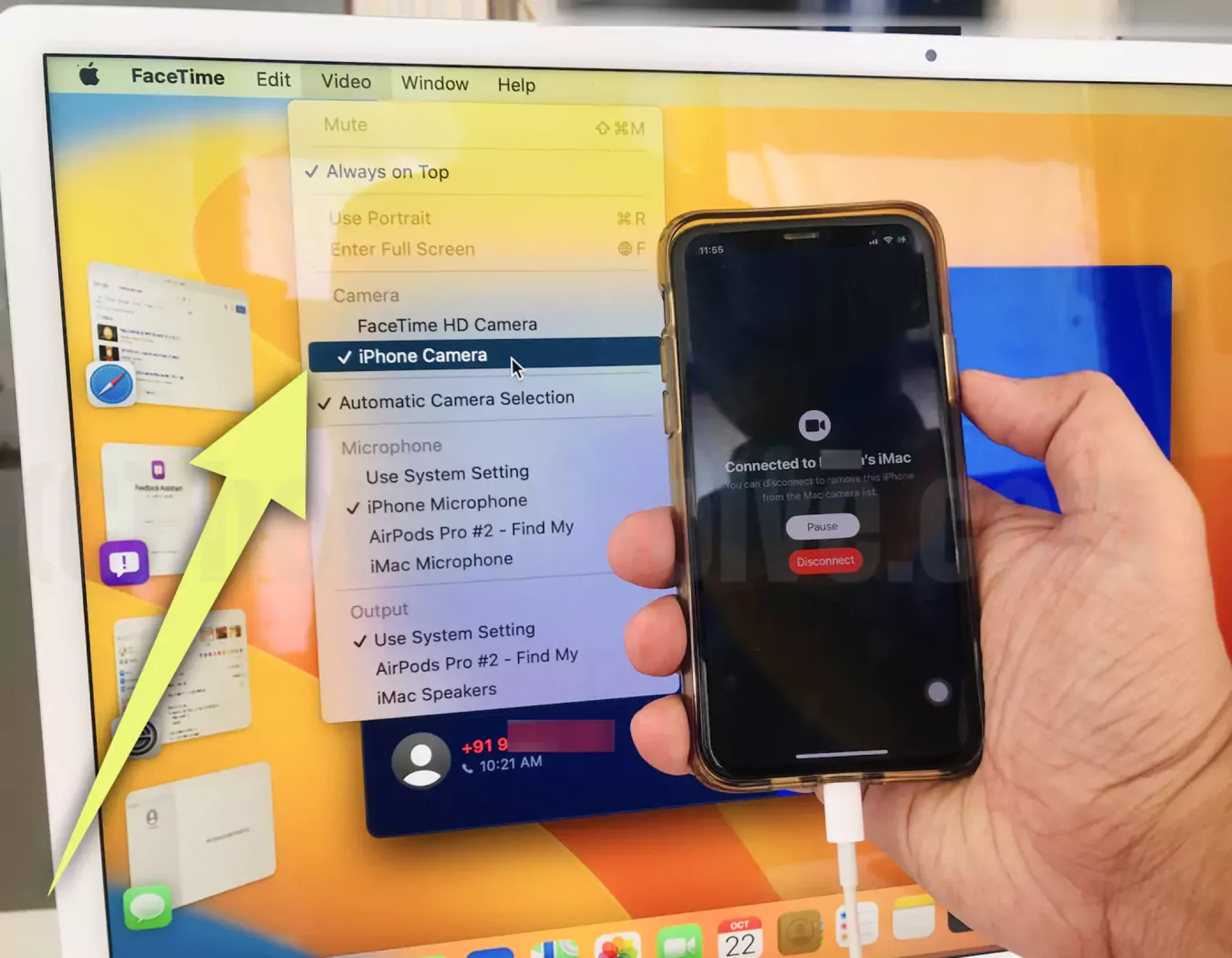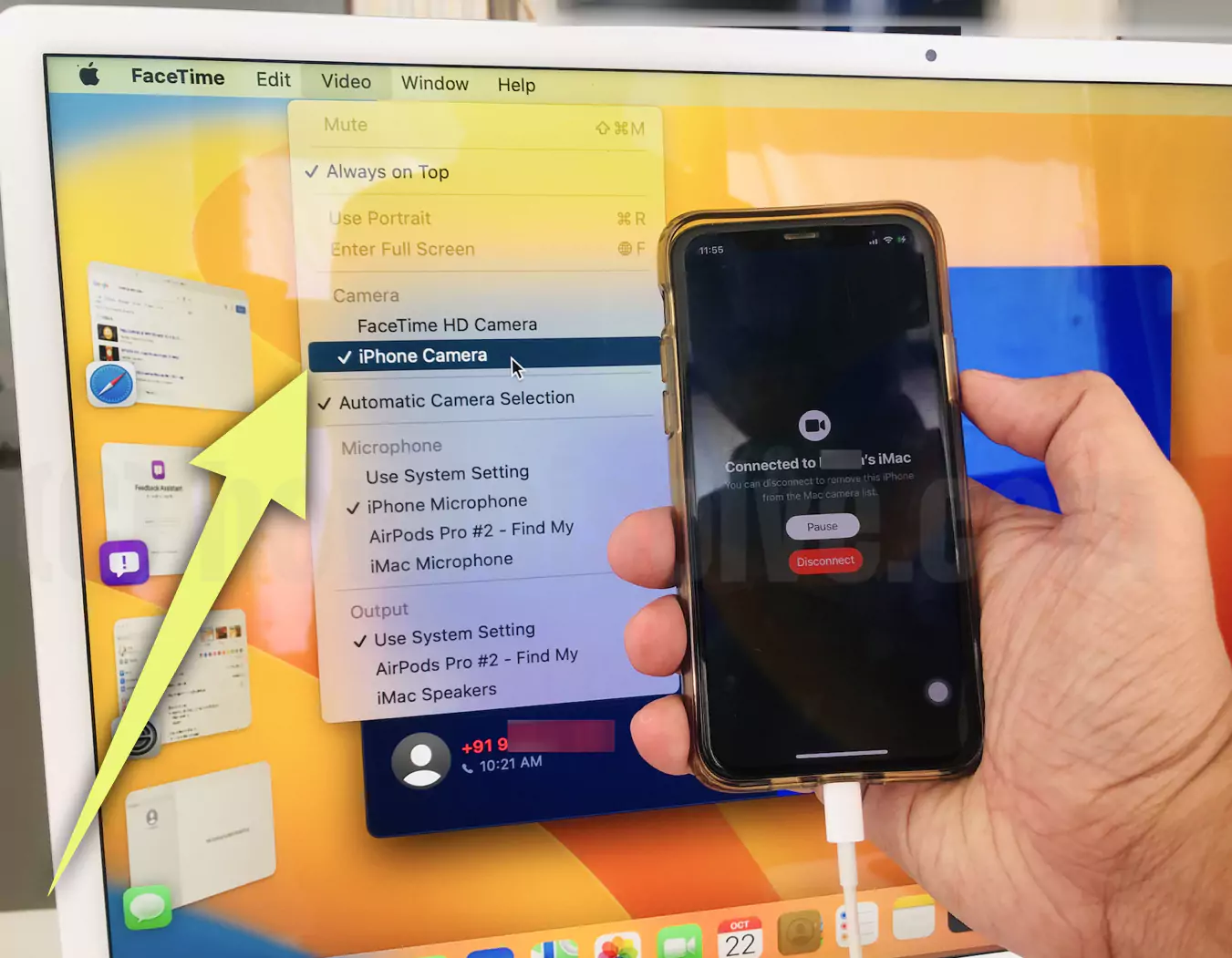 To use iPhone as a Webcam using a continuity camera for Desk View, Mac users can use wirelessly or Use a USB-C to lightning cable. To overcome the Wireless connectivity issue or Get a Stable connection, Disconnect automatically, and so on.
Once you "enable Continuity Camera Webcam on iPhone", as given below step.
Fix #4. Enable Continuity Camera Webcam on iPhone
Unlike the same Apple ID, your iPhone must have a continuity camera webcam function to use the Desk View feature. So all you need to compile is enable the Continuity Camera Webcam and keep Bluetooth and Wi-Fi turned ON.
iOS 16 And Later: Settings > General > Airplay & Handoff > toggle to enable Continuity Camera Webcam.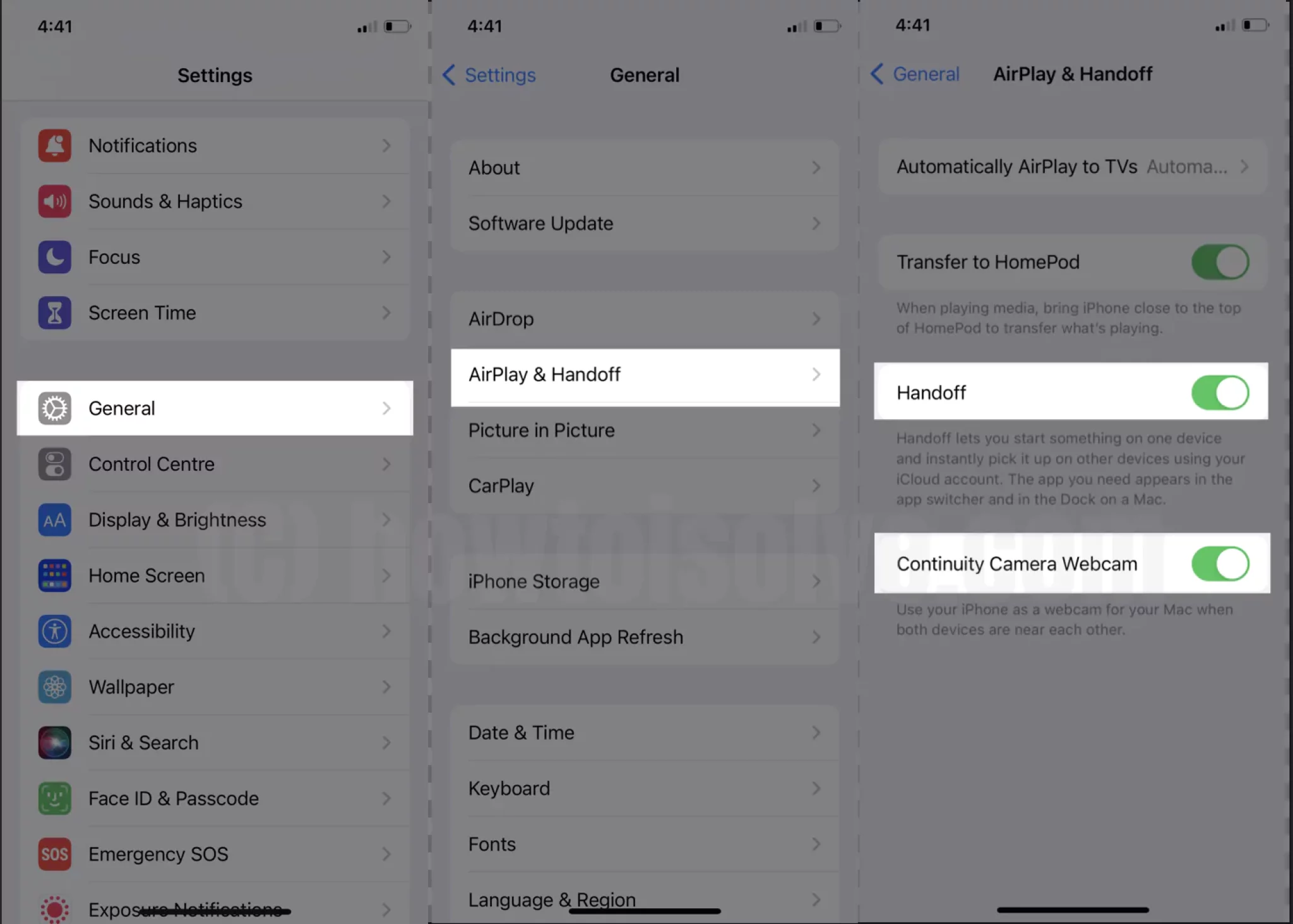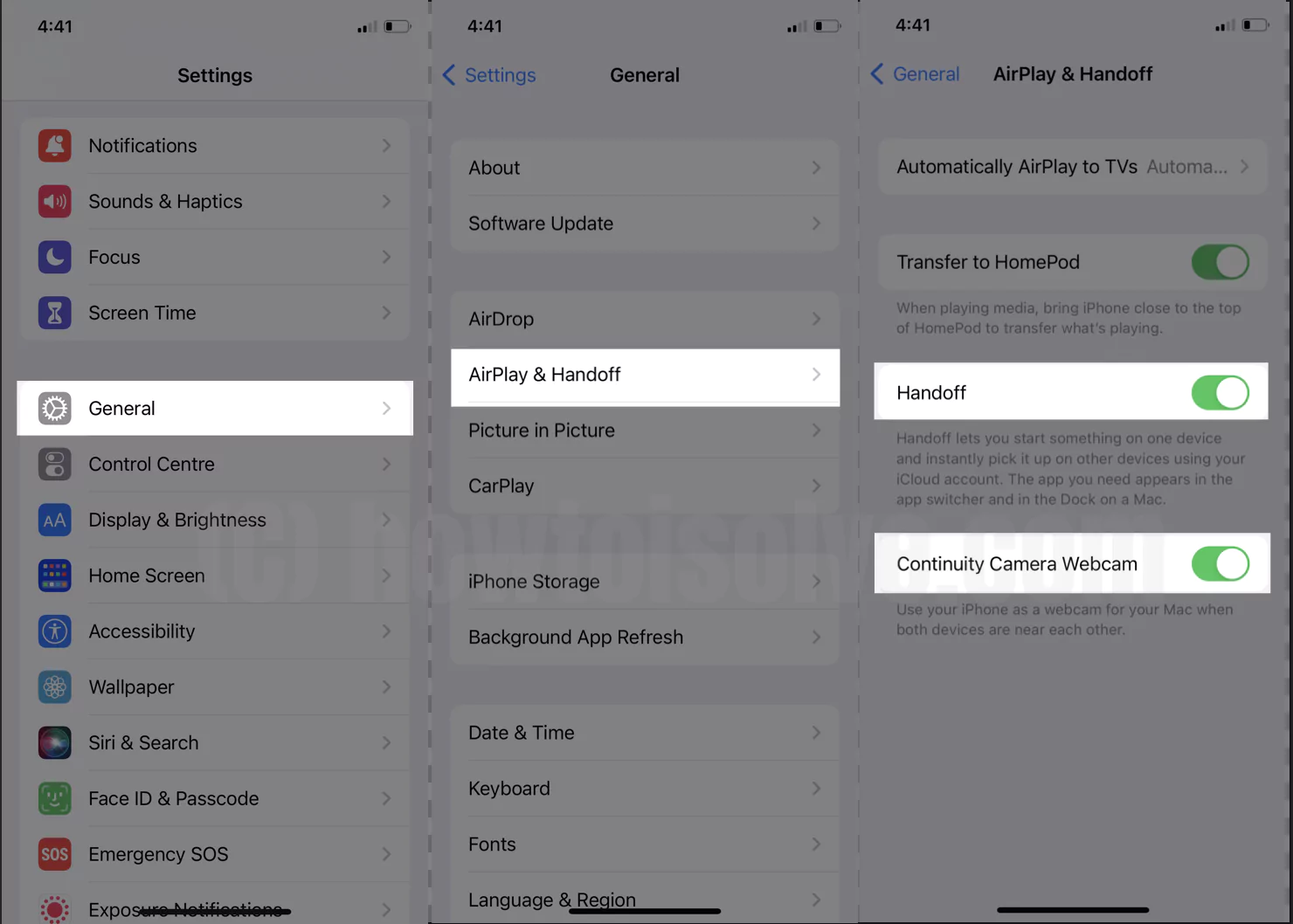 Now you can use your iPhone as a Webcam when both devices are nearer. and Connected with a FaceTime camera. Or Connect your iPhone to your Mac using USB-C to Lightning cable.
1→ To Connect your iPhone, Open Facetime on Mac > Video > Select your iPhone. Keep your iPhone unlocked.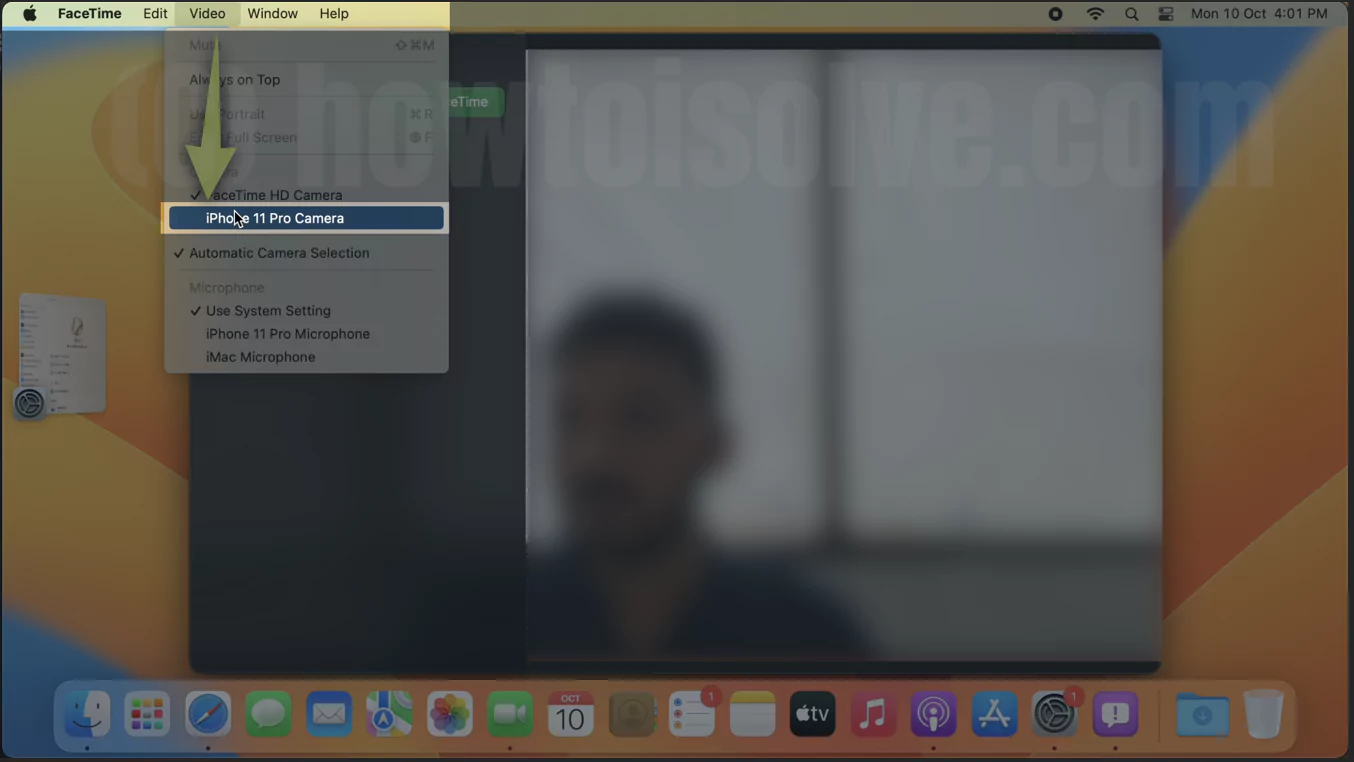 2→ Now, Open Control Center on your Mac > Video Effects > Desk View.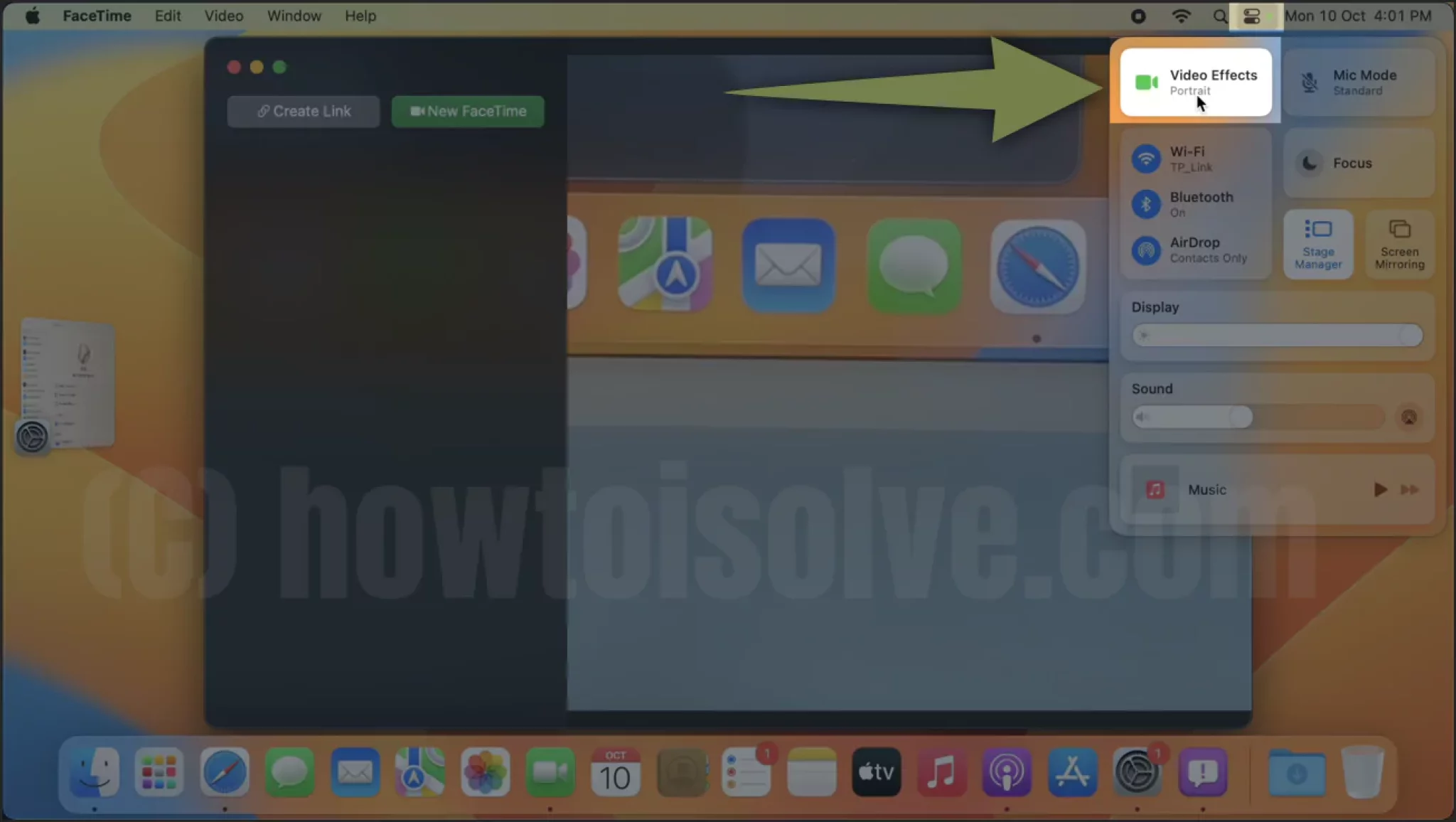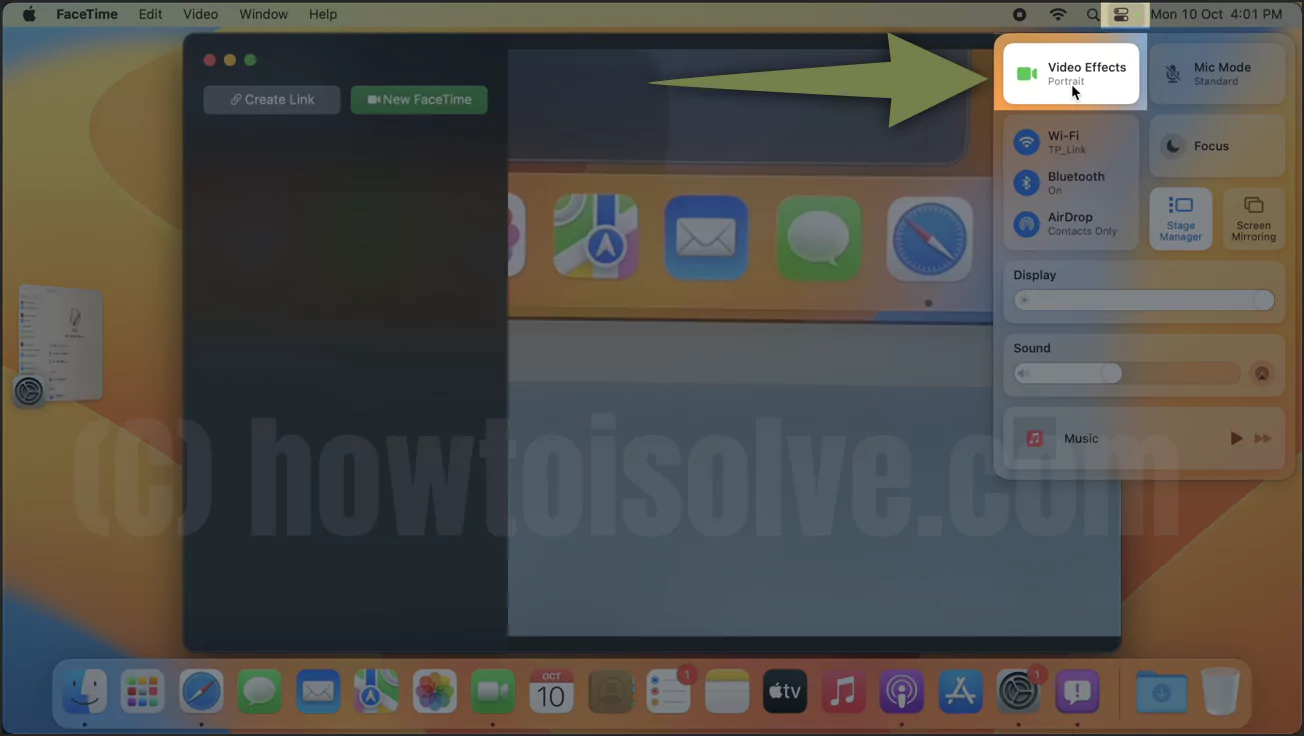 To Integrate with Other apps like Zoom, Microsoft Team…Also works with Desk View Automatically.
Fix#5. Keep iPhone Nearer And Nearer
Randomly getting disconnected from the Desk View is primarily due to the distance between the connected iPhone and Mac. The developer says the distance between the Gadget should be 40 Ft or less.
Fix#6. Restart Mac and iPhone Device
Your iPhone must be unlocked and Have an active Wi-Fi internet connection.
The Mac is Showing Black Screen with message "No Desk View Camera Is Connected"; this can be feasibly due to a minor glitch in either device. The glitch can be in the connectivity feature or the system. Try getting Desk View Not working fixed by restarting both iPhone and Mac.
Force Quit Desk View (Globe icon + F) and Re-open. Try to connect again.
Restart iPhone Without Home Button
Press and Hold Volume Up button and Side Button until the Apple Logo comes up.
Drag the slider to turn it off, wait for 30 seconds and Turn on it by pressing the Side Button.
Restart Mac
Select Apple Logo > Restart…
Fix#7. Disable Firewall
If you wish to safeguard your Mac computer when connected to open or unknown networks, Mac firewall is the ideal solution. However, turning on the firewall limits the system's operation and the applications. If Continuity Camera Desk View is not working, try Turning Off Mac's Firewall to see whether the problem is resolved.
macOS Ventura & Later: Apple Logo > System Settings… > Networks > Toggle to disable Firewall.
Note: We do not recommend keeping the firewall disabled on Mac.
FIX 8: Force Quit Other Conflicting Apps
On the Mac and iPhone, too many apps running in the background at the same time. They can contradict one another. To fix Desk View not working, try force quitting the applications.
Force Quit App On iPhone: Scroll up from the main screen to access the App Switcher. Here you receive all apps running in the background; gently swipe up each app card to force quit.
Force Quit App On Mac: Apple Logo > Force Quit… > Control + A to select all > Force Quit. or use Command-Option-Escape to open the Force Quit window.
Fix#9: Update Your Video Supported Apps (Zoom, Ms. Team, Google Meet, Etc.)
Unlike OS, the application needs to be frequently updated to prevent bugs. Unfortunately, an outdated app like Google Meet, Zoom, or MS Team doesn't work with the latest macOS version. So try Updating the Application On Mac to get Desk View back to normal.
If you won't able to update the running app, then complately uninstall app on Mac and Re-Download and install a new copy of the app on your Mac.
Also, check the server status of the Video Calling application (Zoom, Google Meet, FaceTime, Ms. Team).
For Zoom App,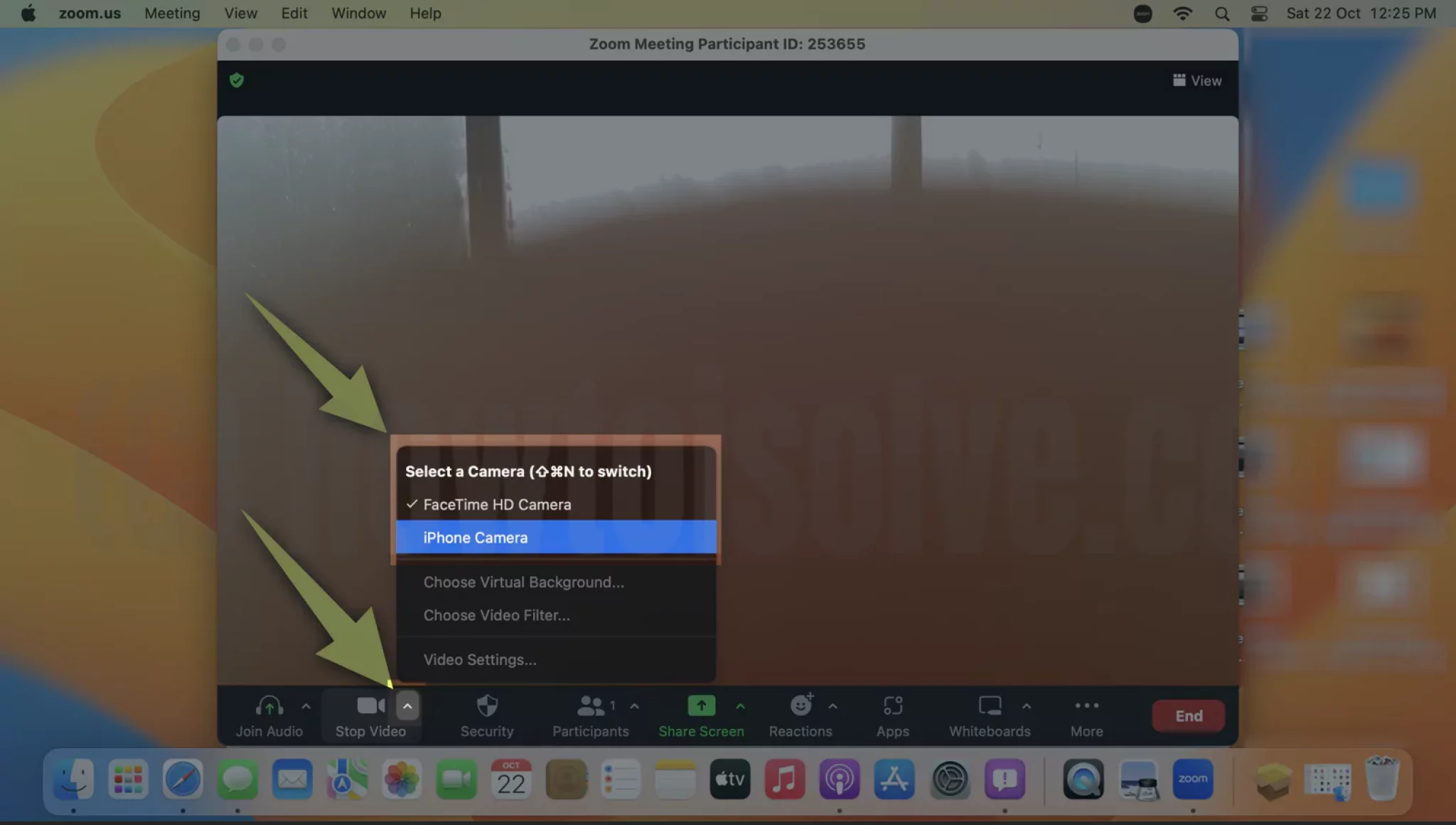 If it's showing a red signal or if the same issue is shouted on various forums, wait until it gets fixed on its own, as it is now mentioned under the universal problem.
For Microsoft Teams,
1. Open Microsoft Teams app on Mac, On Video calling screen, Click on More > Change Camera or iPhone camera.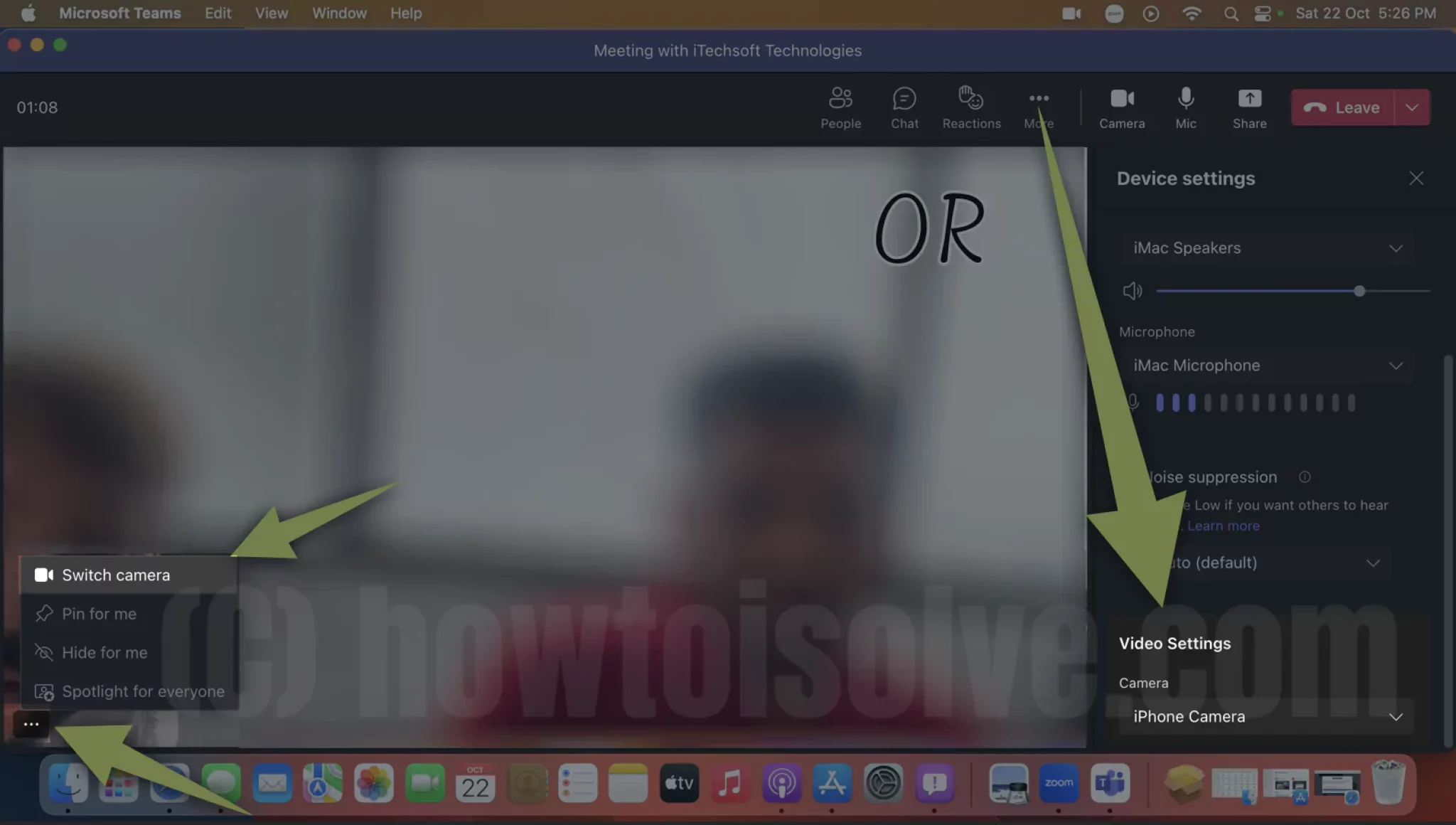 2. From the top menu control center > Video Effects > Desk View.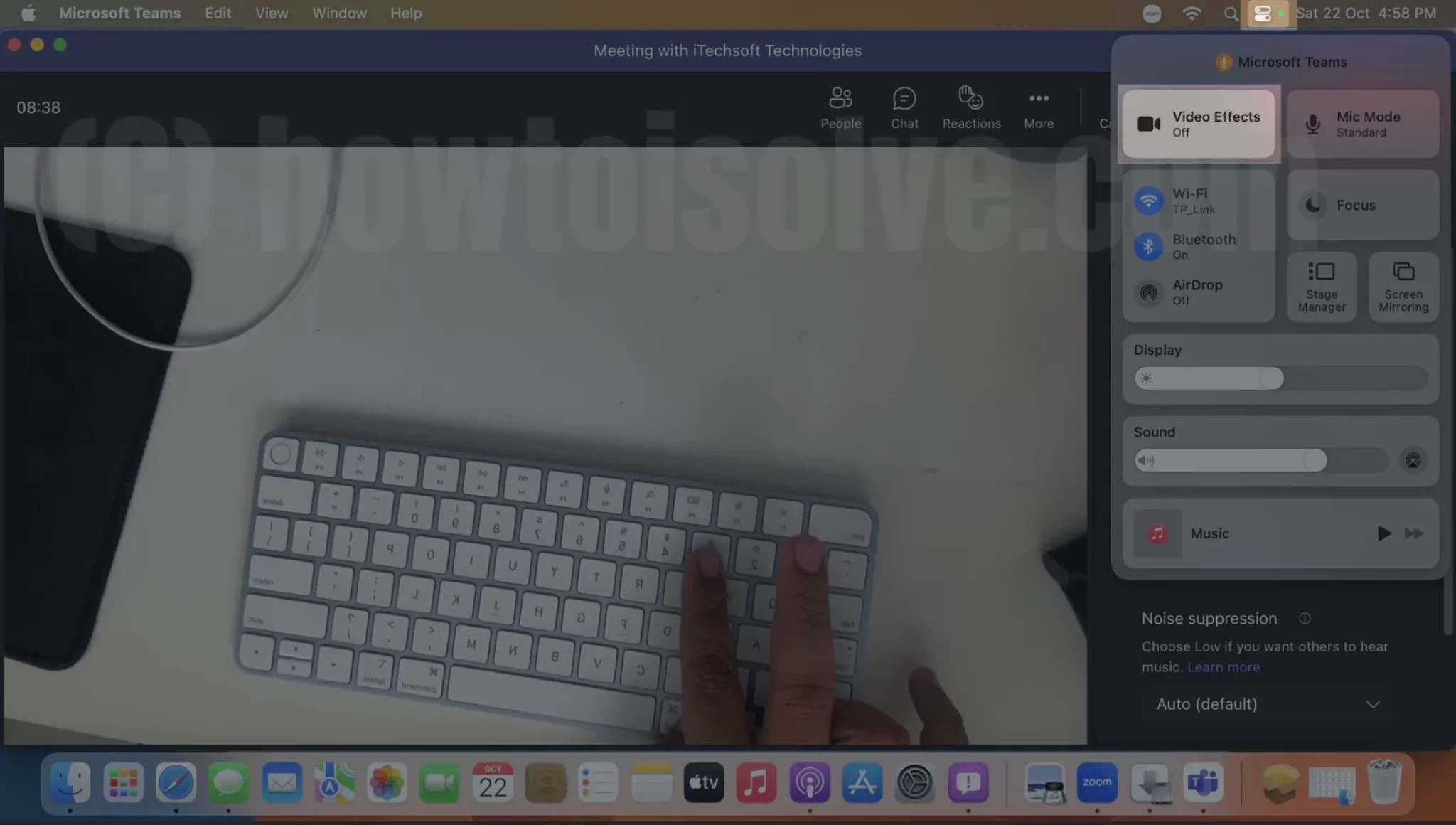 That's it.
Fix#10. Continuity Camera Feature Broken On Browser
We all know how effortlessly the desk view feature works with browser Video Calling apps.
For instance, when I started using Google Meet on Safari to experience the iPhone as a webcam, I suddenly received Google Meet showing a black screen.
Since it took place, I started closing out the extra tab running in the browser and verified that any recently installed app is not faulting the iOS and macOS collaboration features.
And what I found is that the Little Snitch app was turned on the Mac. The application aims to stop data usage and prevent heavy data usage.
What I did is turned off the little snitch for my belonging browser, force quit the browser, and re-opened it. That's It!
Fix#11. Contact App Developer
If the application seems to be misbehaving; it keeps crashing or not working with Desk View, contact the app developer to give feedback regarding it.
Fix#12. Contact Apple Support
If the application seems to be something other than the culprit behind the Desk View not working there is definitely issue within the system, it is better to Contact The Apple Support Team.
Conclusion
These are an array of troubleshooting that helps to fix Desk View not working on the latest macOS and iOS. In addition, the guide allows you to show all the stuff on Desk with losing face feed when using iPhone are webcam on Mac.