🗓️
August 3, 2023
By ✍️
Jaysukh patel
iOS mail push not working so iPhone mail not updating automatically: Here's tips to Fix iPhone Emails Not Being Pushed after software update. Apple's iPhone Mail updating automatically is an outstanding feature. That's called the push mail service, which refreshes all incoming Emails to the device by pushing email from the Mail server. Also, We have dedicated custom settings for Auto Push Mail option available for iCloud emails and Gmail Push for the Apple Mail app. In any case, if an Email push is not working or stops your Mail app, Check the Apple Mail app settings and configuration listed below.
If you want that, you can turn on/ enable push service for all Mail accounts; otherwise, if you aren't interested, then it helps save battery life by a stop background process.
Latest Note:
If you have a question, Why is push email not working on iPhone? Would you please read the bottom guide carefully?
7 Fixes: Email Push Notifications not working on iPhone, iPad Mail App
Solution 1: Enable Mail Notifications
iOS/iPadOS users have custom individual Notification settings for each app installed on the Device. So, here's the way to Enable/Disable Mail notifications on iPhone/iPad. If Mail notification is enabled after that, you can check the Notification settings for individual signed-in mail accounts and prefer notification types like push/Fetch in the next solution.
Go to the Settings app on the iPhone/iPad.
Scroll to the Notifications option.
Next, Scroll down and find the mail option. Here's Enable Allow Notifications toggle.
Solution 2: Make Sure Push for New Mail is Enabled
you can check it out with the following steps:
iOS 14 & later iPhone users,
Open the Settings app from the mobile home screen > Scroll screen tap the Mail app.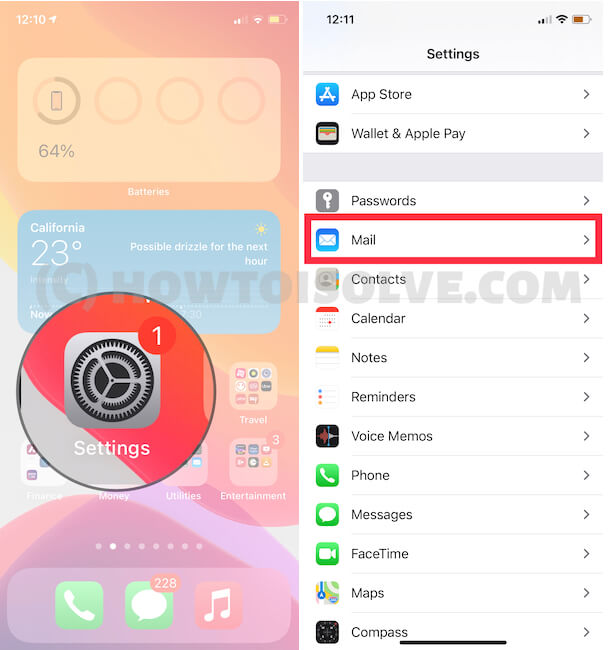 Now, Click on Accounts Next; the Last Option is to "Fetch New Data."
Keep the Push Toggle Enabled to get new data to your iPhone from the mail server.
Scroll down and see the Fetch Section; according to your requirement, we can set up the customer duration, So your iPhone will check new emails on the mail server at the time you set. The default setting is Automatically.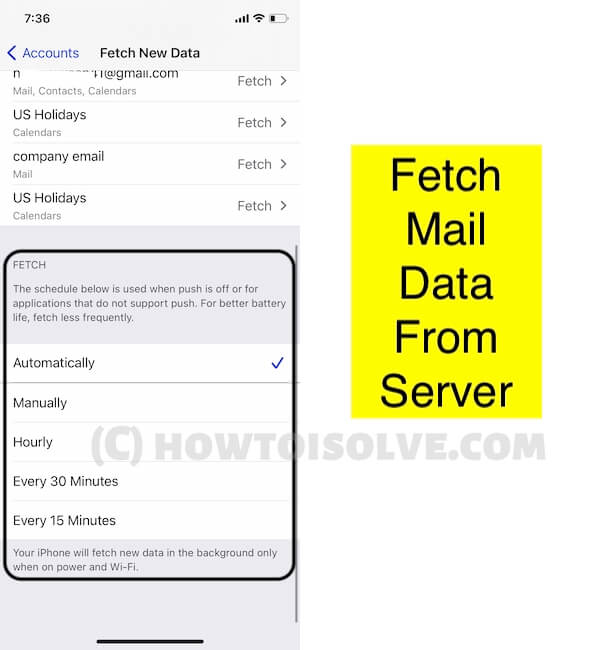 Under Fetch New Data, We can manually set the Different push and Fetch Settings for Individual accounts on your iPhone for the iPhone Mail app.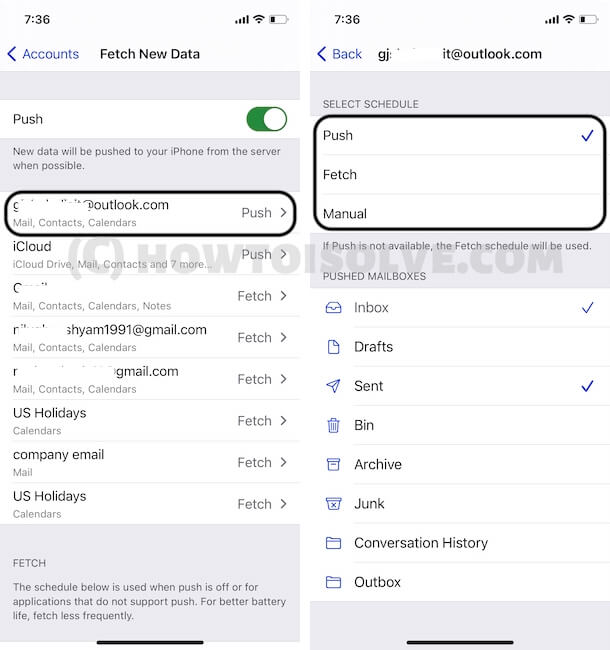 Old Settings, Older iPhone models
For iOS 11 to iOS 13 users, Open the Settings App → Find Accounts & Passwords → Tap Fetch New Data > Tap iCloud → Make Sure checked mark next to the Push under select Schedule.
---
Go to the iPhone/ iPad Settings App > Mail, Contacts, Calendars > Fetch New Data > Enable Push.
One more thing, check out that for Email Fetch – Automatically option selected not manually.

Next, Go for all individual Mail services and Set it on Push from Three options (Push, Fetch, and Manual).

Next, if you want to get an email on your schedule (Only for the Fetch Options).
Choose your interval in four different (Every 15 minutes, every 30 minutes, hourly, and manually). For all Email account, that set on fetch Schedule Automatically gone and work periodically.
Solution 3: Enable the Background App refresh
If your background refresh is not activated for the mail app, it doesn't work and not sending your future all mails push notifications. So mail app under the background app refresh must be turned on.
In case you stop all app background refresh on iPhone/ iPad. Re-enable it for the Mail app.
Go to Settings > Tap General > Tap Background App Refresh > Enable Background App refresh.
You can see on the screen three options:
Off
Wi-Fi
Wi-Fi & Cellular Data
I suggest choosing the second option, Wi-Fi only because the third option is to eat a lot of data and so there is a chance that you will get a big data bill next month.
If you have an unlimited data plan, then there is no problem. But it will drain the battery rapidly, so you must have an external power bank or a battery case cover with you.
Solution 4: Check Account Login
Re-login Mail Account again after removing/ Delete that.
For iOS 11 or later users, Open the Settings App → Find Accounts & Passwords→ Select Mail Account and choose a specific email account and then tap delete.
Go to Settings > Mail, Contacts, Calendars > Mail > Delete Account. Next, set up a new Mail in Mail App.
---
Solution 5: Reset All Settings
Your iPhone is stuck in the wrong settings, so you cannot apply other settings. The reset all settings option will keep user data as of before after the reset is done. This process will restore the default settings of the misconfigured for the mail app. For Mail app notification especially. Let's do it. During the reset settings, your iPhone will reboot itself. So don't be afraid of that.
Go to the Settings App> Tap General > scroll the screen till the end and tap on Reset > tap Reset All Settings [Enter iPhone passcode to apply changes and complete reset process].
Solution 6: Mail Fetch is Disabled in Low Power Mode
Low Power mode manages power consumption from the background software process. Mail Fetch is one of the essential functions that help in a huge battery saver. Here's the verification popup while you sometimes put your iPhone in low power mode. Follow the below steps to Turn off low power mode at all times:
Open Settings App
Find and tap Battery
Look on Low power mode
Turn toggle Low Power mode off/grey.
Solution 7: Mail Notifications and Calls are Silent
Do not disturb mode on iPhone & iPad doesn't ring your Phone when the Phone receives new mail notifications and Phone calls. Because Do Not Disturb mode doesn't block the notification permanently. in iOS 15 and later users, For DND settings- try this Focus Mode on your iPhone.
Go to the Settings App on iPhone
Focus > Scroll to Focus Status. Disable Share Focus Status Toggle.

Or IndividuallyTurn off the Toggle for Do Not Disturb.
Broad Solution is Here – How to Fix Mail App not working on iPhone
That's it. Still, are you suffering from Email Push not working, or New Mail can't afford auto-fetch? Email Push Doesn't Work. Contact your Mail provider.
Many Redditors have complained about iOS Mail problems, and the answer is to downgrade iOS or wait for the next update. Then, just send feedback reports for a particular app to Apple for native App or contact third-party developers.