Is iOS Email notification not working on your iPhone/ iPad? Get here all feasible solutions. Find out where is the problems in your iPhone X/ iPhone 7/ 7 Plus, iPhone 6S/ 6S Plus, iPhone 5S installed with iOS 12/ iOS 11/ iOS 10 or later settings. Multiple customized settings helpful on Disable/ Enable email notifications with different notification tones to get quickly identify which mail account inbox got new Mails. Users are keeping it disabled, but we can enable email notifications for selected critical account and Mails.
Also, check out the settings for Change lock screen Mail notifications Appearance, Sound and Customize for the Selected mail account.
we are happy to help you, submit this Form, if your solution is not covered in this article.
Get Here – Fix Mail App Not Working iOS 11
Email Notification Not working: Not getting emails on iPhone/ iPad

1. Push mail not working in iCloud or Third-Party account
Anyhow you didn't get Mails in your email inbox. There are two types of fetch condition we can set in iPhone/ iPad mail settings. First is the auto push and the second is Fetch.
The Push works itself, and get alerted and notification (i enabled) in your iPhone Mail app. iOS users ignoring this features because of saving battery life.
Fetch: Fetch is manually process to get new mail from the server and copy into your iPhone/ iPad. Every time we need to carry for reading new mail, by slide finger down on the mail app inbox.
2. Change Push and Fetch Mail App Settings on iPhone 8, 7/ 7 plus/6S/ 6S+/6/6+
Go to the Settings app on iPhone 7 or another model, iPad.
Tap on Account, And get the list of all added email account on the list.
In iOS 11 – Go to Settings App – Tap on Accounts & Passwords – Choose your email account. (Setup new email on iPhone iOS 11)
iOS 12/ iOS 11 or later all
Go to the Settings > Mail > Notifications.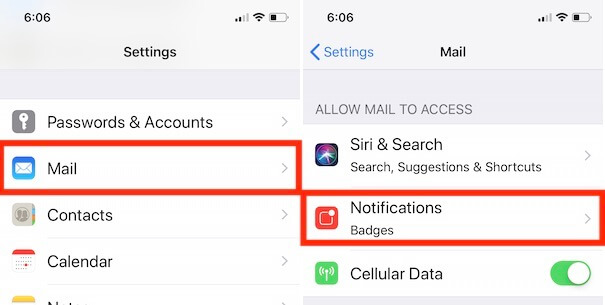 Explore more notification settings, and Set Sound, Turn on/Turn off Notification layout on the lock screen or unlocked iPhone Screen.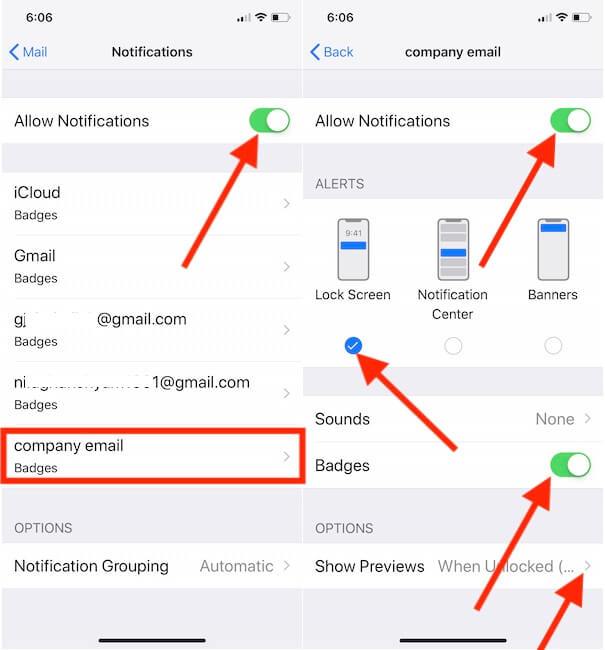 iOS 10 and Earlier Settings
At last, the option is Fetch New Data. Tap on it.
iCloud Apple mail has the only option for push Mails. For the other third-party iCloud Mail alternative we can set it for Fetch or Manual.
In the same screen, Time duration for fetch is Every 15 Minutes, 30 Minutes, Hourly and manually.
These settings apply for all account for that you set it on Fetch.
3. New mail not sounding or set the different tone
As email app notification we can set loudly or use iPhone 7 Custom ringtone or Create Ringtone using GarageBand from email notification settings.
Go to the Settings App > Notifications > Mail.
Tap on Account according to change or set a custom ringtone. Another option is Sounds. 
Tap on Sounds > Find tiny Alert tones or Ringtones.
Also review other options related to email notifications like (Show in notifications center, Show on the lock screen or Unlocked screen style)
4. Disable  Low power Mode in iOS 10/ iOS 11 or later
Activated Low Power Mode (LPM) feature in iOS stops battery killer features in them email push notification included. So if LPM is enabled on your iPhone then can't cant fetch new mail automatically, therefore, turn off Low Power mode to get email notification back.
Here's how to add Low power mode to Control Center in iOS
5. iPhone email notification sound not working
New mail with notification sound, first you enable/turn on notification for the mail app. Here's more troubleshooting iOS 11 notifications sound Won't work
Go to the Settings > Notifications > Mail > Allow Notifications.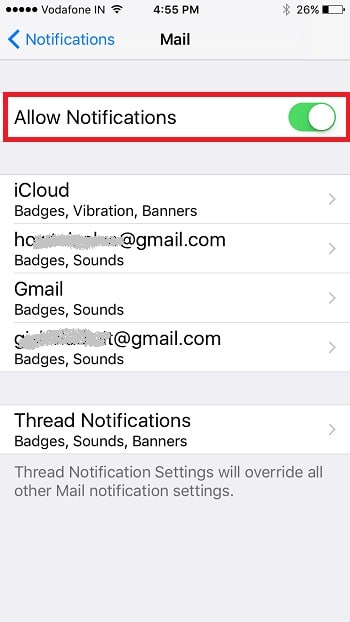 6. Remove Email account and Add account Back in iOS Mail app
Login credential changed on other system or using Mail Web account. Or maybe SMTP Mail server details changed. Update it by completely remove existing account.
Go to the Settings app > Mail > Account > Tap on an Individual account.
Scroll down and Find option for delete account from iPhone mail app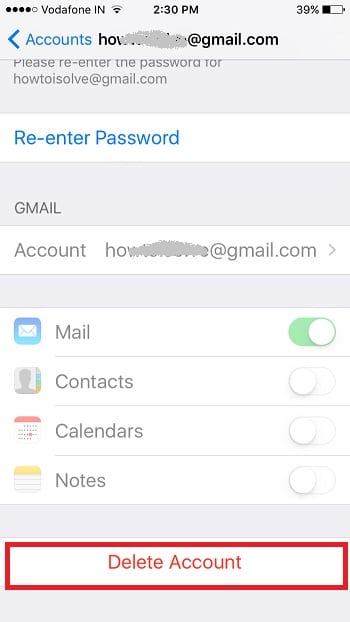 Re-Add removed account, Go to Settings > Mail > Accounts > Add New Account.
7. Mail app crashing on launch
1. iPhone 7/ 7 Plus or other models with iOS 10 able to delete mail app from home screen, then download and install mail app from app store.
Premium Support is Free Now
We are happy to help you! Follow the next Step if Your Solution is not in this article, Submit this form without Sign Up, We will revert back to you via Personal Mail. In Form, Please Use the Description field to Mention our reference Webpage URL which you visited and Describe your problem in detail if possible. We covered your iPhone 11 Pro, iPhone 11 Pro Max, iPhone 11, iPhone 8(Plus), iPhone 7(Plus), iPhone 6S(Plus), iPhone 6(Plus), iPhone SE, iPhone 5S, iPhone 5, iPad All Generation, iPad Pro All Models, MacOS Catalina or Earlier MacOS for iMac, Mac Mini, MacBook Pro, WatchOS 6 & Earlier on Apple Watch 5/4/3/2/1, Apple TV. You can also mention iOS/iPadOS/MacOS.
2. Restart/ Reboot iPhone 7. (Press Sleep/ Wake + Volume down button until you show apple logo on screen).
Don't miss to share other irritating problems on Email notification not working; we are ready to help in the comment box.
Jaysukh Patel is the founder of howtoisolve. Also self Professional Developer, Techno lover mainly for iPhone, iPad, iPod Touch and iOS, Jaysukh is one of responsible person in his family.
Contact On: [email protected] [OR] [email protected]