Last Updated on Dec 14, 2021
In this blog post, get the reason and fix for iOS Email notifications not working on your iPhone/ iPad? Get here all feasible solutions. First, find out where the problems are in your installed latest iOS/iPadOS. Multiple customized settings are helpful on Disable/ Enable email notifications with different notification tones to quickly identify which mail account inbox got new Mails. Users are keeping it disabled, but we can enable email notifications for selected critical accounts and Mails. Then, follow the troubleshooting below to fix all kinds of mail Notifications issues from your iPhone or iPad.
we are happy to help you, submit this Form, if your solution is not covered in this article.
Also, check out the settings for Change lock screen Mail notifications Appearance, Sound, and Customize for the Selected mail account.
Email Notification Not Working: Not Getting Emails on iPhone/ iPad
1. Push Mail Not Working in iCloud or Third-Party account: Get it on Time
Anyhow you didn't get Mails in your email inbox. There are two types of fetch conditions we can set in iPhone/ iPad mail settings. The first is the auto push, and the second is Fetch.
The Push works itself, and get alerted and notification (i enabled) in your iPhone Mail app. iOS users ignoring these features because of saving battery life.
Fetch: Fetch is manually process to get new mail from the server and copy into your iPhone/ iPad. Every time we need to carry for reading new mail, by slide finger down on the mail app inbox.
Change New Email Push and Fetch From Settings on iPhone Mail App
Open the Settings app on iPhone > Scroll to Mail.
For [iOS 13 and Earlier iOS & iPadOS] Now, Scroll to Accounts & Password Option.
Go to Accounts option > Select Fetch New Data.
Scroll to Last "Fetch New Data". Next screen Scroll and Find all Email account added on your iPhone or iPad. Now We can manage the Notification individual account.
Here's my iCloud account. Tap on the account name and Change the Mail Notification type [Push notification will receive your iPhone as your Mail server send, But the Fetch option will help check your iPhone on Mail Server through manual request.].
That's it.
Setup Fetch Mail on iPhone for New mail
Enable Fetch for all mail; before enabling this option, make sure this option will consume more battery because your device checks on the mail server are periodical as you set the option under the Fetch section. Also, fetch will only work if the Push option is disabled. For example, see the below image, Turn off Push Toggle and Select the Fetch settings.
Settings app on iPhone/iPad > Accounts & Passwords > Scroll to Fetch New Data > Turn off the Toggle Push.
See Fetch Section and Select the time for Automatically, Manually, Hourly, Every 30 Minutes, Every 15 Minutes.
That's it.
2. Remove Email account and Add account Back in iOS Mail app
Login credentials changed on other systems or using the Mail Web account. Or maybe SMTP Mail server details changed. Update it by altogether remove the existing account.
Go to the Settings app > Passwords & Accounts > Tap on an Individual account.
Scroll down and find the option for Delete Account from the iPhone mail app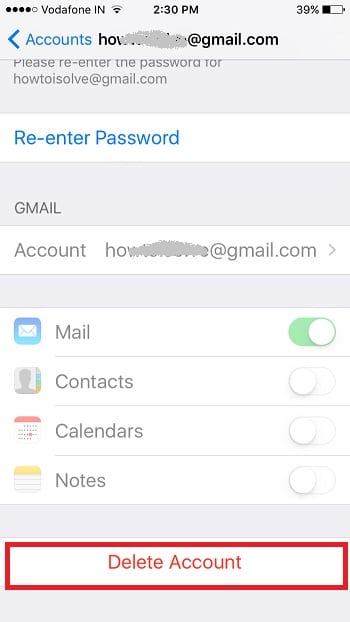 Re-Add removed account, Go to Settings > Passwords & Accounts > Add New Account.
That's it
Outlook Notification Settings for iPhone
Outlook Notification we can manage from the app as well. Here are the steps to check out your iPhone outlook mail app and Enable it to get on the lock screen. Also, enable notification sound to get alert.
Open Outlook mail app on iPhone > Tap on Profile icon > Tap on Settings gear.
See all the Outlook app settings. Tap on Notifications and Enable Notifications for Email types "Focused Email".
Scroll and find Sound for new Email, Set or Turn on Sound for new email.
That's it.
Also, Enable Notifications from iPhone settings: Open settings app on iPhone > Notifications > Outlook > Enable Allow Notifications and Banner style, Sounds, and Notification Previews.
3. Enable VIP Mail Notifications
Open the Settings app on the iPhone.
Scroll to Notifications settings.
Next, Scroll to Mail option.
Now, Check VIP Mail section, Enable Notifications toggle. also, check the Sounds and Badge settings.
That's it.
Read More About Change Mail Notification Sound on iPhone, iPad, Mac, or Apple Watch.
4. Enable Mail Notification on iPhone, iPad
Go to the Settings > Mail > Notifications.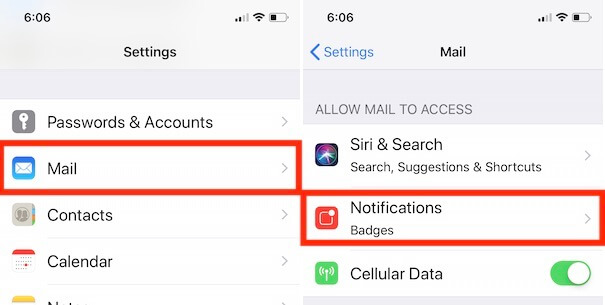 Explore more notification settings, and Set Sound, Turn on/Turn off Notification layout on the lock screen or unlocked iPhone Screen.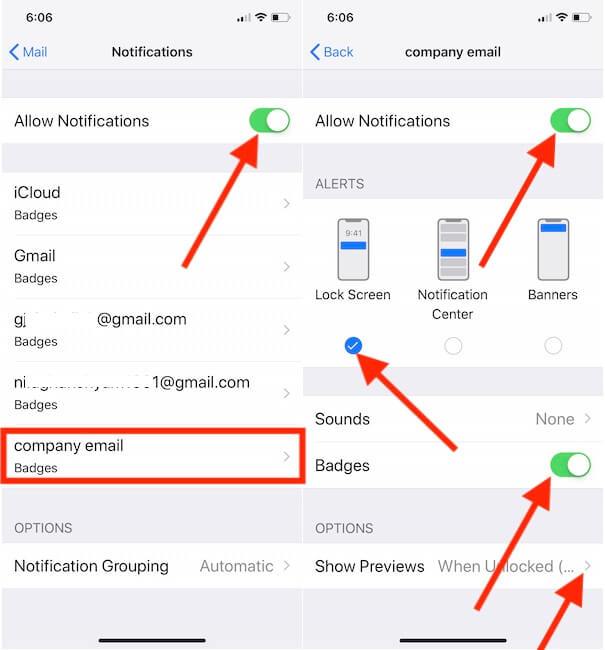 5. Disable Low Power Mode
The activated Low Power Mode (LPM) feature in iOS stops battery killer features in email push notifications. So if LPM is enabled on your iPhone, you can't fetch new mail automatically; therefore, turn off Low Power Mode to get email notifications back.
Here's how to add Low power mode to Control Center in iOS
6. Turn off Do Not Disturb on iPhone
Do Not Disturb and Do Not Disturb While driving, block all kinds of Disturbances like coming phone calls, Notifications at once. So I recommend using DND carefully. If you don't know how to use it, follow this article on DO NOT DISTURB mode on iPhone.
Quickly from control center: Swipe down to open control center > Turn off Do Not Disturb mode & Do Not Disturb While Driving mode.
Or
From iPhone settings: Settings app > Do Not Disturb > Disable "Do Not Disturb" Toggle. and "Schedule toggle" as well.
7. New Mail Not Sounding or set the different tone
We can set loudly or use the iPhone Custom ringtone or Create Ringtone using GarageBand from email notification settings as email app notifications.
Go to the Settings App > Notifications > Mail.
Tap on Account according to change or set a custom ringtone. Another option is Sounds.
Tap on Sounds > Find tiny Alert tones or Ringtones.
That's it.
Also, review other options related to email notifications like (Show in notifications center, Show on the lock screen, or Unlocked screen style)
8. iPhone Email Notification Sound Not Working
New mail with notification sound, first you enable/turn on notification for the mail app. Here's more troubleshooting iOS 11 notifications sound Won't work
Go to the Settings > Notifications > Mail > Allow Notifications.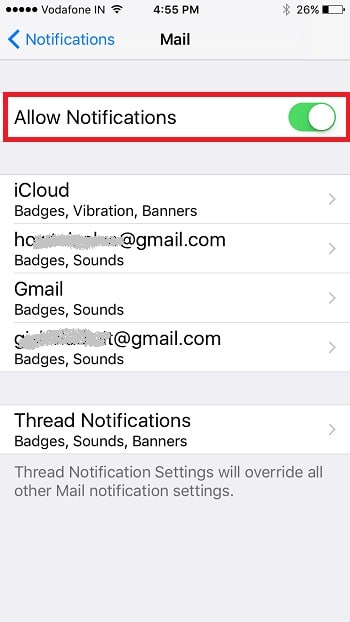 9. Mail app Crashing on Launch
iPhone able to Delete the Mail App from the home screen, then download and install a mail app from the app store.
Try to Hard Reboot Your iPhone.
Keep your iOS/iPadOS updated on iPhone/iPad [Settings > General > Software Update].
Don't miss sharing other irritating problems on Email notifications not working; we are ready to help in the comment box.