🗓️
August 15, 2023
By ✍️
Jaysukh patel
In this article, I'm guiding you on Why is my finder not working? On macOS Sonoma or earlier fix all apps quit unexpectedly mac. Let's see here resolving the finder problem on Mac like a Pro guide. It is very irritable when the major functions stop responding as Finer quit unexpectedly and creates a different kind of trouble. Some of the users recently reported that the finder is not working after updating to Mac, finder keeps crashing randomly, finder search not working, or Finder Works Slow, and much more.
Luckily, straightforward steps can fix the finder not responding issues quickly and reliably. We have listed the workarounds as per your problems with the finder to sincerely follow the steps and don't end up in a bad situation.
Solved Finder Not Responding on Mac Computer
Finder is slow but working, Suddenly Stopped After Not Responding
Solution #1: Check Mac Storage if mac finder freezes at startup
How do I fix the finder quit unexpectedly? Follow The storage requirement of Mac is at least 20% if you really want to enjoy it. Otherwise, you will have to face every day a new issue. So before making space on Mac, you must check out the storage.
1→ Go to the Apple Logo from the top menu > System Settings.
2→ Select General Option > Storage.
3→ Check the Available Space On your Mac (used space from Total Space.). Delete Unwanted apps, Files, and Folders from the same window. Here's how to free up space on your Mac using Storage settings.
Solution #2: Spotlight is indexing
It frequently happens when transferring huge files to the Mac after restoring the Mac or updating to the latest version.
For a while, your Mac will be messed up, so Spotlight will take some time to index every single file. So the question is, how do you know Spotlight is indexing files?
→ So, the solution is to Wait until the complete index process. In more, you should cancel or Kill the Finder on a Mac.
Solution #3: Problematic Finder Preferences Files
We don't know. Sometimes the preference files are the real culprits that create chaos while using MacBook, directly affecting the finder. The simplest way to fix the finder not responding to macOS is to delete those files.
Step #1: Open the "Spotlight".
Step #2: Now enter the code directly,
~/Library/Preferences/
Next, open Preferences and then find and delete the com.apple.finder.plist File.
[Backup this file on the desktop folder at first]
Also, Empty the bin/Trash folder. before restarting your Mac.
Step #3: Close everything and Reboot Mac. after rebooting your Mac, Your Apple Mac File system will create a new finder plist file. and fix the problem.
If your Mac persists in the same problem, then going to the next workaround will help you fight an issue Finder is not responding to.
Solution #4: Finder is Totally Unresponsive [Unable to Find above File]
When Finder does not respond in any way, there is a simple solution. We will clear the clutter right from the terminal and fix the finder not responding to macOS.
Step #1: Launch "Terminal" from the Spotlight.
Step #2: Now, write the command,
~/Library/Preferences/com.apple.finder.plist
Step #3: Hit Enter. You will see the highlighted file. Delete it.
Step #4: Lastly Restart the Mac or MacBook.
Still suffering Finder not responding issues, then you should try force quit Finder [Press Command+Option +Escape].
Relaunch Finder using Terminal
This is another way to relaunch the Finder, if you're good with Terminal, then go for it.
Press command+space to open Spotlight search and open Terminal.
Enter: killall –KILL Finder
Press return.
Solution #5: Reset SMC of Mac (For Intel Macs Only)
Power, battery, and a few other hardware features are reset by doing this.
MacBook with Non-removable battery
Turn off your Mac.
Now, power on the Mac, while holding Shift+Control+Option(Alt) plus hold the power button for 10 seconds.
Leave all the keys after 10 seconds and then press the power button to start Mac.
MacBook with Removable battery
Shut down the Mac.
Take out the battery from MacBook.
Press the power button for 5s.
Put back the battery in its chamber.
Turn on Mac, by pressing the power button.
Desktop Computers
Power off the Mac.
Remove the power cord from the socket.
After 15 seconds, plug the power cord.
Again wait for 5 seconds and turn on the Mac.
Solution #6: Reset NVRAM or PRAM on Mac
You can reset the following features by resetting NVRAM and PRAM, Sound Volume, Startup-disk selection, time zone, display resolution, and recent kernel panic information.
Power off your Mac.
Press the power button to turn on, and immediately hold down the Option+Command+P+R keys for 20 seconds.
Solution #7: Restart Mac in Safe Mode
Safe mode automatically fixes the software issue in safe mode (Without affecting saved your work and data on your Mac). Follow the below steps.
For Apple Silicon Macs,
Shut down your Mac. Wait for 20 seconds. And Turn it on again.
Quickly Press and Hold on to the Power button until the Start-up volume appears on the screen.
Select Startup Disk/Volume, Press the Shift key from your Keyboard, and click on Continue in safe mode. (See the below picture)
That's it.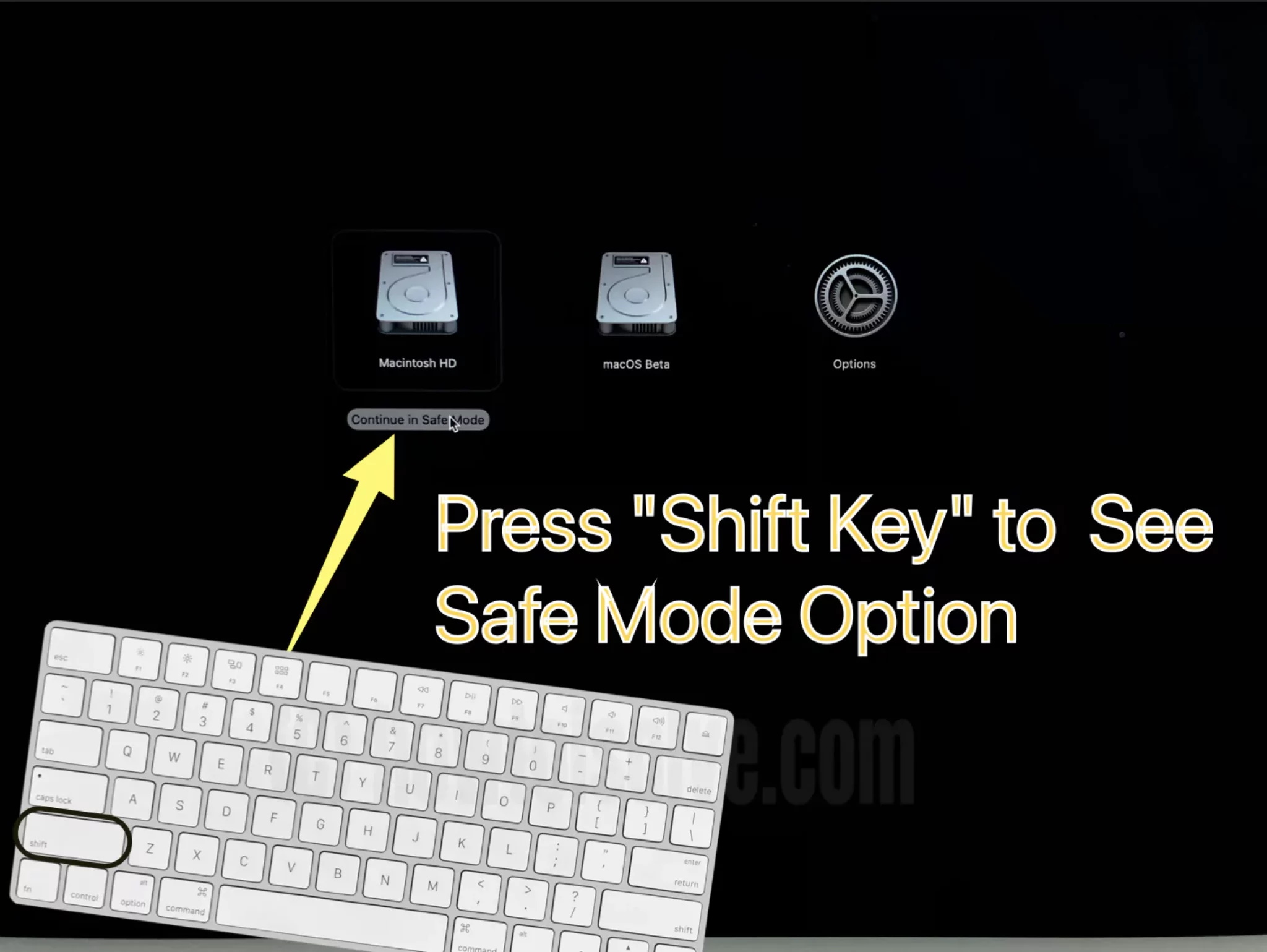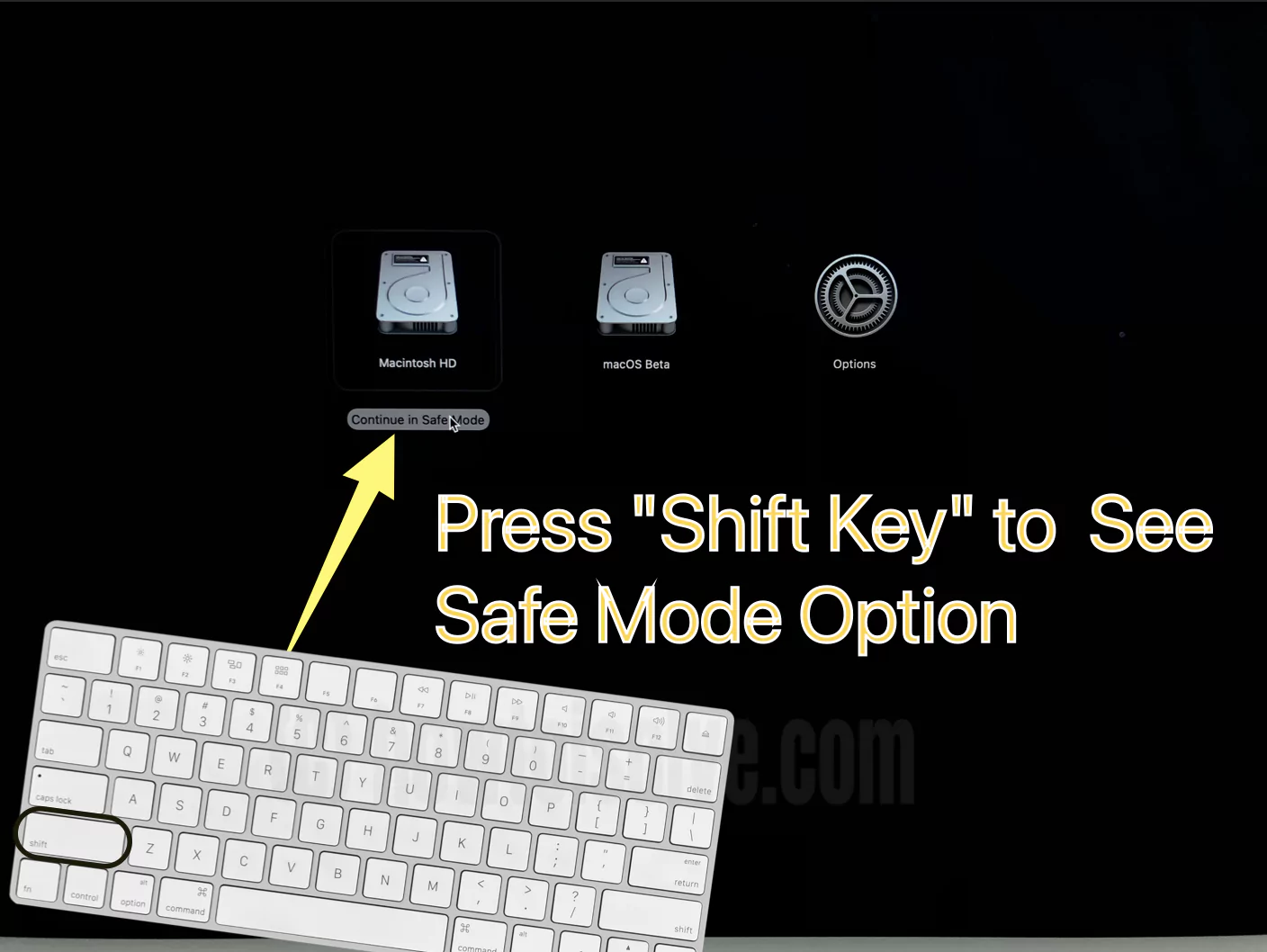 For Intel Macs,
Shut down your Mac.
Press the Power button to turn on Mac, then spontaneously hold down the Shift key.
When Safe Boot appears in the upper-right side, release the shift key.
Access the Mac by entering a password.
Solution #8: Create and Use a New Admin account on the Same Mac
[Reinstall macOS is the best way to repair big issues like that, do this if you don't have time to reinstall macOS], Creat a new Admin profile on the same Mac under the system Preference. follow the below steps.
Go to the Apple logo on Mac > System Preferences >Users & Group. Click on the lock icon and Enter your Mac password to make changes under Mac privacy.
Now, click on the plus icon to add another profile, Select Administrator from Account dropdown option.
Enter Full name, Account name, Enter new Password & Verify new Password.
Finally, click on Create user. Your Mac will take time to create a new file system for another login. Now you can switch between the Admin account after restart your Mac.
Also, in Future time you can select your account every time when you open Mac.
Solution #9: Repair your Mac Disk with Given Simple Steps to Fix Finder issues on Mac Catalina
Step #1: Restart your Apple Macbook Pro or MBA or iMac.
Step #2: Now open up Disk Utility which is located in /Applications/Utilities/Disk Utility
Step #3: on the screen, select the disk on the left side.
Step #4: Now Choose the tab "First Aid" and click on Run
Step #5: Click on the option "Repair disk permissions".
Step #6: Restart your Apple Mac once that is done.
and Finally, check out that your Macbook Run normally. let me know in the comments and unluckily this answer will work out. Then follow the last solution that is re-install macOS.
Solution #10: Reinstall macOS Without Data lost
Reinstall macOS on Mac is a very healthy process to repair any MacOS version. reinstallation will not erase the Mac Data, this process only installs the latest version of macOS and replace the old file system that might be currepted and buggy after too many years of use. Most of the Mac users have been installed the third-party buggy apps. Now those apps are incompatible with the latest file system and Mac kernel.
Restart your Mac (Go to the Apple logo on Mac > Restart).
After the Mac Startup sound, Quickly press and hold the Command + R key from your Mac Keyboard. Until your Mac Screen sees the macOS utility window.
The second option is Reinstall macOS. just go with this option. follow the on-screen instruction, And the process will take time depends on your internet connection speed. Because your Mac will download the latest version of macOS from the apple server and install it after download complete.
Set up your Mac and Check it should be fixed.