Last Updated on Jan 9, 2023
Why is my Google Maps not working on my iPhone after the latest iOS 16 Update? Quickly resolve your problem related to the google maps app on the iPhone, iPad. From this tutorial you can get troubleshooting tips on Google Map unresponsive, Google Map app crashes, Google Map not showing current position or movements inside Map, Cannot reach the server, Google map, Not displaying distance in different Distance units (Kilometers, Miles), Turn by turn direction guide.
Pre-requisite: To run the Google Map app on iPhone, iPad stunningly you need good internet connectivity (In most cases you may have trouble while you travel by train, Air, or personal vehicle), Turn on Location Services for Google Maps.
Here's Today – Fix Apple Maps Widespread outage strikes Apple Maps search and directions
Google Maps app Not Working on iPhone, iPad or Mac
Make Sure Google Map background Refresh toggle turned On
Your device must be connected with a strong Wi-Fi network or if you are using Google Maps With mobile data plan at that time cellular data toggle must be turned on.
if your phone connects to the internet, however, Google maps directions not working iPhone or other google maps issues persist on your smartphone, please follow the bottom guide carefully. I'm sure that you will get success and get back google maps to work quickly. [in more you can also use Google Maps alternative Maps for iOS]
Go to Settings App
Scroll the screen, Find and tap Google Maps
on Google Maps Settings screen, turn toggle On next to he background App Refresh
Calibration Google Maps must turn on
Get steps below on How do I calibrate Google Maps on the iPhone? Just go with my instructions to get google Maps workable on your SmartPhone.
Go to Settings App
Scroll the screen, Tap Privacy
on Privacy Settings screen, turn Location Service On/Green.
Next, scroll the screen tap Google Maps
Now choose Always Allow.
That's it!
The Second way to calibrate Google Maps on the iPhone
Open the Settings App
Tap Privacy
Turn Location Service toggle On/Green.
Now scroll the screen Tap System Services
on the System Services page, Turn the toggle Compass Calibration on/Green.
Enjoy Google Maps!
Google Maps direction not working iPhone: Make Sure Time Zone is correct
in advance, you set the date, time, and timezone correctly on your iPhone or iPad.
Go to Settings App
Tap General
Click Date & Time. Next, Turn Set Automatically toggle ON/Green.
I highly Recommend If possible, Use Set Automatically.
Check for Google Map Update and iOS or iPadOS system firmware update
Based on my experience, (old iOS have had a major bug in GPS) please keep updated OS with the latest iOS from device settings
Launch the Settings app
Tap General
Click Software Update [latest update available iOS 15.4 or later]).
Note: Google maps App Last apple comes with Add Additional Shortcuts for Travel Time Widget. Improved in Product.
Also, update the Google Map app,
Open App Store on iPhone/ iPad
Find Google Maps using App store search bar
Click on Update next to the Google Maps app.
Also, Update offline Saved maps: Tap on the top left corner (Ξ) more icons. Inside App Side Manu Pane, Find Offline Maps and Leve it for update automatically. Finally, you will get the Update is complete.
Here's → Fix Google Maps Crashes on iPhone or iPad and Resolve iOS Google Maps GPS Not Working
Google Maps iPhone Street View: Get On iPhone
Google Earth app gives 2D and 3D Street View on your iPhone. Unfortunately, Street View is not available on Google Maps iOS app.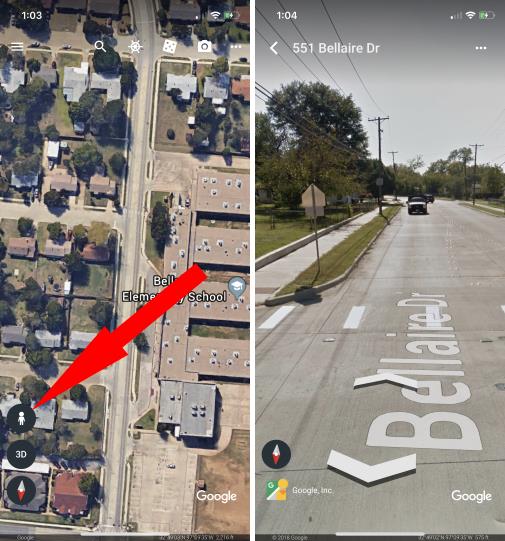 Why can't I turn on Google Maps Location Services on my iPhone?
it happens mostly when restrictions are applied for google Maps only or for All apps which use location services due to stopping track phone location or sometimes happens accidentally. Let's check how to remove restrictions for Google Maps LS (Location service) on your iOS or iPadOS device.
Note: For this, you must require a Restriction passcode to remove Content & Privacy Restrictions.
Open the Settings App
Tap Screen Time
Now tap Content & Privacy Restrictions
on the Content & Privacy Restrictions screen, Turn toggle On Content & Privacy Restrictions.
Now scroll the screen Tap Location Services under the PRIVACY section,
Tap Allow Changes
Now Scroll the screen Tap Google Maps
Choose Always Allow.
App explanation, "To get real-time traffic updates reminders to leave, and personalized recommendations, choose Always Allow."
Through the above steps, I hope, you can turn on Google Maps Location Services on your iPhone.
Google maps not showing map iOS: Not showing current position or movements on Map
You are moving at walking speed or by vehicle; Google Maps is all time perfect and ready to guide at any speed. You are on another screen or Location service turned off
Go to the Settings on iPhone, iPad > Privacy > Location Services > Enable location services.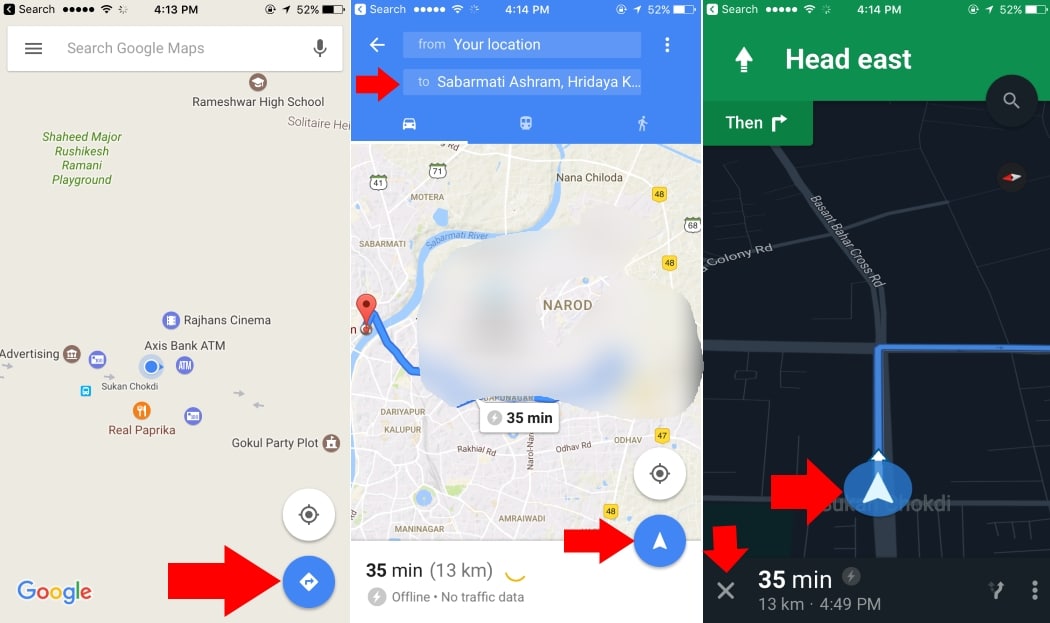 Tap on Blue Background Arrow round button, See below screen
Cannot reach the server
Check internet connection by browse from iOS browser or Reset network settings (Settings > General > Reset > Reset Network Settings).
Still not working, try another alternate Map app.
Restart Your iPhone or Android phone
Why is my Google Maps not working? the solution to this issue is simply to restart your iPhone or Android phone.
Let's Press the Sleep/ Wake + Home button at once continuously until you show the slide to unlock the screen on the iPhone or iPad. Volume down button + Home button for iPhone 7 & iPhone 7 Plus.
For Restart or Hard Restart iPhone 8/ iPhone 8 Plus, iPhone X, iPhone XR, iPhone XS Max, iPhone XS: Hard Restart iPhone.
Turn by Turn direction guide (Repeat voice guide)
Turn off the Google Map app completely from iPhone or iPad, Get last location search data in Map app history. (Go to Map Settings > Maps History > Tap on your search). Under the navigation settings, > Guidance Volume customize Google map voice level.
To repeat the voice guide, Single tap on Triangle moving an icon on Map.
Unable to Delete Google Map Search History
Open Google Maps app on iPhone, iPad.
Tap on the Settings app (Horizontal Three Lines icon).
Next, Find the Settings > Maps History.
It will redirect to My activity page, Tap on the Page settings icon (Three Verticle icon), Delete Activity By > All Time from a Dropdown list.
Next, Tap on the Delete button.
Fix Google Maps not working on Mac
very times users try to open google maps on Apple Mac, it works like charm but some of the time google maps does not work fully. it does Only a city or an area instead of a full page. for instance, on my mac, I try to minimize to see the world map for example, at that moment Google Maps goes blank. in short, Page won't load on Mac Safari. in this case, you should follow this (safari won't load a page on mac) guide to fix google maps won't work on mac safari.
For more instructions, you should follow the instructions mentioned in the Apple documents.
Any personal suggestions on fixing the Google maps app not working in any way, don't miss to share with us in the comment box.
Get More: Fix GPS not Working on iPhone or iPad