Now a day Security is main assistance for protecting yourself on any device. And for Photo and Video must be required. This time Apple giving an awesome option on hiding single photos or Hide multiple photos on the iOS device. This is a very useful feature in the list of hundreds hidden features not have been shared in Keynote 15. To experience you must have iOS 9 or later iOS installed device, So Keep updated your iOS device, and Enjoy new feature apart from hide or unhide without the app.
Now for you, all types of a query on hiding Party photos, Private photos, Personal family photos, Hide photo from colleagues and unknown, Hide picture gallery.
In iOS 8 you can hide photos and videos in device using third party apps. But now without app, it should be possible, See the below steps on Hide multiple photos in iOS 9 or later.
Steps for Hide Multiple Photos in iOS 11, 10, 9: iPhone, iPad and iPod touch
Step 1: Go to the Photo app and Launch Photo app.
Step 2: Next, Move to photos library for hide multiple photos.
Step 3: Now, Tap on Select Option from the top right of the screen.
Step 4: Single tap on Select Beneath of cancel option, you can select all the photos to appear on the screen. By sliding your finger on photos sequentially.
In the case, note wants to hide all photos look in the folder then you can quickly select multiple photos by swipe your finger from the first picture to any number in down direction.
Step 5: At the bottom of the screen, Tap on Box icon.
Step 6: Now you can choose, Hide icon for hiding all the photos appear on the screen.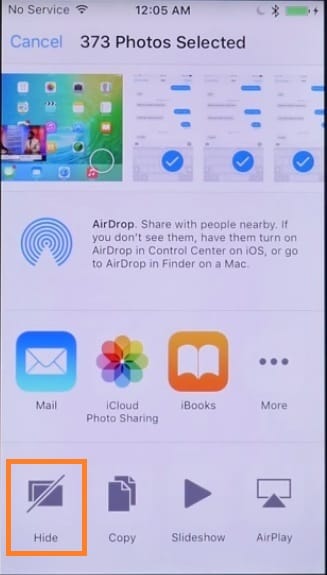 Step 7: Finally you have to choose an option, Hide Photos.
Once you hide, unhide any time within photos app albums.
How to unhide photo on iPhone, iPad?
Open Photos App on iPhone > Albums > Hidden folder. Tap on it and Select photo that unhide, Next tap on Sharing icon > Unhide.
Now, Anytime we can unhide photo from photos app on iPhone and iPad.
Having problem on Hide multiple photos in iOS 11, iOS 10 or iOS 9 with iPhone, iPad, and iPod touch share with us, we will revert best possible solution for you in the comment reply.