Last Updated on Nov 10, 2020Family sharing turn on for your account, and you want to hide purchased apps on iPhone or iPad from any member who is Sync with same Apple ID for Family Sharing. Learn in this post how to Hide purchased apps on your iPhone and iPad from My purchases apps history (iPad Air, iPad Mini) without the use of iTunes.
In iOS Device, Family Sharing feature is amazing for the share purchased the app in family member so, no require buying again for other family members. Have you ever experience trouble on your iPhone or iPad Screen by a large number of free and purchase apps through following beneath given tip how to hide it?
Switch them to the sleek and attractive look. Hidden items will also be protected from the family member. Know from below steps for useful tip Hide Purchase apps on iPhone or iPad.
Also, Read- How to subscribe iTunes Match using iPhone /iPad: Without Credit Card
Tested on the Devices are iPhone XR, XS Max, XS, X, iPhone 8, iPhone 8 Plus, iPhone 7, 7 Plus, iPhone 6S, 6S Plus, iPhone 6/ 6 Plus, SE, iPhone 5S.
Step to Hide Apps on iPhone & iPad in iOS 12
iOS 11: Hide Purchased Apps on the iOS device
Step #1: Open the App Store on iPhone, iPad.
Step #2: Tap on Profile, at the top right corner of the screen.
Step #3: Next, Tap on Purchased.
Step #4: See the List of Installed Apps (Free and Pro). Slide finger to left and Tap on the hide.
Also Useful: Unhide hidden apps from the app store on iPhone, iPad.
iOS 10:
Step 1. Launch an App Store app on your iPhone or iPad.
Step 2. On the iPhone, Tap on Update and then tap on the Purchased button; on the iPad, Tap on Purchased button lower side on your iPad.
Select, My Purchased if you're enabled with Family sharing group. You can see there All or Not on This iPhone options.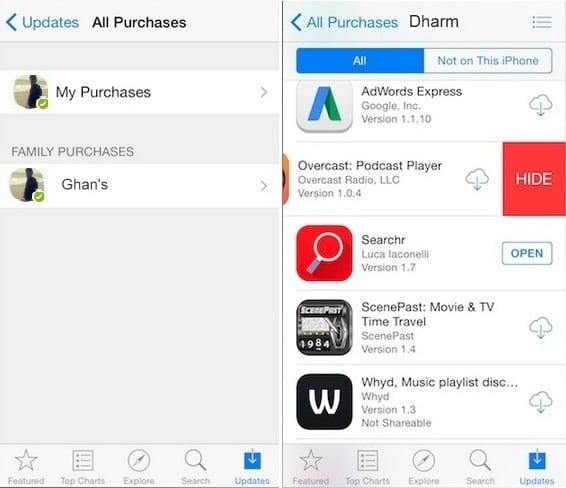 Step 3. Tap on any app and swipe left, you will view Hide button
Step 4. Tap on the Hide.
That's it.
If you want to re-download purchased or free apps then you can do it quickly but, for that, you've to need just access your iTunes account on your Mac or computer using correct Apple ID.
Watch Video on how to hide apps on iPhone on the latest iOS
In Apple iOS Devices, the user cannot hide other
Purchase iTunes app
Such as
Music, Movie, TV Show
, etc. for that you've to follow hide
purchased apps on iTunes
.
After checking out above tip Hide Purchase apps on iPhone or iPad, text your little replay it has been work right for you.