🗓️
July 20, 2023
By ✍️
Jaysukh patel
Using Mac WiFi hotspot you can connect multiple devices through Internet Sharing. To Turn on /Enable /set password on Mac WiFi hotspot you can share your internet with more than one connection securely. After that no one WiFi enabled device can connect without password set on your Mac WiFi hotspot. Sometimes it will be possible to that you have multiple devices that needed to connect internet, but only one available source (Mac). Then you have to set password on Mac WiFi hotspot for connecting your Mac's hotspot to other devices that are use for the connect internet and sharing data with your friends. This tip is very useful when you are in collage, school or group, hotels. Using WiFi hotspot you can share your internet connection via private WiFi network to other devices for limited area. Please follow the bellow step for how to easily set password on Mac WiFi hotspot.
Related: How to set/ change personal hotspot password in iPhone
How to Internet Sharing using set password on Mac WiFi hotspot
Step 1: Go to the Apple menu, click on it and choose System Preferences.
Step 2: After Go to the Network option
Here, you can check which type of internet connection running on your Mac, like WiFi, Ethernet, Bluetooth or iPhone USB. Here Cable connection is connected.
Step 3: Now, Go to the Sharing in System Preferences
Check the Internet Sharing sub-menu and you have sure to your WiFi is checked. In bottom-left you have choice to clicking on the lock icon for security purpose.
Step 4: Select the WiFi option that given in the bellow
After selecting the WiFi option, in your screen have a pop up message options submit like Network Name, Security and Password on your network.
Step 5: Now, check the Internet Sharing option
Here, you have another pop up message that asking you to, Are you sure you want to turn on Internet Sharing?
Step 6: Click the Start Button option to successfully start your own private network.
Now you have set password on Mac WiFi hotspot that connected to your Mac with other WiFi enable computers and other devices.
Note: you want to turn off the network connection then remove click in the Internet Sharing option.
If you want to share data, files and more information without wireless connection between computers then you have to follow the given bellow steps:
Step 1: Go to the WiFi menubar then click the Create Network
After clicking create network in your screen pop up alert that ratify you to Network Name, Channel and Security.
Step 2: Click Create Button.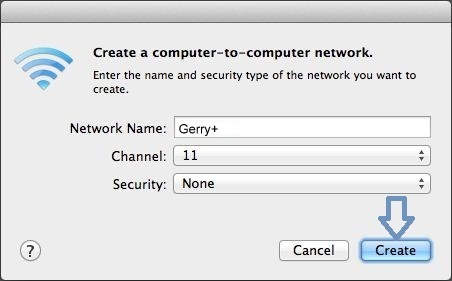 Now, you can connect any computer on the network without internet connection. You can exchange your files simply and easily using WiFi.
Useful: Reset forgotten mac password without disk or Boot Drive [How to].
Here, you should follow the above step for set password on Mac WiFi hotspot. Have you any another ways to get this? Then please share your alternative way to us in below comment.