The useful tip that helps you to create noiseless photo shoot Turning Off Camera Shutter Sound on iPhone 6 / iPhone 6 Plus, iPhone 6S/6S Plus iPhone 7, iPhone 7 Plus, iPhone 8, iPhone 8 Plus, iPhone X
we are happy to help you, submit this Form, if your solution is not covered in this article.
Since you should turn off Shutter Sound before start to take a photo on your iPhone 6/ 6 Plus or iPhone 5, iPhone 6S/ 6S Plus, iPhone 7/ 7 Plus, 8/ 8 Plus.With an integrated iSight camera in iPhone that allows Camera shutter Sound with the Ringer Sound.
Almost iPhone users like capturing their real-time memorable and funny activity on his or her iPhone, iPad iSight Camera. It's kind but even would you like to mute shutter sound then follow bottom given instructions for enabling or Disable Camera Shutter Sound on iPhone 6 /6 Plus, 7/ 7 Plus, 8/ 8 Plus.
Note: Below tricks also helpful on Camera Sound on Snapchat, Instagram, WhatsApp, Messenger other social apps that use a camera for photo and video.
Steps to Know: Turning off Camera Shutter Sound on iPhone 6, iPhone 6 Plus, 7/ 7 Plus, 8/ 8 Plus- iOS 11/10/9/8
Three Alternate Methods in turn off camera shutter sound
Everything is customizing on Apple's iOS Devices; we're listed below one of them.  You can get the overview how to switch camera shutter sound Turn On and Turn Off. This tip goes handily for all iPhone models So you can also follow same steps for other iPhone model with the different version of iOS.
Method 1: Using Mute Button or Ring/Silent Switch
Step 1. Look, Top and left side of your iPhone – where you can see a Mute button.
Step 2. Move that mute button from top to downside softly. After that, you can see a small amount of orange color above the button when your iPhone is in the muted situation.
Step 3. Now, Capture a Photo thorough your iPhone camera and test that it's Shutter sound turn off.
That's it. If you're running iOS 10 or later devices, then you can take attractive Photos in Burst mode.
Method 2: 

Using Assistive Touch – Without Ring/Silent Switch
Enable Assistive to touch and Customize (Go to the Settings App > General > Accessibility > Assistive Touch) from iPhone settings app.
For easy to navigate or use Mute control add it to Customise Top Level menu.
Now Where ever you can mute Camera click sound before launch Camera app or While we are using camera app on the iOS device use for click the picture.
See the Turn on position for camera sound and Turn off inside by side picture screen in the below,
Method 3: 

Set low Volume for Camera click: Adjust Click sound intensity
Before launch camera app on the iOS device, Use Volume down button and set it as you wish.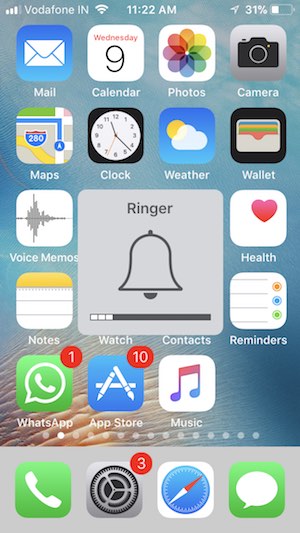 Then, test the correct camera click Sound or noise by clicking on camera capture button.
Note: This trick is convenient for unable to access Physical button (Ring/Silent Button). Or Button is Damaged.
According to we've information – if you're from Japan? Yeah if you're from Japan then you can't be eligible to turn off Camera Shutter Sound of your iPhone, even if you turn off Ringer. As per Japanese rules Phones in Japan do not allow people to mute the shutter sound. It's the prevention for people from taking Sneak photos.
Also Use: the Very Best Camera app for iPhone (Use or manage different settings on Music)
Did you get here which you want before? Tell us how much help the tip on Turning off Camera Shutter Sound on iPhone 6 /6 Plus, 6S/ 6S Plus, 7 Plus/ 7, iPhone 8/ 8 Plus, iPhone X.
Keep in touch with us daily to know more about How-To Tips and Tricks on iPhone, iPad, and MacOS.
Jaysukh Patel is the founder of howtoisolve. Also self Professional Developer, Techno lover mainly for iPhone, iPad, iPod Touch and iOS, Jaysukh is one of responsible person in his family.
Contact On: [email protected] [OR] [email protected]