🗓️
September 26, 2023
By ✍️
Jaysukh patel
iMessage on your Mac can run into some issues where the app shows a red exclamation mark next to an iMessage, you might see an alert "Message not delivered," not receiving iMessage notification, won't receive and send iMessage and in some instances, the message appears in blue bubbles while others in green, etc.
Due to the complexity of macOS, multiple reasons can cause these issues. But fuss not; I've listed several ways to fix iMessage not syncing on Mac.
iMessage Not Delivered or Not Syncing issue On Mac
Is iMessage misbehaving on your Mac? Try these simple solutions to get iMessage sending and receive the message again.
1. Check iMessage Server Status
Ensuring the iMessage server isn't down before we begin with any high-end solution is essential. Sometimes it's possible that iMessage servers are down, which is why your Mac's iMessage isn't working. To cross-check, navigate to Apple Server Status Page for USA / Apple Server Status for Other Region and look for iMessage.
If the mark is red, iMessage is down, and you will have to wait to fix it. And if it shows the green light, move to the next solution.
2. Check Internet Connection
When you have a problem with the iMessage, one of the obvious reasons is an internet connection. Be sure to check if you are connected to the internet. If not, the message will be forwarded in green bubbles, indicating that they are sent as regular messages.
Note: Is iMessage not working on your Mac when connected to WiFi? Remember, your Mac can still connect to a WiFi that isn't working. The easiest way to check is by going to Safari and visiting howtoisolve.com. If it doesn't load the webpage, the issue lies with WiFi.
For this, head to the Apple Logo > System Settings…(System Preferences…) > WiFi, and you should see the network you're connected to. It's possible that your Mac automatically joined a network with a poor connection.
If so, join your Mac to an alternate WiFi or Mobile Hotspot.
3. Restart your Mac
Not to mention, a restart can solve most of the problems, including iMessage fails on Mac. To do so, click on the Apple Logo. Next, click Restart… > Restart. That's It!
Tip: If the Message App is unresponsive, even after you click on the app icon on the Mac dock. Try out the below steps.
Press Command + Space to open the spotlight search.
Enter Activity Monitor and click on it to open.
Search and select Messages on the list of apps.
At last, click on X Icon; this will completely shut down Messages on your Mac.
4. Disable and Enable WiFi connection
The patchy network could be why iMessage is not working on your Mac. One quickest and most effective ways to fix it is turning off and back on the WiFi. To do so, click on the Control Center in the top right corner. Next, click WiFi to disconnect.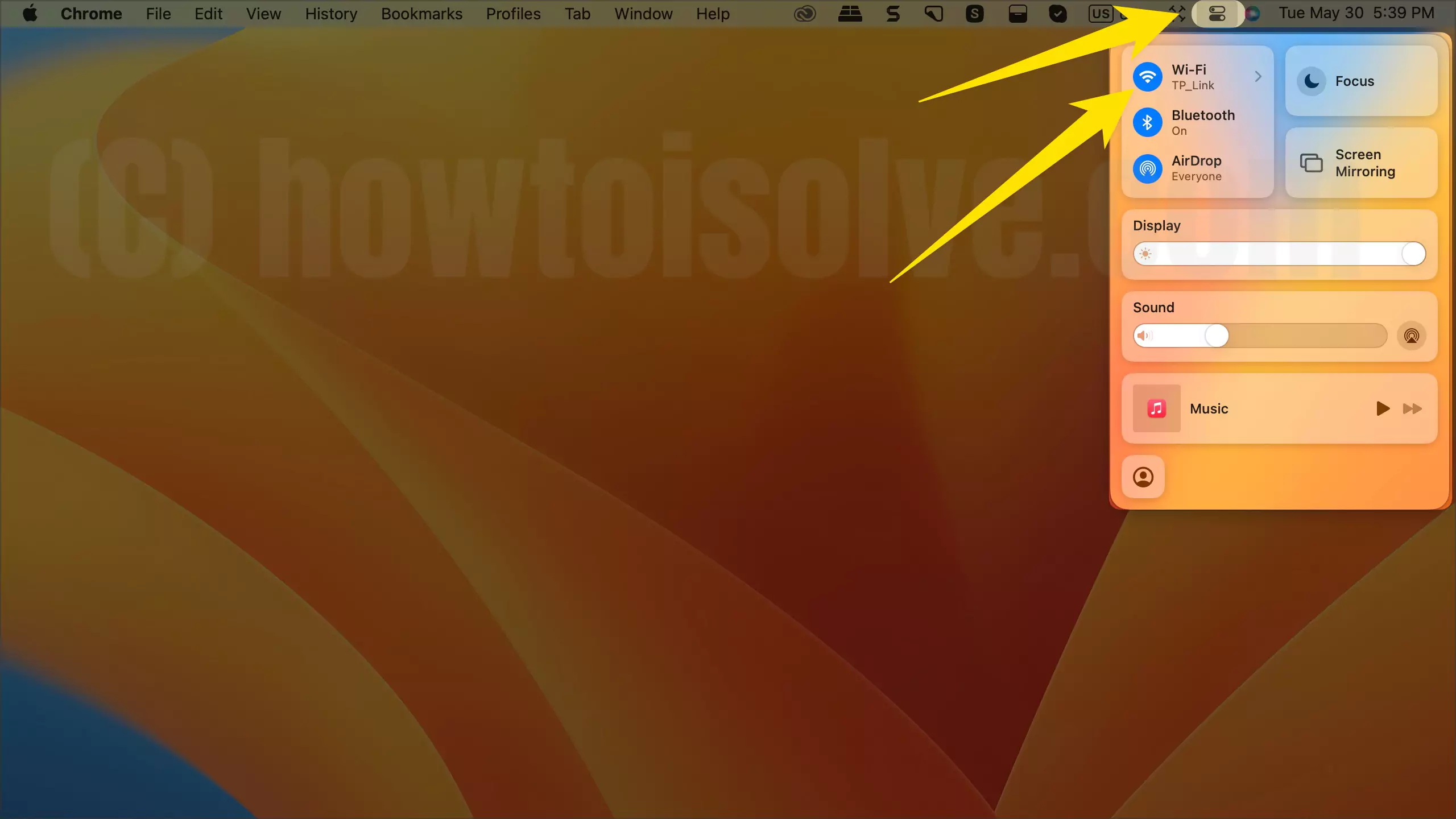 Now wait for a while and reconnect to the same network. This will force your Mac to reconnect with WiFi, which is beneficial.
5. Ensure iMessage is Activated
Are you sure iMessage on your Mac is activated? If not, iMessage won't work, no matter how hard you try! To verify, follow the steps below.
1→ On your Mac, open the Messages.
2→ Click on Messages from the menu bar.
3→ Next, click on Settings (Preferences…for macOS Monterey and earlier) > iMessage.
4→ Tick the box next to Enable Messages in iCloud.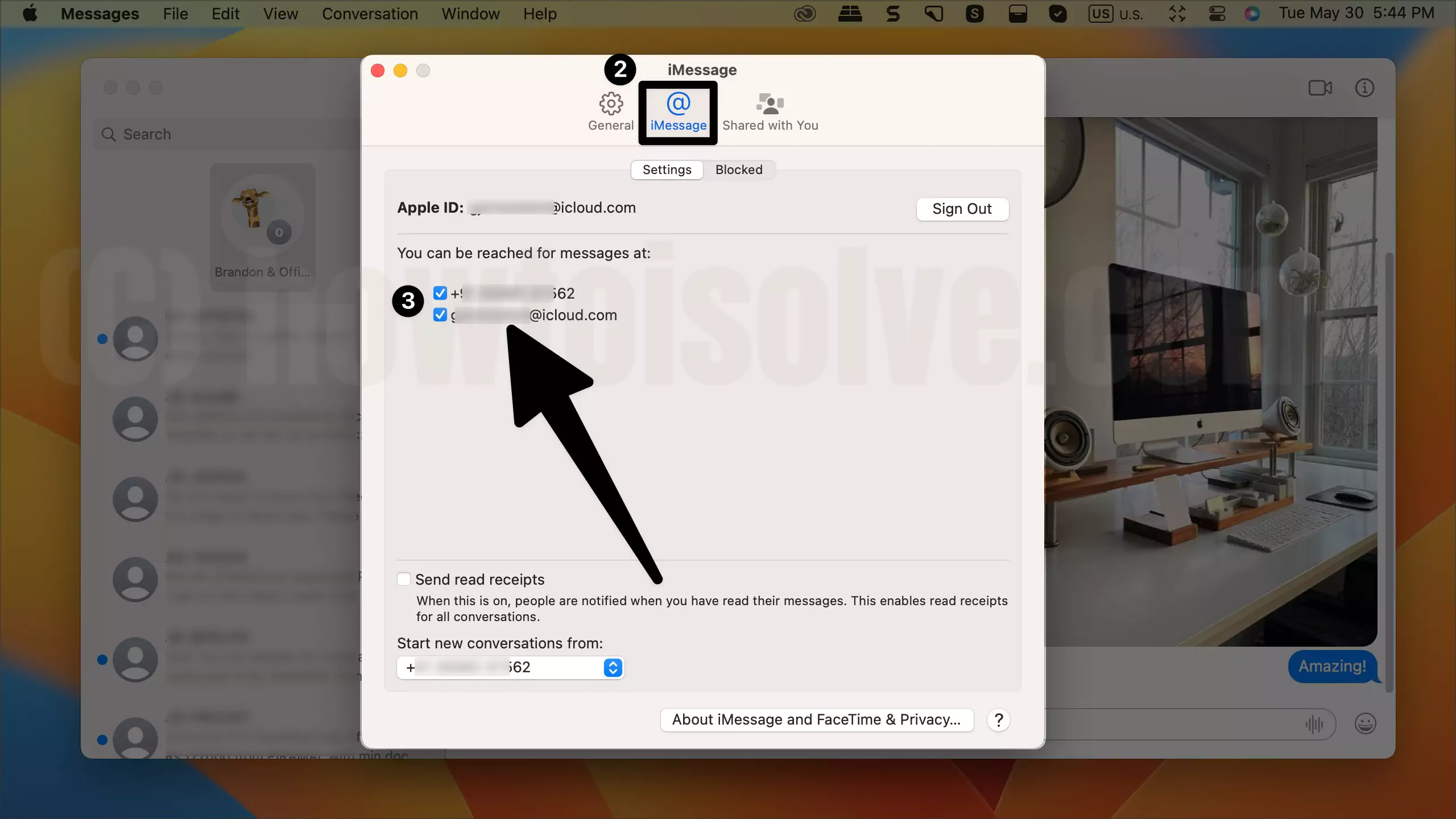 6. See If your Recipient has iMessage
iMessages only work between Apple peripherals. So if you are trying to send iMessage to a non-apple peripheral, you'll capture a green bubble instead of blue, indicating that Messages are sent as standard messages. So ensure the receiver you are sending the message has Apple peripheral via phone call.
8. Sign Out and Sign In Again
Due to an authentication error, the iMessage might have stopped working on Mac. You need to sign out from iMessage and sign in again.
Open the Messages App. Click on Messages from the Mac menu bar.
Select Settings…(Preferences…on macOS Monterey and earlier).
Go to the iMessage Menu. Select Sign-Out Button.
9. Disable Focus on Mac
When you are using Focus Mode on Mac, you won't receive any recent iMessage on your Mac. If so, click Control Center at the top right corner, and click Focus > Focus to disable it.
10. Sync the iMessage Manually
If messages aren't syncing iCloud on your Mac, you might not receive the latest iMessage. Fortunately, the Message app offers an option to sync iMessage Manually. Here's how you can do it.
Open the Messages App.
Click on Messages from the menu bar.
Select Settings…(Preferences…on macOS Monterey and earlier)
Go to the iMessage Menu.
Finally, click on Sync Now.
Wait until the syncing procedure is finished with iCloud, then check for the issue.
11. Rebuild Keychain Access on Mac
Press Command + Space to open Spotlight.
Enter Keychain Access and click on it to open.
Select File from Menubar.
Click Lock Keychain "Login." You'll need to unlock it after a while and enter the password if asked.
12. Set Date and Time Automatically on Mac
In some instances, we found Date and Time settings can cause problems. And the same goes when you won't receive and send messages on iMessage on your Mac. However, setting a Date and Time Automatically can resolve your problem.
Go to Apple Menu.
Select System Settings… > General.
System Preferences… > Date & Time > Time Zone > Check the box next to the Set date and time automatically for macOS Monterey and earlier
Click on Date And Time.
Finally, toggle to enable Set Date And Time Automatically.
13. Update macOS
Keeping your macOS updated to the latest version is the best way to prevent specific issues, and one such is iMessage not working. To check the availability of macOS versions, follow the steps below.
Go to Apple Logo.
Select System Settings…
Click General.
Choose Software Update. Now wait and let your Mac check for updates.
If available, click on Restart Now.
Final Thought!
I hope the combination of troubleshooting steps mentioned above-fixed iMessage not working on your Mac. If not, the only solution is to contact the Apple Support Team. However, you can try out our best iMessage alternative app for Mac as a temporary solution.
Other Troubleshooting!
Send and Received Text messages from another device that signed in same iMessage account.
Use your Mac when your iPhone is nearby. Start sending and receiving a Text messages from your Mac. Before that, you must have enabled text Message forwarding on an iOS device.
To enable Go to the Settings app on the iPhone.
Find and Tap on the Messages option.
Next, Tap on Text Message Forwarding and Enable the toggle for your Mac or Macbook.
That's it. You will get a notification on your Mac when you receive a text message on your iPhone.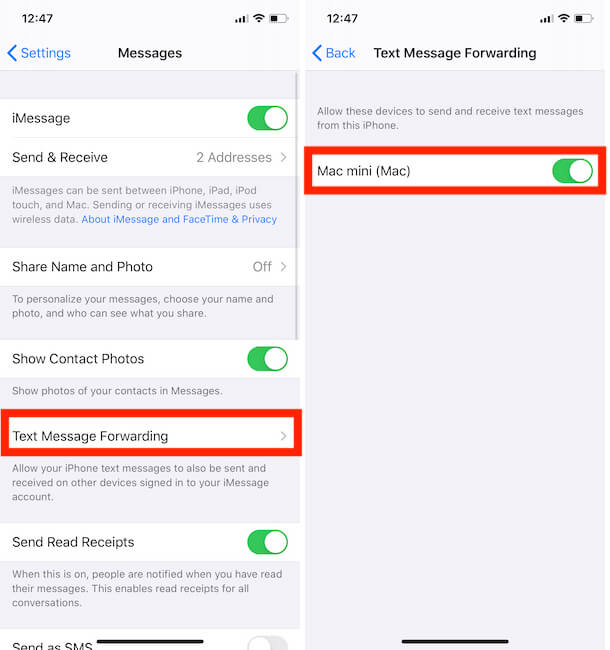 Fix 15: Delete iMessage Cache File Under the Library
First of all, Open the Finder window on Mac. Now, Go to the top Menu and Go > Go to Folder.
Now on your Finder window, New popup windows appear on the screen, Enter the below path and Hit to Go.
~/Library/Caches
Next, Find the Folder named,
Com.apple.icloudhelper
Com.Apple.Messages
Com.Apple.imfoundation
Select the above folder and drag it to a Trash bin. Now Go back to Library Folder and Find the Preferences folder. Finder the Below files and folder and delete them.
com.apple.iChat
com.apple.icloud
com.apple.ids.service
com.apple.imagent
com.apple.imessage
com.apple.imservice
After that, Reboot your Mac and try again. I m sure this will fix the issues with iMessage not Delivery and failing to send from the macOS message app.
Fix 16: Contacts not Showing in iMessage
You are unable to start a new conversation because no other device was found on Mac. First, Sync all the iPhone contacts means iCloud contacts to your Mac.
Go to "System Preferences" on Mac.
Click on "iCloud" > Login with "Apple ID" if not > Enable or "Keep selected Contacts".
That's it.
You can create Group chats for text with multiple people at once. Add more contacts and enjoy.
Now, you can search for All the Contacts and Apple ID saved in the contacts app. Not necessary all contacts have iMessage enabled.
---
Fix 17: iMessage not sent, Your message could not be sent
"Your Message Could Not Be send, Not Register with iMessage"

You can only send or This Apple ID or number for that iMessage activated.

We can set it from the iOS device: First, try to activate iMessage on the Phone number. In case you failed, iMessage Waiting For Activation error then try to enable iMessage on Apple ID.
Activate iMessage on Apple ID from the iOS device:-
---
Fix 18: iMessage Not Syncing Between Mac and iPhone
iMessage not syncing between Mac and iOS Devices
Turn on "Sync Now" in the Messages app on Mac,
Open the "Messages app" on Mac.
Go to "Top menu" > "Preferences" > "iMessages" > Enable "Messages in iCloud"
Also, Enable On iOS: Go to the "Setting app" on iPhone > "Profile Name" > "iCloud" > "Turn on Toggle" for Messages.
Fix 19: Not Receiving Messages for particular contacts or all
Skip this for the Latest macOS Ventura or later…The option is moved into Focus.
You should check Do not Disturb not turned on for the contact from Message app contact details.
Open your Conversation. Tap on "Details" at the top-right corner of the app.
Uncheck "Do Not Disturb".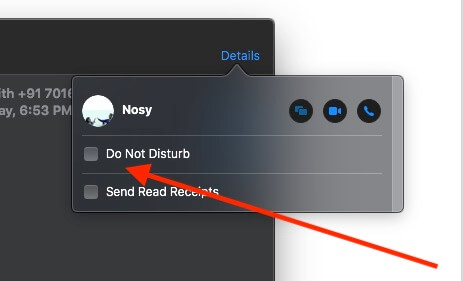 -> Check Blocked Contacts in iMessage
Contacts added in Blocked list unable to receive iMessage or send from your Mac. First, check the settings and unblock them.
Go to the Messages app preference on your Mac (MacOS Mojave/ macOS Catalina), Open "Messages app" > "Preferences" > "iMessage" Tab > "Blocked" Tab > Select "Contact" and Click on (-) sign to remove from list.
---
Fix 20: Unable to Sign in to Apple ID in iCloud on Mac
Try Again or Force Close app, I think it should be okay now.
Log Out of iCloud account on Mac
Step 1: Click on the "Apple menu". Open "System Preferences".
Step 2: Choose "iCloud".
Step 3: Click "Sign Out".
Step 4: Select "Keep a Copy".
Step 5: Download all files locally.
Step 6: Click "Keep on This Mac". This will save credentials locally.

Step 7: Reboot Mac.
Re-Launch Messages app on Mac
Step 1: Open the Messages app on Mac. Log in with your Apple ID that you use on other devices (iPhone, iPad or iPod Touch)

Step 2: After login successfully, you now send and receive iMessage on Mac.
Log into iMessage
Step 1: Open "iMessage".

Step 2: Enter "iCloud" details.

Step 3: Click "Next".

Step 4: Tap "Done".
---
Fix 21: Your Mac Stuck on Date and Time Zone [iMessage/FaceTime issues]
Date and Time in a Smart device is a crucial part of the system to work correctly; Your Smart device creates a log file that helps to prepare your data and send it over at the right time. Sometimes users are looking for the Timestamp of the message, also called the last seen. This point plays an important role here. Now, Let's check how to do and set it Automatically or Manually, depending on where you are. Select contradict options if Date & Time Automatically, then select Manually or Manually to Automatic. The reason is some Firewall systems are stuck on the update date and time.
On MacOS Ventura & Later
Go to the Apple Logo from top menu > System Settings.
Next, Click on General > Date & Time.
Mow, Disable the toggle "Set time and date automatically". Select "Set" next to Date and Time option.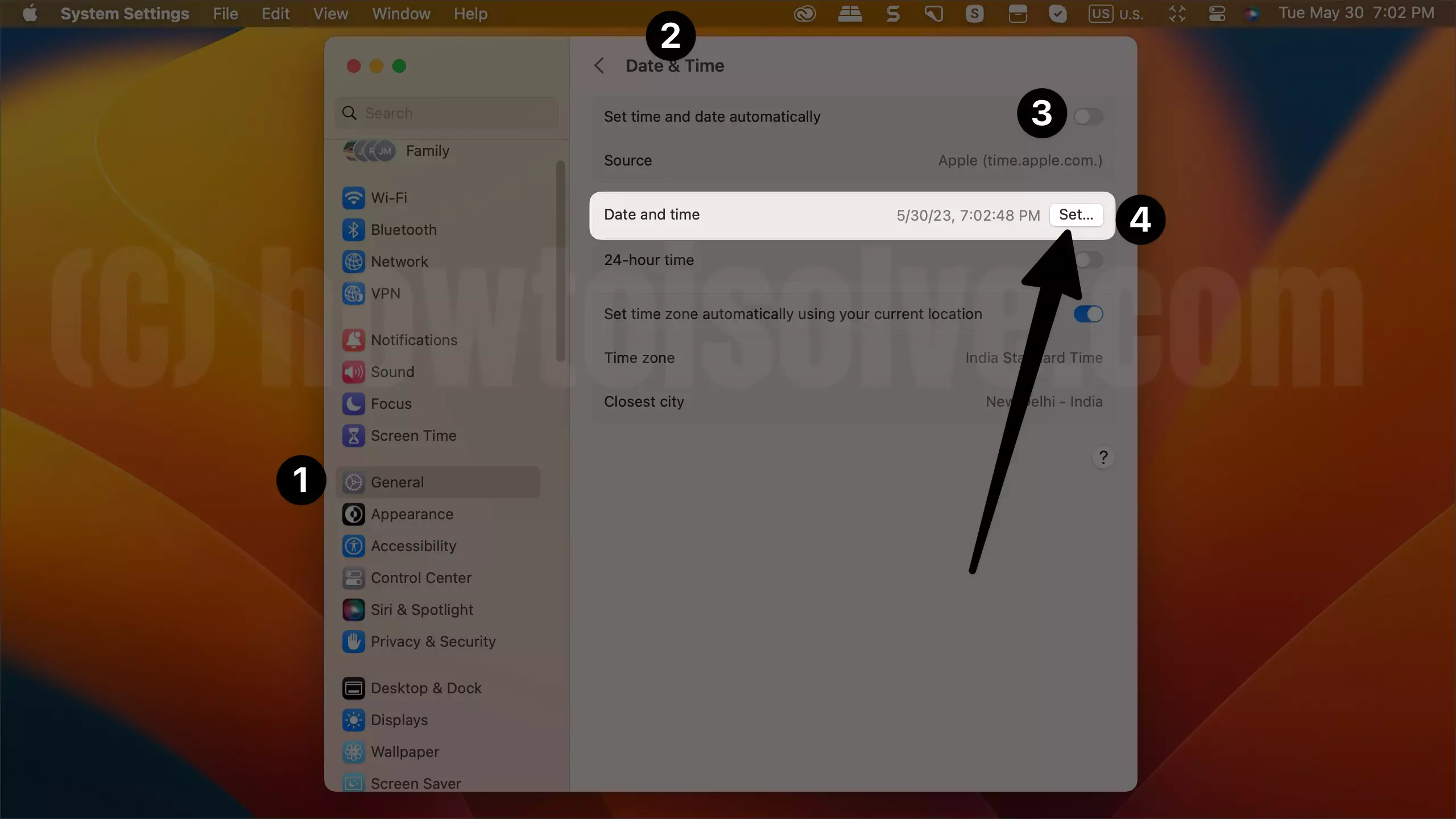 On MacOS Monterey & Earlier
First, Go to the Apple logo on your Mac > System Preference.
Next, to This option, Select Date & Time. Click on the lock icon and enter a password to change the setting right now. Enter your Mac's username and password. Now uncheck the option, Set Date and Time Automatically.
Next, in the same windows, Move to the Time Zone tab. And Manually enter your location here. Click on the Wold map to set your country. After changing the time zone, close Windows and reboot your Mac.
---
Fix 22: iMessage Sound Not playing on Mac: Mute & Unmute
Check Your Mac's system sound is turned on.
Open Messages app on Mac > Top Menu "Messages" > "Preferences" > "General" Tab > Select "Play Sound effects"

Do not disturb should be disabled
---
Fix 23: Keep Messages On Mac: iMessage Text
For Messages app on Mac, Open Messages app on Mac
Go to "Top menu" > "Messages" > "Preferences…"
Next to click on the "General" Tab > Select One of three options from the Dropdown list.
In case you remove the conversation from the list of Messages app.
Another option is here that prevents and stays all the conversation after you delete or remove/ Closed.

Enable – "Save history when conversations are closed".
---
Fix 24: Old Conversation Won't load or isn't save
Force the Close app and Reopen Messages app on Mac.
Change: Save Received Files to the location for the messaging app on Mac
Go to Message preferences page, "Messages" > "Settings/Preferences" > "General" > Use Dropdown option and Click on "Other".
Choose the Finder location and "save" it.
---
Fix 25: How to use Tapback on Mac's Messages app
Click and Hold on Message to see quick Tapback options in the popup. Or Right-click on Message to see Tapback option.

Fix 26: iMessage Effects Not Working on macOS
Same as iOS & iPadOS, Your MacOS required a system motion effect. We can find the Reduce motion settings on macOS Under Accessibility in System Preferences on MacBook, and Mac. Follow the Below steps and Play iMessage Screen Effects and Bubble Effects on your Messages app on Mac.
On MacOS Ventura
1→ Go to the Apple Logo from top mac menu > System Settings.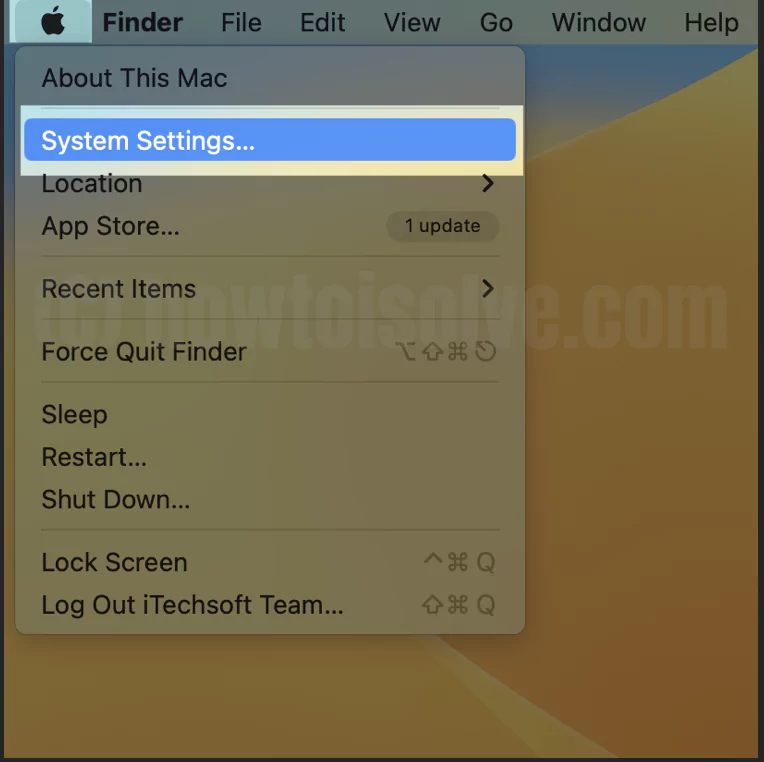 2→ Accessibility > Display.
3→ Find Reduce motion and Disable the toggle.
On MacOS monterey & Earlier
Go to the Apple Logo from top Mac Menu > System Preferences.
Now, Select the Accessibility settings.
Next, select Display from the sidebar and Uncheck the Reduce motion. Now you will play the message effects on the Mac messages app.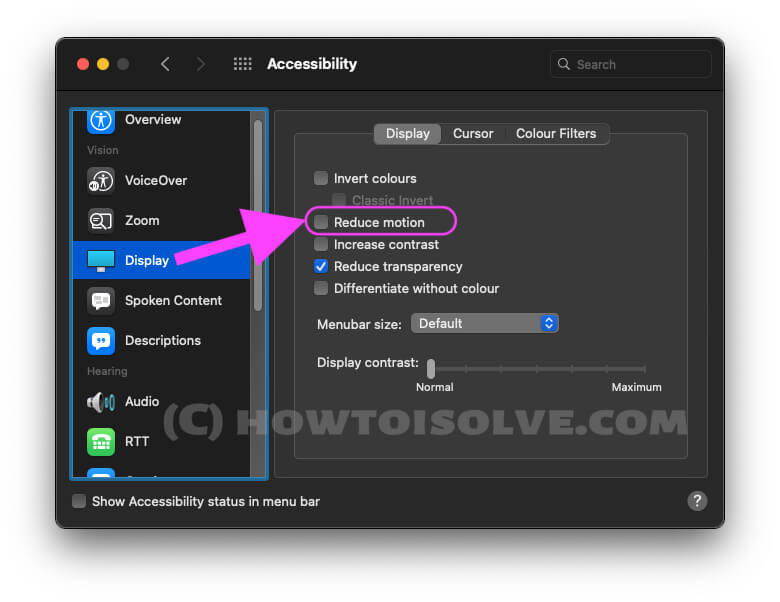 Here's the test in below screen,
That's it.
Above are the most common Q&A for iMessage problems that help to fix and answer your questions. More Burning Questions and troubleshooting, please share with us via comments.