Ohh, the latest iOS Screen Recording not working? Don't worry. Apple's iOS Screen recording is one of the undeclared features on the Stage. Albeit people are talking about the Screen recording instead of sending and receiving Payment using Apple Pay Cash, Customize Control Center, and much more. And hmm, I know that why built-in Screen Recording becomes enough favorite in just a few days. Because I have already tested that iOS Screen recording works to record on-screen playing videos of Facebook App, Instagram videos, Snapchat, and many non-apple and Apple official Apps screen with audio sound without time limits.
I experienced fresh but many users reporting their problem iPhone Screen recording not working iOS after starting from the Control Center. If you are also facing screen recorder bugs, don't worry. I'm glad to help you with described troubleshooting. On-screen recording won't work on iPhone, or iPad. First, here's fix iOS Control Center items not working.
Scroll down to the continue iOS16 screen recorder fix, Screen Recording Failed To Save Error Fix, and enjoy back brand-new features after update iOS.
Troubleshooting on iOS Screen Recording not working iPhone, iPad
Fix 1: Make Sure Screen Recorder turned on in Control Center
Whenever you trying to Record iPhone Screen on iOS,
Launch Control Center from the bottom of the screen and check out Screen recording shortcut icon that turns red. If it appears white/ gray (disabled), please gently press force touch and tap Start Recording. Now try again.
Fix 2: Screen Recording working but Audio problem
Have trouble iPhone screen recorder works but won't record sound? You must have to turn Microphone Audio ON. To do that open up swiping up the settings menu from the iPhone/ iPad Screen.
Note: As we know, Apple's old iPhones included iPhone 5, iPhone 5C, iPhone 4S, iPhone 4, and iPod Touch 4th Generation. So that you can't download and install the latest iOS on your device, so update to the new iPhone.
Next pressing & holding on Screen recording icon appear on the control center, so you get a pop-up with Microphone audio option. Tap on Microphone icon to turn Audio On. Now, test back.
Note: now you'll have to record iOS 11 or later device screen from the starting point.
Fix #3. iOS Screen recorder is not saving the video so, the recorded video can't appear in Photos App?
After you stop screen recording, you will get a notification on the top bar it looks like on the given screen.
If you got, then check out the video folder in Photos app camera roll. You can see a screen recording video clip at last in the Photos app video folder.
You've to make sure that your iPhone/iPad has sufficient storage space onboard memory as well as iCloud Storage Space. [Check out Storage Space iOS 11 or later]
Go to Settings → General → iPhone Storage.
You can upload Screen recording video to iCloud to able to watch on your macOS Big Sur, macOS Catalina, macOS High Sierra, Sierra MacBook Pro, MacBook Air and iMac, Windows, etc. Still screen recording video won't save – Hint how to optimize storage space iOS
Fix #4. Screen recording won't start just icon blinking
You trying to screen record in iOS 11 or later with tapping on Screen recording icon on Control Center, then please Verify that Screen Recording Restrictions is disabled under Game Center. You can easily understand the given steps and through pictures.
Launch Settings App → Find General → Tap Restrictions (Enter passcode) → Scroll down the screen to last until you appear Game Center → Screen Recording toggle must be disabled/Green. If white then turn green. Now test Screen recording back.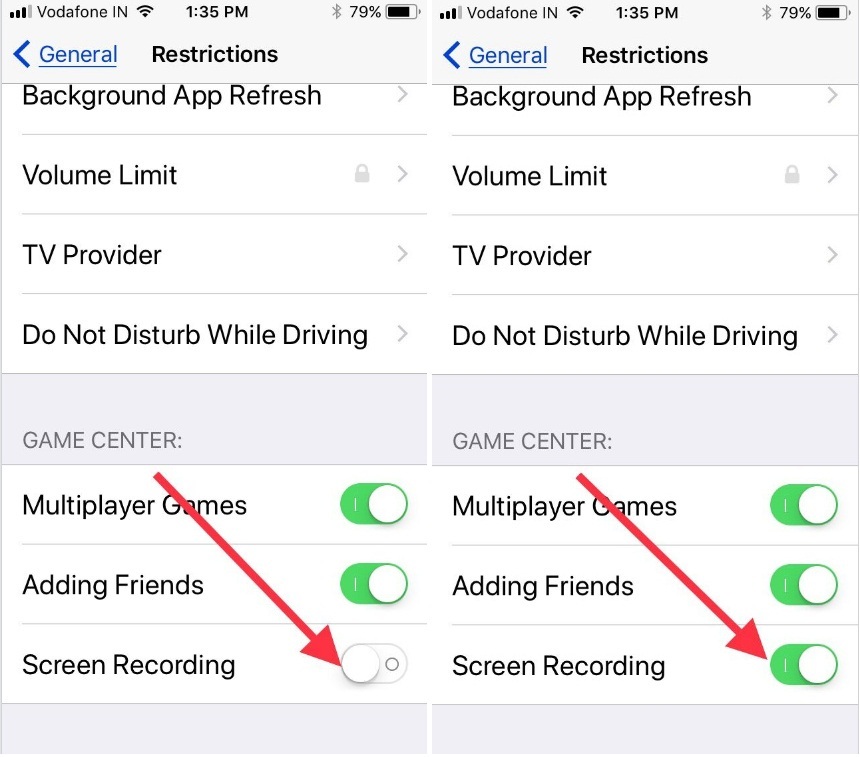 Get More – Tips to fix GPS not working after iOS update
Fix 5: Does your iPhone Getting hot when are you recording Screen on iOS?
Some of the features that you don't need to use when you recording screen then keep turned off like bluetooth, GPS service. Because these two functions are consuming much battery though ultimately your device is getting hot. The second thing is you need to unplug your iDevice if even in charging mode.
The second thing is you need to unplug your iDevice if even in charging mode. And leave it till cool off.
Hint to get rid of latest iOS overheating on iPhone
If you fail by using above mentioned workarounds, then once Restart your iPhone. This way is also useful when users are unable to stop screen recording videos. Hopefully, this worked in most cases.
Fix 6: Force Restart
Force Restart iPhone is also an ideal solution to fix iPhone Screen recorder won't work on
To force restart iPhone 13 [Pro, Max], 11, 11 Pro, 11 Pro Max, XS Max, XS, XR, X, iPhone 8 Plus/8 Plus users:
1: Press and Quickly Release Volume Up button then
2. then Press and Quickly Release Volume Down Button then
3. Press and Hold Side Button until you see the Apple logo on Screen.
To Start the iPhone, Again press the Side button until the startup apple logo on the screen.
For iPhone 7/7 Plus users: Press and hold on Sleep/Wake + Volume Down button at the same time until appearing Apple Logo
For iPhone 6S and Earlier users: Press and hold on Sleep/Wake + Home button simultaneously.
After this, Press Power on the button to turn on your iPhone.
Fix 7: Does Screen recording Crashes your iPhone?
You should try this solution to get rid of the app crashing on iOS.
Get more about how to how to screen record on iPhone iOS correctly.
Fix #8. Screen Recording Failed To Save Error Fix
try this following bullet point which is already mentioned in this troubleshooting article just you will have to find.
Error 1- Screen Recording failed to save due to: The operation couldn't be completed. (Cocoa error -1.)
Error 2- Screen Recording failed to save due to: Failed to save the recording
Solutions:
---
Update your iDevice to the latest version of iOS.
Steps:- Settings > General > Software Update.
---
Restart your iPhone or iPad to fix error Screen Recording failed to save
---
Turn Off Low Power Mode and put your iPhone or iPad into charging mode with light to USB cable
---
Not enough space on your iOS device – Follow solution number 3 to get free up space and try to record screen back.
---
Go to Settings > Safari next scroll down and tap "Clear History and Website Data".
This will remove history, cookies, and other data.
after this, you can try to screen record.
---
Force restart your Apple iOS device
---
Fix #9. Is your iPhone Screen Recording broken?
Sometimes whenever you swipe up the control center and try to press on the Screen recorder button that time Screen recording cut suddenly to fix this kind of issue – you should reset All Settings of your iPhone or iPad.
in iOS 15 or Later:- Go to the Settings app > General > Transfer & Reset iPhone > Reset > Reset All Settings.
in iOS 14 or Earlier:- Go with this Steps – Open Settings App – General – Scroll down the screen tap on Reset – Now tap on Reset all Settings and do complete the process until the reset confirmation.
You don't need to worry cause you don't lose any data and media. Just it will erase all settings. But this my tested way and it fixed my iPhone screen recording doesn't work.
Do you want to use iOS Screen recording landscape/ sideways mode? You need to know about iOS screen orientation lock.
Hmm, by the way, don't forget to share with us what number fix helped you to resolve iPhone recorder does not save video or iOS Screen Recording not working problems.
If you've any other solution on the topic related, please leave it in the comments. Thanks for reading!
Don't Miss: