Many of my friends suffering from low storage or free space on iCloud, So they don't take backup regularly on iCloud from 16GB, 64GB, or 128GB iPhone, iPad, or iPad Touch. So each iOS users need to upgrade iCloud storage and spent dollars every month. Some friends are also asking me about the ways Free Up iCloud storage using iPhone, iPad, because not interested in buying more storage after 50 GB Or 200 GB, 2 TB. Yes, this can happen by removing unwanted backup and apps data from the iCloud account.
Wise understanding is that, use alternate cloud storage for backup photos, videos, and other media files. But such important settings, Contacts, Messages, and iCloud Drive data we must use iCloud (Free 5GB storage or upgraded account at cheap cost)
Here, I explained how to make large spaces in just a few seconds or clicks. And bypass all the errors related to inefficient storage or not enough space.
Also, new Sync Messages with iCloud other new features, to activate this we need to turn it on from the Settings app.
Watch the video to Fix iCloud Storage Full Pop-Up: How to Delete iCloud Storage
Steps for Free Up iCloud Storage on iPhone,iPad
#1: To Free up iCloud Storage, Go to the Settings on iPhone, iPad
#2: Next, Tap on Profile Name, Scroll Down And Go with iCloud
#3: Now, See the iCloud usage – Space consumed by types of data like Photos, Backup, Docs, and others.
Depends on Free Space requirement you can delete unwanted data from Manage storage option.
Tap on Manage Storage > Manage Storage and Find the separate option for delete data (Photos, Backup, Messages, Notes, iCloud Drive and More other apps).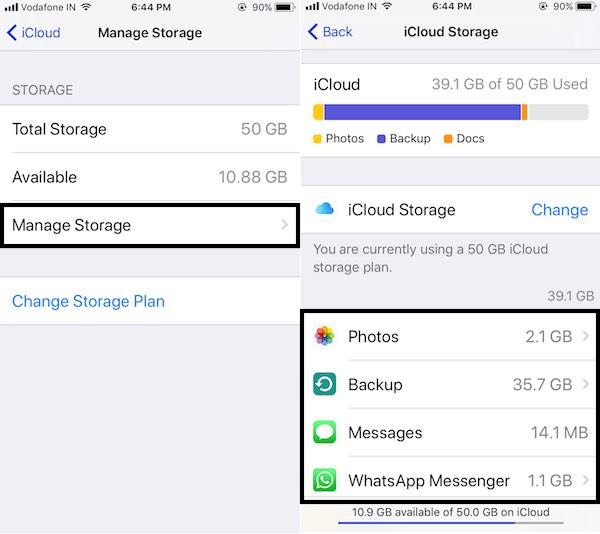 Tap on App Name then Tap on Edit button from the top right corner of the screen, Next Delete Data.
Other Wise Go through iCloud Storage Change
#5: Enable App restriction on Backup in iCloud or Use iCloud
Delete Backup on iCloud using iPhone: Tap Backup > iPhone.
Or Exclude types of Data from Next backup (Photo Library or App Data – See the full list of app by tap on "Show All Apps")
#6: Find delete Backup option at last on a screen.
#7: iCloud Photo Library Disable & Delete on iPhone and iPad
Go to the Settings > Photos > Disable iCloud Photo Library.
#8: Disable iCloud music library
By Disable iCloud Music library, we cannot sync library across all the devices.
Go to the Settings > Music > iCloud Music Library (Turn off toggle)
This will remove all Apple music song from this device also.
#9: Review File app: New on iOS 11
Open-File app, Tap on Browse > iCloud Drive
Find all the folder created in iCloud Drive, Open-File app Then Tap on "Select" from the top right corner on iPhone.
Choose Multiple Folders or Files that you want Delete.
iOS 10: Clean & Remove iCloud Data Using iPhone, iPad
First Know, used and available iCloud storage on iOS 10 devices.
Go to the Settings > iCloud > Storage.
#1: Disable for Backup apps in iCloud – iOS 10
Go to Settings > iCloud > Storage > Manage Storage.
Find the name of Device in the list, Tap on the name of your device.
See, Backup option and Tap on it.
Turn off (Disable Toggle) for the app backup in iCloud.
#2: Delete old Backup – iOS 10
Go to Settings > General > Storage & iCloud Usage.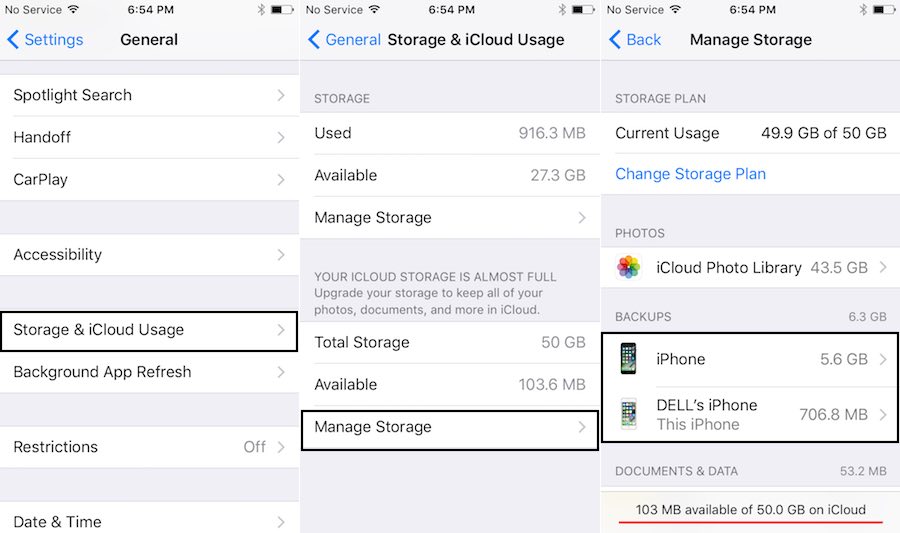 Next, Manage Storage and Name of Device, Next Delete Backup
Now, Turn off & Delete.
#3: Remove iCloud Drive Documents
Have you a large copy of document and files saved to iCloud Drive? Transfer it to other cloud drives, local personal storage.
Thanks for being with us, hope you get gigabytes of Free up iCloud Storage using iPhone and iPad.
Don't Miss- How to Downgrade iCloud Storage Plan on iOS/ Mac