🗓️
November 22, 2023
By ✍️
Jaysukh patel
Here in this article, we help you find the natural causes and Solutions for Not Turning on Your iPhone 13 Pro and iPhone 13 Pro Max model. We also cover the pro tips for your iPhone Is turned on, but with the Apple logo, That Means stuck on the Apple logo and Boot loop restarting [Solution 4]. For your Query "iPhone 13 randomly shut off and won't turn back on" refer to solutions 2 and 4.
Apple has redesigned iPhone 13 Pro for better and faster performance compared to earlier iPhone models. It features a superior A15 Bionic Chip, Ceramic Shield, LiDAR Scanner with autofocus system, the new Ultra-Wide camera for use Macro Photography and many more hardware improvements that you won't get in any other smartphone. But unfortunately, with all these advancements, your iPhone can make a fuss, like you're dealing with right now. For example, I've seen few reports saying that iPhone 13 Pro automatically turned off and won't turn on. But there is nothing to worry about as long as you haven't accidentally dropped the iPhone on the floor and its hardware damage.
This tutorial will show you complete steps and potential solutions to fix the iPhone 13 Pro that won't turn on or stuck on the Black screen. Before starting the troubleshooting, I urge you to comment about which solution did fix your problem to help our other readers. Also, we must have to care with the best iPhone 13 Pro Max Waterproof case | iPhone 13/13 Pro Waterproof case.
Pro Tips to your iPhone Won't Turn on or Charge, Also Stuck on Apple Logo after Turn on
Solution 1: Make Sure iPhone 13 is Not Discharged
Often iPhone users forget to charge the device and complaints that iPhone 13 Pro won't turn on and feel like the iPhone 13 suddenly turned off or iPhone 13 turned itself off and won't turn back on. I'm not blaming you, but sometimes, we hand over our iPhone to a kid or some person, and that person uses the device until it is discharged. Therefore it's a case of misunderstanding put the iPhone in charge for at least an hour and try to turn it on casually.
Directly Charge from Wall plug Using Original Apple Charger, Adapter, Charging Cable. and Keep At least 15 minutes to 30 Minutes.
Indeed this will work out if the iPhone is not turning on due to the battery draining issue. Else, jump to the following workaround.
Also Helpful: My iPhone 13 has a black screen and won't turn on How to fix it
Solution 2: Force Restart iPhone
Another possible reason behind the iPhone 13 won't boot might be a software crash. It usually happens when we aggressively download apps or use the device constantly. Then, the system starts crashing due to overheating and, in the end, won't boot. Again, a simple force restart can remove this type of fault. Although, till now, force restart has already fixed many minor bugs and system crashes, I'm sure it will turn up your iPhone 13 like before.
First, Press and quickly release the Volume Up button.
Then, quickly press and release the Volume Down button.
And then Only, Press and hold the Power button until the Apple logo displays.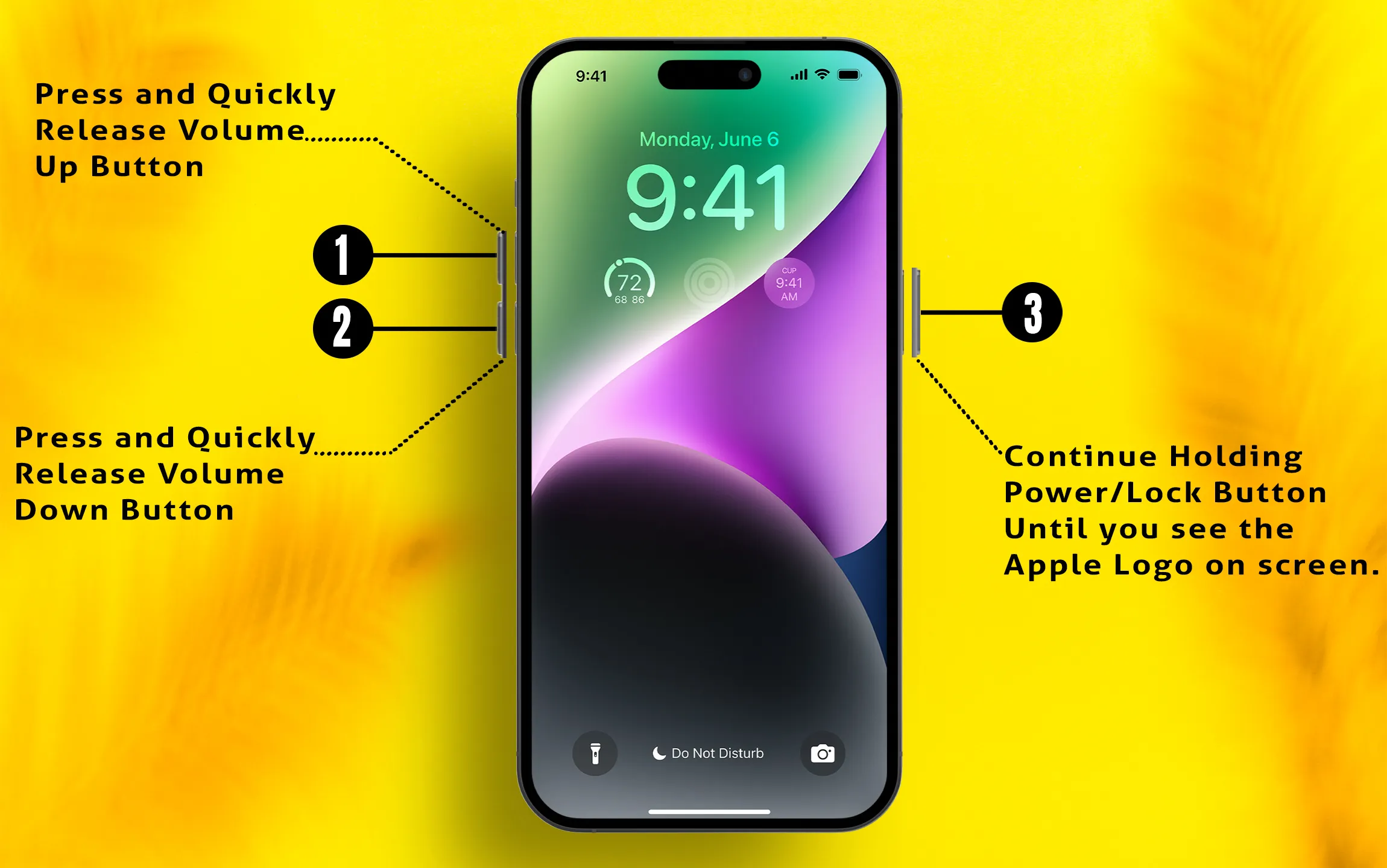 Get Video Guide on Force Restart,
You can follow the next solutions if your iPhone is turning on but stuck on the apple logo and Boot loop apple logo [Might be Automatically Restarting until you see the Apple logo on screen].
Solution 3: Force Restart iPhone While in Charge
For some users connecting the charger, force restarting simultaneously also resolved this kind of problem. If you haven't done this yet, don't miss this step. We've already mentioned the procedure to force restart the iPhone, so just connect the iPhone in charging and force restart the device. Again, make sure to use the original Apple charging cable or Apple-certified charging cable.
Solution 4: Update iPhone in Recovery Mode
Update your iPhone in recovery mode; Apple's recommended solution will bring the iPhone into function. and Fix the internal software issues. This solution is also perfect while your iPhone 13 won't turn on/stuck on apple logo. [Given Video Tutorial in this solution,]
macOS 10.15, Catalina, or later MacOS Users can use Finder for Recovery Mode Update and Restore. Windows PC and MacOS 10.14 [Mojave] or Earlier Users can use iTunes for Update and Restore iPhone in Recovery mode.
Connect the iPhone to the Mac or PC on Finder. For Mac running macOS Catalina or later, launch Finder, and for Mac using macOS Mojave or earlier or Windows PC, open iTunes.
Find your iPhone in Finder or iTunes.
Keep the iPhone connected to the PC or Mac, and follow the steps,
First, Press and quickly release the Volume Up button. Then, press and quickly release the Volume Down button. Then only, Press and hold the Side button until the recovery mode display appears.
Now look on the PC or Mac. The popup will show two options Restore and Update, click on Update. This will reinstall the iOS on your iPhone. Notably, there won't be any loss of personal data in this case.
Wait for around 15 minutes or more until the software is downloaded. And if time exceeds more than 15 minutes, then follow the process again.
See Video for Recovery mode and DFU mode,
Recovery mode Doesn't help, then Try DFU Mode Restore.
Solution 5: Restore iPhone in DFU Mode
DFU restore process is a time-based process. Also, this Restoring process is advanced tricks to repair your iPhone if Recovery mode Update & Restore doesn't help. So carefully read the below steps and Follow with your iPhone.
Connect the iPhone to the Mac or PC on Finder. For Mac running macOS Catalina or later, launch Finder, and for Mac using macOS Mojave or earlier or Windows PC, open iTunes.
Unlock your iPhone and keep your iPhone connected to Mac or PC. Now, Understand the below steps carefully, Before start.
Quickly Press and Release Volume up button and Volume down button one by one. Then, Press and Hold on the side [Sleep-Wake] button only, For Ten [10] seconds, After then Press Volume down button along with Side [Sleep-Wake] button for 5 More seconds,
Then Leave Side [Sleep-Wake] button and only Press and Hold Volume down button until your Mac or PC see a popup of iPhone recovery mode, and Showing One button, "Restore iPhone" only.
DFU mode, You can't update your iPhone. So in the Restoring process, Your iPhone will erase first, then Download & Install a new copy of the latest iOS on your iPhone.
Leave it, And your iPhone will see the welcome screen after Installation is complete.
DFU mode is helpful then You have to go with Apple Support to Diagnose hardware issues. It might be you get to fix your problem-free of charge if it's under Apple's terms and conditions.
Solution 6: Reach Apple Support
Last but not least, contact Apple Support. It seems like your iPhone 13 Pro has hardware damage and can only be handled by expert technicians. Book an Apple Genius Bar appointment and visit the nearby Apple Service Center. You can also book your appointment online or Get a contact online: If it's under warranty then check online, and Get free repair & Replacement.
https://support.apple.com/iphone/repair/service
The above solutions and guides help you in all the cases. Write on comment for more help from us.