Last Updated on Jul 28, 2023
Read the article on how I get my Yahoo Mail back to normal. Today, Get complete solutions to solve Yahoo mail not loading or Yahoo email is not updating the inbox; some users say junk (spam) email still works but not the inbox, but Yahoo mail inbox feature does not work properly. While another side, some users get a pop-up to enter third-party passwords. Yahoo mail is not working on iPhone after updating to the latest version of iOS.
On the Apple community site, they ask if Yahoo mail is down. Yahoo email won't work or not loading as like daily smoothly open inbox, sent box – Yahoo incoming mail server, Yahoo mail not receiving email issues, etc. We'll give you some practical solutions that will solve the errors of inbox, the YAHOO MAIL app not responding, or any other bug.
Why is Yahoo mail not loading on iPhone or iPad? Get Free Solutions
Fix #1. Check Yahoo Server is Down or Not

Yahoo Mail issue today? To check the Yahoo Mail outage map or verify that Is Yahoo Mail down 2023? You should visit downdetector website. It informs if any websites or applications services are running an outage.
Fix #2: Force Close Yahoo Mail App
What to do if your smartphone Yahoo mail app is stuck and unresponsive? Please Force close YAHOO MAIL App.
iPhone without a physical Home button
Swipe up the finger from the bottom bar to up on the iPhone screen, Until you see the app switcher screen. Swipe up Yahoo Mail app to force close from your Device. Follow the below screen,
On the home button iPhone
Double-click on the Home button to access the App switcher screen; next, find an app to force quiet and bring an app to the upside to force close.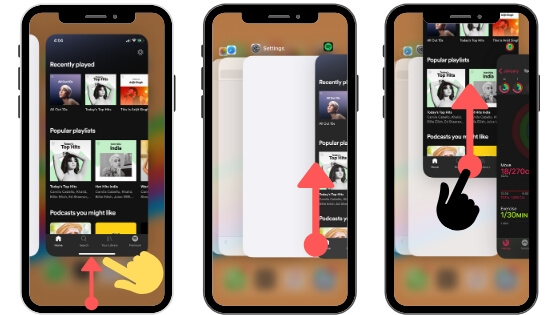 Did you follow the force close App procedure? As a result, still yahoo mail not working on your cell phone. Please make sure your phone's internet connection has good speed and stable connectivity.
Because, You know, A poor network connection may be the reason for yahoo mail problems.
Fix #3. Enable/ Disable Airplane Mode
if you are facing an error, "Yahoo mail not working on iPhone connection to server failed?" Remember that if you are using Wi-Fi, switch to Celluar data, or vice versa. After that, check whether Yahoo Mail is working or not. Still, the same issue persists. Please read the continuing thread.
Now you should Turn On and Turn Off Flight mode, it is a workable clue for almost guys. The following steps will let you know how to do that.
Head to Settings App
Now turn on "Airplane Mode."
Please Wait for a few seconds and then turn off "Airplane Mode."
Please ensure your iPhone is connected to the stable Internet (Wi-Fi/Mobile Data).
In last, check whether Yahoo Mail is working or not.
Fix #4: Please Enable the Cellular data in Mail App
Without an internet connection, you cannot approach emails from the inbox. For that, you required a better data connection. So if you're out of the Wi-Fi range, allow the app to access cellular data.
1→ Go to "Settings"
2→ open "Cellular or Mobile Data."
3→ Now scroll the screen, find and turn the Mail toggle ON/Green. Please See in below given Figure.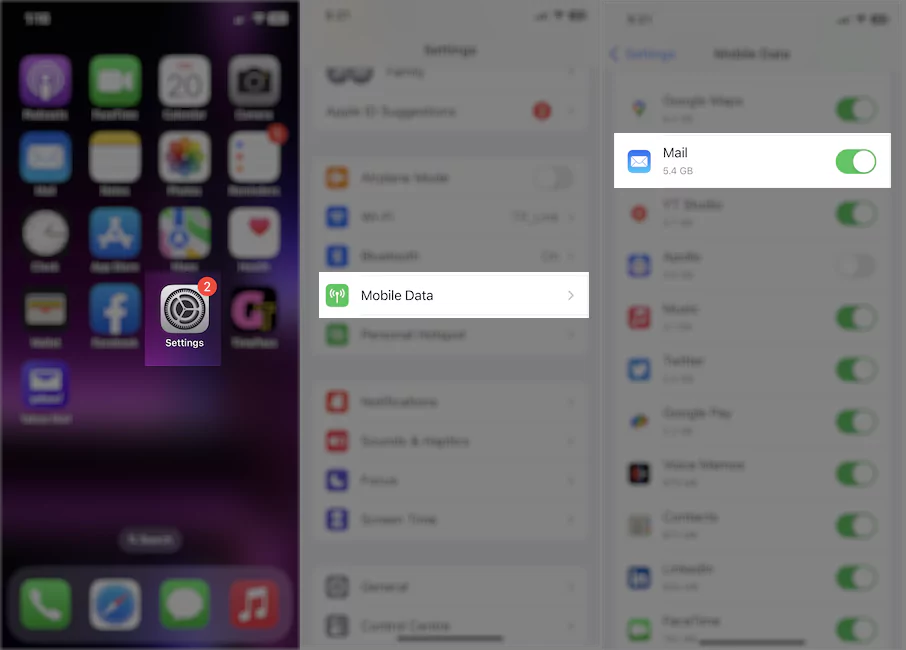 Hint:- if data for mail is already enabled; however, yahoo mail not showing or incoming mail not receiving, please turn off the mail toggle, wait for a while, and turn the Mail switch On. Now check if your new mail is coming or not.
Fix #5. Perform Reset All Settings on your iPhone
Here's how to reset all settings on your iPhone. Our depth guide covered what happens after resetting all settings on your iPhone.
Head to the Settings App
Choose General
Scroll the screen to Transfer or Reset
Click Reset
Tap Reset All Settings
Please Enter your Passcode
Now Enter your Screen Time passcode if asked
Finally, tap on the confirmation pop-up Reset All Settings
That's it.
Fix #6. Check Email Fetch Settings for Yahoo mail
One gets iPhone Yahoo Mail not updating automatically, Or others have Yahoo mail not downloading from the server. The issues differ, but the solution is the same, which is given below.
Go to Settings
Scroll the screen to Mail
Choose Accounts
Tap Fetch New Data
Click Yahoo Mail
Select Fetch under the select schedule; now go back screen and
Choose Automatically under the Featch section.
A caveat – Your iPhone will fetch new data in the background only when on Power and Wi-Fi. In more, For better battery life, fetch less frequently.
Fix #7: Sign in, then sign out of your Yahoo mail account on iPhone

Why are my Yahoo emails not coming through on my iPhone? For some of the tiny bugs or security reasons, yahoo mail accounts sign out automatically. Please follow the bottom steps to resolve yahoo mail issues.
Yahoo Mail app does not have a sign-out option, which means you will have to remove the account and then re-add it in terms of sign-in and sing out. Let's see the below steps;
Open the Yahoo Mail App> Tap the Yahoo profile icon that appears on the upper-left side of the screen > Choose Manage Accounts > Tap Edit > Hit Remove > A pop-up asks you to Remove the account from this device? ABC @ yahoo.com and all its data will be removed from this device. > Click Remove. That's it.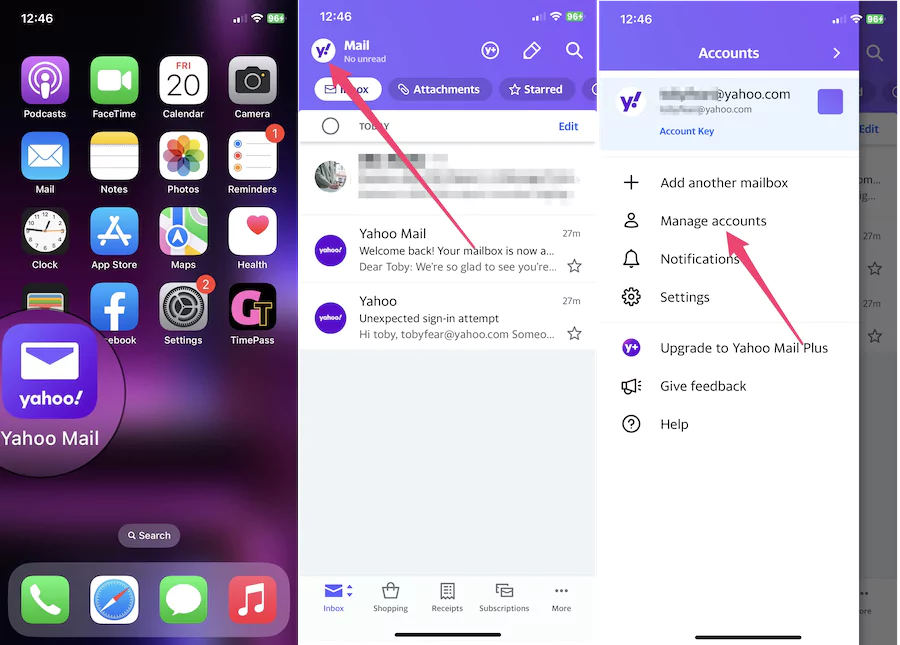 Now what? Please Re-add your Yahoo mail account to re-sign in with your mail ID, and enter your password to see if this fixes the issue (Yahoo Mail is Not Receiving Emails).
Note:- For users facing Yahoo mail not working in Apple mail inbox issues, please do refers to solution number 3.
Fix #8: Re-Set up Yahoo Mail on Your Apple Mail App
Why has my Yahoo Mail stopped working on my iPhone? This situation is worst for everyone, Please follow the steps given below to solve the issue. (This method is an answer to How do I restore my Yahoo Mail on my iPhone?)
Note: For entier procedure Figures Example, you can see the end of all the steps for better understanding.
1→ Open Settings App
2→ Scroll the screen to tap on Mail
3→ Click Accounts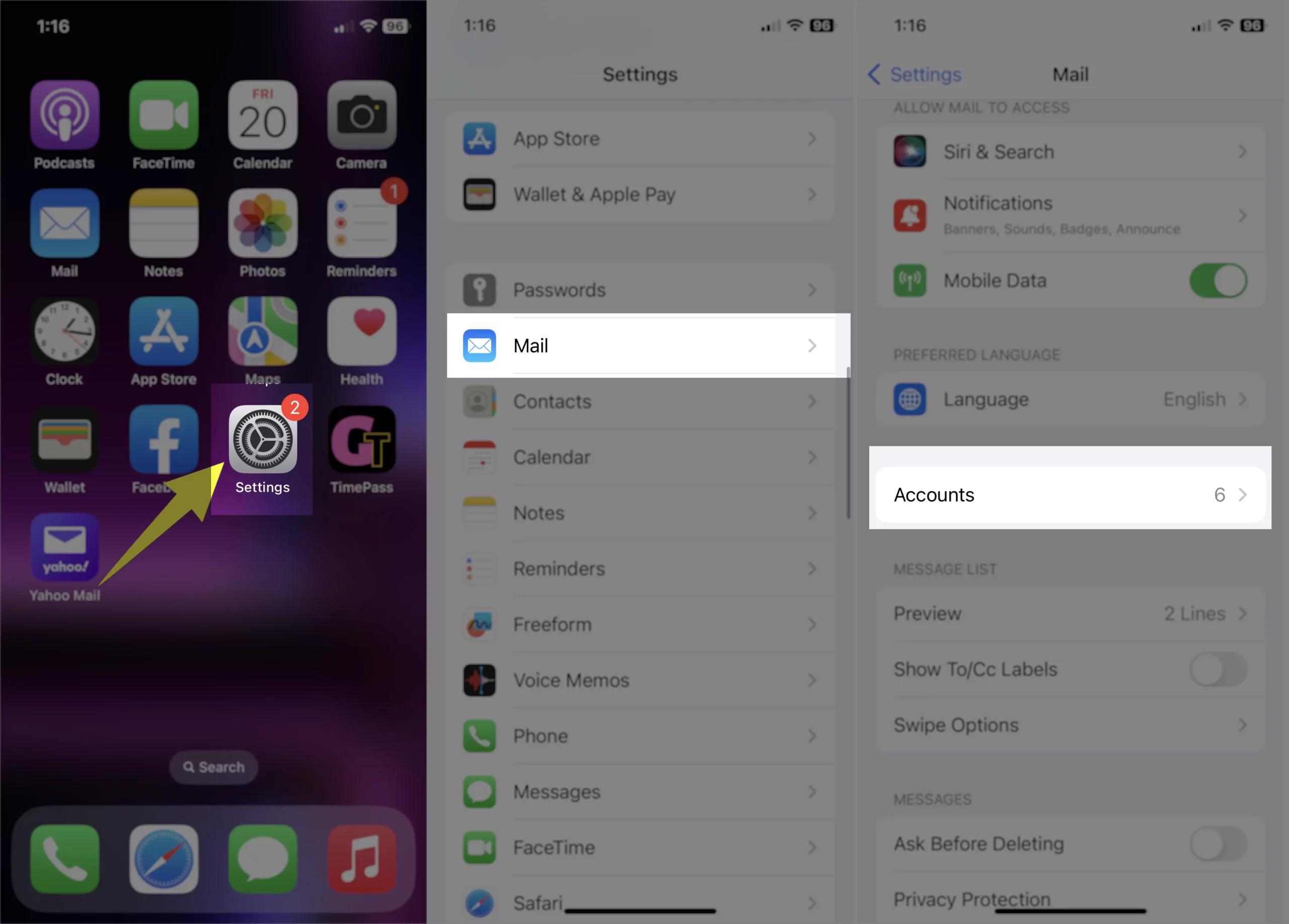 4→ Choose Add Account
5→ Tap Yahoo!
6→ Wait for a while until the screen fully loads; enter your Yahoo details (Username, Email, or Mobile number), then go to Next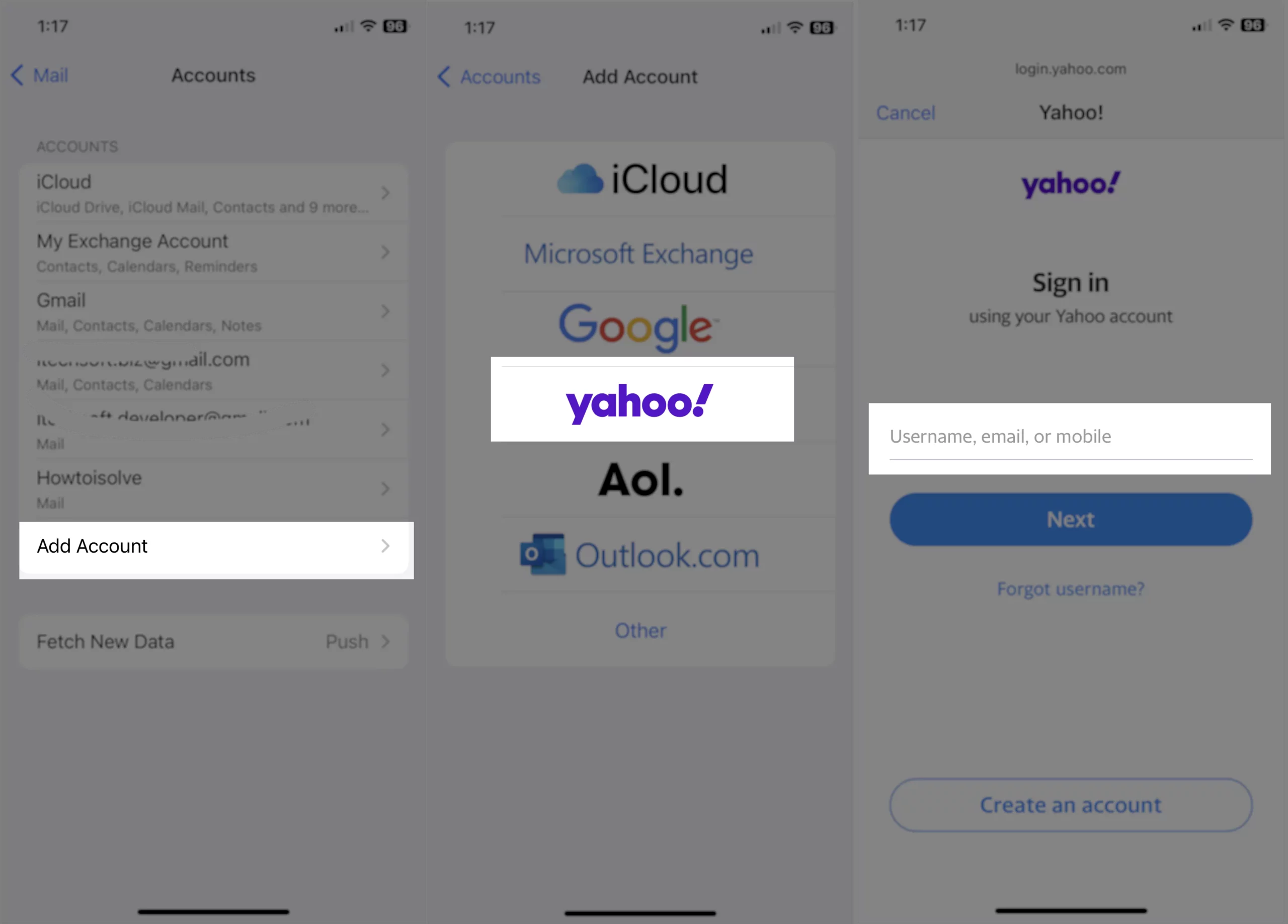 7→ Enter Password.
8→ If you first time signing with this device? Then you will have to follow the verification procedure. Choose a Mobile number or Email address to get a verification code. After entering Six characters code, click on verify. Now, wait and watch for the next screen.
9→ On the next screen, you can get options, including Mail, Contacts, Calendars, Reminders, and Notes.
Choose what feature you want to sync to your iPhone. Mail and reminders are enabled by default.
For example, if you want to sync your Yahoo contacts to your iPhone contacts list, please turn the contacts toggle green; the same thing does work for Calendars and Notes.
10→ In the last Tap on Save
So your device added your Yahoo mail account, and now you can load up your Yahoo mail on your iPhone mail app.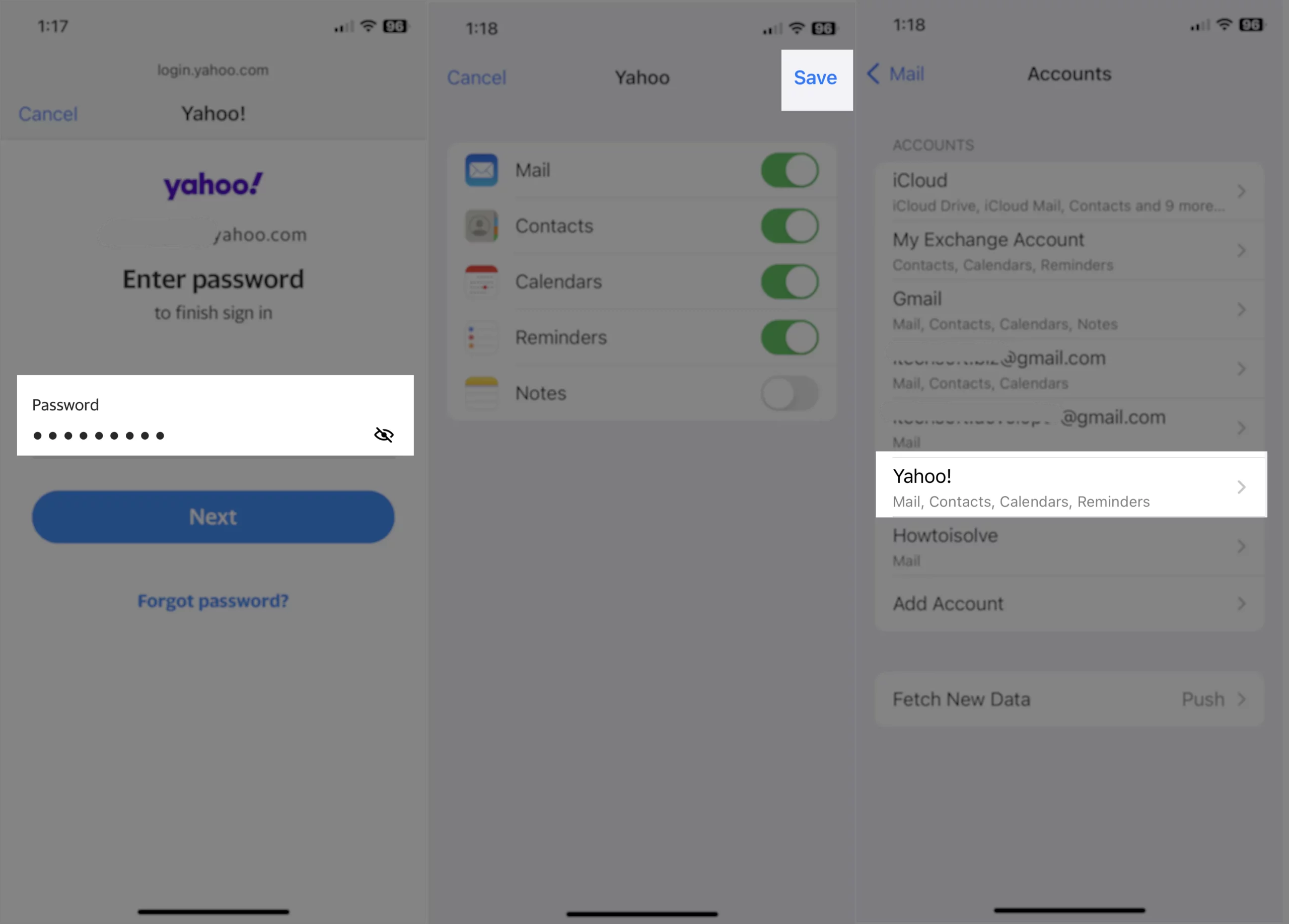 Open Mail App > Find your yahoo mail account under MailBoxes > you can get your incoming emails.
That's it. Still, Yahoo mail is not working or loading in iPhone Mail App? go with the following workaround.
Fix #9. Delete and Re-add Yahoo Mail to iOS Mail

If you have added a Yahoo mail account on your iPhone, please remove it, and add it back. Follow the steps to delete your Yahoo mail account.
Open Settings > Mail > Accounts > Find and tap Yahoo mail account > Go with Delete Account > A pop-up asking you Deleting this account will remove its data from your iPhone. Click Delete account to make confirm. Lastly, choose Delete From My iPhone. That's it.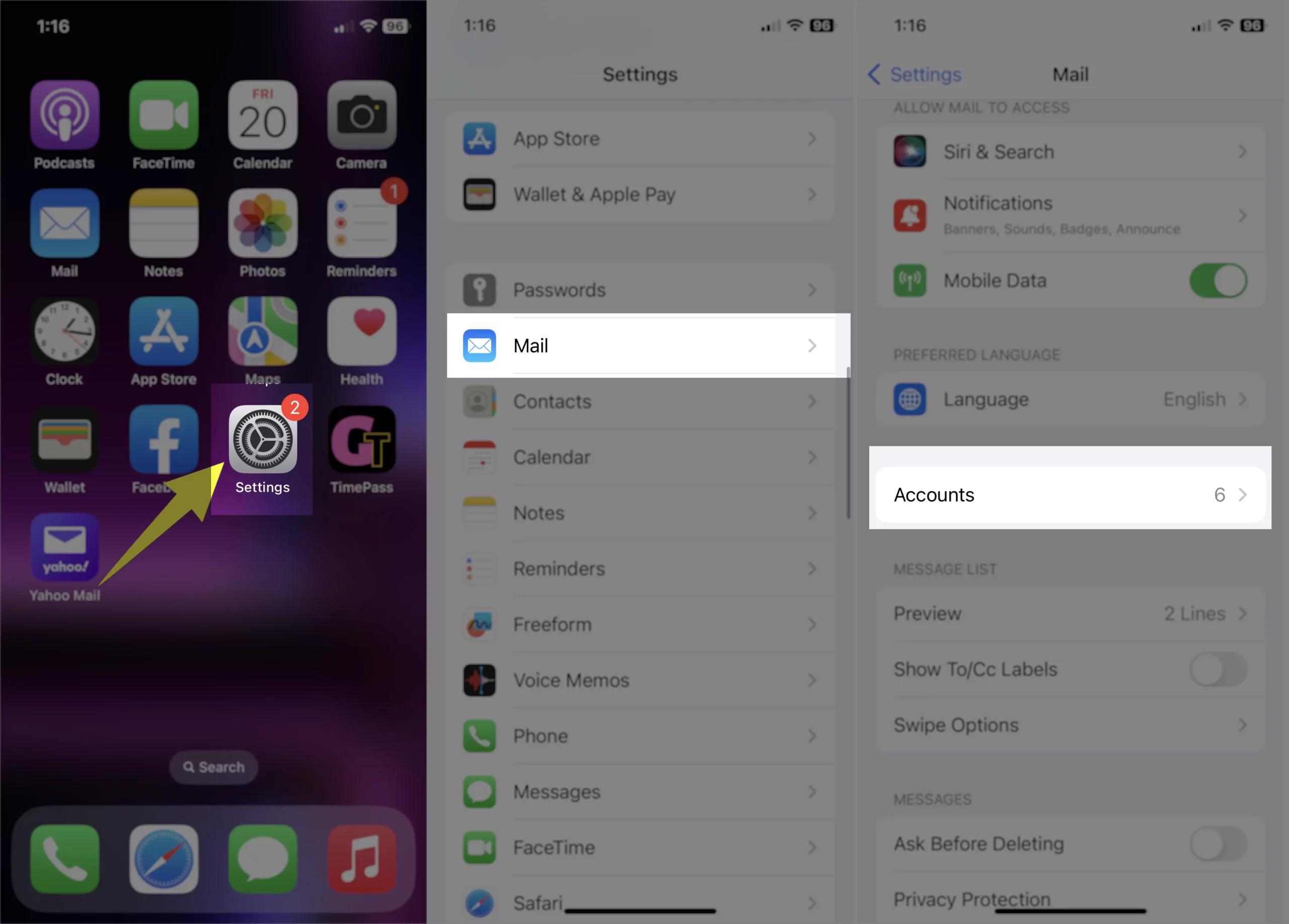 After this, re-add the yahoo account, for this; all steps are mentioned above to fix can't send and receive emails via Yahoo mail.
Fix #10: Update your iOS system to the latest Firmware
Every update comes with some bug fixes and solutions. So there may be chances that your problem can be easily solved by updating the iPhone. For Example, See (Figure -A) given in the steps below.
1→ Go to the "Settings" App
2→ Tap "General."
3→ Click on "Software Update" and check whether an update (OTA – Over-the-Air update) is available.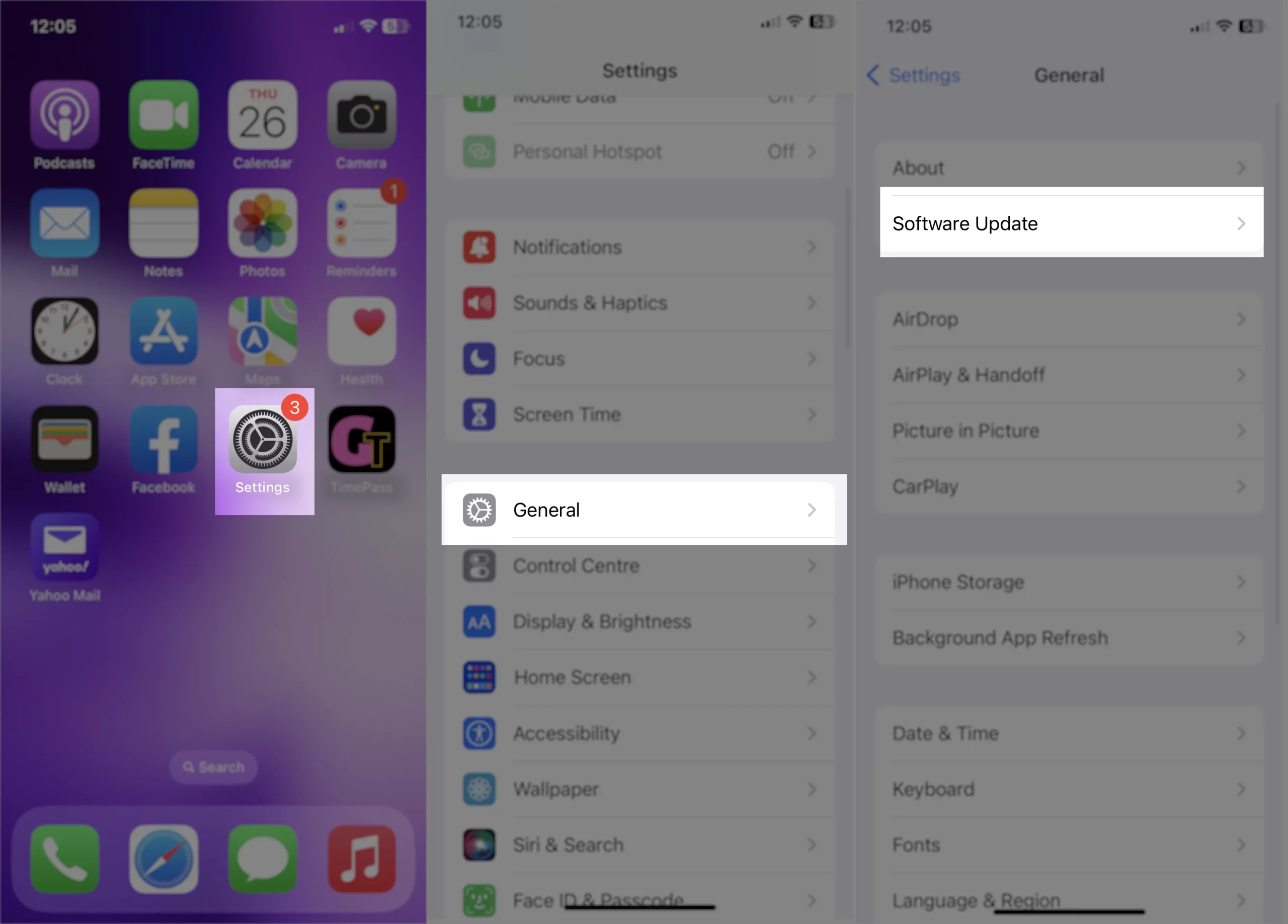 Fix #11: Uninstall & Reinstall Yahoo Mail on iPhone, iPad
Your Yahoo mail behavior is completely wrong, and unable to find your settings after updating apps or signing out and signing in to your Yahoo account; people who are unable to find the notification settings on iPhone/iPad, Unable to Create or set up an Account Key on your Yahoo Mail iOS app. Account key Push Notifications not showing on your iPhone notification center. Delete your Yahoo mail app,
1→ Find the Yahoo Mail app on your Phone home screen (with a finger, swipe the screen left-right side).
2→ Force touch (press and hold) on the Yahoo App icon – A pop-up appears
3→ Choose Remove App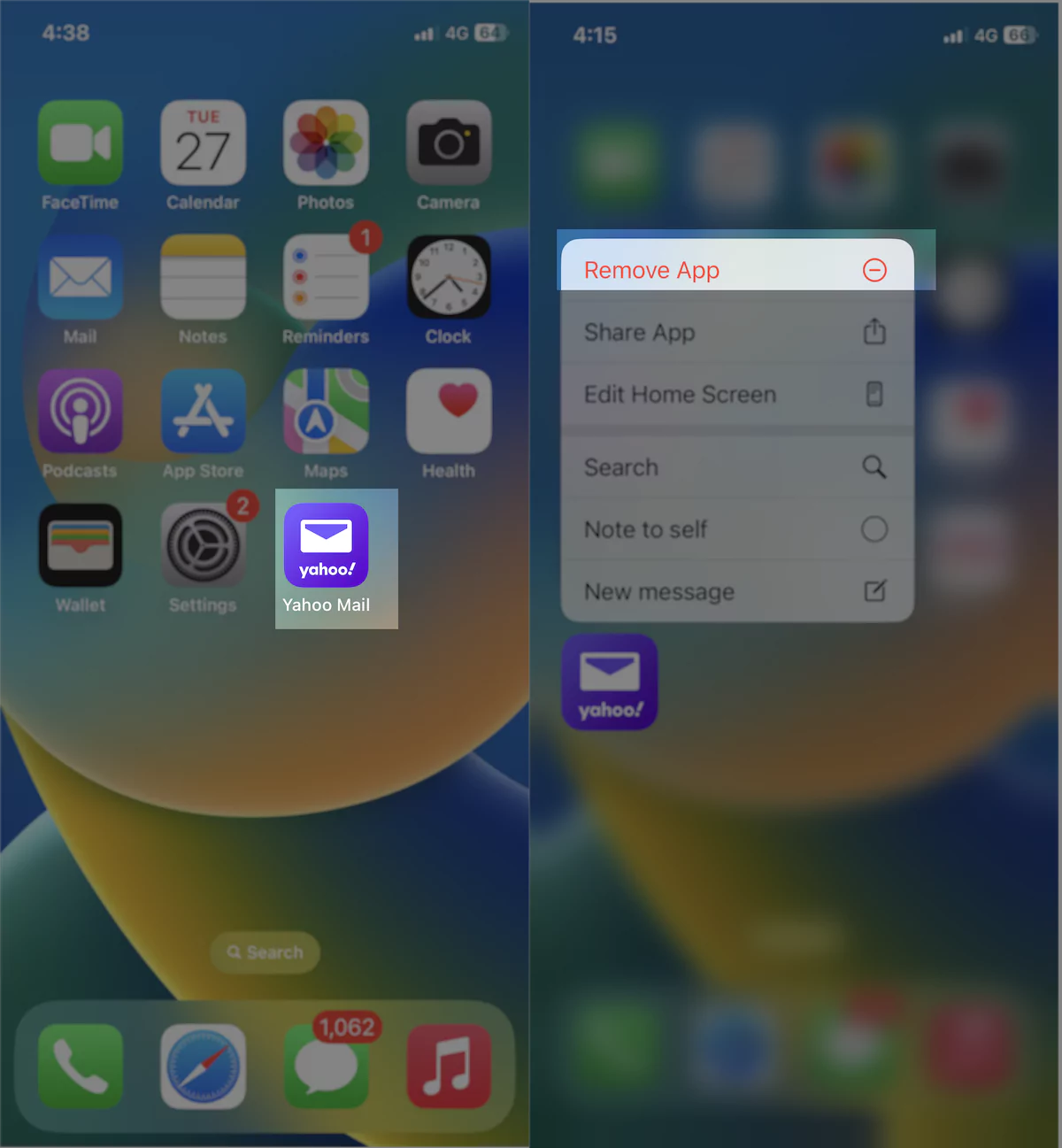 4→ Next popup will ask you Remove "Yahoo Mail"? Removing it from Home screen will keep the app in your App Libray. Tap Delete App.
5→ Last Pop-up will ask you Delete "Yahoo Mail"? Deleting this app will also delete its data. Please Click Delete to make confirm.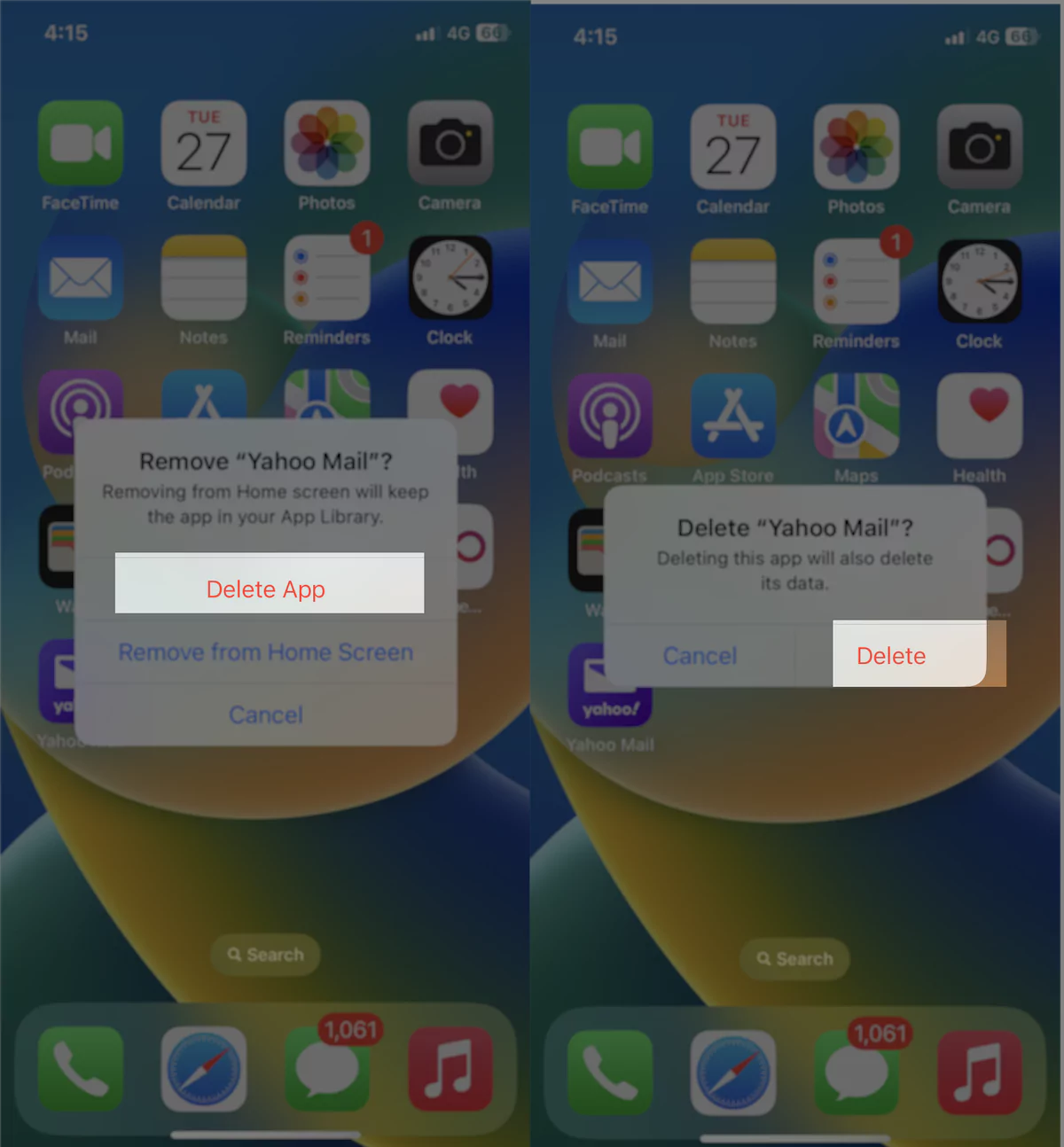 You're Done. Now Reinstall Yahoo mail app from iPhone App Store; follow the steps given below;
Remember: Sign-in is required, So please keep your Yahoo Mail username and password on hand.
Open App Store > Tap on Search icon > Type Yahoo Mail > Click on Cloud with the down arrow icon next to the Yahoo mail app> Wait till the successful install. > Click on Open button to launch Yahoo Mail app > A sign-in screen will appear please enter your credential (User ID and password) to sing-in your account. (Try these best Password Manager Apps)
Hint – Newly re-installed (Downloaded) Yahoo Mail App does not appear on the iPhone Home Screen – here's how to find an app on iPhone.
Fix #12: Please Update Yahoo Mail App
If the default mail app of the iPhone is not working, you should download a separate Yahoo application available in the App Store. If you don't want to go for the Yahoo Mail application, wait for Apple to respond to your query.
In a major case, after the Yahoo mail app updating, the yahoo mail not working issue will be solved. Sometimes, though bug issues won't go away, you will have to go with the next clue.
Refer: – How to Automatically Update Apps on iOS?
Follow the bottom steps to update the Yahoo mail app, you can find the Figures example.
Open App Store on the iPhone home screen.
Click on the Search button if you are not on that screen.
Find the Yahoo Mail App Using App Store search function
Now Yahoo mail app appears in the search result
Please click on the Update button next to the Yahoo mail app.
Hint: iPhone App not updating what to do?
It will take a little bit of time (According to your internet speed, and App update size). Sometimes App Sore is not loading and showing a blank white screen; in this situation, please restart your phone and re-try. Successfully updated the Yahoo mail app to all bug fixes. Meanwhile, facing any errors, don't hesitate to send us! We'll help you!
Fix #13: Sign out and Restart Your Device
Launch the mail app, sign out from your account, and then force close the app. After that, reboot the device, relaunch the mail app, and sign in with a similar mail ID.
Fix #14: Set SMTP Servers On your iPhone
1→ Launch the "Settings" app
2→ Tap on "Mail"
3→ Click on "Accounts"
4→ Choose "Add Account."
5→ Choose Other
6→ Hit on Add Mail Account
7→ Enter your Name, Email, Password, and description.
8→ Set SSL to yes and port to 465. Here's the IMAP server settings for Yahoo mail.
Fix #15: Hard Reboot your iPhone
Normally, we can fix internet software bugs and glitches with a hard reboot iOS/iPadOS device. This technique is really helpful in fixing the problem at once. According to the Apple iPhone model, follow the below steps on Hard Reboot,
The trick to Force Restart iPhone 8 and all Face ID iPhones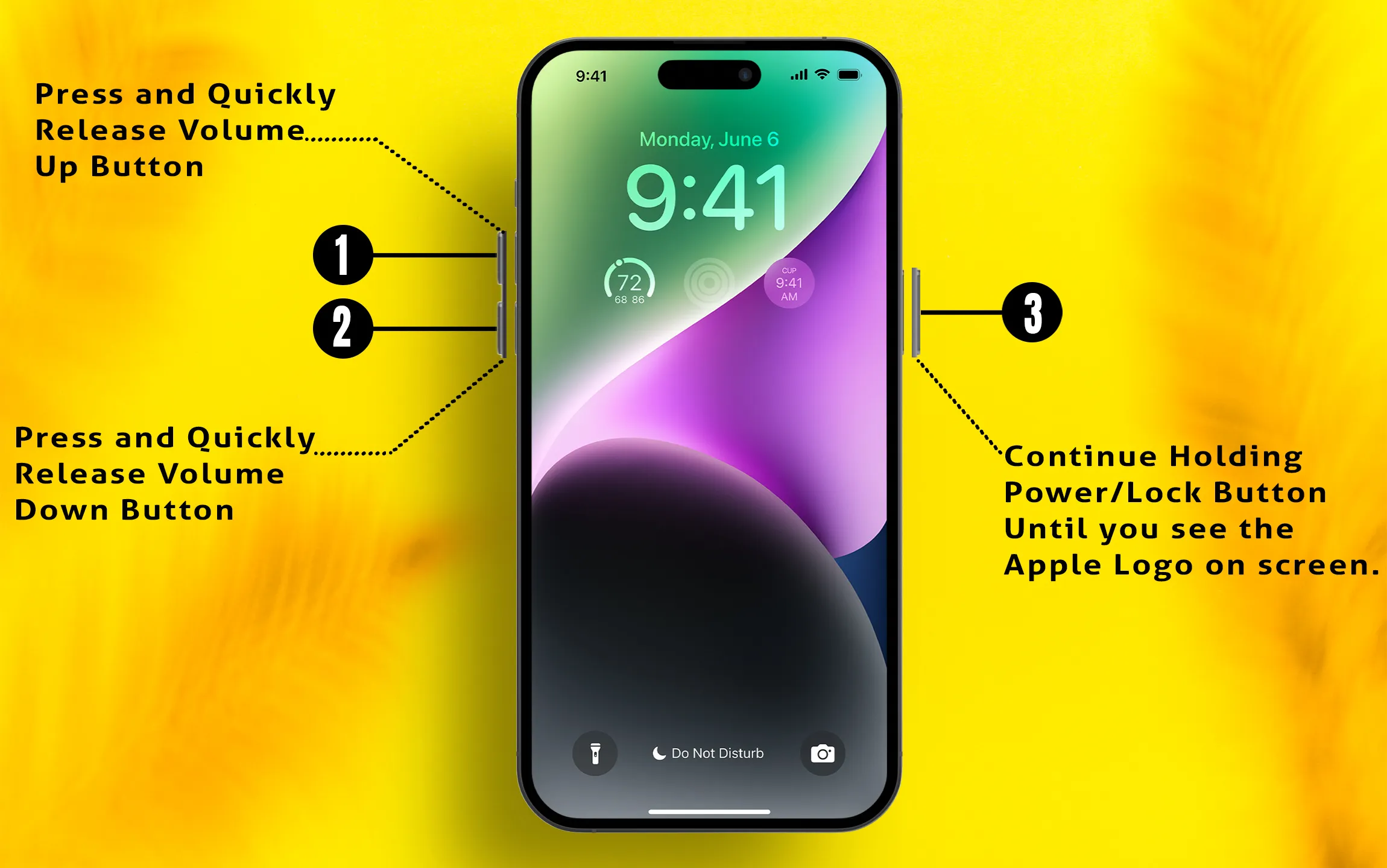 Quickly Press and Release the Volume Up (+) Button.
Now, Quickly Press and Release Volume down (-) button.
Lastly, only Press and hold the side/Sleep-Wake button until you see the Apple logo on the screen after the black screen.
That's it. Wait for your iPhone to ask you to enter a passcode.
Fix #16: Yahoo Mail Notification Settings Not Showing in iPhone Settings
This is the only solution we fixed if the notification settings not available or missing from the iPhone settings app. Apple iPhone allows us to manage notifications from different app in a single way.
head to Settings App
Select Notifications
Now Scroll to Yahoo mail under the Notification Style Section.

Please Enable Notification to get a push notification for the Account key or new mail alerts. But Yahoo Mail not showing under the Notification

Delete the Yahoo Mail app from your iPhone and Re-Install it on your iPhone.
Again Check on your iPhone settings app.
I hope it is fixed.
Fix #17: Enable Yahoo Account Key From iPhone Yahoo Mail App
We can enable or Disable Yahoo Mail Account Key from the iPhone Yahoo mail app. To use the Account key feature, your iPhone has to enabled Push notification for the Yahoo mail app. if the notification is not showing or working correctly then follow the above solution. Here are the steps to enable Account key on the iPhone yahoo mail app.
Open the Yahoo mail app on the iPhone.
Tap on the Profile icon at the top right corner of the screen. Tap on Blue Account Key option, Next, Go with the Setup Account key Option.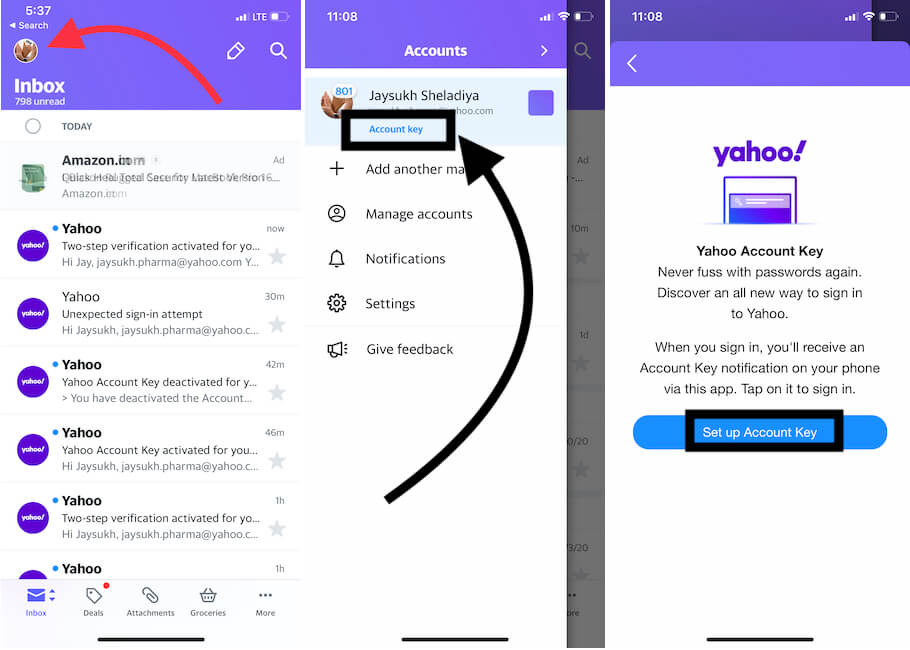 Tap on Yes Gree Button, Continue with Account key. Alternatively, we can use the Two-Step Verification instead of Account key [Given in Next tips].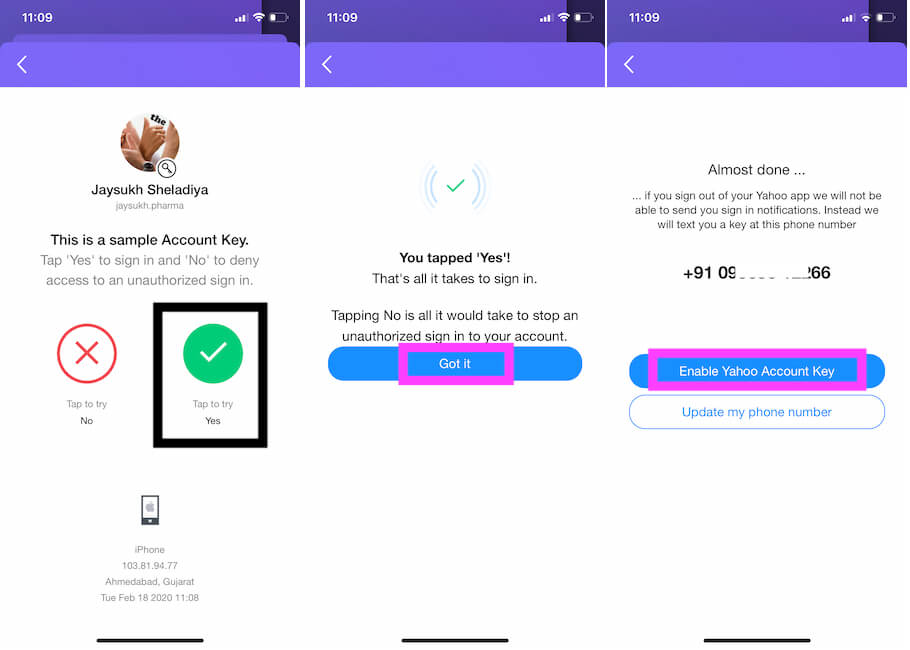 That's it.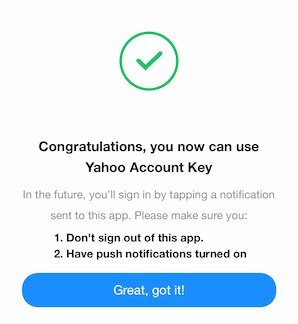 Keep Install Yahoo App on iPhone and Don't Sign Out
Push Notifications have to Turn on
Fix #18: Turn off or Disable the Account Key on Yahoo Mail iOS app
Not for the Specific reasons, Some Yahoo mail users are uncomfortable with the Account key, want Phone number verification instead of pushing notification on the app installed device as Two-Factor Authentication. To use Phoe number, we have to disable the Account key, Follow the steps for turn off Account key Verification.
Open the Yahoo mail app on the iPhone.
Tap on your Profile icon. and Find the option "Account Key".
Go with the Manage Account key option.
From the bottom of the screen, Tap on Disable Account Key. And Verify to Disable Account key option.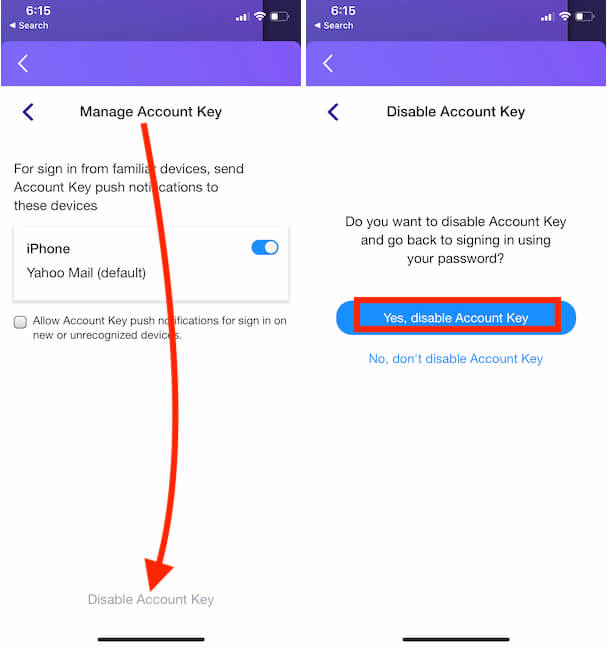 That's it.
Fix #19: Enable Two-Factor on Yahoo Mail iOS App: Mobile Number Verification
Two-Factor Verification for Mobile number is an alternate option of Account key. This method doesn't need any internet connectivity. To successfully sign-in on another desktop or mobile app, we need to enter the verification code that we will receive on the Messages app. alternatively, we can do a call for getting the Verification code if the message is not received on your phone number. [To use This Two-Factor Verification we need to be turned off the Account key]. also, we don't need to keep installed the iOS app on the iPhone.
Launch Yahoo mail app on the iPhone.
Next, Tap on the Profile icon at the top left corner of the screen.
Now, Tap on the Manage Accounts option.
Next, Tap on Account info, just below the account name. On Account info settings, Tap on the Security Settings option.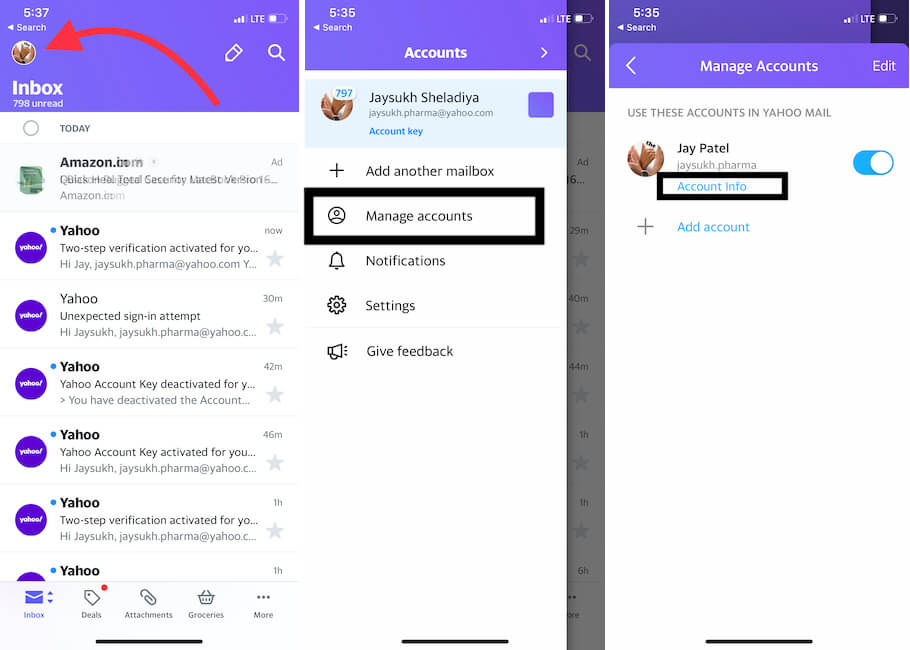 Find the Section for Two-Step Verification. And Enable the toggle next to the Phone number. Now, your iPhone asks to enter your mobile number to verify this time. In the future, whenever you signed in, you will get a verification code on your mobile number.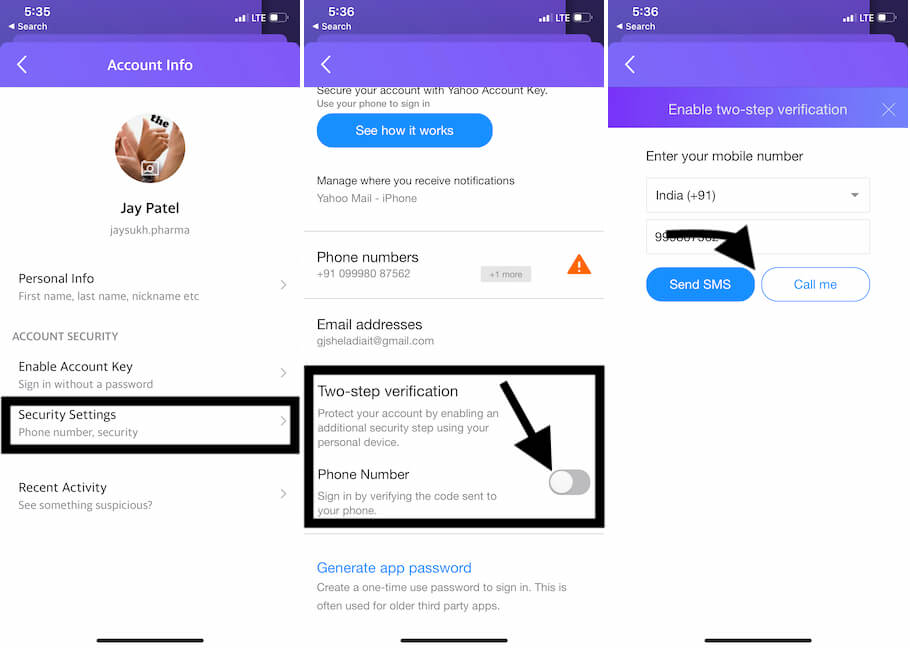 That's it.
Fix #20: Add Third-Party mailbox on Yahoo Mail App: Gmail, Outlook, AOL, Yahoo
Some Yahoo mail users like to use other mail inboxes on yahoo mail iPhone app. Yahoo mail app allows adding new third-party mail accounts like Google Gmail, Outlook, AOL and Yahoo. Follow the below steps to set up a new email account.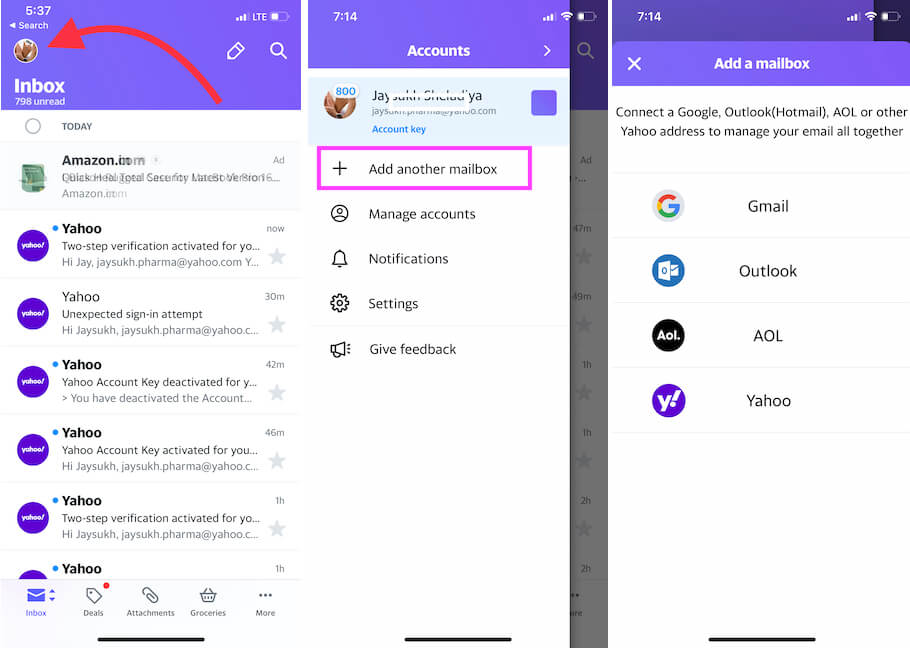 Open Yahoo Mail App on the iPhone.
Tap on the Profile icon.
Now, Tap on Add Another mailbox.
That's it.
Fix #21: Stop Yahoo Mail Subscription on iPhone, iPad: Ads Free
Yahoo mail on the iPhone allows users to purchase a premium subscription that helps in removing unwanted ads inside the inbox. also, we can restore or stop the subscription from the app store in this way. Follow the below steps to remove your Yahoo mail subscription from your iPhone.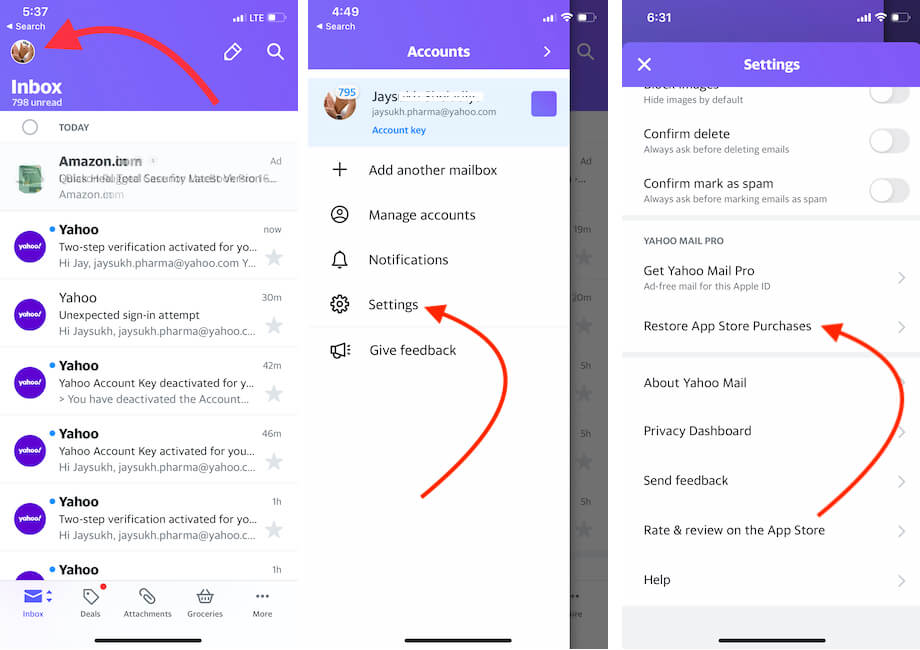 Open Yahoo mail app on your iPhone.
Tap on the Profile icon.
Next, Tap on the Settings option and Scroll to Open "Restore App Store Purchases"
That's it.
Or
Manage All App Store Subscriptions from iPhone Settings app, Tap on Your Profile name > Subscription > Tap on Active Subscription > Cancel Subscription > That's it.
Fix #22: Set Password if Needed For The Third-Party Application
Yahoo asks you to use third-party passwords when you are signing in from any other app. For those users who use the iPhone mail app, please try a third-party application for Yahoo. Follow the steps to set a third-party password by following the steps.
1→ At first, sign in to "Yahoo" and open the "Account Security" page.
2→ Tap on Manage app password/Generate app password.
3→ Choose the app and click "Generate."
4→ Follow and read the instructions below the password.
5→ Click Done.
6→ Now, your password is generated, and you can use this password and email address for signing in to the email app.
Fix #23: Toggle on Allow apps that use the less secure sign in
1→ Go to the "Yahoo" app and sign in.
2→ Tap on your Name and then tap on "Account info."
3→ Open "Account Security."
4→ Now find "Allow apps that use the less secure sign-in" and enable it.
Useful Solution> Try this fix Yahoo Mail App keeps crashing on iOS
Did you find what clue worked for you to fix yahoo mail not working after the iOS update? Please let me know in the comments!