🗓️
November 28, 2023
By ✍️
Jaysukh patel
Apple brand new iPhone won't respond to touch? Now All Apple iPhone series comes up with a Face ID and notch display. Sometimes users encounter the Apple iPhone 15 screen is unresponsive. So here I'll give you a troubleshooting guide to resolve all issues related to the display of the iPhone. I think you're not the only one who has screen issues on the Apple Phone. Lots of them had resolved by attempting to give instructions even including myself.
In more, whenever you toggle on Low Power Mode [LPM]- Yellow Battery icon on your iPhone at that time the display needs too long to respond. That's why it can also be the bad behavior of the iPhone touch screen to become unresponsive randomly. Don't worry, I'm sure that my given tutorial will help you to repair the screen not working on iPhone.
Follow this guide for your iPhone queries:
The touchscreen doesn't work when charging
Ghost touch while charging iPhone or iPhone screen Glitching out
iPhone screen unresponsive after Update
iPhone screen unresponsive when charging
iPhone screen unresponsive when charging
Apple Touchscreen messed up when charging
iPhone touch screen not working properly after the update or even after restart or hard reset
iPhone touchscreen unresponsive issues after water damage or cant unlock solution
Worked on your iPhone 14/13 screen unresponsive to touch and Hanging, Freezing on the lock or unlocking the Screen
---
Solution #1: Force Restart Your iPhone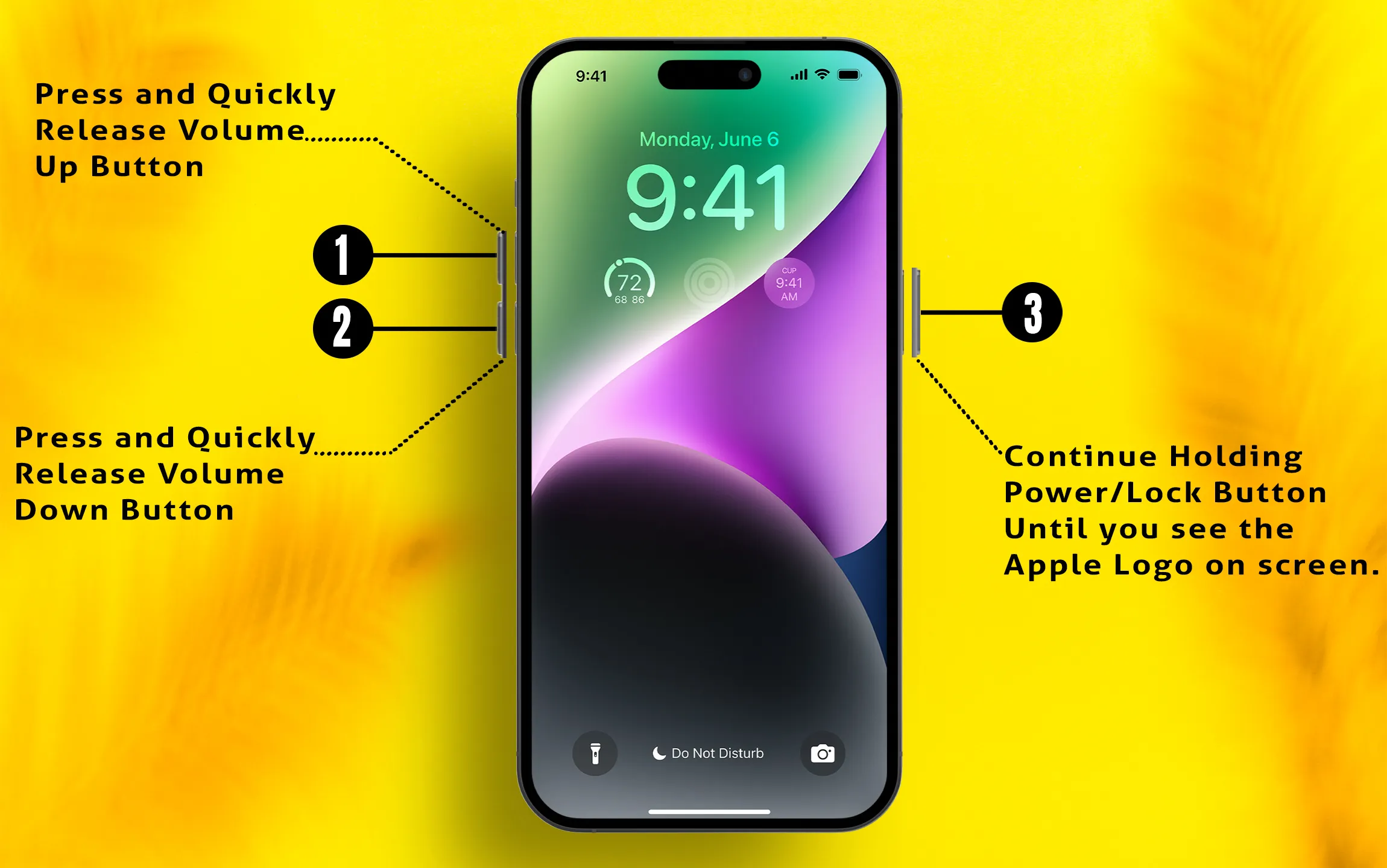 Some internal software glitches with Installed apps may be causing the issue of your iPhone screen freezing, Hanging, and Not Responding. Try after Hard Reboot your iPhone,
Step #1: Press and Quickly Release the Volume Up button.
Step #2: Press and Quickly Release the Volume Down button.
Step #3: Now Only Press and Hold the Side button until you see the Apple Logo on the Black screen. Then Release the button.
Screen Protector if too old and outdated, Sometimes chemical raises issues between your finger and the screen.
Solution 1.1: Turn on WiFi or Cellular Data. An app is online
Some apps use Internet data like Banking, Stock, and more…when we launch on-screen [Result is App crashes or Freeze the Apple iPhone screen]. Apple won't say anything in the alert. But it's my personal experience. Let's try you, also discuss more in a comment. And follow the next solutions.
To Reset All Settings on iOS 16 and later follow the bottom steps;
Go to Settings App > Tap General > Scroll the screen Tap Transfer or Reset iPhone. Now choose Reset and click on Reset All Settings, again click on popup Reset All settings to confirm. that's it.
Reset All the Settings in iOS:-
Open the Settings app on iPhone > Tap on General Option.
Next, Scroll to Transfer or Reset iPhone Option > Reset.
Here's Reset All Settings > Enter your iPhone Lock screen passcode, Again Tap on "Reset All Settings" on Verify Popoup.
That's it. Check the issue is fixed after rebooting your iPhone.
Reset All the Settings on iOS 14 and Earlier –
Settings app
Tap General
Scroll till the end to Reset
Reset All Settings.
---
Solution #2: Also Check the Software Update
A new optimized iOS version will feel really glad to us because we recommend update iOS before any fixes apply. And we got success in most of the cases. Some users not updating their own iOS because for forgot their apple id login or lot's more difficulties.
Don't afford to update iOS, Follow the steps below.
1: Go to "Settings".
2: Tap "General" and
Select "Software Update". The latest available firmware is iOS 16.
Sometimes iPhone screen is completely unresponsive or screens not support to touch for the above option, iTunes is an amazing software by Apple that will help in an update without data loss.
Step #1: First, Keep your iPhone unlocked; connect the iPhone to your Mac or PC. Allow, Trust this computer.
Step #2: For Mac users, Open Finder > Select your iPhone from the Left side of the window. For iTunes users on PC, Launch "iTunes".
Step #3: Select your iPhone icon.
Step #4: Now, click on the "Summary" section appear in a sidebar. and Find out the button for "Update". iTunes will download the latest firmware and install it automatically.
---
Solution #3: Enable/Disable Haptic Touch
Haptic Touch placed 3D Touch functionality on iPhone. let's see how to change the intensity of 3D Touch.
Go to the Settings app on your iPhone to check out the haptic touch switch position.
Next, Tap on General
Tap Sound & haptic.
Change the Haptic Strength using a slider. And Test haptic feedback now in your control.
---
Solution #4: Remove the Screen Protector
Check out the screen card or screen protector condition, After a long time Screen cover pulls air inside the protector. Sometimes Bubble air at the End of the protector not visible, so it creates a problem like a touchscreen not responding or Some ports of the iPhone 12 screen not working.
---
Solution #5: Try to Install iOS on iPhone in Recovery Mode
Having is a serious issue with the iOS bug that created and caused unused apps installed on your iOS device. Sometimes, the App is deleted, but some functions and root folders create a problem the floods the process, Drain Battery, and Hit up your iPhone.
Note Backup iPhone first in iTunes or iCloud,
Apple suggests restoring your iPhone to factory settings using recovery mode at that time. Simple restore might not work because the Screen is not accessible.
1. On Mac, Open Finder on your Mac. On Windows, Open iTunes on your Mac or PC. Connect your iPhone to Mac/PC. Wait until your iPhone appears on Finder's Sidebar/iTunes. Keep your iPhone Screen unlocked.
2. Now, Hard Reboot your iPhone.
Quickly Press and Release Volume up button.
Now, Quickly Press and Release the volume down button.
Next, only press and hold on the side button until you see the iTunes logo with a lightning cable on-screen for at least 20+ more seconds.
Lastly, when iTunes shows you a message like "There is a problem with the iPhone that requires an update", then click on "Restore".
You can try,
Update: Install the latest iOS without erasing data.
Restore: Install new iOS after erasing data.
NOTE: In case your iPhone takes over 15 minutes then you have to follow the same steps because your iPhone is exited the recovery mode.
Like us! Share us! We will update more tips here, but you have a chance to share your suggestion and the problem that is hard to fix like the iPhone screen being unresponsive.