Your Apple iPhone XS Max Won't Turn on, don't worry. We will help you. For any reason, you did not get the idea and won't turn on, and black screen even after keeps charging overnight. Is that ok with you, at this point, you will think too many possibilities about why this happens again and again? But you need to follow my guide that helps in your problem like iPhone XS Max black screen, won't charge, stuck in black screen all Apple logo. Learn from video guide in the last of this article.
This tricks that I explain here will help if your device hasn't any problem of hardware damage. Sometimes dropping your hands, water damage and any other liquid damage gives the result like that.
Background app running on your iPhone kill the iOS process and Draining battery in a short time. That means the app is not compatible with the latest iOS. Delete the app or Downgrade from iOS 12, Most of the case Wipe Cache by Hard Reboot and Restore iPhone can fix all the problems from the root.
Note: The tech company Apple suggest All-time, Never use third-party software or charging accessories whenever your phone won't turn on or won't charge. Because of it harms your data, However, you can use it on your own Risk.
But I am sure about software issue we can solve without any technical knowledge.
fix my iPhone XS Max won't turn On: Quick Solution in Walkthrough
Fix 1: Restart or Hard Reboot your iPhone 10S Max
Quickly press and release volume up button
Quickly press and release volume down button
Now Press and hold side button until you see Apple logo on the screen.
Next, To turn on your iPhone, Only press power button or Side button to turn on. For more details, you can see the given picture.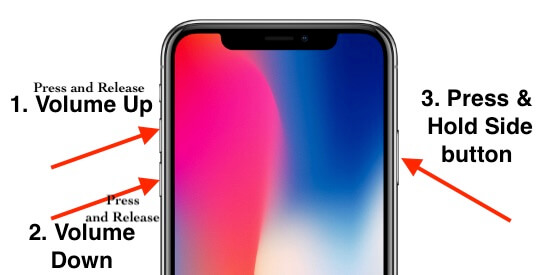 Your iPhone is working fine, but sometimes it is rebooting again and again [Deep guide on Fix iPhone XS Max Keep Restarting randomly]
Fix #2. You should Charge Your Apple XS Max for a While
I strongly recommend you that in case of your iPhone XS Max died and showing a black screen and doesn't turn On, No problem, don't worry. Put your iPhone into charging mode for a while up to to 10 minutes, it doesn't matter what you are using Wall charger and or wireless charger.
Many users reporting that iPhone XS max won't turn on after full battery drain. So that you should wait for a while to get phone turn on. in case of a still phone not turning on then press and hold the side button till your phone get live.
for more knowledge, do you know how much time does the Apple XS max phone take to charge completely from o to 100 percentage? Get below.
15 minutes: 26 percent
30 minutes: 46 percent
According to the above stats, we can say that reaching a full charge requires anywhere between 3 hours and 21 minutes to 3 hours and 43 minutes. Source: Quora
Fix 3: Restore iPhone 10 in recovery mode without data loss
Apple recommends this way, to fix issues without any Third-Party software.
The is a very handy and functional solution for your problem.
First of all update your iTunes to the latest version on your Mac or PC.
Now quit iTunes on your Mac or PC. Connect your iPhone XS Max to Mac or PC via lighting cable.
Now force restart your iPhone XS Max. Quickly press and release volume up button and down button one by one. Now only push and hold side button until you see the lightning cable and iTunes logo on your iPhone. That is the recovery mode of your iPhone XS Max.
Now launch iTunes on your Mac or PC.
4. iTunes will prompt like the update and restore button. Go with the update button, and the items will process for download compatible iOS Firmware on your Mac or PC first of all. After that iPhone will install automatically new iOS software update.
In this process, it takes the backup first of all so that you will be secure all the time.
Wait, until you see the welcome screen on your iPhone, that you have seen on your new iPhone setup.
Use iTunes for setup your iPhone XS Max and all the data back to your iPhone.
Wrap Up
Hard Reboot or Restore doesn't help out. You can contact Apple Support via online guide or Hand over your iPhone to Technician at nearby apple care. The best solution is that book genius bar appointment.
Watch Tips in Video
Hope you guys, You fix your problem like
iPhone XS Max Screen Won't turn on
and showing black screen all the time. And ready to share your experience with us in the comment box. Also, follow my social pages, Facebook Twitter Google Plus, and YouTube.