Last Updated on Mar 27, 2023
is Microsoft outlook quit unexpectedly mac Ventura? Here are the Fixes. We love outlook more than Apple Mail App on desktop. But sometimes, On a Mac computer, App keeps crashing, and freezing is the most common problem in macOS during unstable macOS Version releases. we can fix it here why does my MacBook keep freezing – specific MS Office, outlook Mac App?
Follow some quick troubleshooting for Outlook Keeps crashing and freezing on Mac after macOS upgrade or on the Startup Outlook app.
Major Points when Outlook for Mac Keeps Crashing
outlook app crashes when opening Calendar
outlook crashes when opening contacts
outlook crashes when sending email
outlook crashes when opening email
Troubleshooting for Microsoft outlook quit unexpectedly on Mac
Don't Miss: 14 Ways to fix the frozen screen on Mac
Solution #1. Check Microsoft Outlook Service Status
Internet disconnectivity & maintenance always place issues like the outlook for mac crashes on startup, crashing or Searching issues, or loading content or new messages in the outlook app like another app.
So, make sure that the official announcement update for their customer via the web is accessible on all devices [Mac, PC, or Mobile]. Open this link and check if the outlook service is running or a warning message.
Also Read – Fix Mac outlook search not Working
Solution #2. Force Quit Outlook App & Start again
on some action Outlook app is keep freezing then I recommend to Force quit app and relaunch. During the Freeze screen or app, we can't click on the red close button to close the app from the screen. Then follow the below steps,
1→ To fix outlook freezing, Go to the Apple logo from the top Mac menu.
2→ Select the Force Quit option.
3→ Select the Outlook app and Force Quit option.
That's it. Reopen Outlook using spotlight search or Launchpad.
Sometimes your Mac screen is frozen completed or slow; then I recommend Restart or Shutdown your Mac using the power button.
Solution #3. Restart your Mac computer to stop outlook keeps crashing
We need to close the app or restart Mac because some background app consumes more memory or Storage to run. So, a Simple reboot or Restarting of the system gives fresh memory to all apps and we can run mac smoothly.
What is mac screen completely Frozen Screen?
Press and Hold on the Power button to shut down directly, after waiting for 20 seconds press the Power button to turn on again.
If the Mac screen is working but laggy, then we can restart the system from the Top Apple logo > Restart. Still, if the (outlook is crashing) issue is not fixed, then go with the next solution.
Solution #4: Please Disable Add-ins on Outlook for Mac
This trouble is tiny, but most of the problems are created by some Outlook add-ins, especially outlook keeps freezing. I suggest that you disable or remove those Add-ins and then try opening the application. in addition, Make sure that all of these Add-ins are updated with the newest version.
Luckily, this solution is found helpful by lots of readers like you! Hence, it seems this will work for you like a charm to get rid of any error message. As we as get outlook app works smoothly as it should work.
Solution #5. Check for Outlook App Update
Here's a way how to update outlook on mac. For the Third-Party installed app or Downloaded from the internet, your Mac can't notify or install in Backgroud depending on the app type. For MS office, we have to check manually or will update in the background if not completed.
1→ Open Outlook on Mac, from the top Menu, Help > Check for update.
2→ Please download the latest version if an update is available.
Then, you can go with AutoUpdate new feature will check for outlook App updates and if an update is available,
then click on the Update button.
That's it.
Solution #6. Check macOS Software update and Outlook App Update
App Update is important and Cayrring behavior with your device, we have to upgrade our macOS to Public macOS, and Subsequential updated periodically. This is must be required to stop outlook crashing.
Steps to check for software update on macOS Ventura & up version
1→ First of all, Go to Apple Logo on the top Menu bar on mac
2→ Choose System Settings
3→ Click General in the system settings pane
3→ finally, click on Software Update to download & install the latest firmware on your Mac laptop or iMac dekstop.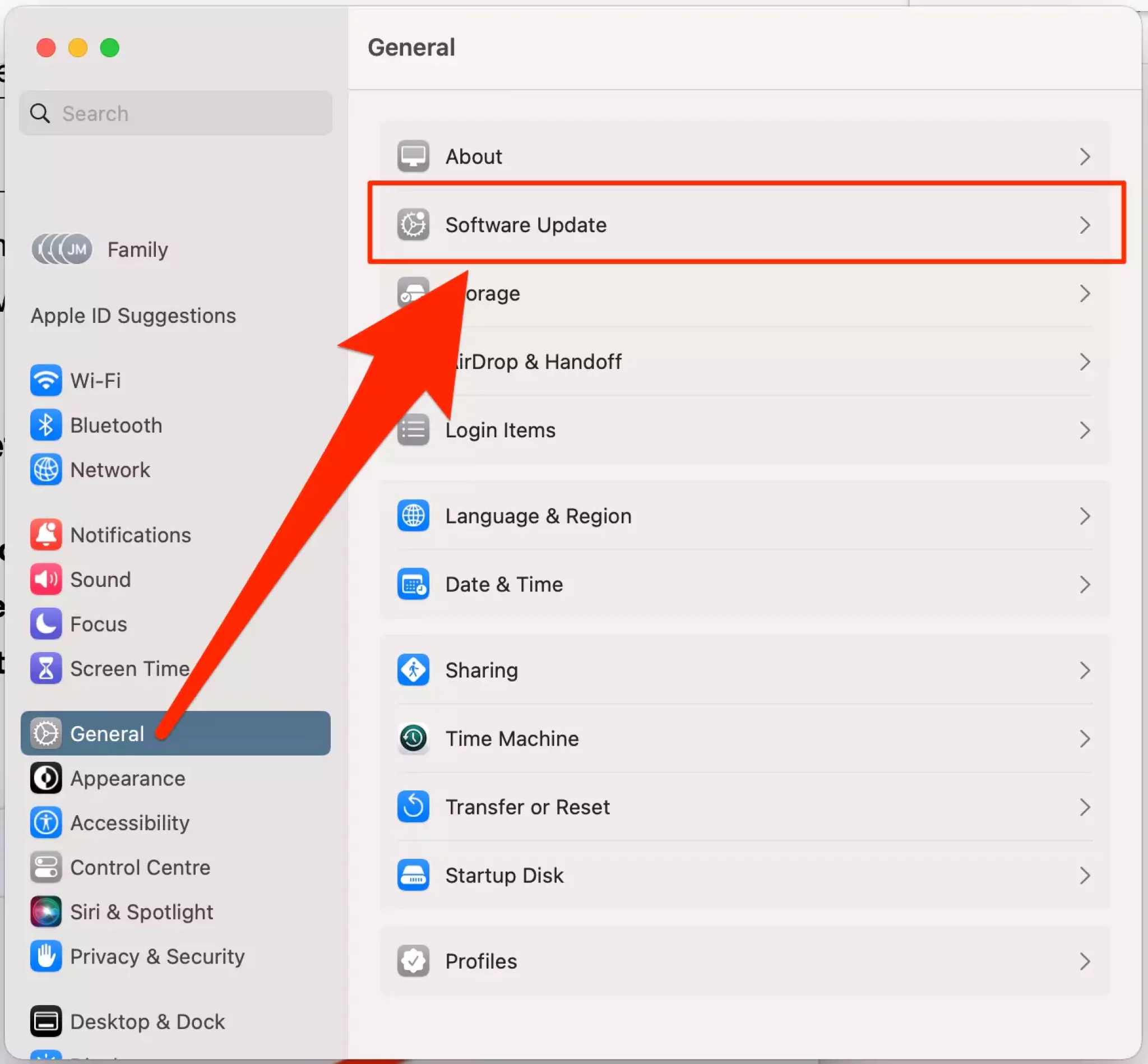 Steps to check for software update on macOS Monterey & down version
Go to the Apple logo from the top Mac menu
Hit on System Preferences
Choose Software Update
Now click on Download and install.
if any update is available, please follow the on-screen instruction to install it and get rid of outlook crashed. if not, then ignore this solution and follow the next clue.
Solution #7. Uninstall and Reinstall Outlook App
Sometimes, App can't install a new app update because of unknown reasons, at that time, I recommend downloading a new app and install after uninstalling the app from the mac to repair outlook freezes.
Here's a Full guide – How to Download Outlook on macOS
Open finder, From top Menu Go > Applications.
Find Outlook app > Right-click on it and move to the bin. Now, download a new copy and install outlook on Mac.
Solution #8. Clean App cache on Mac
if you having trouble with fetching new mail in the outlook app, then Logout account and log in again. Microsoft Outlook stores App data in the User account so, for privacy reasons, we can't access it from the Library folder.
Option 1: The first option is to clear the cache by resetting the account,
Option2: Otherwise, Signout and Sign in to your account in outlook.
To remove the account,
Open Outlook on Mac. from the top menu, Tools > Accounts.
To Clear or Reset account cache, Select Account and Click on more option, Reset Account. if the Reset account option is not showing then remove account and add. explained in next step.
Or Select Account, Click on the [-] minus button to remove from Mac. and Click on [+] to add Account.
Or in the Older Outlook version, we can clean Cache account data under more options.
if you pass out all the above troubleshooting, still your outlook app is freezing or hanging, then try in safe mode, Becuase issue with Other installed app in macOS & Running in the Background app.
Also Read, how to sign out of outlook app on mac
Solution #8. Perform Safe Mode on your Mac
Safe mode on Mac automatically determines and fixes the issue on startup. Follow the below steps for M1 or intel Mac. and Check issue is fixed in safe mode or not.
Tip to Safe mode for M1 & M2 Mac Users,
Shut down your Mac, and wait for 20 seconds, Now Press and Hold on the Power button until you see the startup volume and options on the screen.
Next, Select Startup volume, and press the Shift key from the keyboard and click on Continue in Safe mode.
Log in to your Mac in safe mode and That's it. check the issue is fixed in safe mode login.
Now, Exit from Safe mode by Restarting the device.
Step for Safe mode for Intel Mac user,
Shut down your Mac and Wait for 10 seconds. Next, Turn on your Mac then Now Press and Hold on Shift Key until your Mac sees the login screen. Log in to your Mac.
check the issue is fixed or not.
Now, Restart your Mac to exit from Safe mode.
Solution #9. Report Developer – Outlook App
we can send feedback to the app developers from the app menu, To send the report,
Open Outlook on Mac.
From top Menu Help > Contact Support.
See the Option for Feature Request & Feedback / Contact Support.
That's it.
Still, if you having an issue with macOS then you can send a bug report or contact apple support.
Solution #10. Contact Apple Support
While you contact apple support, Support excitive remotely diagnose the issue if it's possible otherwise you have to wait for a new update or Contact the apple service center.
Solution #11. Reinstall macOS
if you feel like your MacOS is corrupted, then reinstalling macOS is the best option to fix all kinds of laggy, freezing, or Crashing issues. In addition, Reinstall macOS without any data loss helped to diagnose mac system itself.
This process is time-consuming but effective for all macOS Versions. During this process, your Mac will download the latest supported macOS from the internet and install it automatically. Time depends on Data and internet connectivity.