🗓️
September 27, 2023
By ✍️
Jaysukh patel
macOS has shown significant improvement in stability, reliability, and speed. However, if you are using Mac aggressively, uninstalling and installing multiple apps, swapping between the apps or processes, and no restart whatsoever, then Mac freezes is a common problem. And further, it can lead to Mac running slow. So, if you are facing the same problem, then follow this troubleshooting guide to fix your Mac keeps freezing and lagging.
Why Mac Keeps Freezing After an Update?
Below are some of the common reasons you need to look at.
Running too many applications in the background.
Running too many programs in the background.
Sluggish software OS.
Outdated macOS.
Multiple tabs on Safari or any other browser simultaneously.
Not sufficient storage space
Hardware Issue.
1. Restart Mac Computer
Normal restart is the best way to fix a frozen Mac computer. That's because it's found to be an effective way to let out minor Software glitches behind the cause. For that, select Apple Logo and click Restart. Let the restart procedure finish and recheck the problem.
2. Force Restart Mac Computer
If a normal restart doesn't work, you must try force-restarting the Mac computer by pressing Command + Control along with Power Button simultaneously. That's It! or Only Press and Hold on the Power Button.
Note: Your Unsaved work can't restore after shutdown.
3. Force Quit All App
If there are multiple apps you are using, they might be cluttered in the background. And which ultimately leads to Mac lagging. So, force apps to run in the background by following the steps below.
Select Apple Logo.
Click on Force Quit. or Press Command-Option-Escape.
Press Command + A to select all apps.
Lastly, click on Force Quit Button.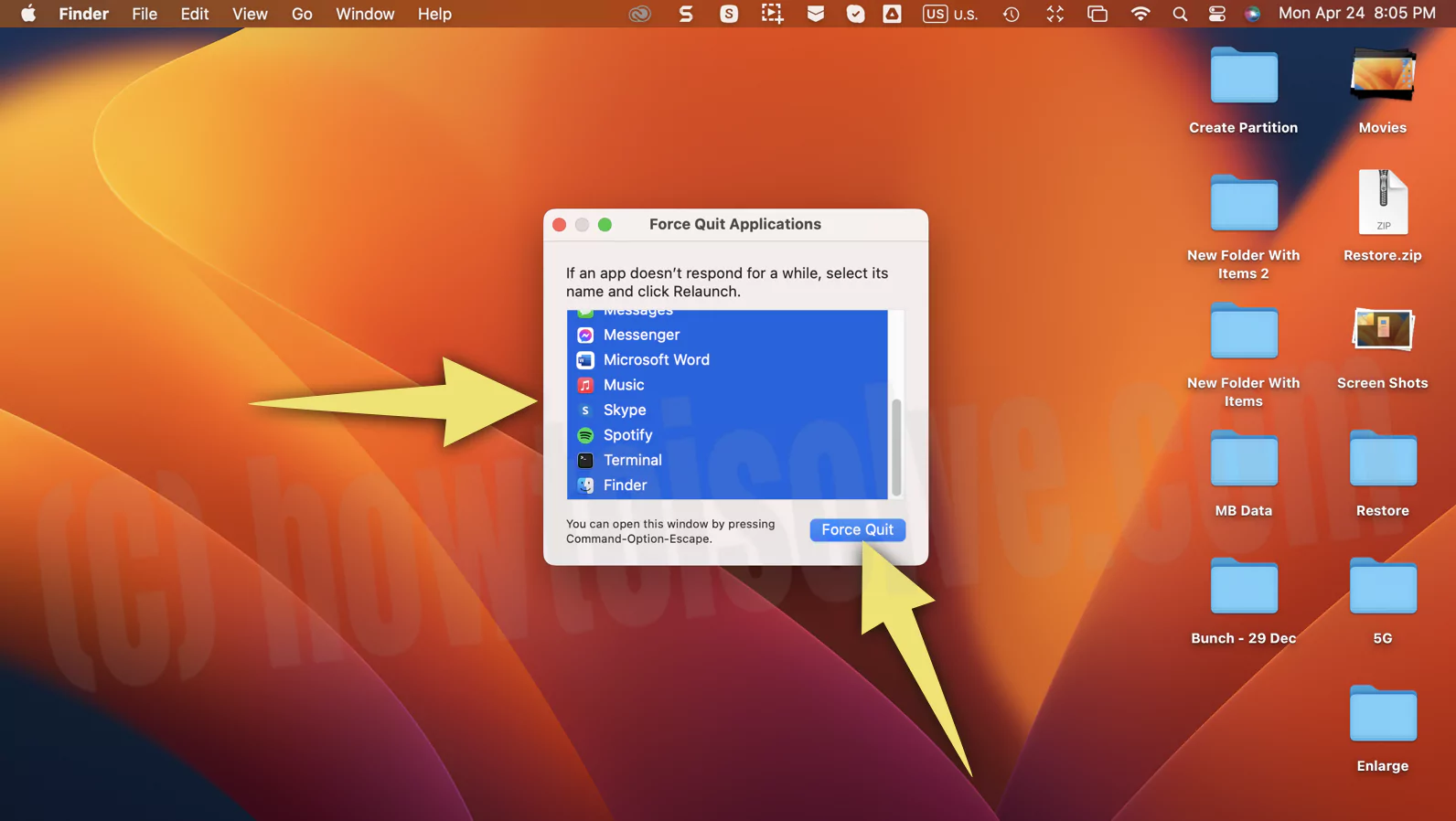 Hopefully, the problem will be diagnosed. If not, move to the following solution.
4. Charge Your MacBook
The Low Power Mode will automatically turn ON when the MacBook is close to 15%. This eventually prevents the apps, services, and features from letting Mac run longer.
In this scenario, you must immediately plug the charger into the MacBook to let it completely charge up. And once it ultimately charges up, the Mac freezing and lagging will be fixed.
5. Prevents App From Opening At Startup
When you configure multiple applications to open at startup, it eventually slows down your Mac computer. And in the worst case, you will experience macOS freezing. Thus, you will need to check the list of apps and remove the ones that aren't useful.
macOS Ventura And Later
Choose Apple Logo. Click System Settings…
Select General from the left sidebar.
Choose Login Items from the right side.
Select the app you want to remove from there and click on – Minus Icon to remove from startup items list. That's It!
macOS Monterey And Earlier
Go to Apple Logo.
Select System Preferences…
Click on Users & Groups.
Select Login Items.
On the next screen, you will see a list of applications. Select the one and choose – Minus Icon to remove.
6. Kill Multiple Process From Activity Monitor
Mac often hangs due to the processor getting overloaded. Thus, killing apps that are acquiring lots of processing power can fix the problem, and it can be done via Activity Monitor. Here are the steps below.
Press Command + Space to activate Spotlight Search.
Enter Activity Monitor and access it.
Now look for the apps consuming the highest CPU percentage.
Further, double-click on it, and from the next screen, click on Quit Button at the bottom left corner.
Continue the same steps for multiple applications until the problem gets resolved.
7. Delete Recently Installed App
Oftentimes, badly coded apps can freeze your Mac. If that's what you are experiencing after installing the app, the best way to fix it is to delete installed apps. And the offended culprit might be a recently installed app. If you don't know the procedure, follow the steps below.
First, open the Finder from the dock.
Select Applications from the left sidebar.
On the next screen, you will see a list of applications installed on your Mac.
Right-click on the recently installed app. And further, choose to Move To Trash or Bin.
That's It!
8. Verify Disk Health
Unlike an overloaded process, the overloaded drive can be why the Mac is freezing. You can follow the steps below to verify disk health.
Press Command + Space to open Spotlight Search.
Enter the Disk Utility and open it.
Choose the Disk from the left sidebar.
And select First Aid from the Disk Utility Tollbar.
Click Run > Continue.
Now, let the First Aid scan the disk, and if it diagnoses the issue, it will let you know.
9. Update Apps
Outdated apps can degrade the performance of Mac. Thus, updating apps that you have installed from the App Store is best practice. For that, head to the App Store. Choose Updates from the sidebar. Further, select Update All; by doing so, all your Mac Apps will upgrade to the latest version.
10. Update macOS
Using outdated macOS for a longer duration is inevitable to various issues, including Mac running slow. So, we recommend keeping macOS updated to the latest version.
macOS Ventura And Later
Head to the Apple Logo.
Choose System Settings…
Click on General.
Select Software Update and let the system check for updates.
Lastly, click Restart or Install Now.
macOS Monterey And Earlier
Go to Apple Logo.
Select System Preferences…
Click on Software Update.
Now the system will check for updates. If available, click on Upgrade or Restart Now.
11. Boot To Safe Mode
Booting the Mac computer to safe mode could help you find the associated reason and accordingly fix it. The safe mode checks the integrity of the startup disk and stops the apps and processes from running.
However, the steps vary on Mac with Apple Silicone Chip and Intel Chip. So firstly, check which Apple Processor does your Mac have and follow the steps accordingly.
Boot Mac With Apple Silicone In Safe Mode
1→ Select Apple Logo > Shut Down. Let the Mac computer completely shut down, and the screen turns black.
2→ Long-press the Power Button until you see "Loading Startup Options."
3→ Choose Volume.
4→ Long-press the Shift Key.
5→ Then select Continue In Safe Mode.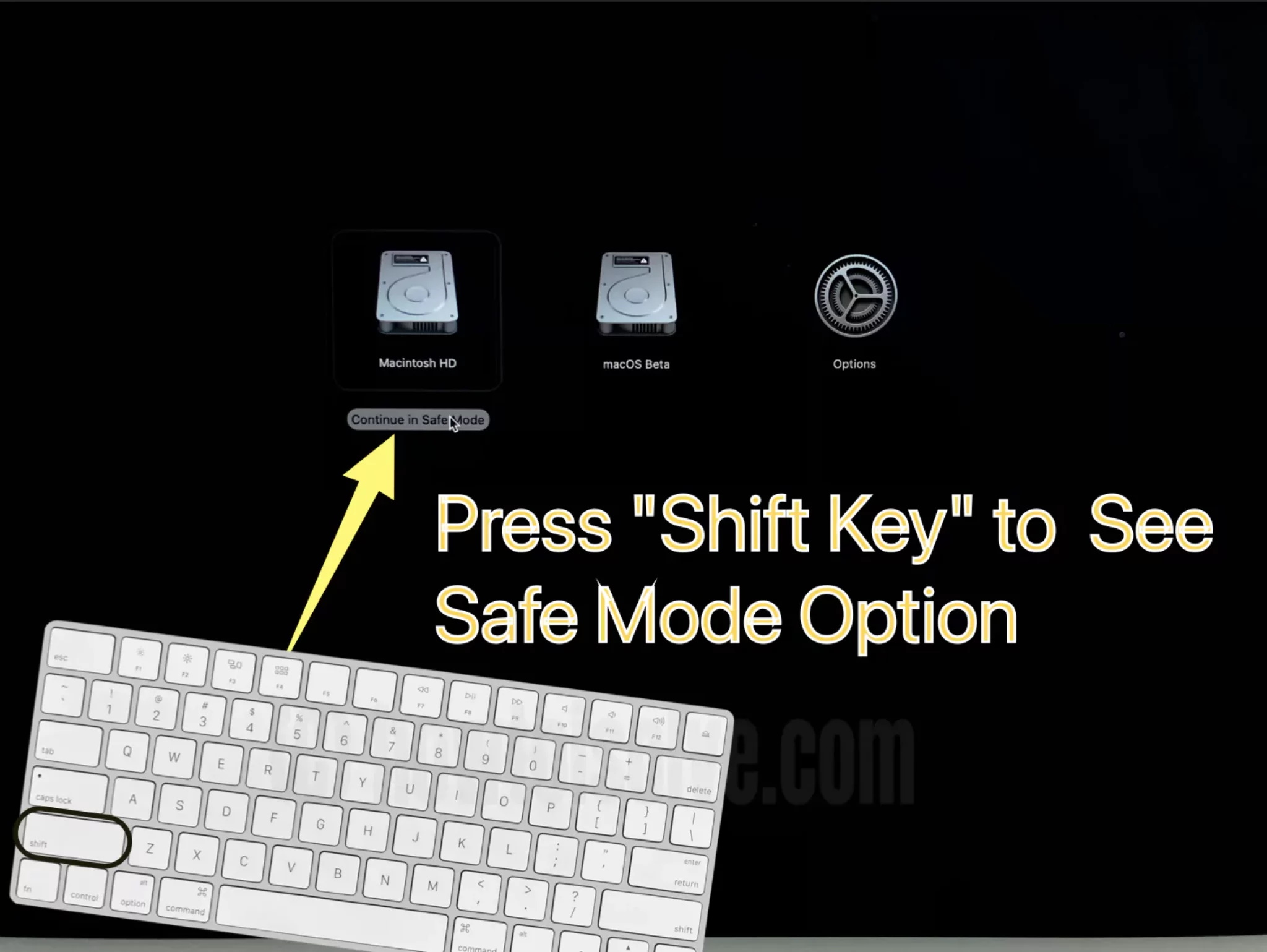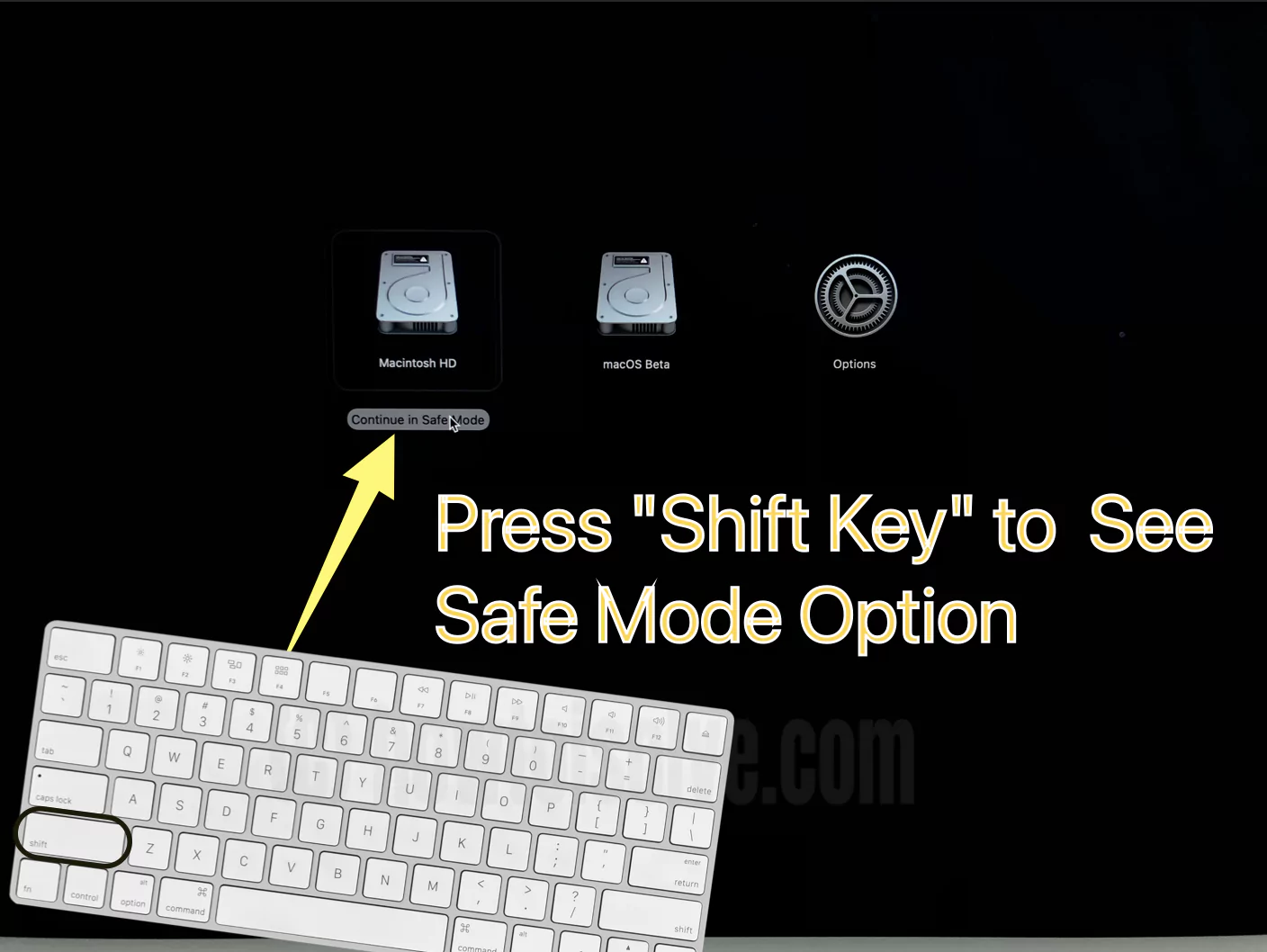 After this, your Mac computer will restart automatically in Safe Mode.
Boot Mac With Intel Chip In Safe Mode
Restart your Mac computer, and immediately long-press the Shift Button to see the login window.
Log in to a Mac. You will be prompted to do so once again and log in. In either the first or second window, you will encounter Safe Mode in the menu bar.
12. Require Enough Free Space
Storage Optimization is another alternative to improve the speed of the device, and it is a very easy way compared to others. macOS will store data in the cloud, save the storage on the system, and make it available for you whenever needed. Storage optimization will help the device in delete videos, music, and other files you have not used.
Go to the Apple Logo > System Settings > General > Storage > Recommendations. There is an option for How to Find Large Files, Applications on Mac.
13. Reset SMC And NVRAM
Only for Intel Processor Macs,
The last solution in the array is Resettings SMC and NVRAM, as it's found to be one of the causes of Mac freezing and lagging.
But for Apple Silicon Mac, Only Restart Your Mac.
14. Take Your Mac To the Nearest Store
If the issue still persists even after trying the tricks from the article, you might need technical help. Qualified Apple Technicians can quickly diagnose the issue and fix the Mac ailment that you are unknown to.
For this, contact Apple Support and follow the on-screen instructions to book the Genius bar complaint ticket. Or else you move to a third-party authorized Apple Service station.
Wait! Are there hardware issues?
Check your Macbook Warranty Status online; Get Free Solutions and replacement according to Apple's terms and conditions.
Final Thought!
This is how you can resolve a Mac that keeps freezing and lagging. Which solution from the above article worked for you? Do know in the comment box below.
If your Mac has not installed any software or Data, I recommend going with a clean install Mac or Erase all content and settings [m1 mac only] after Backup Time machine. Otherwise, Reinstall MacOS without Data loss.