Last Updated on Dec 3, 2020
The new setting is in 12; you will get the automatic download when you allow the permission like automatic software update in iOS 12. This is the alert message that will inform about new iOS update is available for your device. So we can start the update when you want. If you don't want a message like this, you should turn off or disable automatic software update from the settings app that I am showing here.
we are happy to help you, submit this Form, if your solution is not covered in this article.
Apple gives amazing option and settings for making your iOS device up to date and error free. In this case, what should you have to do?
Update for Affected Users: Right now this is a bug according to iOS Developer that arise on iOS 12 beta 11 released, #iOS12 Developer Beta 12 released, Fix the Problem after update automatically.
Troubleshooting tips: Turn off or Stop your iPhone Showing A new iOS update is now available please update from the iOS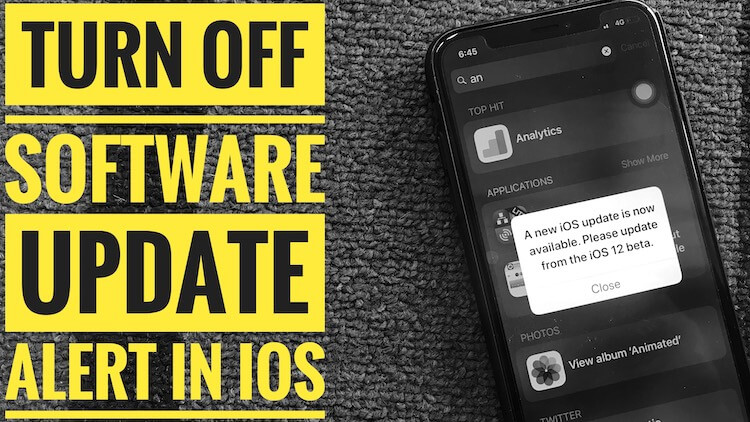 Step 1: Go to the settings app on your iPhone, iPad or iPod Touch running on as 12 devices.
Step 2: Next, to the settings app, go to the General > and software update > scroll down on the last of the screen if you have recently any update available otherwise this option will is at top of the screen.
Step 3: Open the software update > and set to disable the toggle for that.
Go back to the previous screen, See Another option "Cancel Auto Install". Also, Install the pending software updated that has been downloaded but not installed on your iOS device.
Useful: And the same story for the Mac users also, they can also disable or turn off automatic software update and top alerting the message like this on the Mac notification bar. Turn off Software Update Notification on Mac after Disable Automatic MacOS Update.
I would like to recommend getting it enabled because you will get new updates automatically. But some peoples are ignoring and looks like annoying about this message.
You don't make any changes still now then go to the force restart your iOS device and try to above steps again.
For iPhone 8 8 plus and X: quickly press and release volume up button and volume down button turn by turn. Now only press and hold side button until you see Apple logo on the screen.
iPhone 7/7 Plus, iPhone 6/6 Plus, iPhone 5S: Force Restart Guide
Once your iPhone rebooted. Check it should fix.
Hope you guys this fix work for you and give us positive feedback in the comment below it is helpful. Also, follow us on Facebook, Twitter or Google Plus who gets new updates and tips and tricks daily in your mailbox. Also, visit our YouTube channel that helps out the quick fix video tutorials and general guide.