🗓️
September 19, 2023
By ✍️
Jaysukh patel
is your mac recycle bin not emptying? Trying to force empty the Recycle Bin on a Mac but facing Trash problems. In this article, I'll teach a full guide about deleting a file on Mac that Cannot be deleted? In most cases, cleaning the Trash files is a simple task. You navigate to the folder and choose the Empty option on the upper right side. That's all there is to it. However, there are times when Mac Trash will not allow you to delete an item permanently.
With that said, our article will assist you in handling such situations. It demonstrates how to determine if items are in use or protected. We'll also go through how to do drive fixes if a drive malfunction prevents you from clearing the Trash. Finally, we'll also use the Terminal to compel the Trash to be cleared. Here's Full guide on how to Empty trash on Mac.
Let's Start!
List of Reasons behind Apple Mac's Trash won't empty
Apple mac trash won't empty because disk is full – if your Mac system storage is full and has no adequate space to run the programs on computer then your mac trash won't empty, even if you try the force method.
Can't empty trash mac because file is in use – the operation can't be completed because the item "folders" is in use. This sentence tells you that the file is already running on the system in the current situation, hence, a force quiet it before try to trash empty it.
Force empty trash mac terminal and force empty trash mac Ventura during this mac empty trash stuck due to lots of data's in Mac bin.
Mac recycle bin not emptying? Get How to empty the Trash on Your Mac Computer
When you erase an item on a Mac, you merely hide it in the Finder. It would be best to empty the Trash to get rid of all the junk and remove unnecessary files to utilize the associated storage space better. So, if you can't clear your Trash on your Mac, the first thing you should do is check whether your macOS is up to date.
If your Mac is running the most recent version of the operating system, but Trash is still acting up, consider the following remedies:
Method 1: Reboot your Mac
It's possible that anything in the Trash is already being used. It might be a document or a component of the program. To remedy the problem, you must terminate all currently active applications on your device. A quick restart of the Mac will solve the problem.
1→ Go to the top menu and select the Apple symbol.
2→ To restart your Mac, select Restart.
This approach will force any applications that are still running to shut down. Now try emptying the Trash. If you still can't get rid of the issue, move on to the following method.
Method 2: Try Safe Mode
During startup, Safe Mode prevents your Mac from loading specified apps. These applications include log-in items and system extensions that are not essential for macOS functioning. Using Safe mode, you can see whether any apps or applications interfere with proper Trash operation.
Check and see your Mac has intel or M1 Mac, and follow the steps,
For M1 Mac,
1→ Shut down your Mac. Press and Hold on the Power button until your mac show the Startup volumes and Options – settings gear icon.
2→ Next, Select Startup volume, And Press Shift Key from keybaord > Continue in Safe mode option.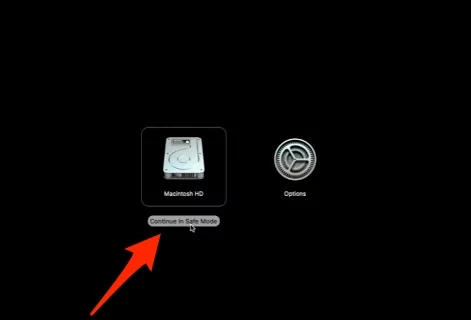 3→ Wait for few times and log in to your Mac with the login screen labeled Safe boot at the top right corner of the screen.
4→ In Safe mode, Empty Trash from Dock. Righ click on Trash > Empty Bin.
Voila!!
For Intel Mac,
Click on Apple Logo on the top Mac menu. Then, Click the Restart

button.

When your Mac is restarting, hold down the Shift key.

When the Apple logo and progress bar is displayed, let go of the key. "Safe Boot" should appear in the top right-hand corner of your display.

You've now entered Safe Mode on your Mac, implying that no third-party programs or startup elements will be loaded. Login your Mac > Check the issue is fixed. Manually Delete Trash from Mac.
You should be able to clear the Trash as usual and then reboot your Mac to return to regular mode.
Method 3: Emptying the Trash Using the Terminal Method.
It will help if you use caution when using this option. Using the erroneous command might delete much more than just the Trash on a Mac.
1→ To start, open the Terminal. You should be able to locate it under Utilities. Alternatively, you can do a Spotlight and find the terminal.
2→ Once inside the Terminal, write Sudo rm followed by a space. Remember not to hit Enter here.
3→ Now, you need to go to the Trash on the Dock.
4→ Here, you need to drag and put the items from the Trash application into the Terminal box that you want to delete permanently.
5→ Now, hit the Enter/Return key from the keyboard.
6→ Enter your password again to confirm, then click Enter.
7→ Now press the Enter key to clear the Trash.
8→ Finally, you may clear the Trash by repairing disk permissions.
Method 4: Use the Option key.
If you can't open the Trash to erase everything within, you may do so from the Dock. By using the Option key, you may access the settings and empty the Trash without opening the bin.
Here's how you do it:
1→ In the Dock, look for the Trash icon.
2→ Hold down the Option (or Shift) key and double-click the Trash icon.
3→ Click the Empty Bin button.
4→ When the pop-up window displays, confirm.
I hope that helped you get rid of your trash. If not, we'll move on to the following solutions.
Method 5: Remove files without using the Trash
Are you used to sliding files to the Trash? But wait, this isn't your only option. Here's a simple way to remove unwanted files on a Mac without using Trash.
Option + Command + Delete
However, you need to keep in mind that there will be no turning back from this point. If you wish to erase a file, use Command + Option + Delete. There will be no way for you to recover it afterward since it will not be deleted.
Method 6: When Files Are Locked
In another scenario, the files you're attempting to remove could be locked. This is easily remedied by heading to the Trash and unlocking them. What you must do is as follows:
1→ Open Trash.
2→ Control + Click the file to be deleted.
3→ Click the Get Info button.
4→ Deactivate the Locked checkbox.
This unlocks the file and allows you to remove it. You may do this once more by hitting the Empty button. Finally, you may press Control + Click on the files and choose Delete to remove them instantly.
Method 7: Emptying the Trash when Your Disk Needs Repair
A hard drive problem is likely preventing your Trash from emptying. You may test this by starting Disk Utility and selecting the First Aid option.
To finish the procedure, follow these steps:
1→ To open Spotlight, press Cmd + Space.
2→ Type Disk Utility.
3→ Press the Return key.
4→ Choose the disk. Ascertain that it is the one containing the file you wish to delete.
5→ Next, select First Aid, then Run.
The First Aid feature will notify you if it detects any faults, but it will not be able to repair problems on your primary drive while it is operating. Restart your Mac in Safe Mode to resolve disk difficulties on your starting drive.
When all other troubleshooting methods have failed, restoring your Mac's drive is a viable choice. A drive restoration will allow you to erase things from your Trash in most circumstances permanently.
You need to follow those steps to empty Trash on your Mac. Emptying your Trash can help keep your Mac clean and tidy. In addition, it frees up disk space, making your Mac perform more smoothly. Hopefully, this guide has assisted you in emptying the Mac Trash.
Despite being known for its sturdy software and hardware architecture, your Mac may nonetheless fail in rare instances, ranging from a malfunctioning mouse to further Trash issues—as in our case.