🗓️ November 10, 2020 By ✍️ Jaysukh patelStill, you were watching YouTube Video on iPhone, iPad or Apple TV with default caption font white color and style. Because either you didn't think about to change YouTube Video caption font color on iPhone or you didn't have an idea to shift caption font color on iPhone YouTube videos. For the first time this looking unbelievable, but no this thing is indeed, and it's possible with the latest iOS devices.
Whether you're master of iPhone or iPad settings but you also beginner from some of the features Such as setup VPN, Volume up/down without volume button, and bottom gave guide change YouTube Video caption font color on iPhone, iPad and much more.
After below outlined instructions you'll able to get there are different seven colors likely Cyan, Blue, Green, Yellow, Magenta, Red, and Black for YouTube Video caption text.
Six steps on how to Change YouTube Video Caption font color on iPhone
Step 1. Launch Settings app
Step 2. Find General
Step 3. Choose Accessibility
Step 4. Scroll down the Screen then tap on Subtitles & Captioning (under Media section)
Step 5. Now tap on Style then touch on Create New Style…
Step 6. Under the Text Section tap on Color and choose your pick color you can see preview onscreen.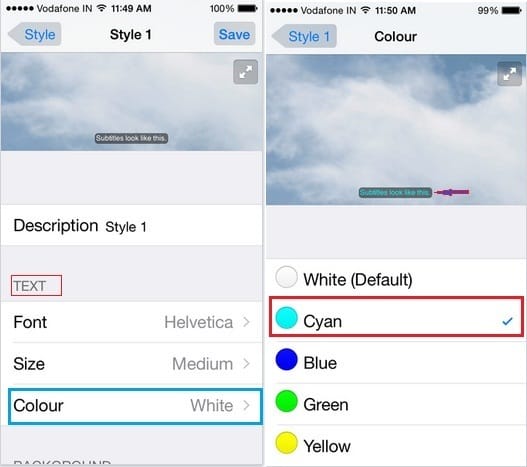 That's it.
You can also be changed YouTube video caption text size as Small, Medium, large and extra large as well as Background color, Text Opacity, Text Edge Style as well as Text Highlight.
Now open a YouTube Video on iPhone or iPad, you get your edited font style in the caption of YouTube Video.
Please Share your reality with us, leave feedback on this post to change YouTube Video Caption font color on iPhone, iPad.
Read more: