Last Updated on Sep 18, 2023
Unlike other smartphones, Apple's iPhone have to periodically install updates to keep their performance at the top. However, if your iPhone receives the latest updates but not showing download and install button, it could be due to some more extensive problem.
One of the common reasons why won't my iPhone download and install update iOS 17 is sufficient storage space, network issues, etc. No matter the causes, here is how you can fix iOS 17 download and install option not showing up on your iPhone.
But in case your iPhone is not at all showing updates, read our article on how to fix iOS 17 update not showing up.
Here are seven ways to fix iOS 17 download and install option not showing up on iPhone.
Solution#1. Update not showing? Check how long it takes to have iOS 17 Notifications?
Remember, not every country receives iOS updates at the same time. Apple usually releases iOS updates in stages, gradually making it available in every region over a period of time. However, there are many factors behind it, such as device compatibility, server capacity, and geographical location.
Initially, Apple makes it available for limited regions to ensure no significant bugs and issues. And further, if no issue is found during initial releases, they make it available for every user.
Besides this, iOS updates depend on various factors, such as device model, carrier, region, and more. Thus, some users receive early updates, while some may receive them later.
To check iOS update release timing in your country, read our article on how to fix iOS 17 update not showing up.
Solution#2. Check your iPhone Network
A corrupted and unstable network connection might be why iOS download and install option is not showing on iPhone. In this scenario, the solution is quite handy. All you need to do is ensure your iPhone has a fairly reliable network. For this, follow the steps below.
Head to the Settings App.
Select Wi-Fi.
Try connecting to the Wi-Fi network offering greater strength. 
However, if cellular data offers better strength than Wi-Fi, it's better to stay connected to cellular data.
Solution#3. Check for iOS 17 compatibility
An appropriate reason for my iPhone won't download and install updates is that your flagship is incompatible with the latest iOS. For this, you must first confirm what iPhone model you're using. You can see the back side of the iPhone box that came with it. Once you get it, below is the list of iPhone models compatible with iOS 17, so kindly cross-verify it.
iPhone 15
iPhone 15 Plus
iPhone 15 Pro
iPhone 14
iPhone 14 Plus
iPhone 14 Pro
iPhone 14 Pro Max
iPhone 13
iPhone 13 mini
iPhone 13 Pro
iPhone 13 Pro Max
iPhone 12
iPhone 12 mini
iPhone 12 Pro
iPhone 12 Pro Max
iPhone 11
iPhone 11 Pro
iPhone 11 Pro Max
iPhone XS
iPhone XS Max
iPhone XR
iPhone SE
(2nd generation or later)
Solution#4. Clear iPhone Storage to update iOS 17
One of the most common reasons for download and install does nothing on your iPhone flagship is insufficient storage space. Remember that you must at least have double Storage of the total iOS update size.
For instance, if the update size is 2 GB, then your iPhone must have at least 4 GB of available space. To check available space, follow the steps below.
Head to the Settings App.
Navigate to General.
On the next screen, tap on iPhone Storage. 
Check the available storage space; if it's lower than total required, then it's certainly why iOS 17 download and install option is not showing on iPhone.
Tip: To clear Storage on your iPhone, read our article on how to free-space on an iPhone running latest iOS.
The affordable solution for low storage space is creating a backup and storing it on your PC. However you can also upgrade to iCloud+, but it's quite expensive.
Solution#5. Delete Beta Profile
Head to the Settings App.
Tap on General.
Select VPN & Device Management.
In the Configuration menu, tap on the Profile you have multiple.
Hit on the Remove Profile and enter the passcode.
At last, hit on Remove to confirm.
Select Restart to finish the procedure of removing the iOS Beta Profile.
After this, let your device turn on and then head to Settings.
Select General.
Tap Software Update.
Now, let your iPhone check for updates.
If available, tap on Download And Install.
If the issue continues after deleting the Beta profile, move to the following solution.
Solution#6. Force Restart iPhone
To resolve, download and install doesn't do anything on your iPhone; you must try force restarting your device. For this, follow the steps below.
Press and quickly release the Volume UP Button.
Press and quickly release the volume Down Button.
Press and hold the Side Key.
When the Apple logo shows, let out the Side Button.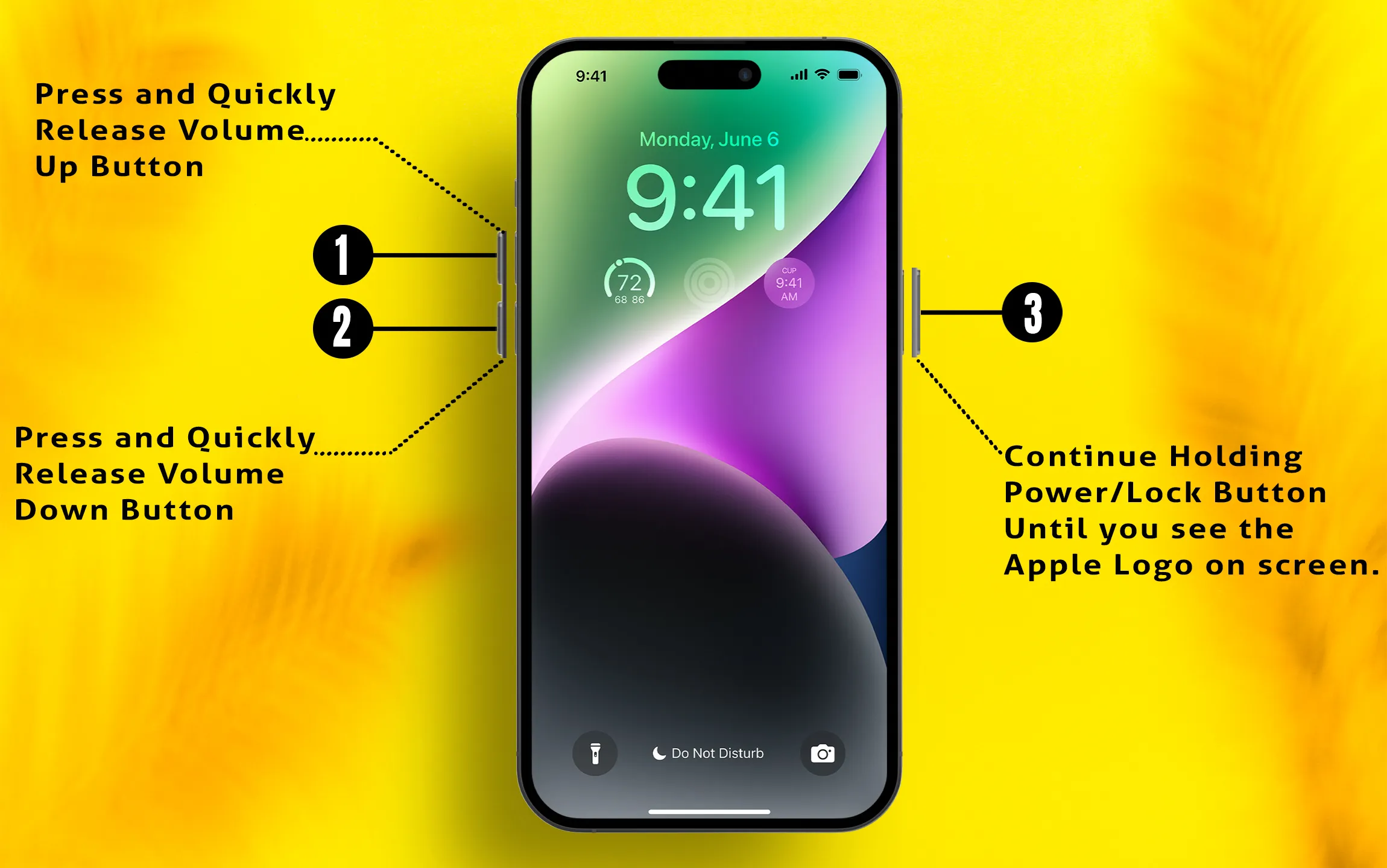 That's It!
Solution#7. Reset Network Settings
Try resetting network settings on your iPhone by following the steps below. 
Head to the Settings App.
Select General.
Scroll the screen to tap on Transfer & Reset iPhone.
Tap Reset > Reset Network Settings.
Enter the lock screen passcode and tap on Reset Network Settings.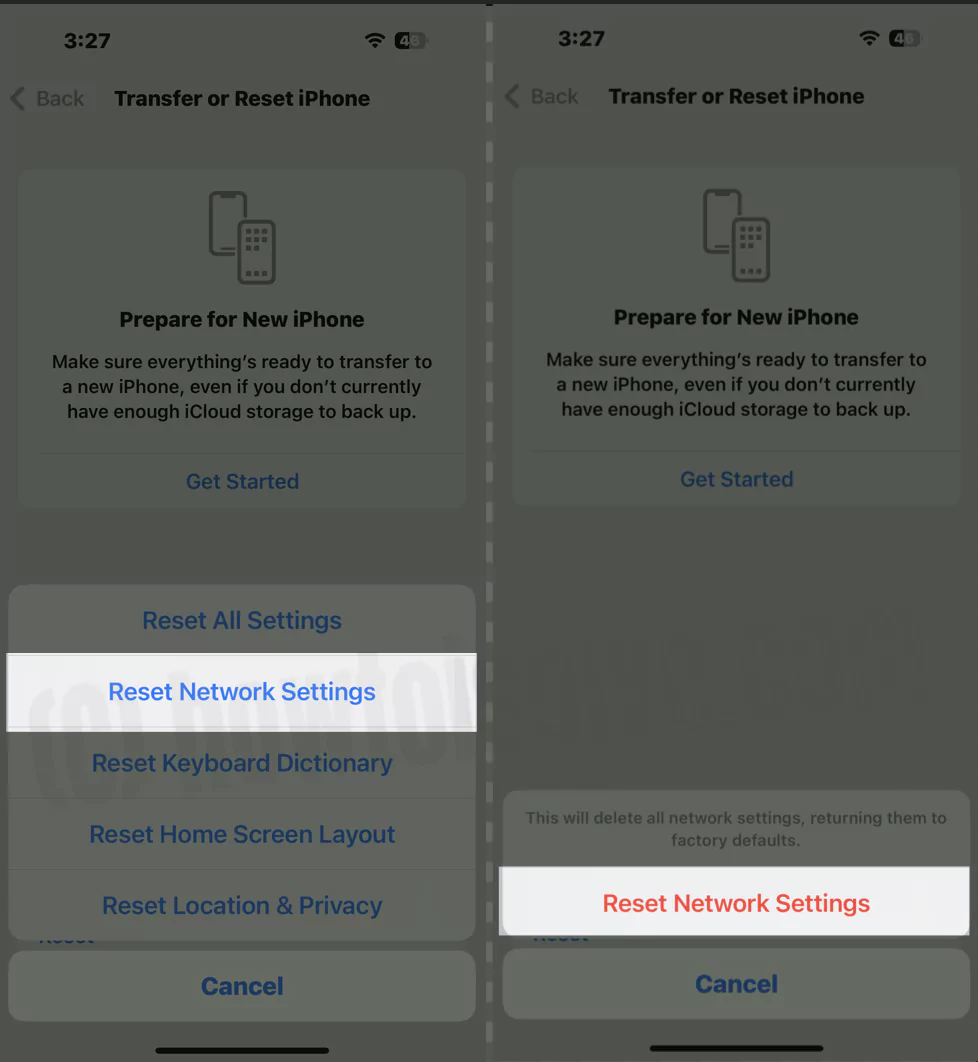 Once the procedure is finished, re-try updating iOS and check for issues.
Solution#8. Update your iPhone using Finder/iTunes
If none of the solutions worked for you, you can try updating iOS 17 using Finder/iTunes to fix the download and install option not showing on iPhone. A Finder/iTunes is comparatively more reliable than directly updating from an iPhone. For this, we have created a separate article. Learn our article on how to iPhone to latest iOS using iTunes/Finder.
Solution#9. Still, issue continues? You must contact the Apple Support Team
Hopefully, any of the solutions mentioned above in the article helped you to fix it. But if not, then it's high time to Contact the Apple Support Team. That's because they will help you to diagnose the issue, and accordingly, they will offer you a solution.
Final Thought!
I hope the troubleshooting tips here helped you to fix it. These were the troubleshooting tips to fix cannot download and install iOS updates. If you want further assistance, please drop in the comment box.