🗓️
October 26, 2023
By ✍️
Jaysukh patel
In this blog post, im explain to you how to enable right-clicking on a Mac and fix the issue Why is the right-click not working on a mouse Mac, or Trackpad? Apple iMac mouse not working on a startup.
How to right-click on a Mac? A Tradition way and Using Physical Right-click on Apple Magic mouse or Trackpad. All things are explained here. the mouse comes as an add-on of the Mac computer in the box,
by default, the mouse has some function set up disabled; during the first time setup or later user can customize the mouse settings such as scrolling screen, left-click, and right-click.
If you skip the mouse setting during the beginning setup of your new mac, you may face the issue right click not working on my mac computer.
Perhaps you are trying to find a mouse setting on your mac screen to adjust click, but you didn't find that don't worry; here are a few ways to enable right-click on your Mac computer.
How to Enable Right Click on Mac Apple mouse & Trackpad
See the Mouse Preferences settings under the System settings, Depends on Which macOS Version is installed on your Mac. Find the settings for your Mouse on Mac
On MacOS Ventura: Enable Right Click Settings
how to right-click on a Mac
If the right-click settings are not enabled on your Mac mouse settings, then use right-click menu on Desktop, Media file, Webpage, and so on using Control + Mouse Click [left click].
or Activate the right-click settings,
Step 1→ Go to the Apple Logo > System Settings…
Step 2→ Next, Scroll to Mouse to see the Option > Now, Choose Point & Click Section.
Step 3→ For Secondary click, Choose "Click right side" On MacBook with Trackpad or External Apple Magic Trackpad. Select Secondary click > "Click in Bottom Right Corner".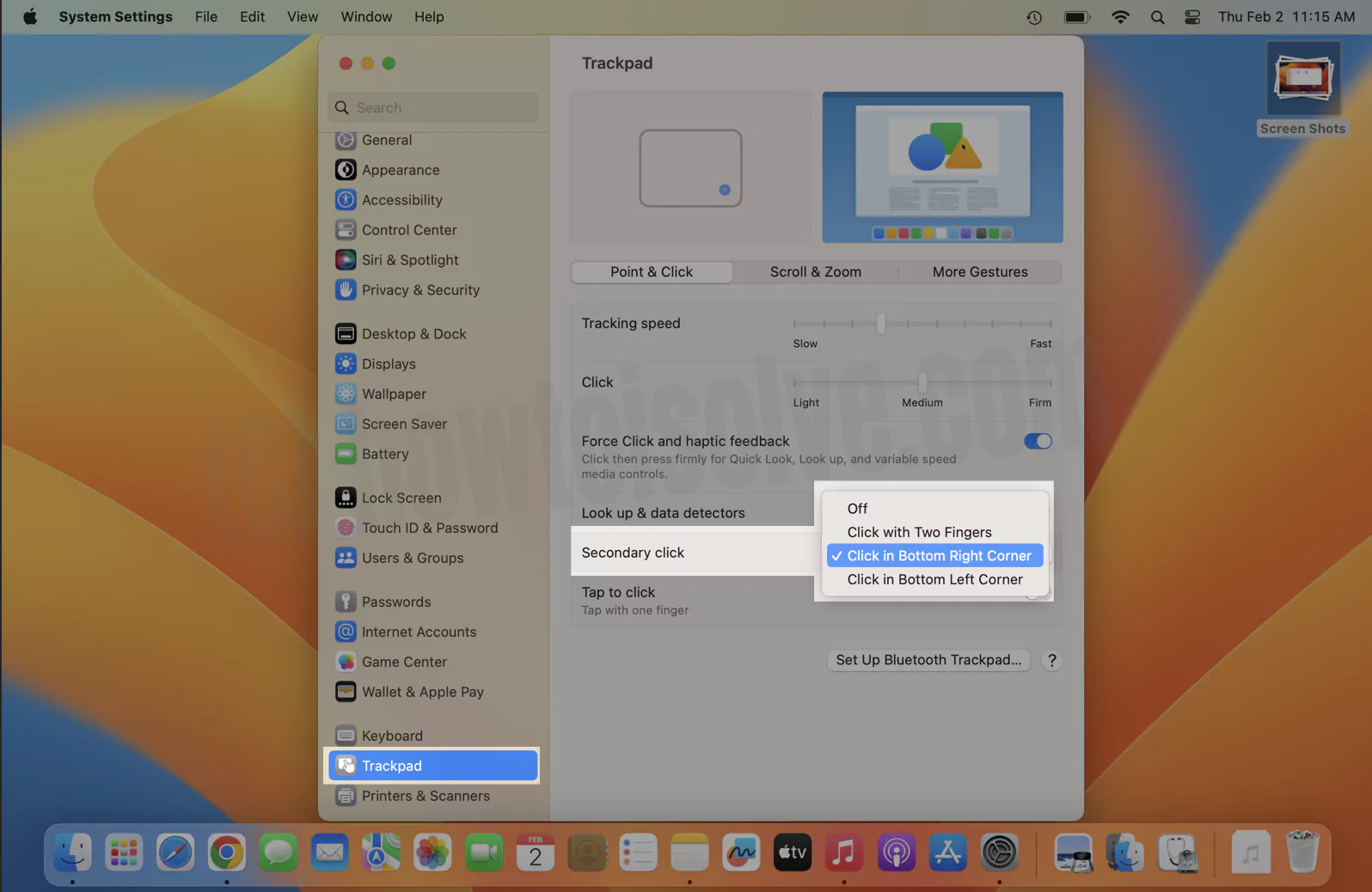 Step 4→ That's it. Now your Left and Right Click will be working as expected. Still, if your Right click is Dead and Not Responding then Charge your Magic mouse for at least 15 minutes. or Clean up the Charging port, Charge with the Original Lightning cable, or Change the cable. or You have to go with Apple Service Center.
For Trackpad, on MacBook or External Trackpad
Default Right Click for Apple Magic Trackpad is "Click with Two Fingers". Customize Physical right Click for trackpad on Mac using macOS System Settings. Go to the Apple Logo > System Settings > Trackpad > Secondary click > Set your Choise,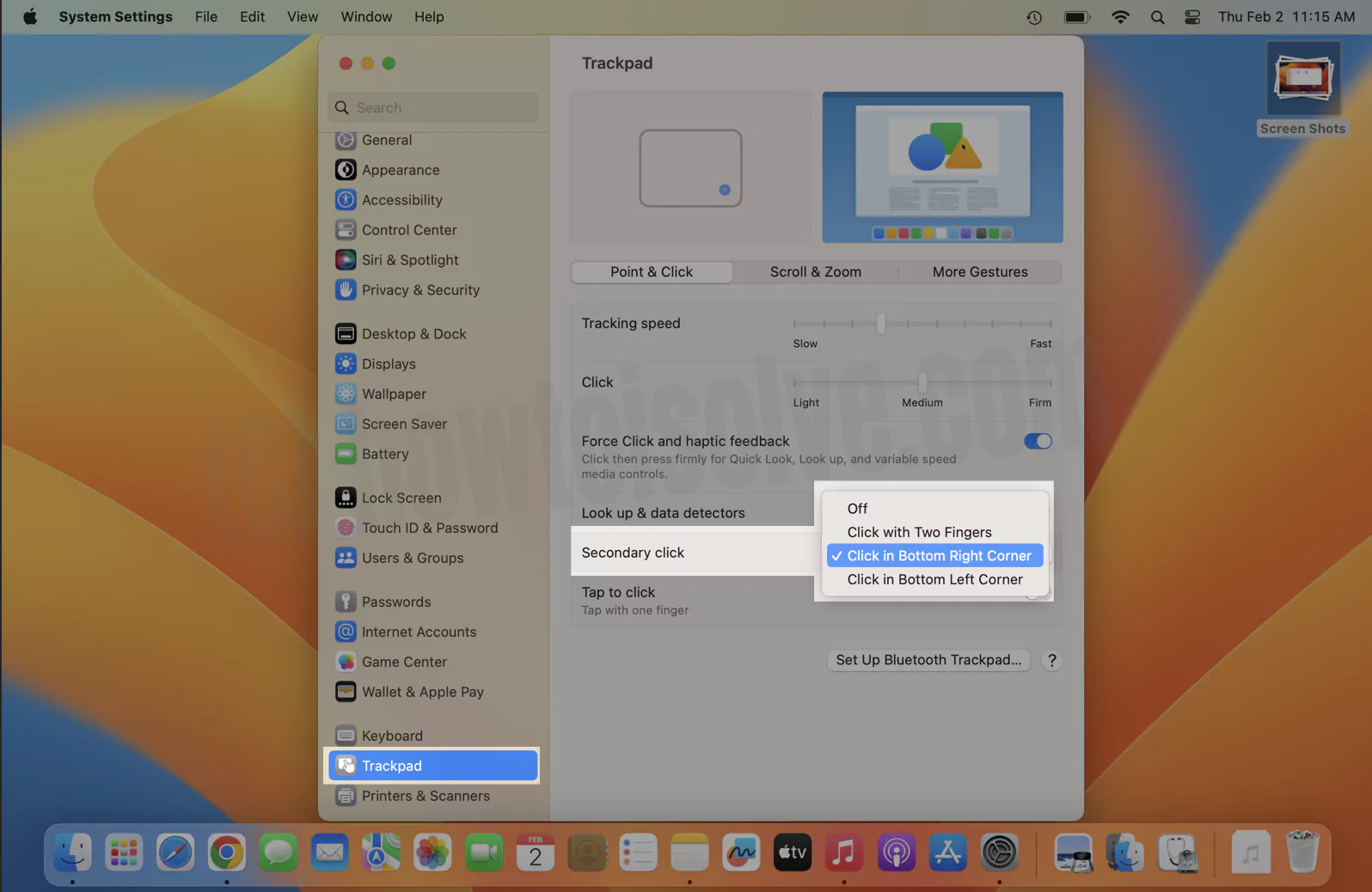 Click with Two Fingers
Click in Bottom Right Corner
Click in Bottom Left Corner
On macOS Monterey & Earlier: Mouse Settings to Enable Right Click
Open System Preferences by clicking on the Apple logo on the main menu bar.
Under the Preferences Windows > Click on Mouse

now on the Settings screen, choose secondary click check box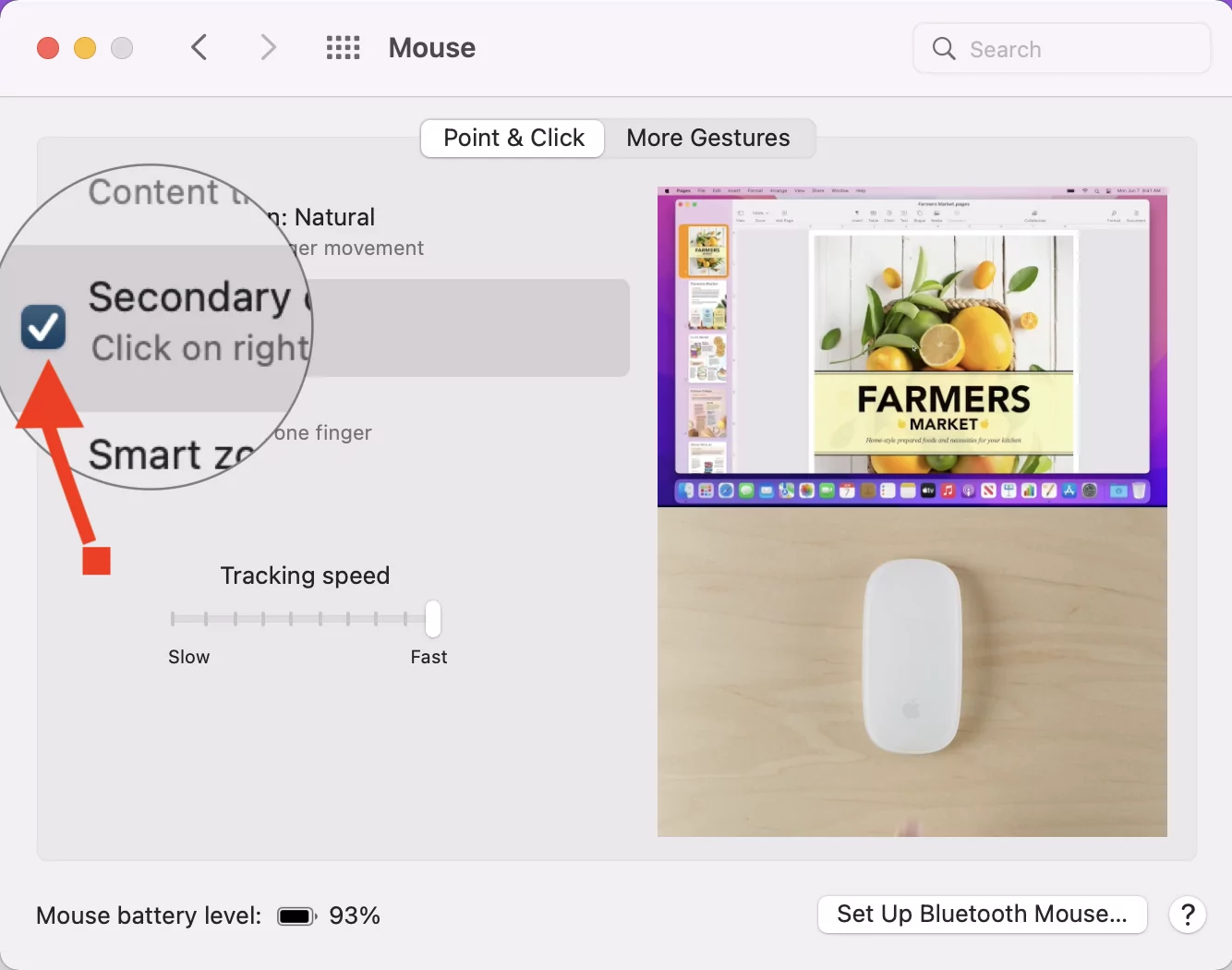 and make sure the toggle set for click on right side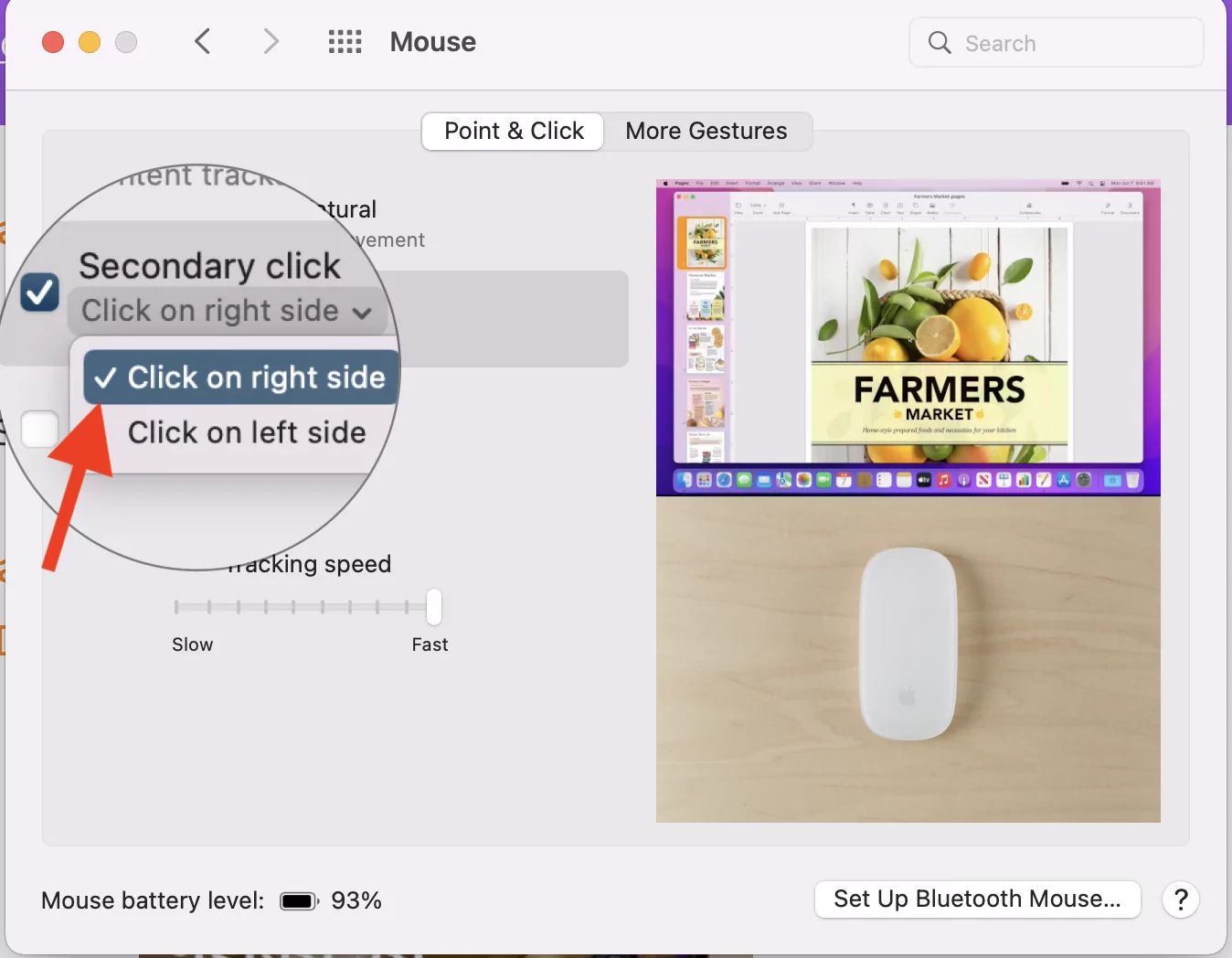 that's it.
Now close the settings app. try again to right-click on your magic mouse. I hope this is found helpful.
Suppose left and right-click mouse scrolling stopped working means your mouse battery drain. Please, check the mouse battery percentage. The low-battery mouse won't work as we expected. Re-charge your mouse using lighting to the USB cable and wait till the total charge.
If your mouse doesn't charge, try to connect with another wall plug adapter; otherwise, contact Apple support.
10% of users face the mouse not working correctly due to software glitches in macOS. Therefore, you should check software updates on your Mac machine via the Apple logo – system preferences – Software Update in such a case.
A pop-up appears for the Latest Software update; I suggest you download and install the software to resolve your Mouse or any other hardware and software problems.
If your mouse right-click does not work after falling on the floor, that means it occurred damage inside the structure of the mouse. So, please, carry it to a nearby Apple store and ask him what you should do.
Apple's technical assistance will help you.
Advice-
Solution #2- Easy solution to fix Magic Mouse right-click option not working
Uncheck the toggle to right-click the mouse, restart your computer, and then check the right-click toggle; this works like a charm.
To do this, go to the Apple logo
Go with System Preferences
Choose Mouse (For more help, scroll up side to view the screen window for the Mac Mouse setting.)
Now uncheck the box next to the secondary click now rebooting your Mac and turning it back on If you have had a similar problem.
The second last option is to reinstall macOS to fix the right-click button suddenly given out.
The last option is to start your Mac into safe mode.
Magic Mouse not responding at this time
Un-pairing the mouse and then pairing it again
I disconnected my trackpad, then the magic mouse worked just fine.
Here I give you various suggestions
Extra Tips:-
I hope this post found helpful and saves you the cost of a new mouse.
Changing/ checking batteries; Rebooting Mac & mouse, etc,
Trying another Magic Mouse from another machine on my iMac.
Logitech Mouse Right-click not working mac
Logitech mouse is supported by Apple's macOS system, but the mouse must be compatible with the latest macOS. As a solution for Logitech mouse right-clicks stopped working, you should follow the same steps that I've mentioned above in this post. or Customize the Logi Mouse customization software like Logitech Options for Mac.
Choose right-click as a secondary click option. Once you do this, it saves the setting automatically. I hope it should be fixed your Logitech mouse right-click issues.