Learn How to change Brightness and Volume on iPhone, iPad in iOS 12, iOS 13 using alternate methods? how to change brightness on ipad ios 12.
iPhone auto brightness iOS 12, Now, the way to Adjust or Change Brightness and Volume on the iPhone and iPad changed. New Shortcut icon and Bar in customized control center more natural and helpful for us. Without 3D Touch, We can access on All latest iOS Devices.
Here are instant tricks to increase brightness intensity and Volume using alternate ways. Compatible models are iPhone 5S, iPhone 6/6 Plus, iPhone 6S/6S Plus, iPhone 7/7 Plus, iPhone 8/8 Plus, iPhone X, XR, XS, and XS Max.
Change Volume and Brightness Using Control Center: Alternate Ways
1: Open control center on the lock screen or Home screen, Swipe up finger on the screen from bottom to top.
For iPhone X: Swipe Down Finger from top right corner on Lock Screen on Home Screen.
2: See the Brightness bar with Shine star icon, To change it or level up or down swipe the finger on the Brightness bar.
Touch and Hold for to Activate or Full-Screen Brightness bar on Screen and See Night Shift.
Auto-Brightness Turn on from Settings app on iPhone, iPad
1: Go to the Settings app on iPhone, iPad.
2: Next, Tap on General and Accessibility.
3: Under the Accessibility, Tap on Display Accommodations.
4: Under the Display Accommodations, Enable Auto Brightness.
Change Volume from the control center in iOS
1: Activate Control center on iPhone screen. [Swiping up a finger in Screen]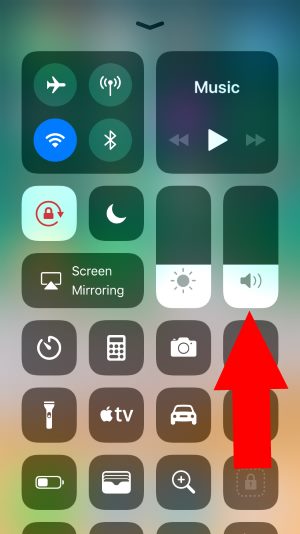 2: On the Volume bar, Move your finger on volume bar for the increase and decrease.
Change Volume of Settings or Side Volume button
Method 1: Physical button ready to use and change Volume on any screen, Like Home screen or lock screen
Method 2: Or Use Assistive, Volume control not added in Assistive Touch. Customize Assistive Touch and Use to Manage Sound on iPhone, iPad and iPod Touch.
Hope you get the full guide on how to Change Brightness and Volume on the iPhone and iPad.
Jaysukh Patel is the founder of howtoisolve. Also self Professional Developer, Techno lover mainly for iPhone, iPad, iPod Touch and iOS, Jaysukh is one of responsible person in his family.
Contact On: [email protected] [OR] [email protected]