Last Updated on Nov 10, 2020
iPhone auto-brightness iOS 13, Now, the way to Adjust or Change Brightness and Volume on the iPhone and iPad changed. New Shortcut icon and Bar in customized control center more natural and helpful for us. Without 3D Touch, We can access All the latest iOS Devices.
we are happy to help you, submit this Form, if your solution is not covered in this article.
Here are instant tricks to increase brightness intensity and Volume using alternate ways. Compatible models are iPhone 11, iPhone 11 Pro, iPhone 11 Pro Max, iPhone 5S, iPhone 6/6 Plus, iPhone 6S/6S Plus, iPhone 7/7 Plus, iPhone 8/8 Plus, iPhone X, XR, XS, and XS Max.
Change Volume and Brightness on iPhone in Alternate Ways
iPhone Screen Brightness: We can fix the Brightness intensity for all the time, Otherwise auto-brightness functional will manage light intensity on Bright area, Sunlight, and Dark Room. First, we will see how to fix Display brightness on iPhone, After then Set the Your iPhone Screen Brightness automatically. in the same, we can also Set the Volume limit. Let's Find it on your iPhone settings.
Set iPhone Display Brightness on iPhone for All Time
This brightness setting we have to manually set from iPhone settings or From the control center that is either locked or unlocked iPhone screen. To fix the Display brightness for all the time on your iPhone, You must have to keep disabled Auto-Brightness function on iPhone that is next part in this tutorial.
Open the Settings app on the iPhone.
Scroll to Display & Brightness.
Next, Under the Brightness section, Find the Slider to Change the Display light intensity of your iPhone.
Move the slide to the right for increasing the brightness.
That's it.

Don't miss to Turn off Auto-Brightness from settings, Otherwise, your Brightness will change automatically to dimmed or light

. here are the steps for Turn off Auto-Brightness on iPhone

Settings app on iPhone.
Scroll to Accessibility settings.
Next, Display & Text Size.
Now, Scroll the screen to last and Turn off Auto-Brightness toggle to grayed out.
After that, your custom Brightness will remain the same in all environments.
That's it.

The old iOS Version on Device user can find Auto-Brightness option under this: Settings > General > Accessibility > Display Accommodation > Turn off Auto-Brightness, That's it.
Change Volume and Brightness Using Control Center Alternate Ways
Open control center on the lock screen or Home screen, Swipe up finger on the screen from bottom to top.
See the Brightness bar with Shine star icon, To change it or level up or down swipe the finger on the Brightness bar.
Touch and Hold for to Activate or Full-Screen Brightness bar on Screen and See Night Shift.
Auto-Brightness Turn on from Settings app on iPhone, iPad
For iOS 13, the method to change brightness and volume has been altered in the latest version of iOS. Hence, definitely, you have to look at alternate ways to enable auto-brightness/brightness and volume using Control Center.
Open the Settings app on the iPhone.
Go to the Accessibility.
Tap Display & Text Size.
Scroll all the way down to bottom and toggle on Auto-Brightness.
For iOS 12, the steps to enable Auto-Brightness remains the same. However, if you have iPhone 6 or earlier, then iOS 12 is the last update for you by Apple.
1: Go to the Settings app on iPhone, iPad.
2: Next, Tap on General and Accessibility.
3: Under the Accessibility, Tap on Display Accommodations.
4: Under the Display Accommodations, Enable Auto-Brightness.
Change Volume from the Control Center in iOS
1: Activate Control center on the iPhone screen. [Swiping up a finger in Screen]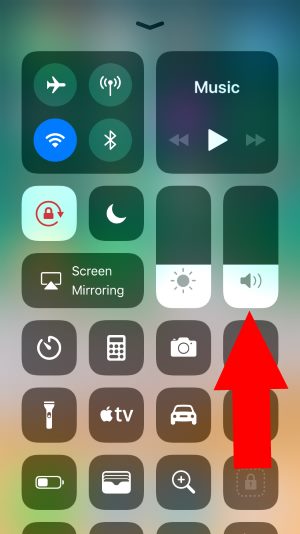 2: On the Volume bar, Move your finger on volume bar for the increase and decrease.
Premium Support is Free Now
We are happy to help you! Follow the next Step if Your Solution is not in this article, Submit this form without Sign Up, We will revert back to you via Personal Mail. In Form, Please Use the Description field to Mention our reference Webpage URL which you visited and Describe your problem in detail if possible. We covered your iPhone 12, iPhone 12 Pro, iPhone 12 Mini, iPhone 12 Pro Max, iPhone 11 Pro, iPhone 11 Pro Max, iPhone 11, iPhone 8(Plus), iPhone 7(Plus), iPhone 6S(Plus), iPhone 6(Plus), iPhone SE, SE 2(2020), iPhone 5S, iPhone 5, iPad All Generation, iPad Pro All Models, MacOS Catalina or Earlier MacOS for iMac, Mac Mini, MacBook Pro, WatchOS 6 & Earlier on Apple Watch 6/5/4/3/2/1, Apple TV. You can also mention iOS/iPadOS/MacOS. To be Continued...
Change Volume of Settings or Side Volume button
Method 1: Physical button ready to use and change Volume on any screen, Like Home screen or lock screen
Method 2: Or Use Assistive, Volume control not added in Assistive Touch. Customize Assistive Touch and Use to Manage Sound on iPhone, iPad and iPod Touch.
I hope you get the full guide on how to Change Brightness and Volume on the iPhone and iPad.