Last Updated on Aug 4, 2023
we already discussed what is Screen Time and how to use Screen time on iPhone on a compatible iPhone + iPad. The Screen Time shows Phone usage data graph wise including App wise, Longest Session, Most used App at Today and last week, Phone Pick up time in them it also shows most Pickups time and the most awaited notable point is Notifications by App- it decides what app alert maximum notification in a Day and last 7 days.
in addition, Downtimes, App Limits, Always Allowed, Content & Privacy Restrictions, and Screen Time Family Sharing. So this all things store screen time data usage. Ever you would like to wipe Screen time data then you can Clear Screen Time Data Usage with a single Tap. You don't need Mac Computer or even iTunes.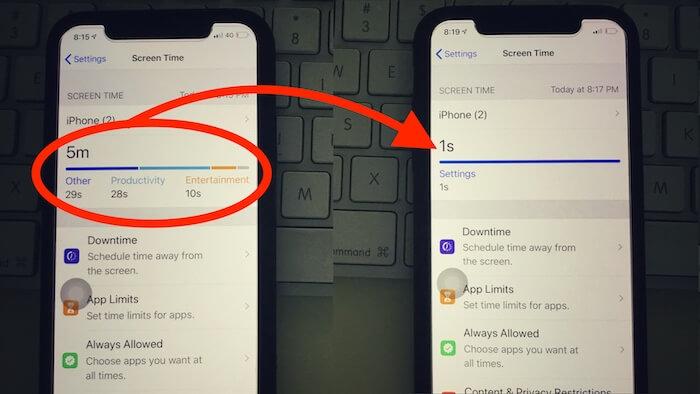 How to Clear Screen Time Data Usage on Your iPhone and iPad, Mac Running iOS/iPadOS/MacOS
#1. Open the Settings App on your iPhone or iPad.
#2. Tap on Screen Time.
#3: Scroll down to "Turn off Screen Time",
and Go with the option. Re-Confirm the option for Turn off Screen Time; After turning off, all the recorded data will be erased that can't roll back.
#4: Turn on Screen Time again from the Settings app. Settings app > Screen Time > Turn on Screen Time option. That's it.
Whenever you turn on the back screen Time on the same device, Data should be clear automatically in just a second.
This is Old Ways (iOS 12),
Scroll down the screen till the end then Tap Clear Usage Data
Enter Screen Time Passcode if you ask, then Confirm Clear Usage Data.
Note: The Screen Time Clear Usage Data button will remove apps, Websites, and notification history.
It's just Simple!
Tip to Clear Screen Time Data on Apple MacBook Pro/Air, iMac, Mac Mini
Like iPhone and iPad, Apple Watch macOS also allows Mac users to Record screens in the background. That will help in restricting the App Usage and limit on it. Also, We can clear Screen Time Data from MacOS.
Follow the below steps and Clear all screen Time data from macOS Catalina or macOS Big Sur, macOS Ventura, and later macOS Version.
Go to the Apple Logo from the top mac Menu. Now Go with the System Preferences option.
Under the System Preferences option, Click on Screen Time.
Under Screen Time, You will see the Apps usage in time for each day. To clear this you have to turn off screen time on Mac and Turn on back to clear all and start from the beginning.
Click on More option from the bottom side panel and click on Turn off option.
Wait for few seconds, and click on Turn on button to enable screen time on Mac.
Now you will see There is no Data under the Screen Time on Mac.
That's it.
More Important Notes: You won't revert your screen Time Usage data once it is deleted. So that you must think about that, in case you need it for the future, then you should take a screenshot on your iPhone to save into your camera roll.
In terms, this is a way like you clear Cellular/ Mobile data usage to get Zero information screen.
After Clear Screen Time Data Usage, it will give you a blank space in Screen Time and start to count Screen Time from Zero on your iPhone.
Reset The Screen Time Passcode on iPhone and iPad
Reset screen Time passcode is very easy, Also make sure the screen time passcode doesn't save on iCloud. So we can fetch or retrieve from the Apple server. Screen Time passcode is the extra security of your device, so no one can change the screen time restrictions that are applied to your device or your Family Devices.
We can set the screen time passcode different from your Apple iPhone, iPad lock screen passcode. if possible, set different passcodes so no one can access the screen time. if you are a forgetful person, set your iPhone/iPad login passcode so that it is easy to remember.
You have to enter the same passcode two times. if you already set or enabled screen time passcode then skip this step and go for change screen time passcode.
To enable Screen time passcode: Go to the Settings app on iPhone/iPad > Screen Time > Scroll to the Option "Use Screen Time Passcode". Enter the four-digit passcode that you wish. On iOS 15 or later iOS, Forgot Screen Time Passcode on iPhone Here's tutorial.
Update Screen Time Passcode: Settings app on iPhone/iPad > Screen Time > Change Screen Time Passcode 'Change Screen Time passcode' > Enter Old Password first to verify ownership and Enter new Passcode two time. if you don't know the old password then Forgot Screen Time passcode using Apple ID. https://www.howtoisolve.com/how-to-reset-screen-time-passcode-on-iphone-xs-max-xs-iphone-xr-bypass-forgot-passcode/
That's it.