🗓️
August 24, 2023
By ✍️
Jaysukh patel
Prevent Mac From Sleeping By Disable/Adjust Auto Sleep Time on Your Mac? Adjust auto sleep time on Mac OS X, Mac users are wondering about why my make auto-sleep or show a MacBook Pro black screen when he/she does not continuously access Mac for a few minutes. Technically, we can say it's the power-saving mode or auto logoff for security reasons.
Most people affecting due to Apple giving limited time for auto turn off the screen (About 10 to 13 minutes) by default. But we can vary this time from the Mac OS X system preference settings.
After sleep desktop or MacBook screen, your system process will be continued in the background. But you can manage all the settings you are looking for changing sleep time on Mac throughout the procedure below.
Steps on How to change sleep Settings on Mac
Note: The Power solution go-ahead by keeping Portable External Macbook Charger. If you wish to save battery on your MacBook then Enable Low Power mode on MacBook.
Option 1: Schedule Startup Or Wake and Sleep Time on Mac, MacBook
It seems like Apple has put a lot of effort into developing small features, but in reality, settings like this have a huge impact on our life. Auto Sleep and Wake for Mac, MacBook is enhanced and more customizable with the options to schedule Startup/Wake and Sleep Time in macOS Monterey or newer.
You can set the days and time for the Startup/Wake as well as the same for Sleep, so even if you're out and forget to turn off the laptop, the system will automatically turn off the MacBook without any manual intervention on the scheduled time.
Note: On macOS 13 Ventura & Later Update, the Schedule Option is not available. But we can change Mac sleep settings from macOS System settings. As given below steps,
On macOS Ventura Sleep Settings on Mac
1→ Go to the Apple Logo from the top menu > System Settings.
2→ Lock Screen > See the Dropdown Select menu, "Turn display off when inactive" > Set for 1 Minute to Naver.
For Macbook,
3→ That's it.
Prevent Automatic Sleeping When the Display is Off
One more energy-saving setting on Mac in the latest macOS. follow the below steps to Stop auto sleep when the display is off.
1→ Go to the Apple Logo from the top menu > System Settings…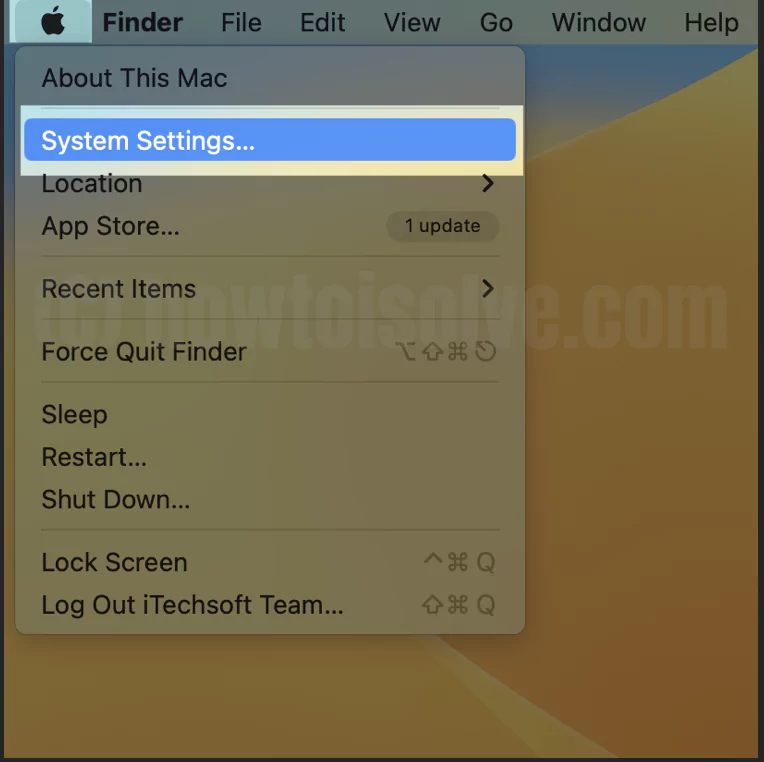 2→ Find the settings according to the installed macOS Version,
a). For macOS Sonoma:- Select Battery from the sidebar > Click on Options… at the bottom if the window.
Enable the toggle to Prevent automatic sleeping on the power adapter when the display is off. For Earlier macOS, follow steps b).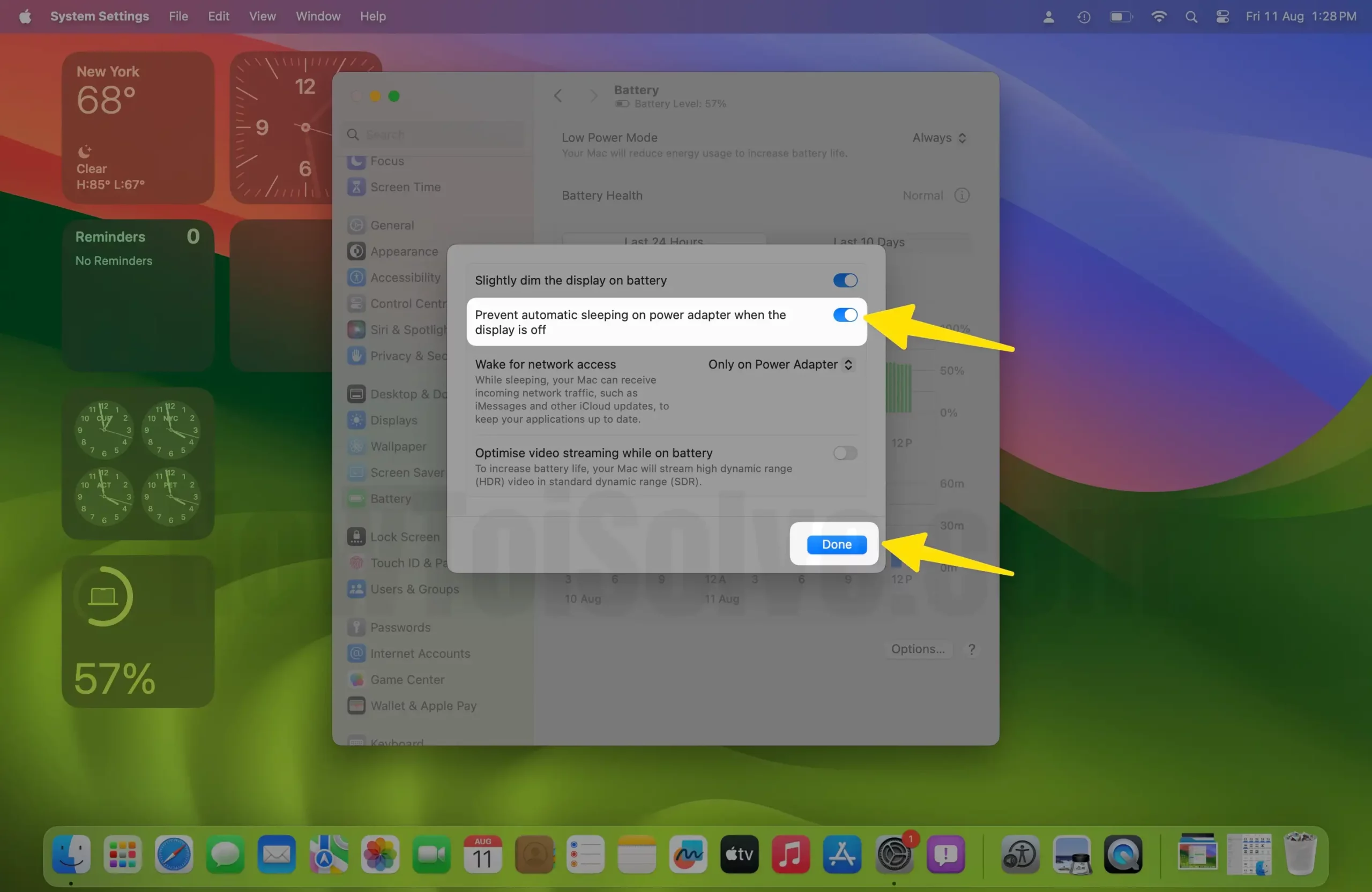 b). For macOS Ventura:- Choose Displays from the sidebar, Scroll to the Last option, Advanced… (you can see in the given screen below)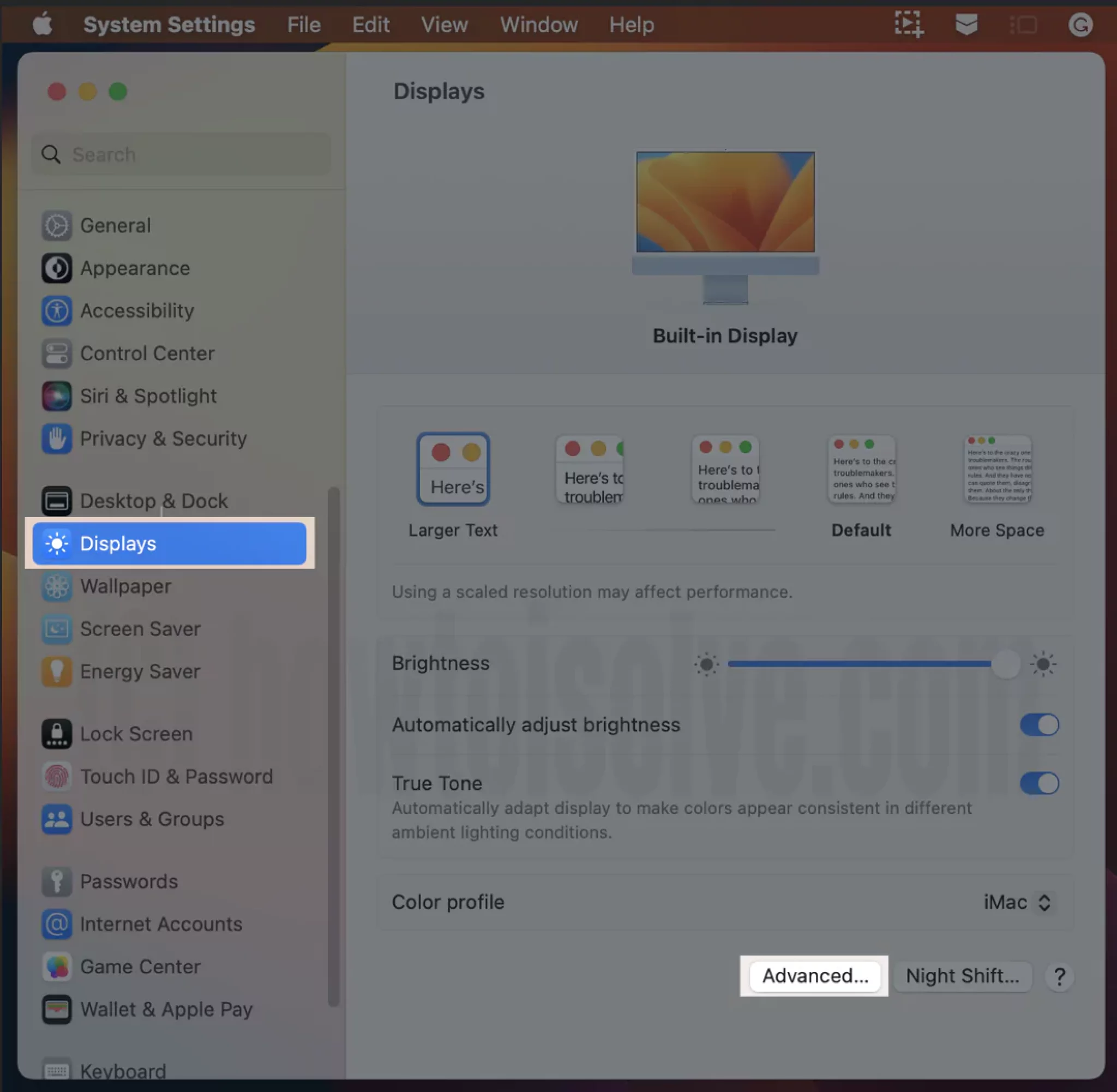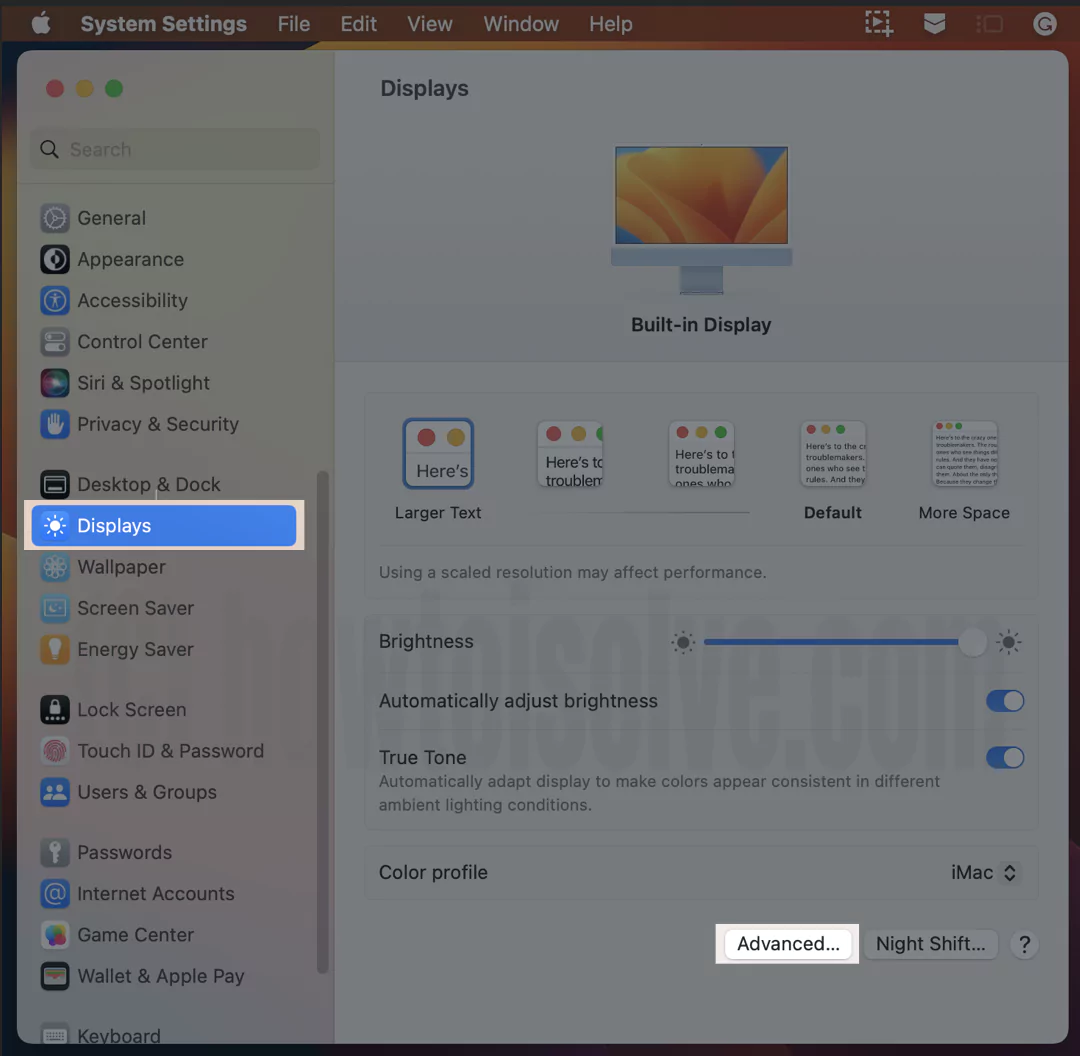 3→ Please Enable the toggle "Prevent automatic sleeping when the display is off". And Choose Done to save changes.
4→ That's it.
We will update the new macOS Ventura Sleep Settings for your Mac. To Schedule Power Settings and Power Settings.
Mac Schedule To Shutdown or Sleep & Wake in MacOS Ventura
Apple Removed the option to change or turn on Schedule to Shutdown, sleep or Wake from system settings. From now, we can do it using the terminal command. and Also see the active Schedule event and Repeating events from system information (Type & Open Search System information is Spotlight search [Command + Space]).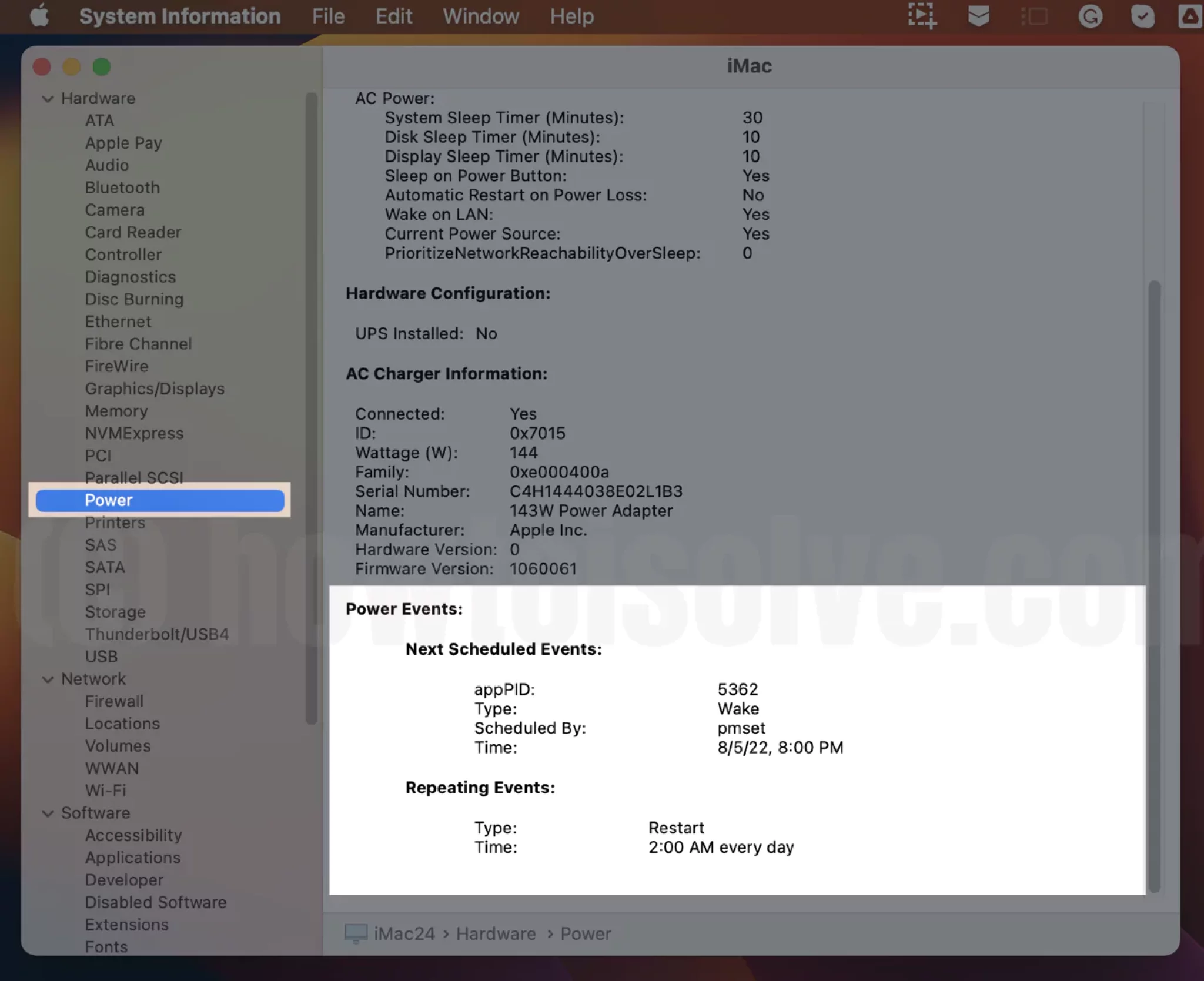 To shut down your Mac from Monday to Friday at 11 O'clock then use the below command. Open the terminal and Execute the below command.
sudo pmset repeat shutdown MTWRF 11:00:00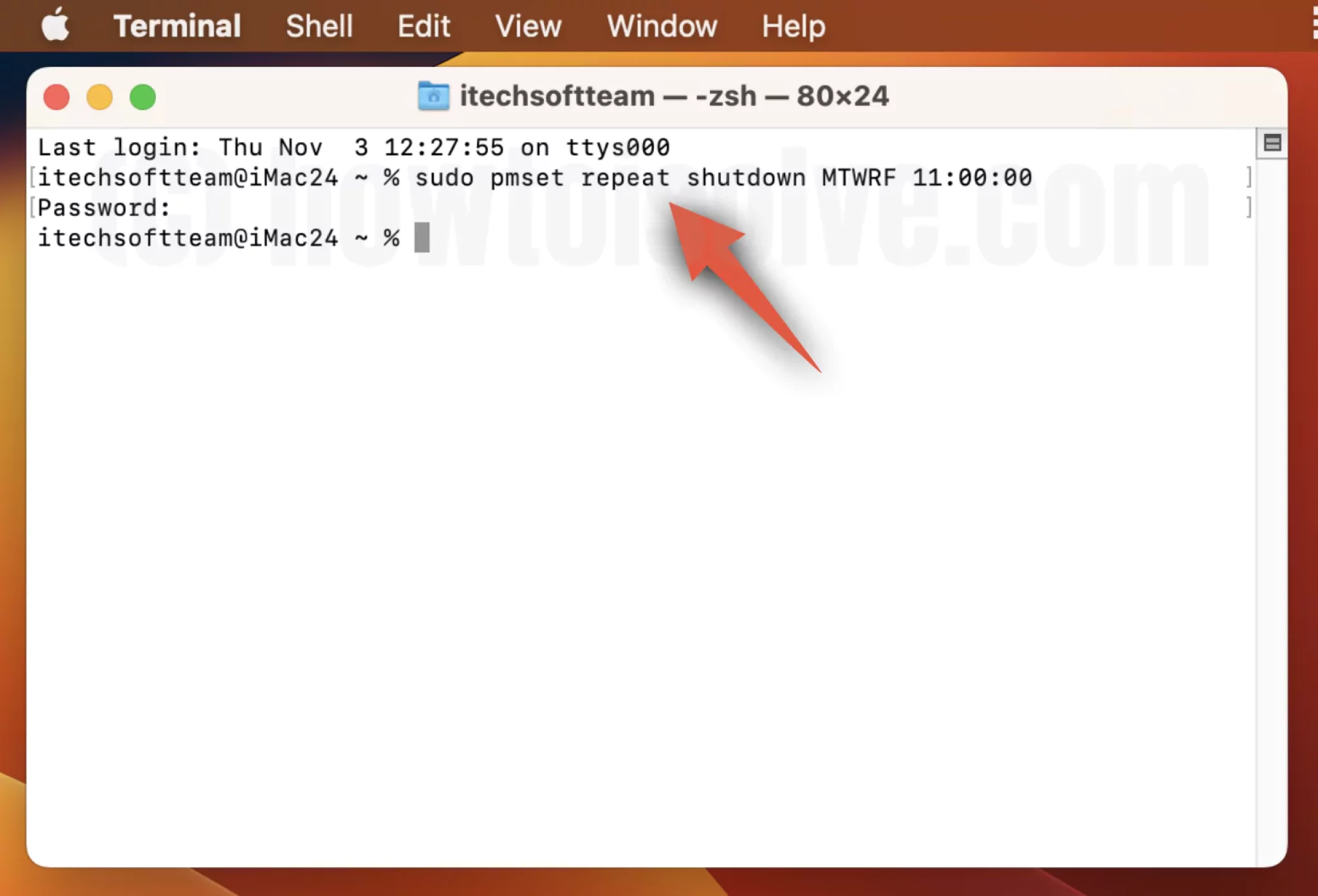 To sleep after 5 minutes,
sudo pmset -b displaysleep 5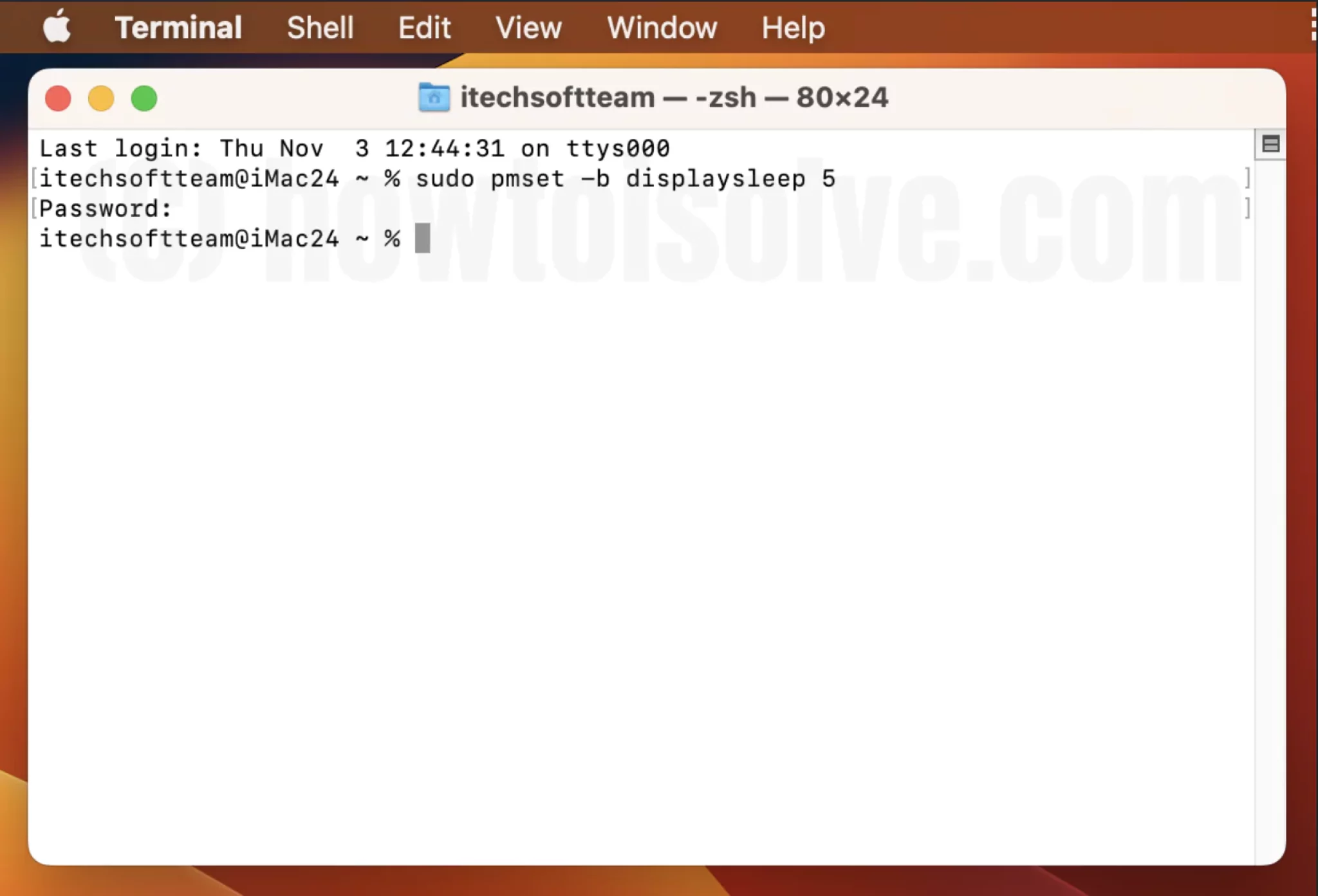 Mac Schedule for Wake
sudo pmset schedule wake "08/05/22 20:00:00"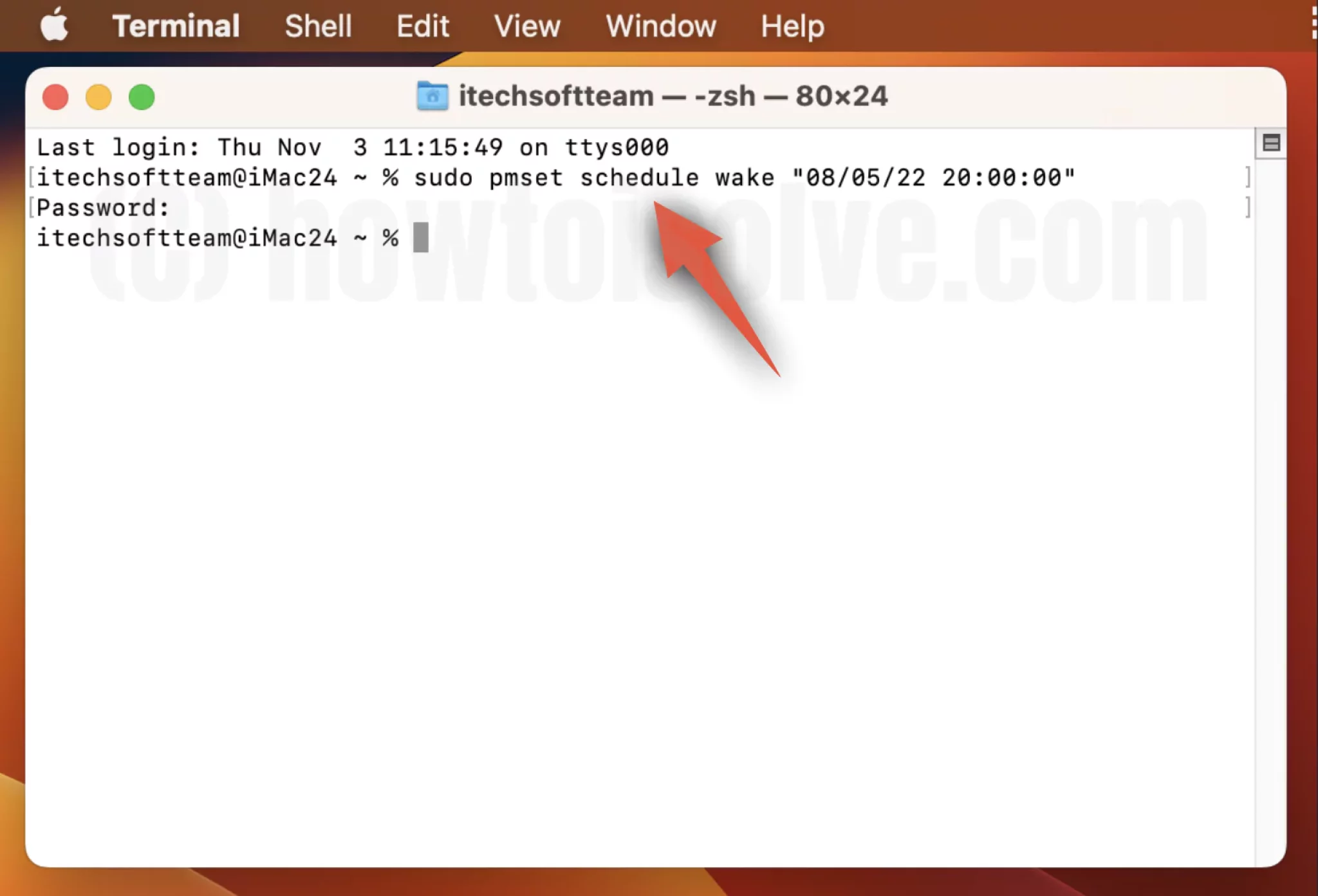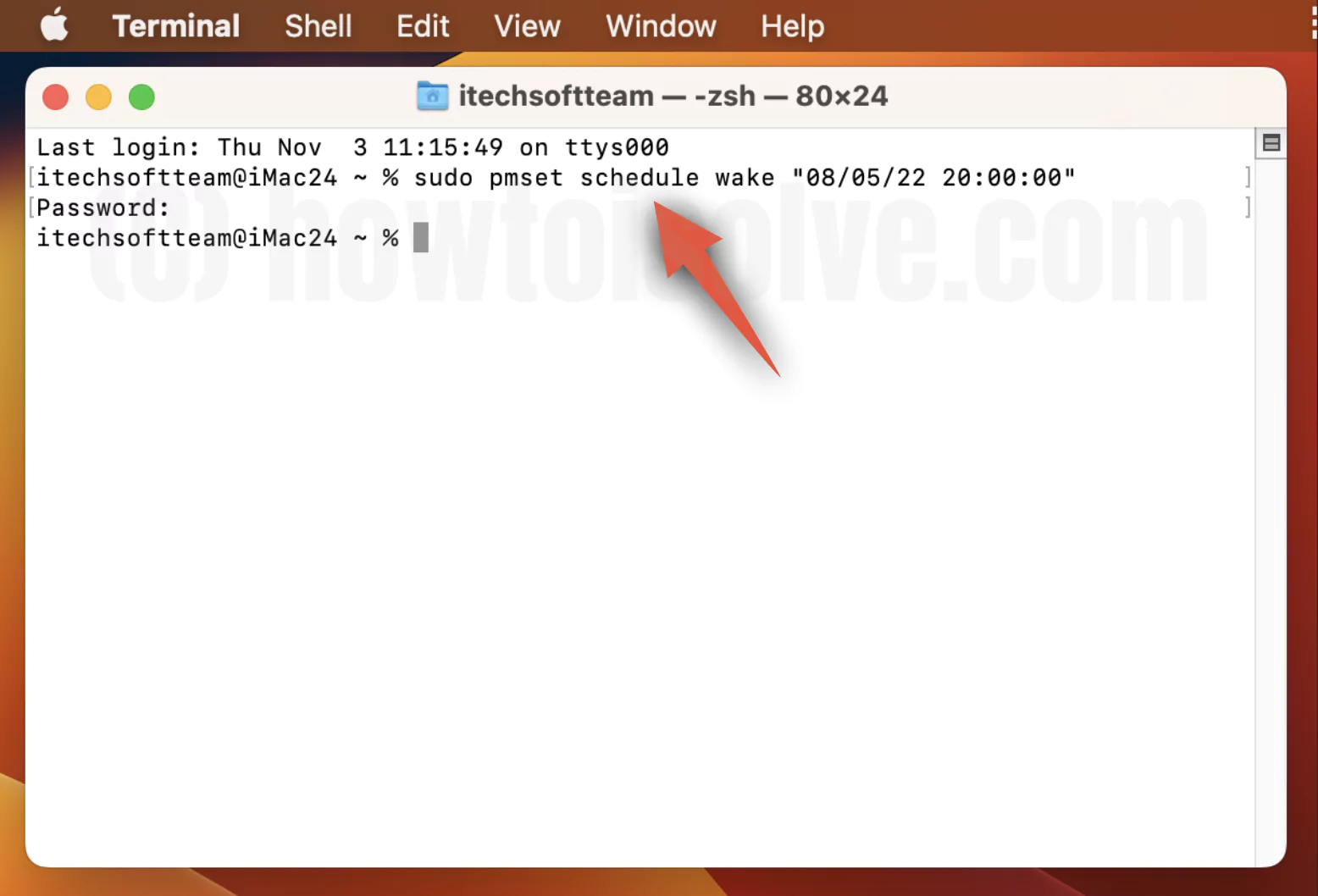 Get more custom commands for Schedule Mac for Shutdown, Sleep, and Wake.
On macOS Monterey & Earlier Sleep Settings on Mac
1→ Click on the Apple Logo menu from the top bar.
2→ Select System Preferences.
3→ At the end of the screen, click on Energy Saver.
3→ Next up, click on Schedule in the left sidebar.
4→ Now select Startup or wake, and from the dropdown, choose days and then the time at which you want Mac to start up or wake.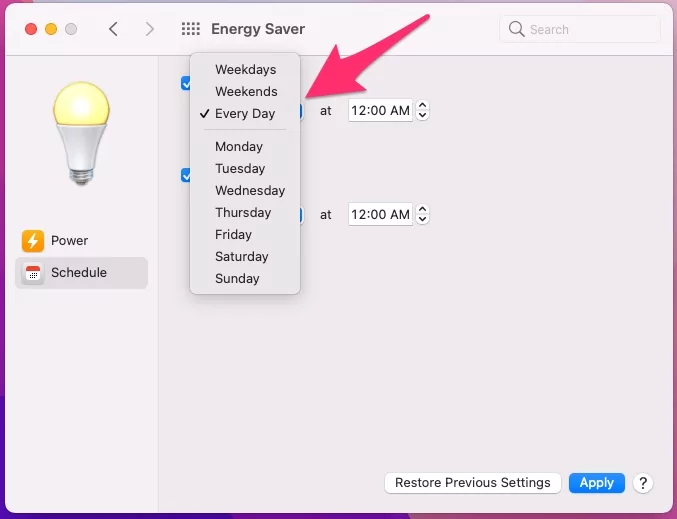 5→ After that, click on Sleep, and set the day and time to let Mac sleep automatically at your given time.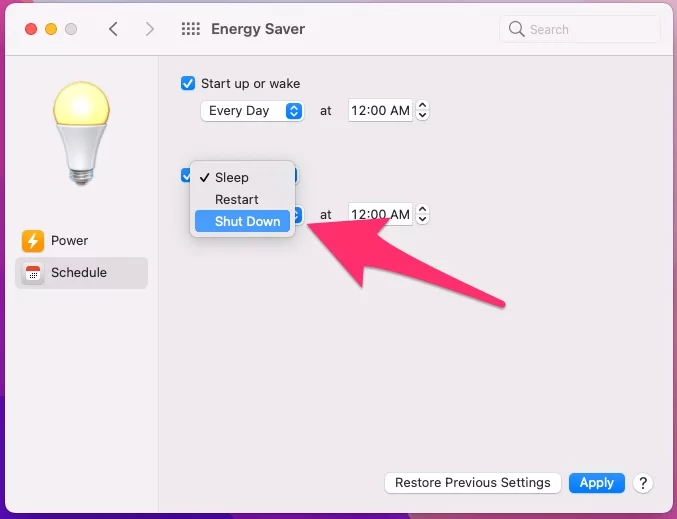 That's it.
Option 2: Prevent Mac From Sleeping Monterey, macOS Big Sur, Catalina, or earlier
Go to the Apple Menu,
Click on System preference or System Settings in macOS Ventura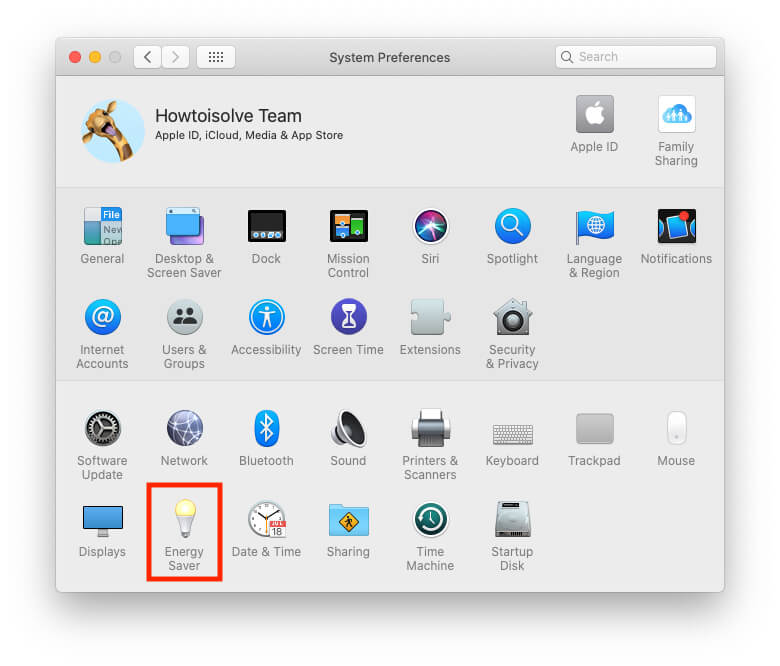 Step 2: Next, Click on Energy Saver.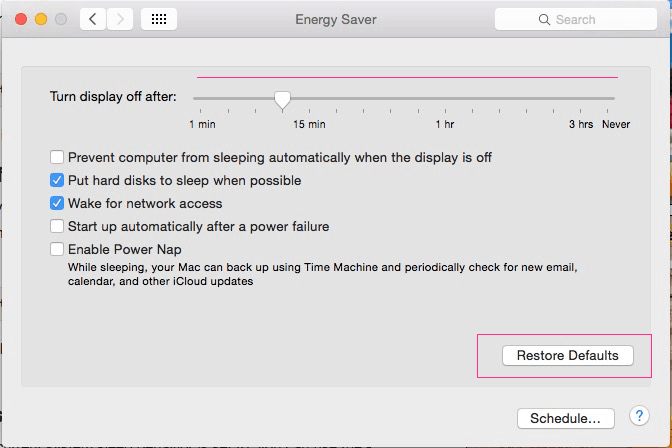 Step 3: Slide to the left to right to increase auto sleep time on Mac or MacBook.
If you are a beginner and a little bit confuse about the wrong settings, that causing the issue double, then First Click on Restore Defaults, after that Make known customization.
The alert message will appear on the screen, Click on Ok for a set time.
Many other options related to power saving are present there, You can enable prefer option as of your usage and requirements.
if you want to know what is current time duration set on your Mac, Open the terminal from Spotlight, and past the below command line, the result has been displayed in the below image,
sudo systemsetup -getcomputersleep
Can't able to set the time using the above steps, Past the below command in a terminal, Below example 45 is minutes
sudo systemsetup -setcomputersleep 45
disable or never set auto sleep time on Mac
sudo systemsetup -setcomputersleep never
Less time duration is more convenient for saving power when the mac is not in use. So set to try in normal duration, not longer time by adjusting auto sleep time on Mac – MacBook Pro, MacBook Air, iMac Pro.