Last Updated on May 18, 2023
in this blog post, get a how to Forget a Wi-Fi Network on Your Mac Computer step-by-step guide. Your Mac is equipped with both Ethernet and Wireless network connectivity options; except the Macbook. But usually, we used to go for, Wi-Fi connectivity just to avoid the tangling of the Ethernet cable.
Nevertheless, the Wi-Fi could also create a mess, when you've connected Mac with more than one Wi-Fi network. Just like our iPhone, the Mac also has the ability to store Wi-Fi networks, so whenever the Mac is in range of that Wi-Fi network, it automatically gets connected.
If you feel like, this Wi-Fi network is no longer useful for me, but still Mac gets connected every time, in that case, I advise you to remove Wi-Fi Networks from Your Mac.
My Personal Experience: I've had a scene, whenever I try to connect Wi-Fi to iPhone's Personal Hotspot, it won't work until I forget the Wi-Fi network that I'm not using currently. So, if you are ever stuck in such a situation, where the internet connection doesn't work on the Mac but works perfectly for other devices, forget the rest of the Wi-Fi networks from the Mac, it will definitely help you.
Trick to Forget Wireless Networks on Mac
It's a fairly easy and quick process to delete the Wi-Fi network on MacBook Pro, Mac. Once, you forget the Wi-Fi network, it will no longer connect to Mac unless you are doing it manually.
Steps how to forget a network on MacBook on macOS Ventura & later
Go to the Apple Logo from the top menu > System Settings.
Next, Select Network Option > Choose Wi-Fi.
Click on the Details… button next to the connected Network. To find Forgot this Network.
Now, Click on Forgot This Network… button.
Or Delete the WiFi network name from Unactive WiFi Network from the list.

Under the WiFi Settings > Scroll to Advanced… button.
Click on the More Option next to the Network name, and go with Remove from the list. Again Verify and Click on the Remove button.
Click on Remove. What happens your Mac and other devices using iCloud Keychain will no longer join this Wi-Fi network.
Tap on Done and That's it.
There are two ways to Delete or forget a Wifi Network on Mac running on macOS 13 Ventura Version. if your Mac is Running on the Old version then follow the below steps.
Also Read:- 12 Wi-Fi Settings on macOS 13 Ventura that You Should Know
Way to Stop Auto-Join Wi-Fi on macOS 13 Ventura
One more step ahead we can find the option to stop auto-join WiFi Network to your Mac under the WiFi settings. Here are the steps.
Go to the Apple Logo from the top Menu > System Preferences.
Next, Choose Network > WiFi.
Under the Known WiFi network click on the More Option next to the WiFi name and choose Uncheck Auto-Join.
That's it. next time your Mac will not connect to the Previous Network automatically. Same options are available for the Known WiFi network list but not joined on Mac under the Advanced Option,
It's done.
in more, you can find Wi-Fi Password on your mac using the Keychain access & Terminal app, but mac users can't Forget wifi network Mac Terminal.
Steps to forget a wifi network on macOS 12 Monterey & Earlier Mac System
On the Top-Right screen, Click on the Wi-Fi symbol on Mac Menu Bar.

If the Wi-Fi icon is not showing up on Mac Menu Bar, then Click on Apple Logo () From Top Mac Menu > System Preferences > Network > Wi-Fi tab > Advanced option.
Select Open Network Preferences.
Click on Advanced under WiFi.
Choose the Wi-Fi Network that you want to forget. Click on it and under the box, click on the Minus(-) icon to remove the Wi-Fi network.
You can even select multiple Wi-Fi Networks by pressing the Command button and clicking on Wi-Fi networks.
Confirm by clicking Remove. Once, you are done with deleting Wi-Fi networks on Mac, click OK.
This is it! Next time, you'll need to enter the password and manually connect to Wi-Fi Network, if you have forgotten that network.
Don't Remove Wi-Fi Network, Instead, Disable Auto Join WiFi Feature
If automatic connection is the only reason, why are you forgetting the Wi-Fi network, then deselect the Auto Join checkbox feature to disable the function?
Click on Apple Logo () From Top Mac Menu.
Select System Preferences.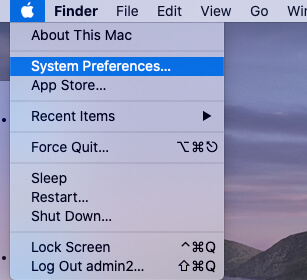 Then, click on Networks.
On the right side, click on Wi-Fi.
Back to the main screen, click on Advanced.

After choosing the Wi-Fi tab, uncheck the Auto Join next to the Wi-Fi network to avoid the auto-connecting of the Wi-Fi network. Click on Ok to Save and Apply for changes.
That's it.
Unable to forget WiFi network Mac
If you are using a supervised Mac laptop or computer that governs the connection to the Wi-Fi network. In this case, you might not have the tab to forget that network. So what to do? Please contact the administrator of this device.
Bottom Line:-
I hope this tutorial found helpful in completely forget WiFi password in Mac computer. Now your Mac will stay feel free from that Wireless network. Thank You for reading us! Share your feedback on the comment.