The Smartphone user's flagship problem is the battery life of their phone. Due to many curious apps, functions of the Smartphone that eats up more battery life and at the end battery drain problem occurs. So to improve battery life and keep away from this kind of issue, you should have essential technical knowledge about how to improve/save battery on the phone. If you don't have an idea, then follow the given tips about improving battery life on iPhone SE, iPhone 5S.
Essential Tips to improve battery life on iPhone SE,iPhone 5S,iPhone 5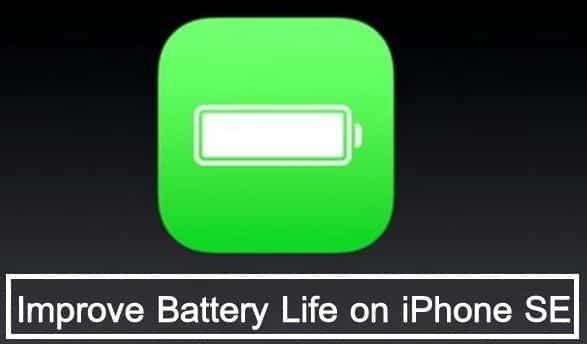 Tip #1. Update to the latest iOS on iPhone
To update your iPhone SE Software or make sure your iPhone SE running with the most recent iOS version Because the latest iOS can be a part to maximize your iPhone SE battery life. To verify the Software update on iPhone SE, go to the following steps.
Launch Settings app
Tap General
Hit Software Update (right now latest firmware is iOS 15 and later)
Note: if an update is available, please keep your iPhone SE in a charging situation and update (wirelessly) through Wi-Fi; alternatively, you can also update via the plug into the computer with the latest edition of iTunes.
Tip #2. Adjust Display Brightness on iPhone SE
For iOS 11 users- Get here how to adjust Auto-brightness on iPhone
The 4-inch iPhone SE has a retina display, So it absorbs more power to spared luminous enough. Even though you should keep the Auto brightness toggle turn on, you know auto dim/fullscreen save much battery life on iPhone, iPad, and iPod.
iOS 13 and later iPhone SE users can adjust auto-brightness with the help of bottom steps:
Go Settings App
Tap Accessibility
Hit on Display & Text Size
Now Scroll the screen and turn Auto-Brightness toggle ON/Green.
Tip #3. Enable Low power mode on iPhone SE
The low power mode feature in iOS, this extraordinary feature easy to extend battery life for Apple iOS devices. in case,  your iPhone is enabled on LPM then your iPhone temporarily reduces power consumption until you can fully charge your iPhone SE. When this is on, mail fetch, background app refresh, automatic downloads, app refresh, and some visual effects are reduced or turned off.
So after tuned on low power mode, your iPhone lets you know when your battery level goes down to 20% and again at 10%. The bottom steps will allow making enable that.
Go to Settings App
Navigate Battery setting
Next Turn Low Power Mode On/Green.
in more, you can add low power mode to control center on your Apple iPhone.
Tip #4. Keep Unnecessarily Wi-Fi turn off
Make assure while you not doing surfing or use of Wi-Fi then keep disable that. you can turn off Wi-Fi in two ways using the control center and Settings app.
Tip #5. Turn off Background App Refresh on iPhone SE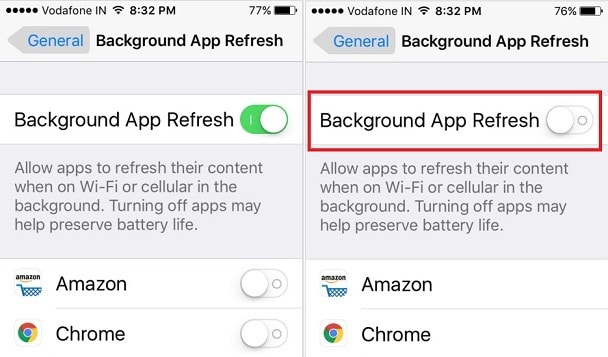 Launch Settings → General → Background App Refresh → Turn Background App Refresh OFF.
in the latest iOS 12 or later, you can get three options for background app refresh settings:
Off
Wi-Fi
Wi-Fi & Cellular Data
That's why you should go with the second set, I mean, turn background refresh on using Wi-Fi only.
Tip #6. See iPhone SE Battery Usage.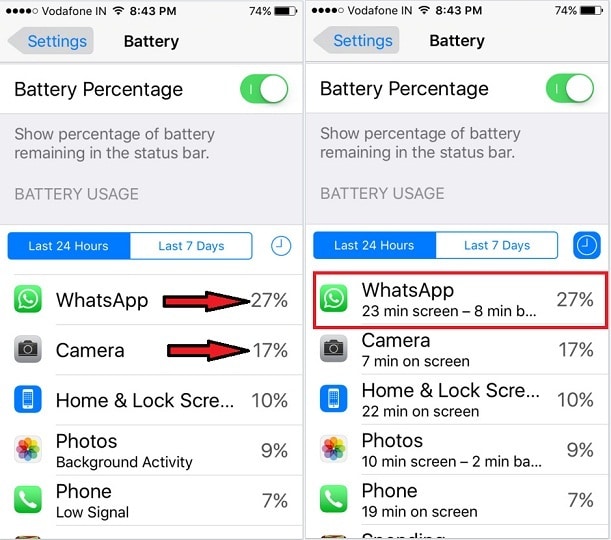 Launch the Settings app
Tap Battery
Scroll down the screen under the Battery Usage tab.
Now check out which app takes more power. You can see the screen individual apps battery usage of the iPhone.
Alternatively, you can be trying good review the top battery case/cover of the iPhone SE.
Tip #7. Delete Apps Eating More Battery
Your iPhone SE tells you the hardware battery status, how it was before and now. From there you can track how well if the battery performing, also it will give you a Peak Performance Capability. Here's how to go through the settings.
Open Settings App > Battery > Battery Health.
Tip #8. Enable Optimised Battery Charging
Apple has introduced the Optimised Battery Charging option in iOS 13, so you won't get unless the iPhone is updated to the latest iOS 13. The Optimised Battery Charging aims to reduce the iPhone battery charging time, and increases the lifespan of the battery. So, ultimately when Optimised Battery Charging is enabled, it simply keeps track of your battery usage routine.
For instance, when the iPhone is plugged to charge before going to bed, the iPhone will charge the phone up to 80% and only charge the remaining battery during the morning. On another note, it will also learn your morning habits when you start using the phone, and just before that, your iPhone will be charged to full.
However, the Optimised Battery Charging is enabled by default on the iPhone. Verify it,
Go to Settings App > Battery > Turn ON Optimised Battery Charging.
Tip #9. Use Dark Mode
Dark Mode is still a dream for many smartphone users, however, it is rolling out to each application with new updates. On iPhone, the Dark Mode is pushed with iOS 13, with several customization options that let you enable the Dark Mode from Sunset to Sunrise and more.
Apart from a delightful experience, Dark Mode saves a substantial amount of battery life, keeping the iPhone low while offering the best viewing results.
Settings App > Display & Brightness > Turn ON Dark Mode.
Tip #10. Turn On Auto Brightness
If you don't want to adjust the brightness frequently, then use Auto Brightness settings. The auto-brightness feature drives the brightness levels depending upon the environment, you are in. So conclusively, it will save much battery of the iPhone SE.
Go to Settings App > Display & Brightness > Toggle ON Auto-Brightness.
Tip #11. Close Background Apps
There is no meaning in keeping the recently used applications in the background, all they do is slow down the system, cause random errors, crashes running applications, and lastly absorbs the battery. Use the iPhone Gestures to close the background applications and for the iPhone with the home button, double-tap the home button, and swipe up the apps to close them.
Tip #12. Delete Facebook App (Must Read for Honest Review and Best Alternative)
Not only the iOS but Android phone users also confessed that Facebook uses the most battery than any other application on their phone. You can track the battery usage from your iPhone, and see what are applications sucking the battery the most. Meanwhile, if you are addicted to Facebook, then we have prepared a hack that offers the same Facebook App experience, but without downloading the Facebook App. They call it a Facebook Progressive Web App, learn how to use Facebook without downloading Facebook App, but using Safari Add to Home Screen SHORTCUT.
Tip #13. Use Auto-Lock on iPhone
Auto-Lock is not only to secure iPhone SE but also, turns down the screen and avoids unwanted battery usage. The Auto-Lock has several options like when would you want to lock the phone, like if we set 30 seconds, then the iPhone will auto-lock after 30 seconds of idleness.
Settings App > Display & Brightness > Auto-Lock > Set it.
Tip #14: Disable Bluetooth, Wi-Fi & Cellular Data when Not in USE
If you don't need an internet connection, while hanging out with Family or Friends or you are far away from the Wi-Fi router, then disable it, as it won't benefit you, just keeps draining the battery searching for a new Wi-Fi connection. Whereas, compared to Wi-Fi, Cellular Data absorbs more battery as you are running LTE or 5G, disable it too, if not needed. The same goes for Bluetooth.
Tip #15: Disable AirDrop
AirDrop is useless unless you own Apple Ecosystem. Though it's the best sharing platform for only limited to the Apple devices, and constantly looking for a new AirDrop device, always ready to share files. Disable AirDrop from the Settings App or right away from Control Center.
Tip #16: Listen to Media on Headphone
There's plenty of difference between power consumption when we listen to songs on Headphones rather than the loudspeaker. Although, if you really want to save battery then use Wired Earphones, which surely improves the battery, wireless headphones are a pain in the head.
Tip #17: Don't Use Vibrate Mode
Why not disable the Vibrate Mode from iPhone, we receive dozens of notifications most of them are none of our business, why would you want to waste precious batteries on useless notifications? Stop vibrating from iPhone,
Tip #18: Disable Hey Siri
Say NO to Hey Siri! Siri is more like Wi-Fi, keeps searching for your voice, and triggers the settings on your command. Let the Hey Siri rest for few days, until your iPhone battery calibrates and works efficiently.
Settings App > Siri & Search > Turn Off Hey Siri.
Tip #19: Toggle OFF Location Services
While concerning the Location Services, iPhone has got the maximum customizations. You can choose between several settings, alongside save battery, without compromising the Location Services on the app. The best choice is to set the While Using option, on the application you are going to need the Location Services.
Open Settings App > Privacy > Location Services.
Tip #20: Enable Reduce Motion
Your iPhone's Home Screen and App icons float around the screen, offering the perception of depth, and make the display live, which is quite un-noticeable. Turn on the Reduce Motion to cut the additional power from the iPhone.
Settings App > Accessibility > Motion > Toggle ON Reduce Motion.
I hope, this became excellent tricks for the iPhone SE battery life problem. You can also be adding your tip to the above list to improve Battery Life on iPhone SE. just leave your caption in the comment box.