The Smartphone users flagship problem is the battery life of their phone. Due to many curious apps, functions of the Smartphone that eats up more battery life and at the end battery drain problem occurs. So to improve battery life and keep away from this kind of issue, you should have essential technical knowledge about how to improve/save battery on the phone. If you don't have an idea, then follow below given tips about to improve battery life on iPhone SE, iPhone 6S.
Page Contents
we are happy to help you, submit this Form, if your solution is not covered in this article.
Essential Tips to improve battery life on iPhone SE/ iPhone 5S/ iPhone 5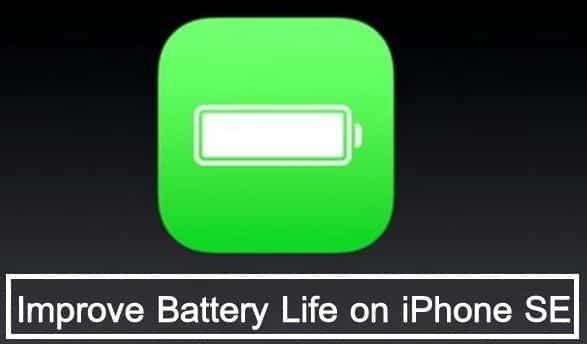 Tip #1. Update to the latest iOS on iPhone
To update your iPhone SE Software or make sure your iPhone SE running with most recent iOS version Because latest iOS can be a part to maximize your iPhone SE battery life. To verify Software update on iPhone SE, go to following steps.
Launch Settings app →Tap General → Hit Software Update
Note: if an update is available, please keep your iPhone SE into charging situation and update (wirelessly) through Wi-Fi; alternatively, you can also update via the plug into the computer with the latest edition of iTunes.
Tip #2. Adjust Display Brightness on iPhone SE
For iOS 11 users- Get here how to adjust Auto brightness on iPhone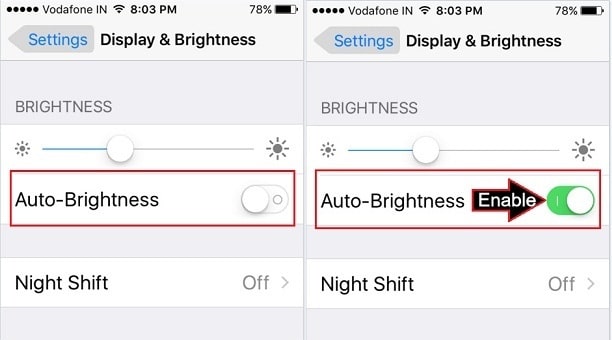 The 4-inch iPhone SE has a retina display, So it absorbs more power to spared luminous enough. Even though you should keep Auto brightness toggle turn on, you know auto dim/fullscreen save much battery life on iPhone, iPad, and iPod.
Go Settings → Display & Brightness →Turn Auto-Brightness ON.
Tip #3. Enable Low power mode on iPhone SE
Low power mode is new in iOS 9, this extraordinary feature easy to extend battery life for Apple iOS devices. in case,  your iPhone enabled on LPM then your iPhone temporarily reduce power consumption until you can fully charge your iPhone SE. When this is on, mail fetch, background app refresh, automatic downloads, app refresh and some visual effects are reduced or turned off.
So after tuned on low power mode, your iPhone lets you know when your battery level goes down to 20% and again at 10%. Bottom steps will allow making enable that.
Go to Settings → Battery → Turn Low Power Mode On/Green.
Tip #4. Keep Unnecessarily Wi-Fi turn off
Make assure while you not doing surfing or use of Wi-Fi then keep disable that. you can turn off Wi-Fi by two ways using control center and Settings app through.
Tip #5. Turn off Background App Refresh on iPhone SE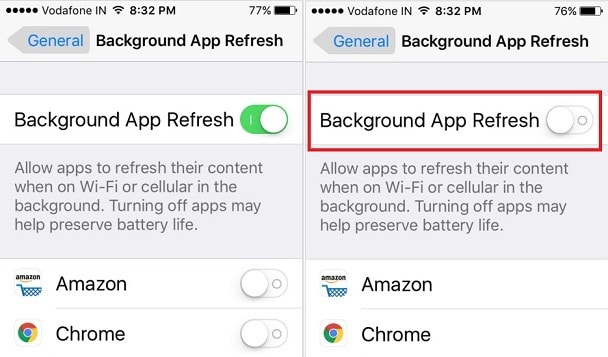 Launch Settings → General → Background App Refresh → Turn Background App Refresh OFF.
in latest iOS 12 or later, you can get three options for background app refresh setting:
Off
Wi-Fi
Wi-Fi & Cellular Data
That's why you should go with second setting, I mean, turn background refresh on using Wi-Fi only.
Tip #6. See iPhone SE Battery Usage.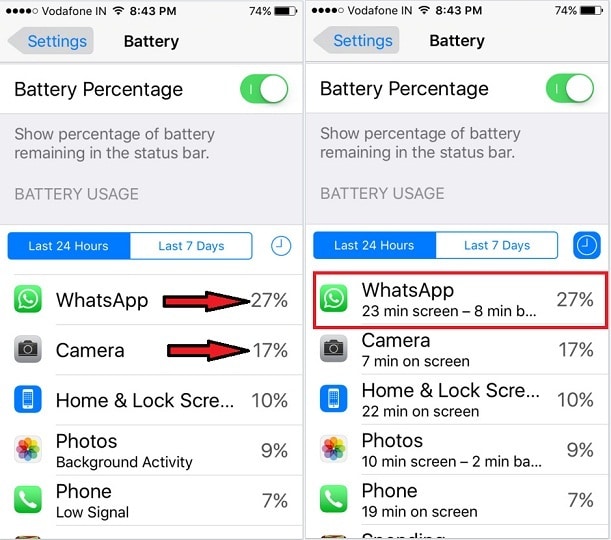 Settings → Battery → Scroll down the screen under Battery Usage tab.
Now check out which app takes more power. You can see the screen individual apps battery usage of iPhone.
Alternatively, you can be trying good review top battery case/cover of iPhone SE.
Hope, this would be an excellent fix for iPhone SE battery life problem. You can also be adding your tip to the above list to improve Battery Life on iPhone SE. just leave your caption in the comment box.
Premium Support is Free Now
We are happy to help you! Follow the next Step if Your Solution is not in this article, Submit this form without Sign Up, We will revert back to you via Personal Mail. In Form, Please Use the Description field to Mention our reference Webpage URL which you visited and Describe your problem in detail if possible. We covered your iPhone 11 Pro, iPhone 11 Pro Max, iPhone 11, iPhone 8(Plus), iPhone 7(Plus), iPhone 6S(Plus), iPhone 6(Plus), iPhone SE, iPhone 5S, iPhone 5, iPad All Generation, iPad Pro All Models, MacOS Catalina or Earlier MacOS for iMac, Mac Mini, MacBook Pro, WatchOS 6 & Earlier on Apple Watch 5/4/3/2/1, Apple TV. You can also mention iOS/iPadOS/MacOS.
Jaysukh Patel is the founder of howtoisolve. Also self Professional Developer, Techno lover mainly for iPhone, iPad, iPod Touch and iOS, Jaysukh is one of responsible person in his family.
Contact On: [email protected] [OR] [email protected]