Facebook launched Not new but increase facility for the desktop users by Facebook live video on Mac or PC browser. Now you can see a dedicated option for start live video that you can share between target Facebook audience (Only Me, Friends, Friends of Friends, Public or selected friends). Just before you start or turn on a live Facebook video from your profile page.
Here I also try to give the solution to common questions that people asking and in mind related to living video.
we are happy to help you, submit this Form, if your solution is not covered in this article.
Now, the Facebook game become the more trading best way to attract your followers/likes and to grow up your audience day to day. Facebook live video from desktop allow permission to watch live person around the world, Presentation, webinar etc.., Who are your Gaming competitors or opponent in the multiplayer game.
Steps for Turn on Facebook live video on Mac or PC
How do you go live on facebook using Livestream option?
Log in your Facebook Account, Go to your Profile timeline page,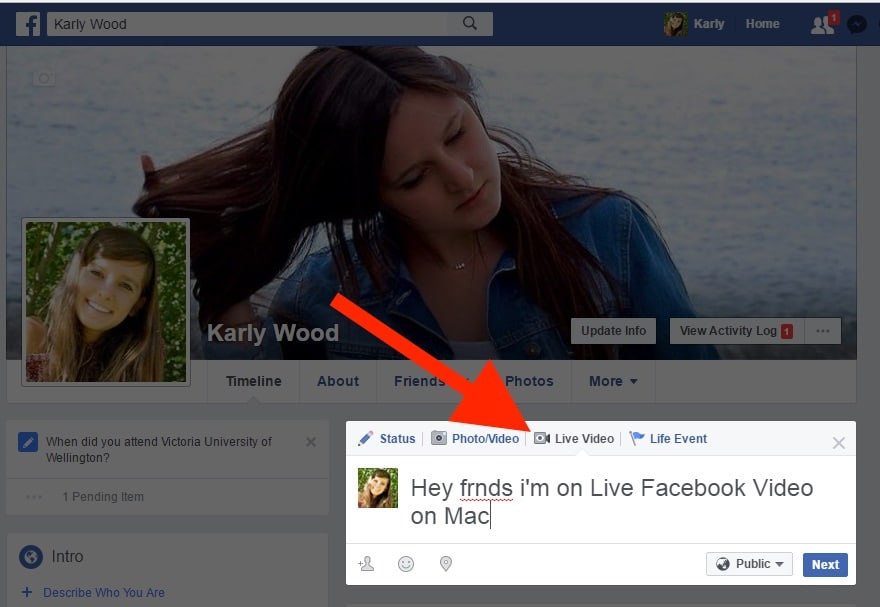 Click on to create a new Facebook post, Find Facebook live option, Near to photo video.
Add some text, or say about live video in your language. Add privacy to who can see your live Facebook streaming.
Click on Next button to turn on Camera.
Built-in Webcam not working for Facebook Live
First, you will see "Unable to find camera" "Please connect camera in order to broadcast".
and the solution is this, From top right corner click on Camera icon > Always allow Facebook Microphone and Camera.
Start Preview, Check everything is okay then go live by the click on "Go Live".
On a close live video, You can find the option for Save on your Timeline or Delete (Not publish to later view).
Done: It will publish on TimeLine
Delete: Completely Remove the whole video from Facebook. (After that you can't find or recover deleted live Facebook video)
If you want to go with Delete then nothing will you have to do more.
Publish the live video on Facebook timeline Mac or PC
Press "Done" and publish video on the Facebook timeline, Now more settings related to this video you can change Under video settings.
Click on Settings gear icon available on video, Then Go to More settings.
Next Windows see the option for Change Facebook live video quality, Auto play video, Enable or Disable caption, Change caption on video.
Are you using Facebook live with External Camera?
Don't have a built-in camera or not working in your iMac, MacBook Pro or Air. So you can try some very best video encoding software, xsplit, obs, Wirecast.
Slow video or Low-resolution video
Live video and audio recording quality also depend on your camera resolution and internet speed. To get a high-quality result you should update or upgrade hardware with a very best webcam for Mac or PC. Or Use iPhone as a Webcam on Mac.
Premium Support is Free Now
We are happy to help you! Follow the next Step if Your Solution is not in this article, Submit this form without Sign Up, We will revert back to you via Personal Mail. In Form, Please Use the Description field to Mention our reference Webpage URL which you visited and Describe your problem in detail if possible. We covered your iPhone 11 Pro, iPhone 11 Pro Max, iPhone 11, iPhone 8(Plus), iPhone 7(Plus), iPhone 6S(Plus), iPhone 6(Plus), iPhone SE, iPhone 5S, iPhone 5, iPad All Generation, iPad Pro All Models, MacOS Catalina or Earlier MacOS for iMac, Mac Mini, MacBook Pro, WatchOS 6 & Earlier on Apple Watch 5/4/3/2/1, Apple TV. You can also mention iOS/iPadOS/MacOS. To be Continued...
Are you interest on experience Facebook live video on iPhone, try it. Share the experience what you like and recommend to others via comment box.
Jaysukh Patel is the founder of howtoisolve. Also self Professional Developer, Techno lover mainly for iPhone, iPad, iPod Touch and iOS, Jaysukh is one of responsible person in his family.
Contact On: [email protected] [OR] [email protected]