Last Updated on Nov 10, 2020
Facebook launched Not new but increase facility for the desktop users by Facebook live video on Mac or PC browser. Now you can see a dedicated option for start live video that you can share between target Facebook audience (Only Me, Friends, Friends of Friends, Public or selected friends). Just before you start or turn on a live Facebook video from your profile page.
we are happy to help you, submit this Form, if your solution is not covered in this article.
Here I also try to give the solution to common questions that people asking and in mind related to living video.
Now, the Facebook game becomes the more trading best way to attract your followers/likes and to grow up your audience day today. Facebook live video from desktop allows permission to watch live person around the world, Presentation, webinar, etc.., Who are your Gaming competitors or opponent in the multiplayer game. Setup & Use Zoom on MacBook for Meeting, Broadcasting and Live with your Friends.
Steps for Turn on Facebook live video on MacBook Mac or PC: Solutions
How do you go live on Facebook using the Livestream option?
Step 1: Login your Facebook Account, Click on Profile name.
Step 2: Go to your Profile timeline page,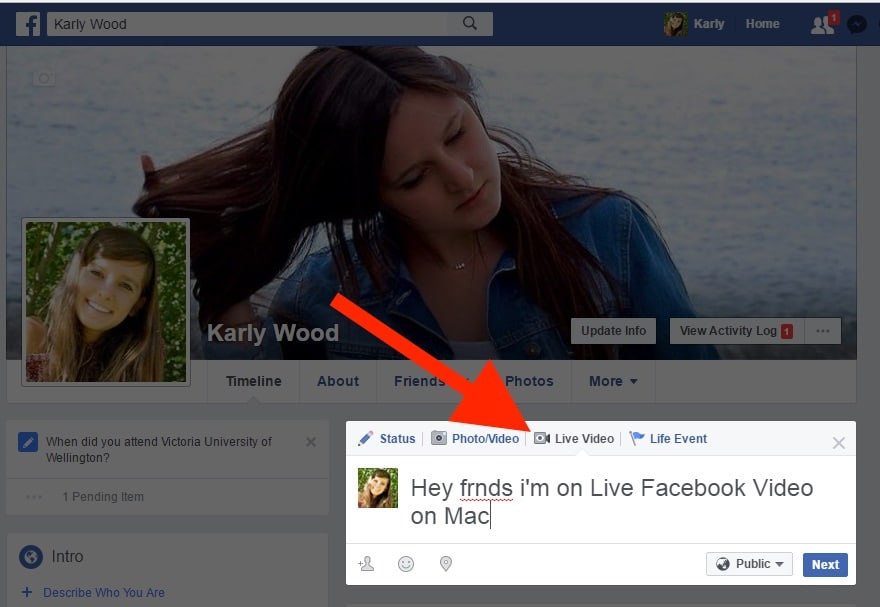 Click on to create a new Facebook post, Find Facebook live option, Near to photo video.
Before Get Started section has different options for setting your camera, Microphone and Screen Sharing (Share your Work and Mac screen to your Friends or Public).
Select Camera: Use Stream Keys, Use Paired Encoders, Camera.
Setup section – Select Camera media, Microphone, and Screen Share.
Step 3: Set the Privacy Before start live Facebook video from Left side panel, will show in Public, Friends, Friends Except.., Specific Friends, Only Me…
Step 4: Set Live Video Title, Description Prepare Before go live on Facebook
Earlier FaceBook Live View User Interface on Browser: Mac, Windows PC
Add some text, or say about live video in your language. Add privacy to who can see your live Facebook streaming.
Click on Next button to turn on Camera.
Built-in Webcam not working for Facebook Live: Problems & Solutions
Update your MacOS to the Latest Version, Outdated Safari Auto Updated. Go to the Apple Logo from top Mac Menu > System Preferences > Software Update > Download & Install.
Create a New Account on Mac MacBook, Try on Newly Created Account. Go to the Apple Logo from top Mac Menu > System Preferences > Users & Group > (+) to add new account.
Use Private Browsing on your Safari or Chrom Browser, Some Extension isn't loaded the page and Creating a problem. Open Safari > From Top Menu File Options > New Private Window.
Remove VPN from Mac if it's installed. Uninstall VPN Software from Launchpad or Allocations folder on the Finder window.
First, you will see "Unable to find a camera" "Please connect the camera in order to broadcast".
and the solution is this, From top right corner click on Camera icon > Always allow Facebook Microphone and Camera.
Start Preview, Check everything is okay then go live by the click on "Go Live".
On a close live video, You can find the option for Save on your Timeline or Delete (Not publish to later view).
Done: It will publish on TimeLine
Delete: Completely Remove the whole video from Facebook. (After that you can't find or recover deleted live Facebook video)
If you want to go with Delete then nothing will you have to do more.
Publish the live video on Facebook timeline Mac or PC
Press "Done" and publish video on the Facebook timeline, Now more settings related to this video you can change Under video settings.
Click on Settings gear icon available on video, Then Go to More settings.
Next Windows see the option for Change Facebook live video quality, Auto play video, Enable or Disable caption, Change caption on video.
Are you using Facebook live with External Camera?
Don't have a built-in camera or not working in your iMac, MacBook Pro or Air. So you can try some very best video encoding software, xsplit, obs, Wirecast.
Slow video or Low-resolution video
Live video and audio recording quality also depend on your camera resolution and internet speed. To get a high-quality result you should update or upgrade hardware with the very best webcam for Mac or PC. Or Use the iPhone as a Webcam on Mac.
Are you interest on experience Facebook live video on the iPhone, try it. Share the experience what you like and recommend to others via comment box.