iOS 10 or later device able to note or mark your car on iPhone, iPad Map. See the predefined conditions and troubleshooting guide on how work to use features about Find my car on iPhone, iPad.
Quickly find your Vehicle, Car in a large parking area, Unknown places, Street Especially for Apple employees (they have ample parking building in new Apple Park, Not necessary, You can also try).
You are using CarPlay in your Car or not, the first Setup your iPhone with CarPlay.
Prerequisite: Parked Car not working on the iOS device
1. You must have latest iOS installed on your iPhone XS Max, XS, XR, X, 8 Plus, 7 Plus, iPhone 6, 6S, iPhone 5S/ 5
2. Turn on location services on Map (Get exact location via GPS). Go to the Settings > Privacy > Location Service.
we are happy to help you, submit this Form, if your solution is not covered in this article.
3. Also enable Frequent Locations, Go to the Settings > Privacy > Location Service > System Services > Frequent Locations enabled.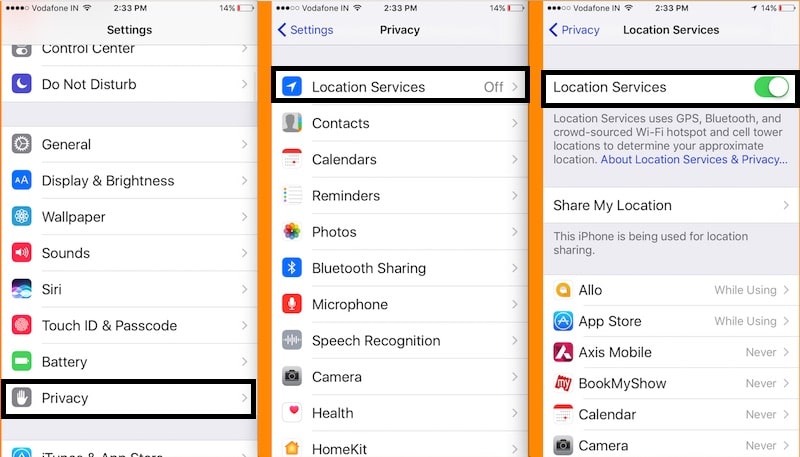 Parked Location: Go to the Settings > Maps > Show parked locations.
4. Setup CarPlay and Bluetooth should be enabled, also Bluetooth in the car. To mark car for the last location before you leave the car.
Bluetooth Enabled in your Car and connected under Bluetooth devices list.
Alternatively, we can use Best Find My Car iOS app (iOS 12, iOS 11, iOS 10, iOS 9)
Find Your Car on Map using iPhone, iPad – Without Third-Party App
Step 1: Open Maps app on iPhone, iPad.
If above all settings enabled, then you map always updated with the current location of your car. After that on leave car, your CarPlay auto disconnected from iPhone, iPad (Because it's connected to Bluetooth).
Step 2: Tap on the search field, Choose the parked car in the suggested list. Tap on Directions blue button, Choose your preferred route.
Remove parked pin from Map, Tap on car icon and Swipe up on Menu card and Remove car.
Note: if you are regularly Park your Car at home and Work address on that your parked pin not shown (Because you were known)
Enjoy and share your experience about Find my Car on iPhone or iPad. More helpful tips and learning tutorial stay connected with us on Google+, Facebook or Twitter.
Premium Support is Free Now
We are happy to help you! Follow the next Step if Your Solution is not in this article, Submit this form without Sign Up, We will revert back to you via Personal Mail. In Form, Please Use the Description field to Mention our reference Webpage URL which you visited and Describe your problem in detail if possible. We covered your iPhone 11 Pro, iPhone 11 Pro Max, iPhone 11, iPhone 8(Plus), iPhone 7(Plus), iPhone 6S(Plus), iPhone 6(Plus), iPhone SE, iPhone 5S, iPhone 5, iPad All Generation, iPad Pro All Models, MacOS Catalina or Earlier MacOS for iMac, Mac Mini, MacBook Pro, WatchOS 6 & Earlier on Apple Watch 5/4/3/2/1, Apple TV. You can also mention iOS/iPadOS/MacOS.
Jaysukh Patel is the founder of howtoisolve. Also self Professional Developer, Techno lover mainly for iPhone, iPad, iPod Touch and iOS, Jaysukh is one of responsible person in his family.
Contact On: [email protected] [OR] [email protected]