🗓️
September 15, 2023
By ✍️
Jaysukh patel
In this tutorial, I will describe everything about the latest iOS wallpaper. Assign live Photos as an animated lock screen Wallpaper. In the iOS operating system; there is a variety of wallpaper in sequences involving Dynamic, Stills, and Live Wallpapers (Available for iPhone 15 Series, iPhone 14 Series, iPhone 13 Pro Max, iPhone 12 Pro Max, 11 Pro Max, XS Max, X, 8 (Plus),7 (Plus), iPhone 6S (Plus)).
Moreover, you can also set your iPhone camera roll photos like Selfies, Panoramas Wallpaper, and Screenshots to the Lock screen. Let's see a guy here to set Live Wallpaper on iPhone.
Get to set Live Wallpaper on iPhone running with the latest iOS
iOS 17 & Later
Note: To find the below settings your iPhone needs to be updated with the latest iOS 17.
Step 1: Launch the Settings app on iPhone > Scroll to Wallpaper Option.
Step 2: Tap on +Add New Wallpaper Option. or Slide to right and Tap on the (+) Blue button > Photos.
Step 3: Select Albums > Scroll and Tap on Live Photos.
Step 4: Scroll to Live Photos Category under the Media Types. > Select Live Photo that you want to set on the lock screen or Home Screen.
Step 5: Wait for a while and Tap on Live Option at the bottom left corner of your iPhone screen to Convert still Wallpaper into live Wallpaper before Add.
Step 6: Tap on Add Option > Set as Wallpaper Pair.
That's it.
If it is not working, repeat the same steps carefully or Try Again after hard Reboot the iPhone. Get more cool Wallpaper Apps for iOS to download more new wallpapers for free.
The second way is Lunch Photos App on your iPhone home screen
Step 1: Open Photos app on your iPhone, Tap on the Albums Tab.
Step 2: Find the Live Photos folder > Select Live Photos on your iPhone.
Step 3: Open recently captured live Pictures and tap the Share option (square with an arrow pointing upwards button). Now, Scroll down on the share sheet and Tap on Use as Wallpaper.
Step 4: Enable Live Options at the bottom left corner. Adjust the photos with your finger, pinch zoom/out, and Hit on Add, and you'll get a pop-up (Set as Wallpaper pair > Set lock screen, Set Home screen, and both). Choose your desired option and wait until the wallpaper setting loads.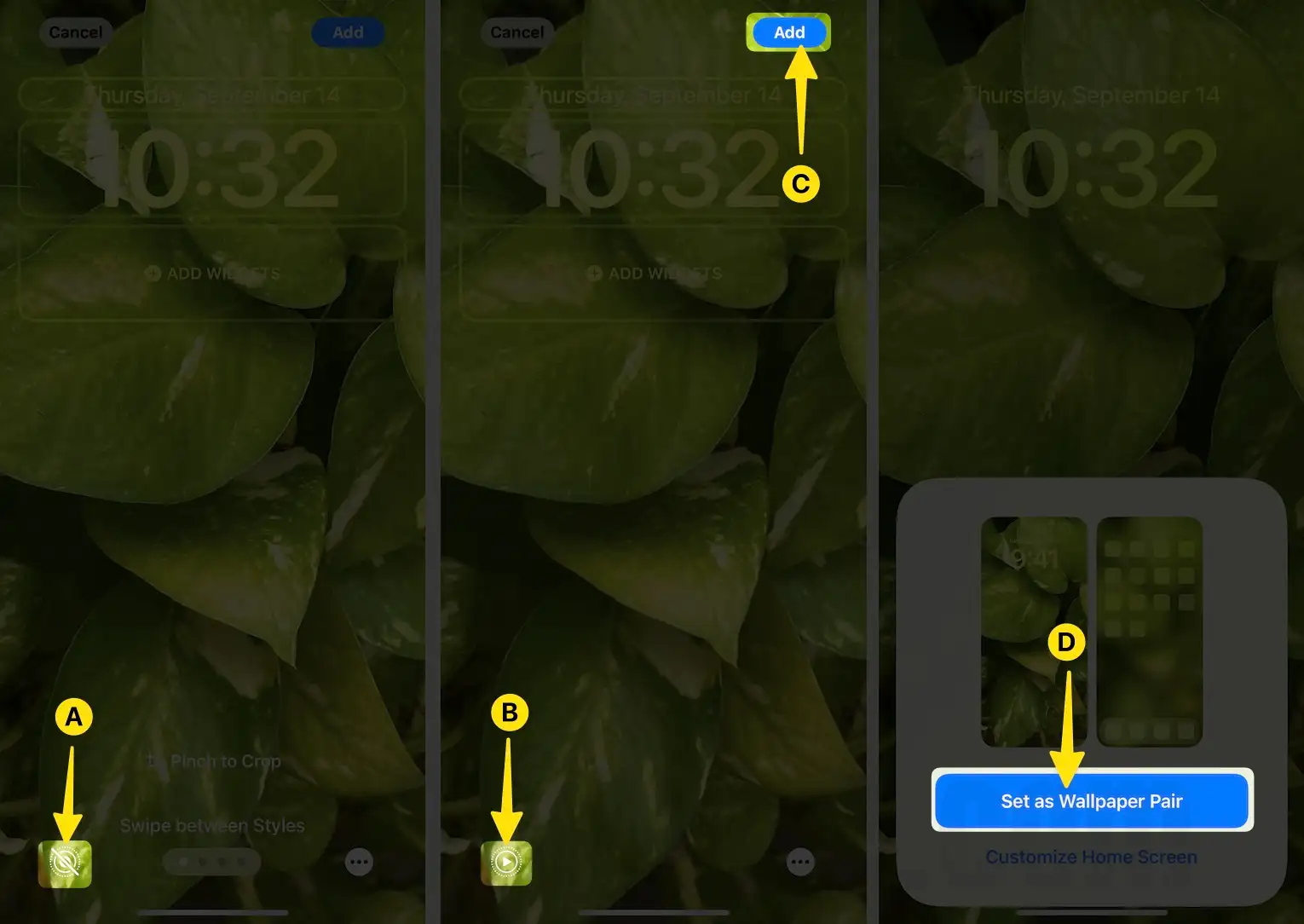 That's it.
Does Live Wallpaper Not work on your iPhone? Here's your fix Live Wallpaper Not working on Apple iPhone
How to Use Live Wallpapers on iPhone
Live Wallpaper is an animated picture to get its visual effect. You have to Press on the display. So this is the Moving wallpaper on your brand-new iPhone.
You can also download iOS 17 Wallpapers on your iPhone and enjoy new screen paper every day.
I experienced that the live wallpapers are not moving on the iPhone home screen. Even though, looks beautiful on the iPhone-locked screen.
How to Set Video as Wallpaper on iPhone
Many fans are facing hard-to-set video as lock screen wallpaper on iPhones. Don't bother Here my answer how do you set a video as a wallpaper iPhone?
Head to Settings App
Next, Click Wallpaper
on this screen and select Choose a New Wallpaper.
Now scroll down the screen and choose Live Photos or Animated folder– if you have one of the preloaded, animated wallpapers.
Then choose a Live Photo – wait until a picture is fully loading
Now

Press on the screen to see if this wallpaper is animate

or not. If the wallpaper is not animate, then choose another picture.
Now click on Set
Choose an option for

Lock screen or Home screen

or would like to go with both.

That's it.
Press the side button, and then on the lock screen press and hold to see the animate video wallpaper experience.
Also, Get More Wallpapers
1. Download the Best Preppy wallpaper
2. Download Live Wallpaper HD
3. Download Brown heart Wallpaper
4. Download Peppa Pig House Wallpaper
5. Download Ranboo Wallpapers
Let's drop your feedback in the comment box below and share your experience concern, how seem after using live Wallpaper on the iPhone lock screen?