Last Updated on Sep 18, 2023
Unable to install iOS 17 Update & An Error Occurred Installing iOS 17 on iPhone, iPod Touch popup (with two buttons that says "Retry" or "Remind Me Later") on the screen. At the last moment, are you getting unknown reasons with your device only but your Friends or Family device installed iOS Update Successfully? So this is not fair to you, But some internal software issues and Pre-defined solutions that Apple doesn't show the exact reason on the iOS device screen when this happens.
Most users are happily enjoying the New iOS on iPhone, and some cannot download iOS 17 on iPhone.
The downside is, that we don't know the cause of being unable to update the iPhone, but we know how to deal with it. With our mentioned workarounds, your iPhone can install iOS 17 on supported devices. Head over to learn, below are the key point that we should follow the try to fix own self without wasting time and money.
iOS 17 comes with the latest Security fixes and Fixes an issue where iPhone models with Touch ID cannot unlock a paired Apple Watch using the Unlock with iPhone feature.
Troubleshooting Steps for iOS 17 unable to install update not connected to the internet
Solution 1: Check the iPhone Storage Right Now
New iOS install installation required free Gigabytes of Storage on iOS devices, Sometimes small software updates over a whole year required Small space usually. So first check the New Software Update Size and Prepare your device by free up space.
If your iPhone is failing to install iOS 17, then, first of all, you should verify there is enough storage to download the update. Continuously storing videos and images can lead you to insufficient space.
Try to remove the files that you don't require. Here's how to check the storage on the iPhone, I recommend deleting Video files or moving to another device or Mac/PC. Normal length video contains 1 or 2 Gbs space.
Check Updated Storage Space: Go to the Settings app > General > About > Scroll and Find Available space in GB.
Quick Way to Free Up Space: Go to the Settings app on iOS device > General > iPad/iPhone Storage > Delete Downloaded iOS 17 File (If Downloaded but not installed).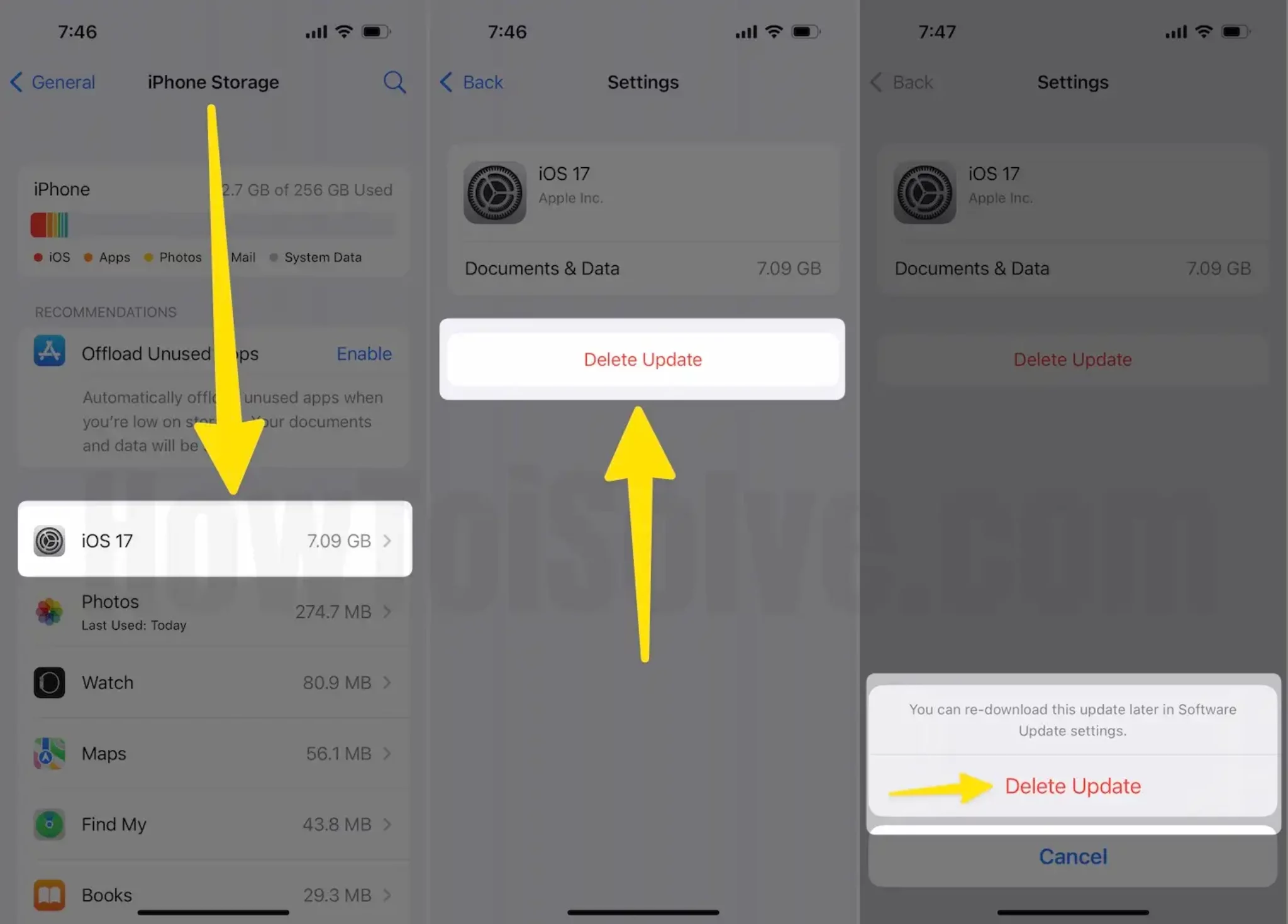 Also, Free Up Storage,
Here are the recommendations like iCloud Photo enable, Empty Recently Deleted Album. and Next is the Photos option, Click on it and the last option is Review Personal Videos.
Here we can play videos and Delete them according to need and Storage required. Delete Video, Swipe to left, and tap on delete.
Move back and don't miss to empty Recently deleted album. Check my Video Tutorial to get an easy understanding,
Try Installation again,
Go to the "Settings" app.
Tap "General."
Tap "Software Update."
From here, you will get the actual idea of how much storage do you need to install iOS 17 on the iPhone.
Make sure your iPhone has adequate storage to install iOS 17
Solution 2: Reset Network Settings

[101% working Solution]

Reset Network Settings not only forget the connected or paired device but reboot the device that built the Wi-Fi system file on your iOS device. This is an easy and common practice to fix Network related issues on iPhones.

Note – Remember that only performing the "Reset Network Settings" action won't erase the installed profile from your iOS device. But you have to manually go into the Profiles settings and remove them.

Steps to Reset Network Settings For iOS 16 and Later Version

1→ Open up the "Settings" app that looks like a gear icon.
2→ Tap "General" and scroll the screen till the end,
3→ hit on "Transfer or Reset iPhone".
4→ Lastly, tap "Reset"
Step #5. Please confirm "Reset Network Settings"
Now, Enter your iPhone Lock passcode (4 digits passcode or six digits iPhone passcode) and Try after rebooting once. This Process won't erase other important settings, Media, Messages, and more.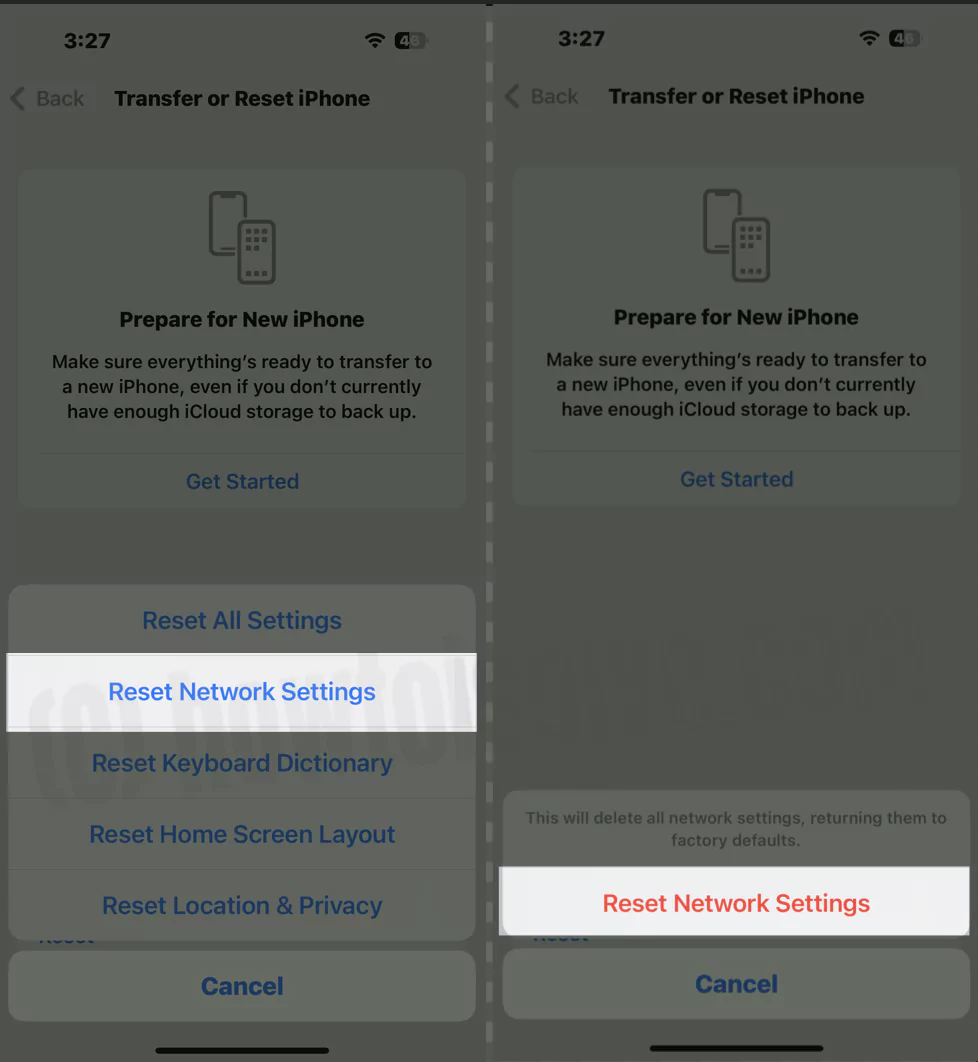 Note – Don't bother, your reset network settings will delete all network settings that does work as a backdoor/behind-the-scenes, for example; installed a certificate/security profile by the Comcast/Xfinity hotspots.
Don't forget to share with us! Let me know how it works out for you! Enjoy your day!!
Solution 3: Make sure WiFi is connected after Reset Network Settings
After Reset Network settings, All Saved WiFi passwords will be erased, Now Rescan your Home/Office network and connect to your iPhone/iPad.
I hope you know that updating the iPhone requires an efficient internet connection or else there are more chances of receiving such errors.
To make sure your Wi-Fi is working perfectly, try to use YouTube. Alternatively, connect your iPhone with your friend's or colleagues' Wi-Fi and try to luck by downloading iOS.
1→ Unplug the Wi-Fi router and plug it back in after 10 minutes.
2→ If it doesn't work, you must contact the service provider urgently.
3→ Go to WiFi settings & Turn on WiFi, Settings app on iPhone > WiFi > Search and Tap on your WiFi network name > Enter your WiFi password and connect it.
Solution 4: Delete and Re-Download the iOS 16.6 Update file
This error message came on screen after the new iOS setup file was downloaded but could not start the installation. That means the problem with the Corrupted iOS file or incompatible version.
I recommend deleting downloaded iOS files from the device and re-download them on iPhone, iPod from the settings app.
Go to the Settings app > General > iPhone Storage and Scroll down and find file name with iOS 17 Swipe left and delete it.
When I was installing iOS 17 updates on my iPhone 14 Pro Max, the systems say they were unable to install the update an error occurred installing iOS 17 Developer Beta. But then I tried a few troubleshoots and my problem gets resolved by just re-downloading the update file.
In some cases, our iPhone ends with a corrupt iOS 17 Update file and so it happens. Go to the Settings > General > Software Update > Download and install New software.
Solution 5: Force/Hard Reboot iPhone [Important]
Better late than never, we recommend you to force restart your iPhone and again try to update your iPhone. Occasionally simple restarting fixes many vigorous problems.

1→ First of all, Press and quickly release the Volume Up (+) button.
2→ Now Press and quickly release the Volume Down (-) button.
3→ in Lastly, Press and hold the Side/Power button until the Apple logo appears on the screen. Wait for your iPhone lock screen after the Apple logo, if it's not turning on automatically then use the Side button only to turn on the iPhone.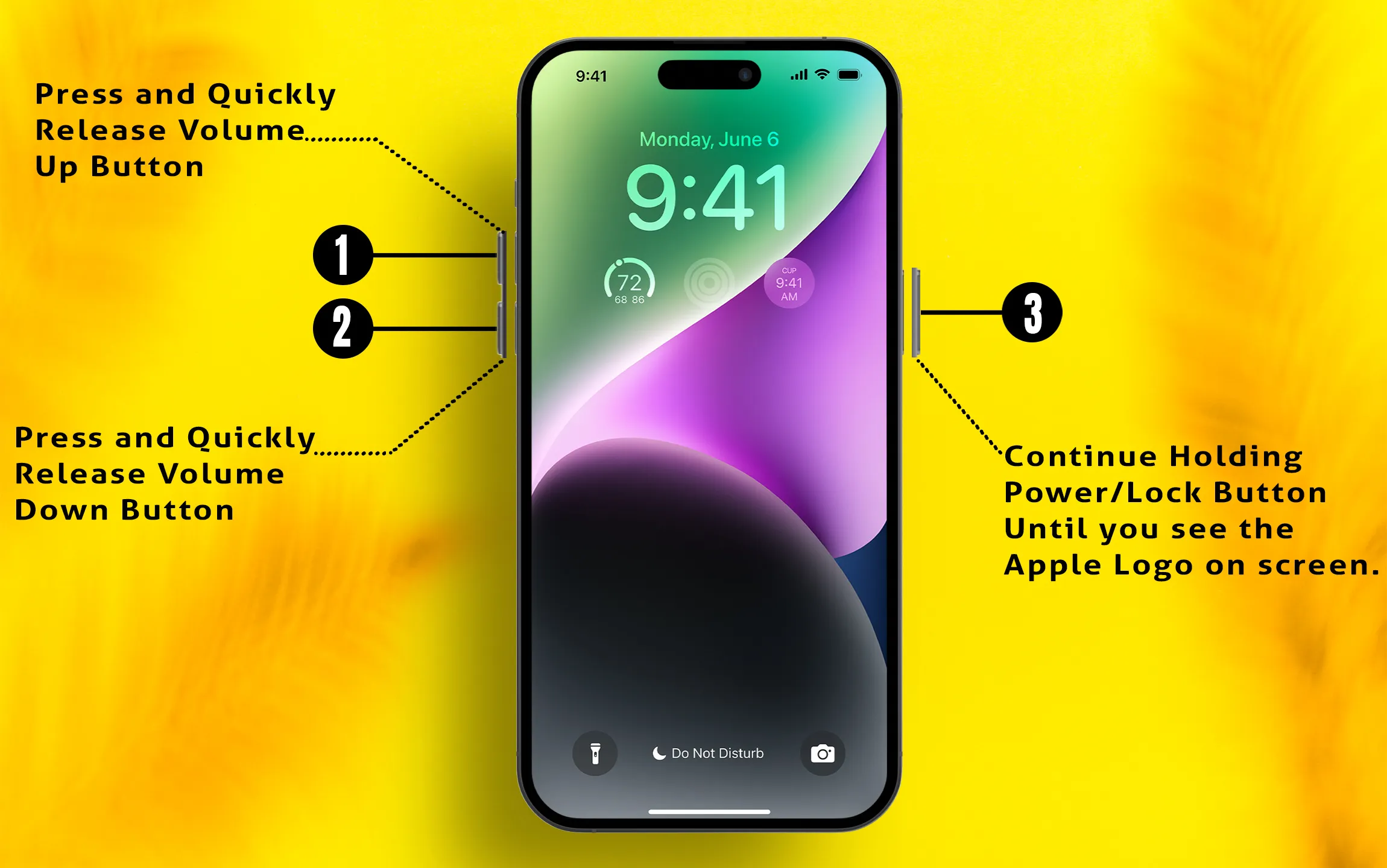 Solution 6: Download iOS 17 using iTunes/Finder on Mac
Still, you are unable to install iOS 17 on iPhone? Then I have a way through which you might get latest iOS on your iPhone. In this trick, I will show you how to install iOS 17 on iPhone using iTunes. Or you can say it is the best alternative way to install iOS 17 on iPhone.
1→ Connect iPhone to Mac/PC using the Lightning cable. Unlock the device and Enter the passcode to access your iPhone to Mac or PC.
2→ Launch "iTunes". Make sure iTunes is updated. or Finder on Mac install macOS Catalina or macOS Monterey later [Apple Stopped iTunes officially]
3→ Select your iPhone. [On finder find it under the Locations section on finder sidebar,] Now you see the Device summary on Finder.
4→ Next, click on "Check for Updates".




5→ Lastly, click "Download and Update".
6→ Now, you have to follow the on-screen prompts.
Above all are working solutions for the problem of Unable to install Update – An Error Occurred Installing iOS 17 on iPhone, iPod.