Last Updated on Sep 18, 2023
Your iPhone is not getting an update and seeing Unable to verify update iOS no longer connected to the internet on iPhone, or iPod Touch. Sometimes during the process of updating the iOS system, it may hang up on anyone's screen, and it usually does up on the page of verifying updates. It may be harassing because of this slow process and hanging the system. You may follow these easy steps to eliminate issue and solve your problem.
Why is my iPhone stuck on Verifying update? At the same time, the iPhone is installing a New iOS software update. At this stage, most iOS users beware of what should do if their iPhone is stopped installation in between and goes dead. But don't be afraid this is not a critical situation for you and your iPhone. We can do anything and restart the process after a long wait. To terminate the process and try again with the below solutions for my iPhone Showing Verifying update under Software Update. After locking my iPhone, Verifying update also came on the lock screen.
Can't find a new iOS update installation is in progress. Remove the error screen as quickly as possible.
Troubleshooting: Unable to Verify Update Error iOS on iPhone, iPad, iPod Touch
Check your iPhone is connected with reliable internet [WiFi only]. Open Safari and Search for something.
Ensure you are using your Home WiFi network, because business or public WiFi blocked Apple server requests that prevent downloading big Apple Software updates. And internet service providers can serve good Internet connectivity in the service area.
Check the Apple Server Status page, and you have to wait until your server gets normal or up. For Other Countries, Check Apple System Status.
Solution 1: Free Up iPhone Storage
New iOS installation required enough storage to successfully install without any error like this. Sometimes old iOS files unable to Download and install on your iPhone/iPad. So your iDevice goes in a loop and you have been waiting for a long time. Force close the Settings app or Soft Restart your iPhone to open the fresh settings app.
Go to Settings > General > iPhone Storage > ON this page, you can see available storage space on your device, after downloading the software file, I suggest to all iOS users, install time at least 1 gig space required to overcome install time error. That's why,
For example, you have a 128GB iPhone and install time-space only 0.5 gigs space, so I request you delete unwanted large videos, photos, screenshots that are no longer needed. Or you can take a copy of that videos and pictures to other iOS devices or Mac machines via Apple Airdrop. After this, delete pictures, videos and try to install the software update again.
In case, Unable to verify update Error persists, go to the next solution will help you to get rid of the troublesome situation.
Solution 2: Make Sure Date & Time is Correct
While using the iPhone or iPad, keeping the Date & Time up to date is necessary. Meaning the date and time should match your region otherwise, some features will stop working like this. Therefore, it's better to enable Set Automatically settings.
Go to the Settings app.
Tap on General.
Select Date & Time.
Toggle Set Automatically On.
Restart the device as we have shown below and again try to update the iPhone.
Solution 3: Hard Reboot | Restart
Hard Reboot is not just turn on and turn off the device. This process is actually doing reboot iOS from the root folder in the whole file system. After that some processes will start again, Like Background apps, Auto fix internal iOS glitches. Till now invention in Apple iPhone design made big changes inside buttons,
You have to use different Side buttons combination on the home button and without the home button iPhone model. Identify which phone you have and try to hard reboot your iPhone.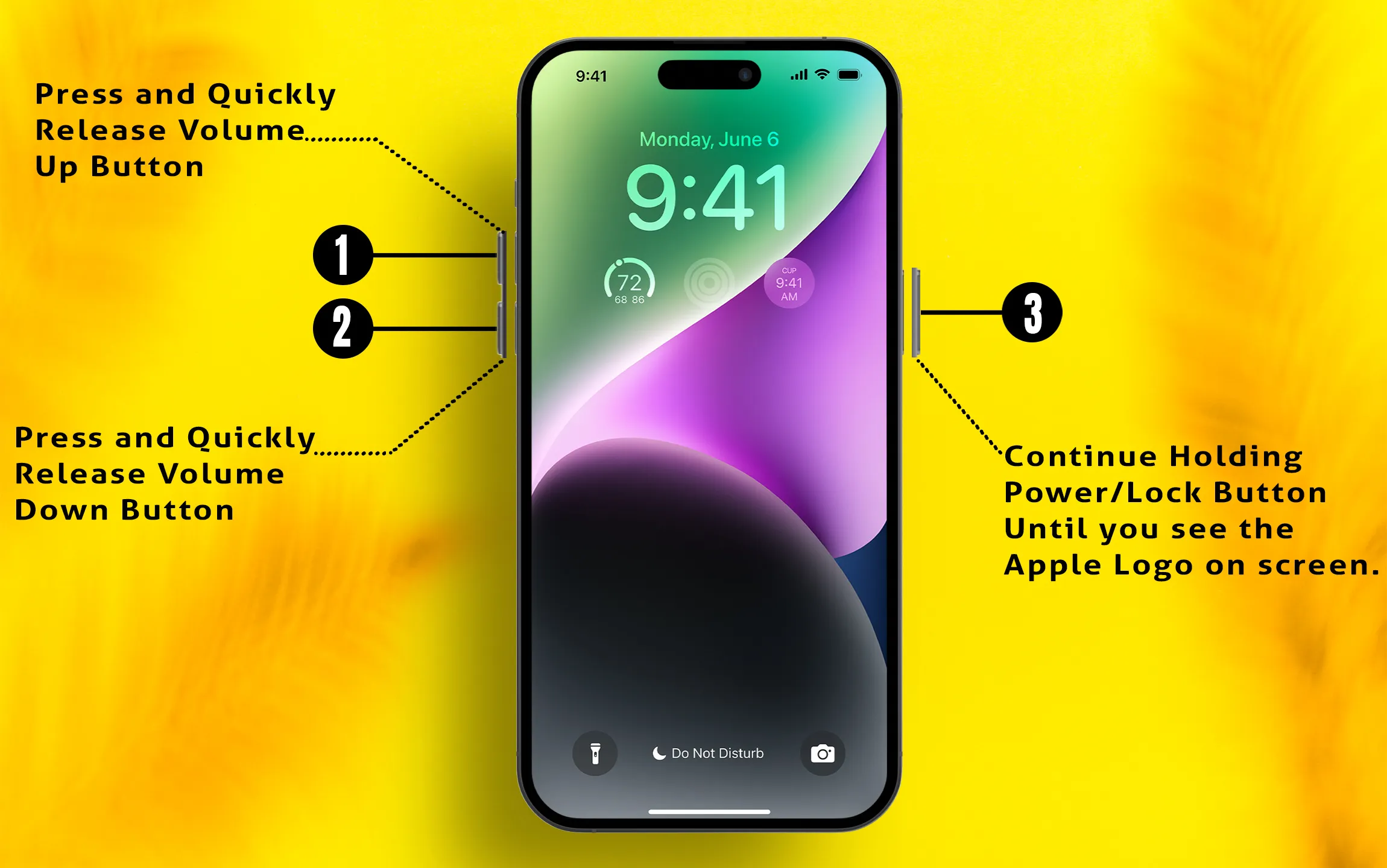 Press and quickly Release Volume up (+) button
Press and quickly Release Volume Down (-) button
After that only Press and Hold the Power button until you see the Apple logo on the screen.
After power on your iPhone. please re-try to update your iPhone software version.
Solution 4: Reset Network Settings [10 out of 7 users got Fix]
Your WiFi is disconnecting automatically while checking for the update or verifying your device on the Apple server. Sometimes, Your WiFi is automatically joining another network on poor signal connectivity. Reset network settings option on the Phone is the ideal solution to fix all types of connectivity issues at any time.
Reset network settings options on the Phone will clean all your connected Wi-Fi networks (either auto-join house Wi-Fi, your office/business wi-fi password, etc.) and all paired Bluetooth devices connection. After that, you have to pair WiFi manually using a WiFi password. Remember your WiFi network password before Erasing it.
Head to Settings app > Tap General > Scroll the screen click Transfer or Reset iPhone > Tap Reset Network Settings. > Enter Your passcode that you type to unlock the phone screen,
Next, a pop-up asks you – let's what happens after reset network settings – this will delete all network settings, returning them to factory settings.
Final Tap Reset Network Settings. That's it. Now after this, go back to settings app> General and Software update. again follow the installation process. I hope this is found helpful. if it error still occurred, go with the next solution.
Solution 5: Delete Old Update and Re-Download [Video guide]
In case your iPhone has attempted to download an incorrect update, and it is stuck in between, you should delete that update before downloading the new one.
Step 1: Navigate to the Settings app. Tap on General,
Step 2: open the iPhone Storage option. Locate iOS 17 Update, tap on it. Now Delete that incomplete update from your iPhone.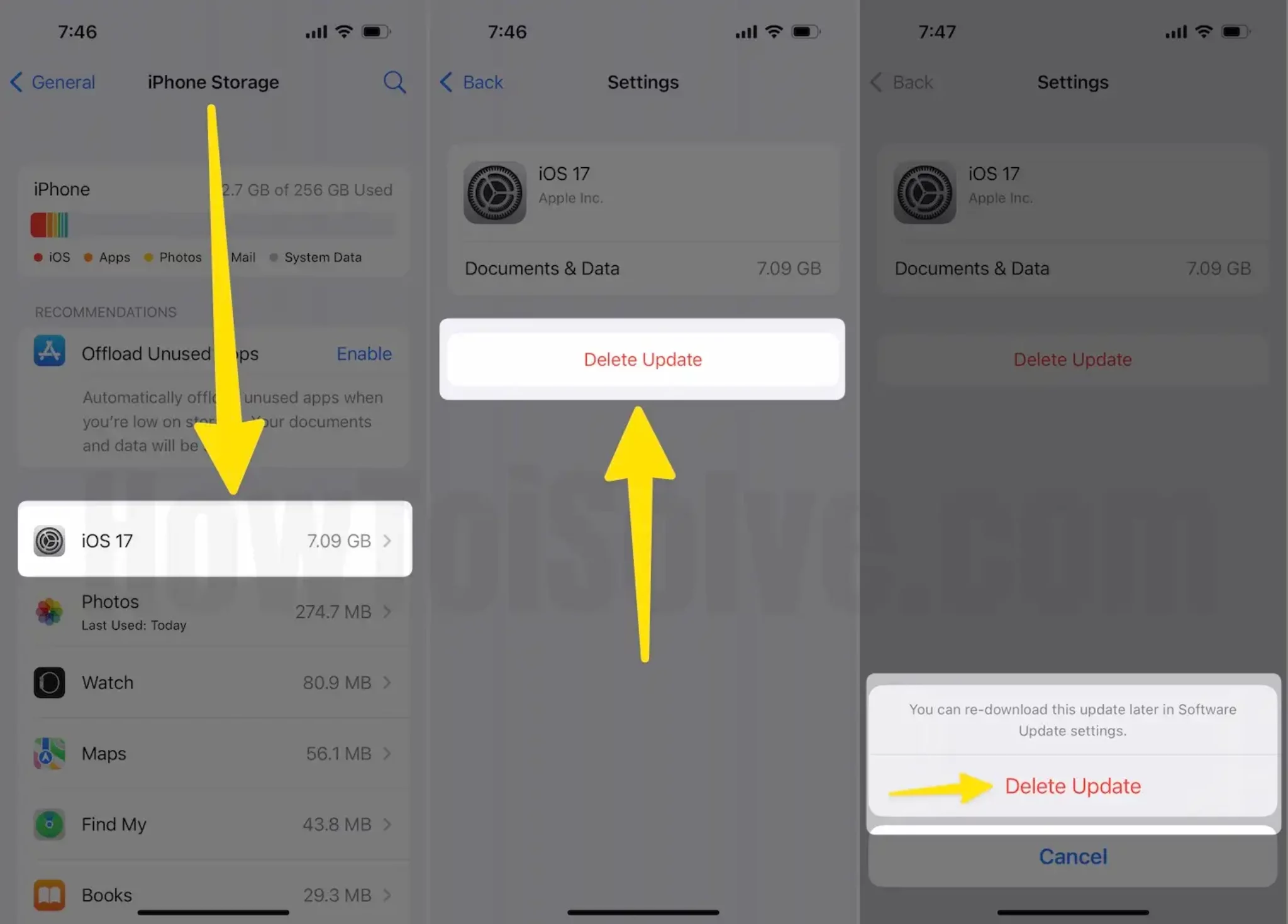 Download the new update as usual.
Go to Settings App – Tap General – Click Software update – wait for a while – Click Download and install. Now sit back, wait for the update file download, after file download completion, Click on Install Now and follow the on-screen instructions.
What Do I Do if My iPhone Stuck while Updating to iOS 17
Solution 6: Reset All Settings
This will restore all the customized settings to the default, but won't delete any personal data like Photos, Videos, and other media.
Steps for iOS 15, iOS 16, iOS 17 and later
Go to the "Settings" app

Tap "General"

Find and open tap "Transfer or Reset iPhone"

Tap "Reset"

Lastly, tap on "Reset All Settings"

For security reasons, you will be asked to enter the iPhone Passcode.

Tap Confirm Reset All Settings.

After that iPhone will reboot.
Solution 7: Update Using Finder/iTunes
Remove the downloaded update as we have mentioned in solution 5 and then update iPhone using Finder or iTunes.
Use Finder/iTunes on Mac/PC
Mac OS Catalina user can use Finder on Mac, But the Earlier MacOS users can use iTunes on Mac. Windows users can use the latest version of iTunes. Follow the steps to Update the iPhone using FInder/iTunes.
Open Finder/iTunes on Mac/PC.
Now, Connect your iPhone using a Lightning cable with Mac/PC.
Unlock the Device and Tap on the Pair option to successfully use a device on Mac/PC.
Now your iPhone will show on Finder Sidebar on Mac. and iTunes users can see the iPhone icon on iTunes top sidebar.
Click on the device to Get the Device summary page, a Summary page is the same looks on Finder & iTunes.
Now See the Update iPhone option on the Device Summary page. Keep your iPhone connected with Mac/PC. Also, check your Mac/PC has proper internet connectivity.
Video Guide to update iOS 17 on your iPhone
Submit your problem here to share your Problem with us, We will respond to you shortly. Like it! Share it! Unable to Verify Update iOS on iPhone or iPad.