🗓️
September 26, 2023
By ✍️
Jaysukh patel
Since the pandemic, working from home jobs has taken a giant leap. As a result, Zoom has become a primary requirement for any job. What if Zoom Stuck on "Connecting…" on Mac, the Zoom Camera not working, or various Zoom Problems on Mac. In addition, you may face the problem of macOS updates prevents zoom from operating (Sonoma update).
Not to Worry. We have mentioned the best Fix for zoom not working on Mac. At the end of the article, you will be able run Zoom again. Here is the Fix for the Zoom app Crashing on Mac. Read further and try various fixes to solve Zoom not working on mac issue.
Make sure your MacOS & Zoom App are up to date on Mac.
FIX 1: Check Audio and Video Settings on Zoom
Make sure that when the pop-up of zoom meeting ID appears, remember to uncheck for the following settings.
Don't Connect to Audio
Turn Off My Video
The above settings will automatically join the call with your audio and video. Because you may have joined the meeting and your video and audio are turned off, you think it's not working. Additionally, Head over to Mac Fixes for the Mac camera not working on Zoom.
FIX 2: Close other video related Apps
Other apps like FaceTime, Skype, Photo Boot, etc., using a camera or microphone often causes Zoom not to work. Therefore, before joining or inviting zoom meetings, exit all other apps using a Mac camera and microphone.
To see all running apps on Mac, Open Force Quit window, select the apps and Force Quit. (Go to the Apple Logo > Force Quit… or Command-Option-Escape.)
FIX 3: Exit Zoom and Try Again
Suppose you encounter some basic issue with zoom, then you can close zoom and try again. Further to Exit Zoom, you can click on the (X)Close icon at the top left. Alternatively, right-click on the application and select the Quit Zoom.us option.
Suppose the Zoom app is not responding. And if you cannot close it, then Force quit Zoom.
Force Quit the Zoom App
Here are the steps to force quit Zoom.
1# Select Apple Logo at the top.
2# Choose the "Force Quit" Option.
3# Next, Select Zoom.us and Click on the Force Quit button at the bottom.
Wait a While and Open the Zoom app again.
FIX 4: Check the Internet Connection
Are you facing the problem of the application "zoom.us" can't be opened. An active and steady Internet connection is essential to run the Zoom application. Hence, to check whether you have active internet, try to visit any browser site. If it also doesn't work, then it's Internet Issue.
Try to turn off and turn on Wi-Fi. In addition, you can also try restarting your router too. Next, you can try forgetting the Wi-Fi network and establishing a new connection.
Steps to Forget Wi-Fi network on Mac
1# Go to Apple Logo and Click on System Settings.
2# Select the "Network" Option from the left sidebar.
3# Next, click the "Details" button next to your Wi-Fi network name.
The Pop-up box appears with detail of your Wi-Fi network.
4# Select the "Forget This Network" button at the bottom.
5# Confirmation box with the message "Remove Wi-Fi "Wi-Fi Name"? Click on Remove to forget Wi-Fi Network.
Now again, join Wi-Fi and check whether Zoom works. Here is a detailed Fix for the Wi-Fi Issue.
FIX 5: Reboot your Mac
Sometimes rebooting Mac can also fix a minor software glitch. Therefore, this must-try solution for any issue with Mac. The restart will clear the cache, stopping the memory-hogging task, so it helps the Mac run smoothly. To reboot your Mac, click on the Apple logo and Select Restart.
Fix 6: Look over Zoom Server status.
This is a rare scenario in that the zoom server may go down/slow. Hence it's best to ensure that the zoom server is working perfectly. Head to the official Zoom Service status page to know Zoom's status.
FIX 7: Grant Zoom Necessary Permissions
For Zoom to work correctly, it requires permission to access the microphone and camera.
Follow these steps to grant Zoom Camera and Microphone permissions.
1# Go to Apple Logo and select System Settings.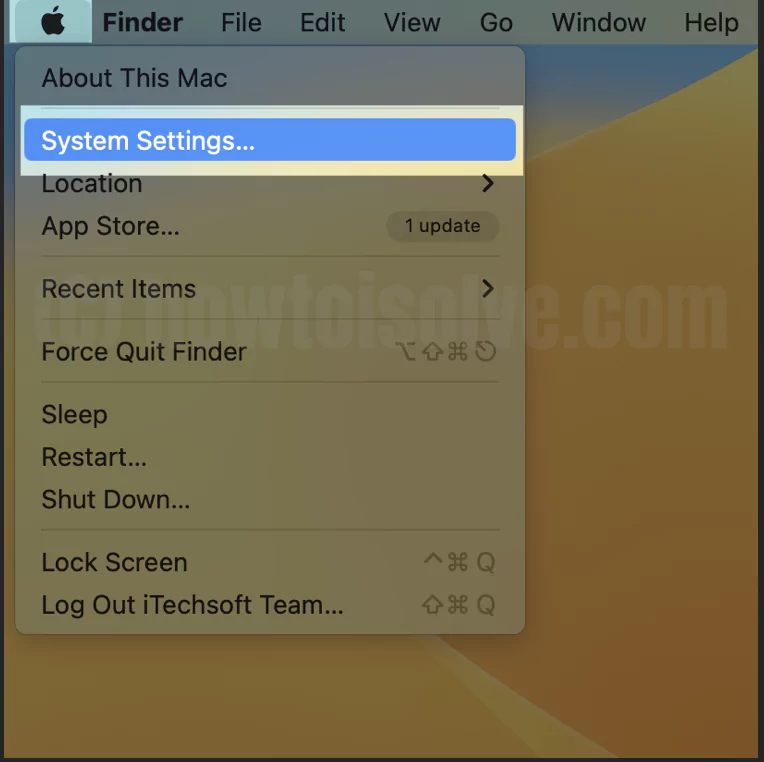 2# Click on Privacy & Security.
3# Select the Camera from the right side. And turn on the toggle next to Zoom.us app.
4# Select the Microphone from the right side. And turn on the toggle next to the Zoom app.
The above steps will allow Zoom to access Mac's Microphone and Camera. Further, after granting permission, quit and reopen the Zoom app. I Hope Zoom works correctly. If not, then read further to fix it.
Fix 8: Reinstall Zoom
Sometimes Zoom app may get corrupt or have caching issues. Thus, uninstalling Zoom and installing it again will give it a fresh start and restore functionality.
Here are the steps to uninstall Zoom from your Mac.
1# If Zoom is not responding, Force or quit it.
2# Go to Finder and Select Application.
3# Select the Zoom.us app and Right Click on it.
4# Choose the option "Move to Trash."
The above steps will uninstall the Zoom.us app from your Mac. However, if the app is open, it will not allow you to uninstall it. Hence we have mentioned the first step as Force quit. Here are various ways to uninstall the app on Mac.
FIX 9: Quit resource-consuming other apps
The unnecessary resource-hogging apps may halt the function of Zoom. So, it's better to find the most CPU-consuming apps and quit them. Here are the steps to do so.
1# Open Spotlight Search by pressing Command + Space on keyboard.
2# Next, type Activity Monitor and Open it.
3# Select CPU from the top.
4# From the list of apps, find unnecessary resource-hogging apps.
5# Click on App/Process name and Select (X) "Close Icon" at the top.
6# Pop-up appears with the message "Are you sure you want to quit this process?" Select Quit.
Using the above steps, you can quit any app or process holding more than necessary resources.
FIX 10: Turn Off Firewall
Sometimes Mac Firewall can prevent Zoom from running. As it may consider Zoom a security threat.
Therefore, turning off the Firewall is not recommended, but temporarily you can disable it.
Here are the steps to disable the Firewall on your Mac.
1# Select the Apple logo and click on System settings.
2# Select the "Network" option from the left sidebar.
3# Click on Firewall from the Right side.
4# Turn Off the toggle next to Firewall.
5# If it asks for an admin Password, then Enter Password.
Now after disabling it, check whether Zoom works. After your work is done, turn on Firewall again to protect your Mac from probable threats.
FIX 11: Turn Off Anti-Virus
The task of Anti-Virus software is to protect your Mac. However, sometimes it stops the application or program when you try to run it. Because your antivirus software marked the Zoom app as a threat, thus preventing it from running. So, turn off your antivirus and try to run zoom. Else you can modify antivirus settings and put an exception for the Zoom app.
That's all about fixing the zoom app issue on Mac. Let me know ow does help with your Zoom app problem.