🗓️
November 24, 2023
By ✍️
Jaysukh patel
We made a complete guide list to get back Apple Watch Activity App does not appear on the iPhone. The tech giant Apple is a popular brand to add something new in its devices software updates. The same thing we have seen in iOS 9.3, Apple Watch got a built-in Activity app that tracks the Move, exercise, and Stand motion of the user's body and this all activates Apple Watch displays on the Activity app glance. in iOS, Users were only could see the WatchOS activity app data on his/her Apple Watch.
Even now, Brand Apple added Watch Activity app UI into the iOS health app. Therefore, Activity App data and measurements are automatically included in the Health app breakdown, since Apple Watch users can easily view entire day activities data on the iOS health app dashboard, too. So Activity rings on the Apple watch give you a quick visual reference of your daily activity using three metrics. However, numerous iWatch users have shouted that the Apple Watch Activity app missing on the iPhone. For that, here we offer several actual troubleshooting, hope this would be worked great.
Before get started following steps, make confirm your iPhone software version is up to date,
→ Open up the Settings app on your mobile → Tap General → Now tap Software update.
If your software is up to date then keep continues the below steps, if not then upgrade iOS to connected strong Wi-Fi network.
Steps to Fix Apple Watch Activity app Missing on my iPhone
Steps for iOS 14 and Later Users: Now Fitness App
Apple Watch Activity app is Redesigned and Renamed with "Fitness app". We can get detailed Workouts information like Burned Calories, Awards, and more under the summary tab.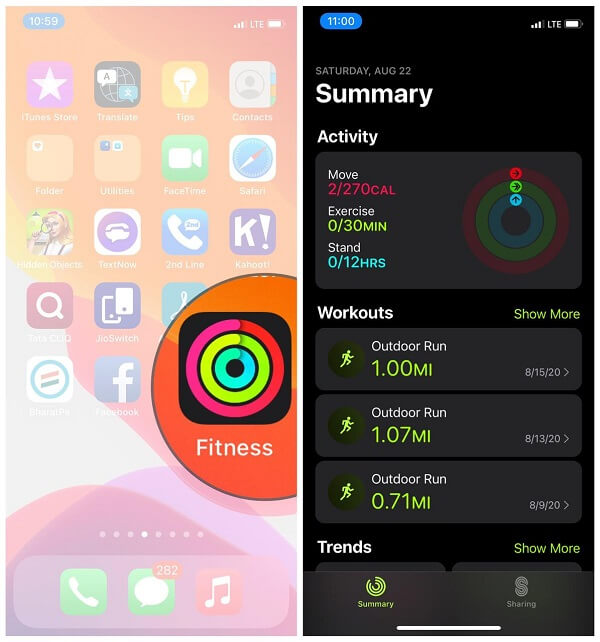 Re-Download Fitness App From App Store
Now, Apple Workout or Fitness app is Removable, and We can re-download it from App Store. Search Workout or Fitness app in the app store and Download it on your iPhone.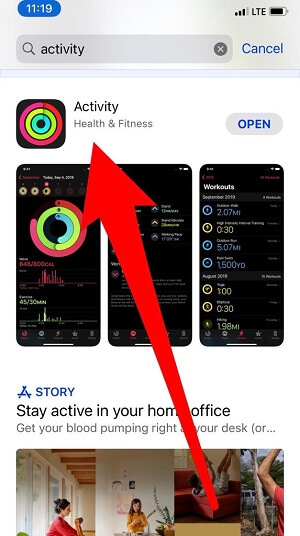 Open App Store > "Workout" or "Activity" > Download on your iPhone.
Step for iOS 13 and later users Health App on iPhone
Open the Health App on your iPhone.
Tap Browse
Tap Activity under the health Categories section,
next, scroll the screen and tap on Activity
Again scroll down the screen and tap on the Star icon appear next to the Add to favorites that you can get underneath the Options tab
That's it!
---
Step for iOS 12 and Earlier users Health App on iPhone
Step #1. Launch the Health app on iPhone
Step #2. Tap on Health Data.
Step #3. Press on Activity.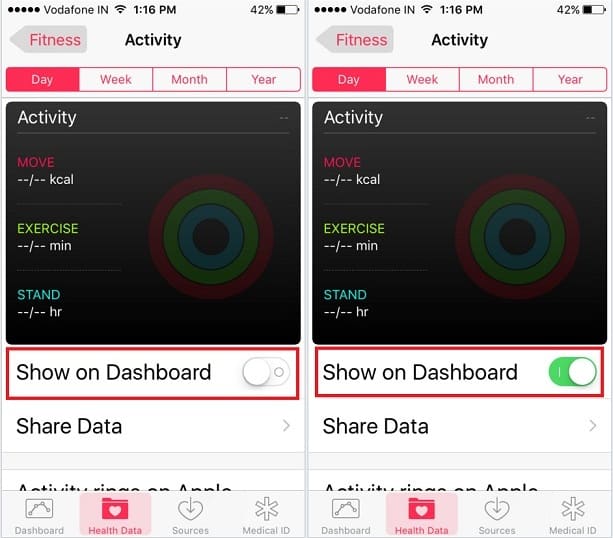 Now tap on the Dashboard tab and scroll down the screen you will see a black color theme Activity app data source.
That's it.
If your Apple Watch activity app won't sync/showing on your iPhone, then try following potential clues.
Force Quite Health App and launch Again
Press twice the time home button and pull the health app above side on the screen, then go on the home screen. Lunch once again health app and check out the Activity app data source.
If an issue persists (Apple Watch Activity app does not appear on iPhone) though try listed steps.
Video guide you Apple Watch activity App Not Working troubleshooting

Please share your experience with us, any query relates the Apple watch activity app disappears on iPhone/ Health app not showing the iWatch activity data source.