Are you a content creator, Podcaster, interviewer, or teacher searching for the best wireless microphone? Well, you landed on the right page; we will help you find the best wireless microphone. Start Using it for indoor & Outdoor activities.
Do you want to record or live stream in a crowded place or can't install cable in the house or distance issue? Don't worry; your problem is solved. We curated a list of the best wireless microphone for iPhones or iPad, with 65 to 70 feet distance coverage and noise reduction technology. Moreover, some come with a charging case and a pack of 2.
The best feature is you plug the receiver into your device, and the transmitter auto-connect at once. Hence, all are easy to Plug and Play type. Read along to find the best wireless microphone from the list below. The following microphone will offer you a seamless clear recording experience.
Wirelessly record On iPhone, iPad using a Microphone
1. Ecomxia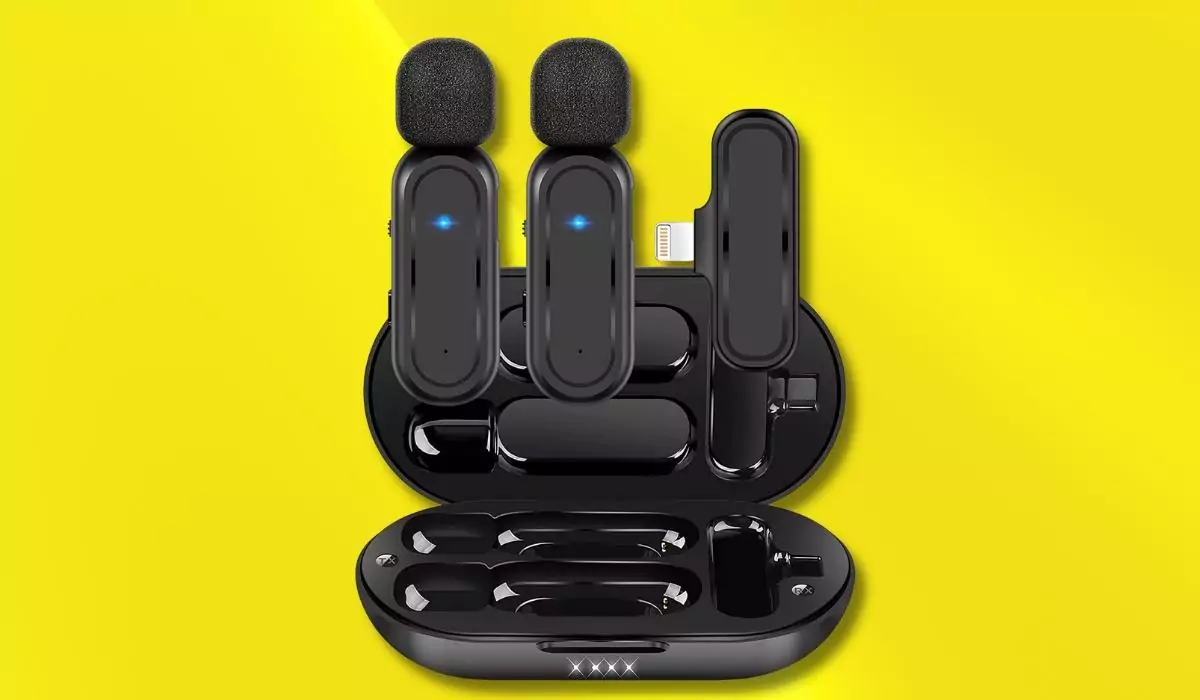 The Ecomxia Wireless microphone with a charging case is worth trying as it comes with three different noise reduction modes. The auto AI noise canceling mode lets you record your voice in noisy surroundings. Whereas Manual noise reduction at your will and reverberation mode for echo-free sound. It also has four indicator lights on the charging case to show power at 25%, 50%, 75%, and 100%.
The microphone is easy to plug and play; hence plug a lightning connector into the phone, and ready to use. Furthermore, it allows two persons to record at the same time. In addition, with 2.4 GHz transmission technology, it will enable clear sound up to 70 ft range indoors or outdoors. Finally, an inbuilt switch lets you pause or resume recording. In addition, pressing the M button turns off the mic to save the battery.
2. HOTEC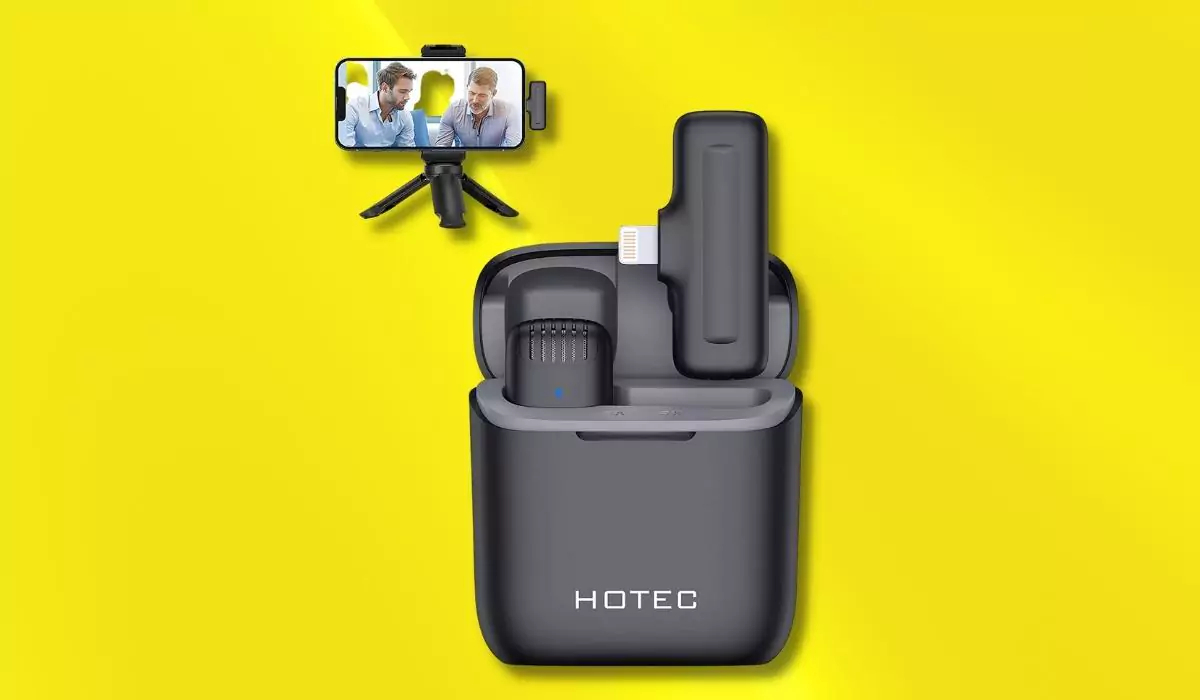 The Hotec dual mic Noise reduction is the best to buy as it Elevates the audio quality of your recording. It allows clear recording in a noisy environment with its noise reduction chip. Further, 2.4 GHz wireless transmission technology provides crystal clear voice recording up to 65 feet.
The Hotec mic is easy to use as you plug the receiver into your phone and press the button on the mic to auto-pair. Additionally, the battery will work up to 6-8 hours with mere 50 minutes of charging. The best feature of the mic is that you can charge the device simultaneously with a lapel clip-on mic.
3. CKOKC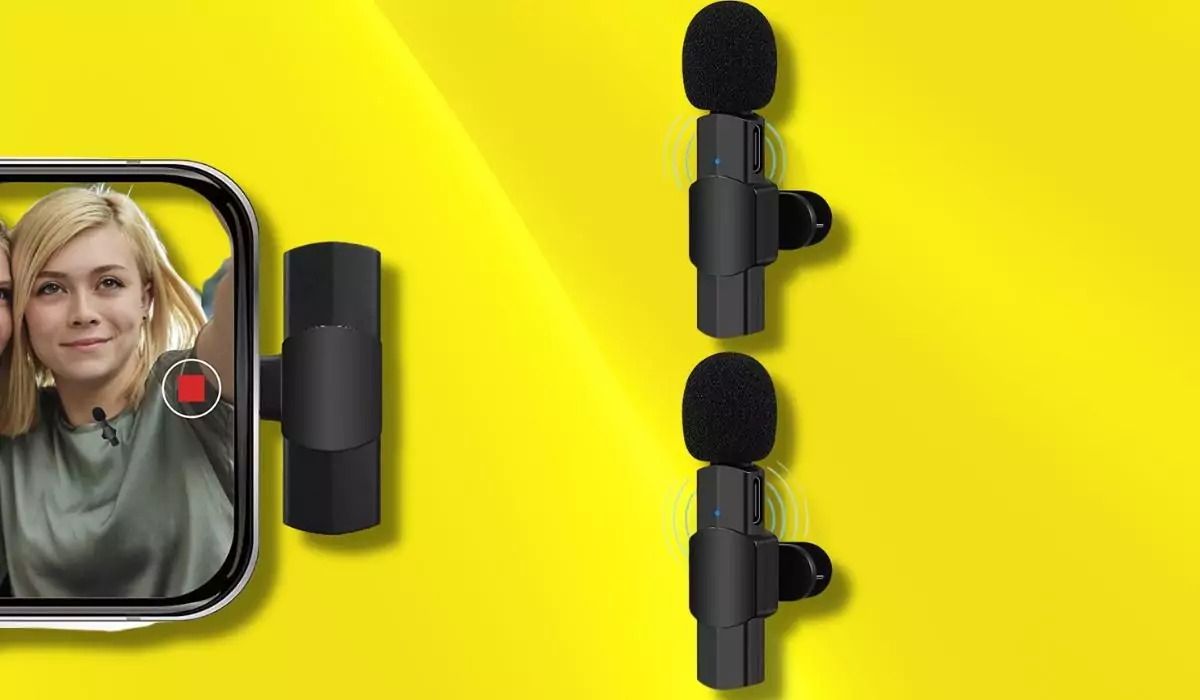 The CKOKC Offers a dual wireless microphone with one receiver. Further, it gives crystal clear audio with a dual innovative noise reduction chip up to 65 feet distance. In addition, it provides a connection of up to 6 hours with a rechargeable Li-ion battery.
The small and portable microphone is compatible with version 13 and above. Additionally, the receiver is capable of charging iPhone while recording.
4. Hubotowin
The Hubotowin highly sensitive microphone consists of High-Density Spray-proof Sponge. The most exciting feature of this microphone is 10 hours of working time with just 1.5 hours of charge. Furthermore, you can enjoy recording indoors or outdoors up to 65 ft distance without external noise.
It is a set of 2 microphones and one receiver. Additionally, it uses real-time auto-sync technology so that the device can sync multi-channel real-time live streaming.
5. Comica
The Comica BoomX-DMI2 is a 2.4G Digital RF Technology Wireless Mic. It is compact and lightweight, with a metal case shielding a professional microphone for iPad and iPhone. Further, it covers a distance of up to 30m without conflicting govt frequencies. Additionally, it is equipped with a 3.5 mm headphone monitor hole for recording testing.
The comica wireless microphones come with two transmitters and one receiver. Moreover, the compact microphone has auto frequency adjustment and low latency. The awesome feature is two audio input modes.
6. MAYBESTA
Do you want High-Density Spray-proof Sponge and High-sensitivity Microphone for your iPhone or iPad? Then, the Maybesta Professional wireless lavalier microphone is best for you. It has omnidirectional sound reception with noise reduction technology.
Furthermore, the clip-on microphone has a lightning connector and charging cable. Additionally, it will cover distances up to 50ft. The wireless microphone makes it a quick and easy connection.
7. Bulatry
The Bulatry 2-pack wireless Mini lavalier microphone for iPhone and iPad is a must for the 2-person creator. Moreover, it supports simultaneously picking up sound from 2 parties. In addition, it has an intelligent noise-reduction chip for noise cancellation.
The Bulatry provides two lightweight microphones with 2.4G signal transmission and a receiver with a lightning connector. In addition, it picks sounds that follow the real-time picture. However, this device is only for lightning devices and not USB-C.
8. PGDLOF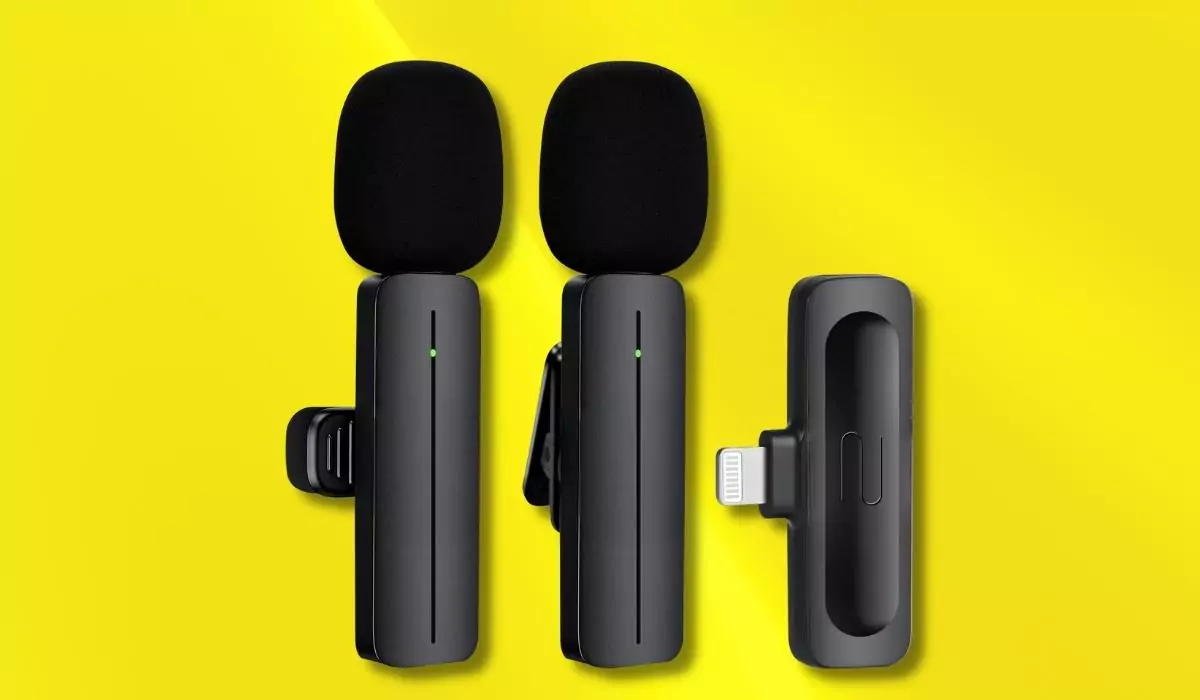 The PGDLOF highly sensitive mic offers all-round recording and real-time monitoring. Further, its recording range is up to 65 ft. It also supports recording on various social media platforms.
Like all other wireless microphones, it also provides an easy connection with auto pair. For that, plug the receiver into the device and turn on the transmitter's power switch. In addition, the compact mic is equipped with spray-proof sponge foam, which picks up clear sound from all directions.
Also, Buy Other iPhone Accessories,