🗓️
September 14, 2023
By ✍️
Jaysukh patel
When your iPhone storage gets full, you may perform backups. You would need a USB cable and a PC or a laptop. However, you can't ensure sufficient backup with them. Having a backup for your iPad or other iOS devices may be difficult if you are on a business trip, vacation, or outdoors. Fortunately, flash drives are designed to ensure reliable and safe backup from your iPad and other compatible iOS devices. They let you wirelessly transfer data from the mentioned devices to your PC/Mac.
Due to fast protocols and affordable storage costs of USB memory sticks, these sticks can now store and access more data. The mentioned flash drives can write more data and quickly access them. Investing in a suitable flash drive will benefit you with a quick read and write speed, reliable backup, and easy access to all your stored files. Going through the following article will streamline your decision for one of the best Flash Drives for iPad. (Best Flash Drives for iPhone)
1. EATOP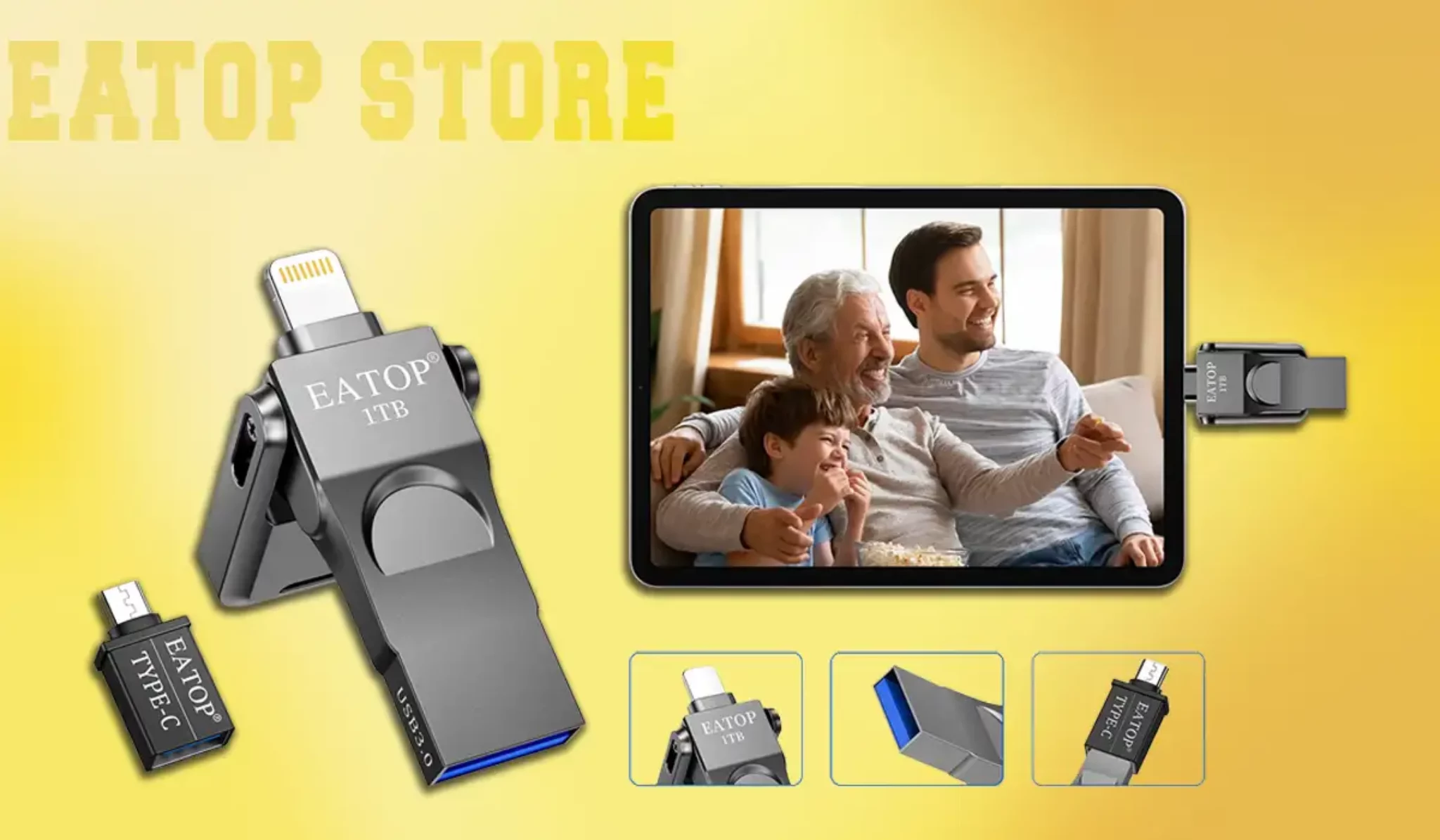 SPECIFICATIONS:
| | |
| --- | --- |
| Memory Storage Capacity :- | 1 TB |
| Hardware Interface:- | Lightning, USB 3.0 |
| Write Speed:- | 40 MB/s |
| Special Feature:- | Lightweight |
| Color:- | Silver |
EATOP SPECIFICATIONS
Pros
One-click backup
Fast transfer speed
Excellent external storage
Supports privacy protection
Portable design
Cons
Difficulty saving phone contacts and documents
This Best flash drive for iPad Pro on this list provides three interfaces for backup. These interfaces are USB 3.0, iPhone, and USB-C (independent adapter). Hence, this flash drive simplifies data transfer between your devices. It eliminates the need to use iCloud and iTunes. Moreover, this USB C memory stick iPad Pro provides a plug-and-play interface. So, with one click from the APP, you can effortlessly back up your contacts, photos, and videos from your phone.
It allows you to use the USB side to save your backups on your PC for double insurance. This drive is compatible with devices having iOS 7.1.2 or above. You can connect phones and computers having USB-C ports or OTG interfaces. The drive provides a read speed of up to 80 MB/s.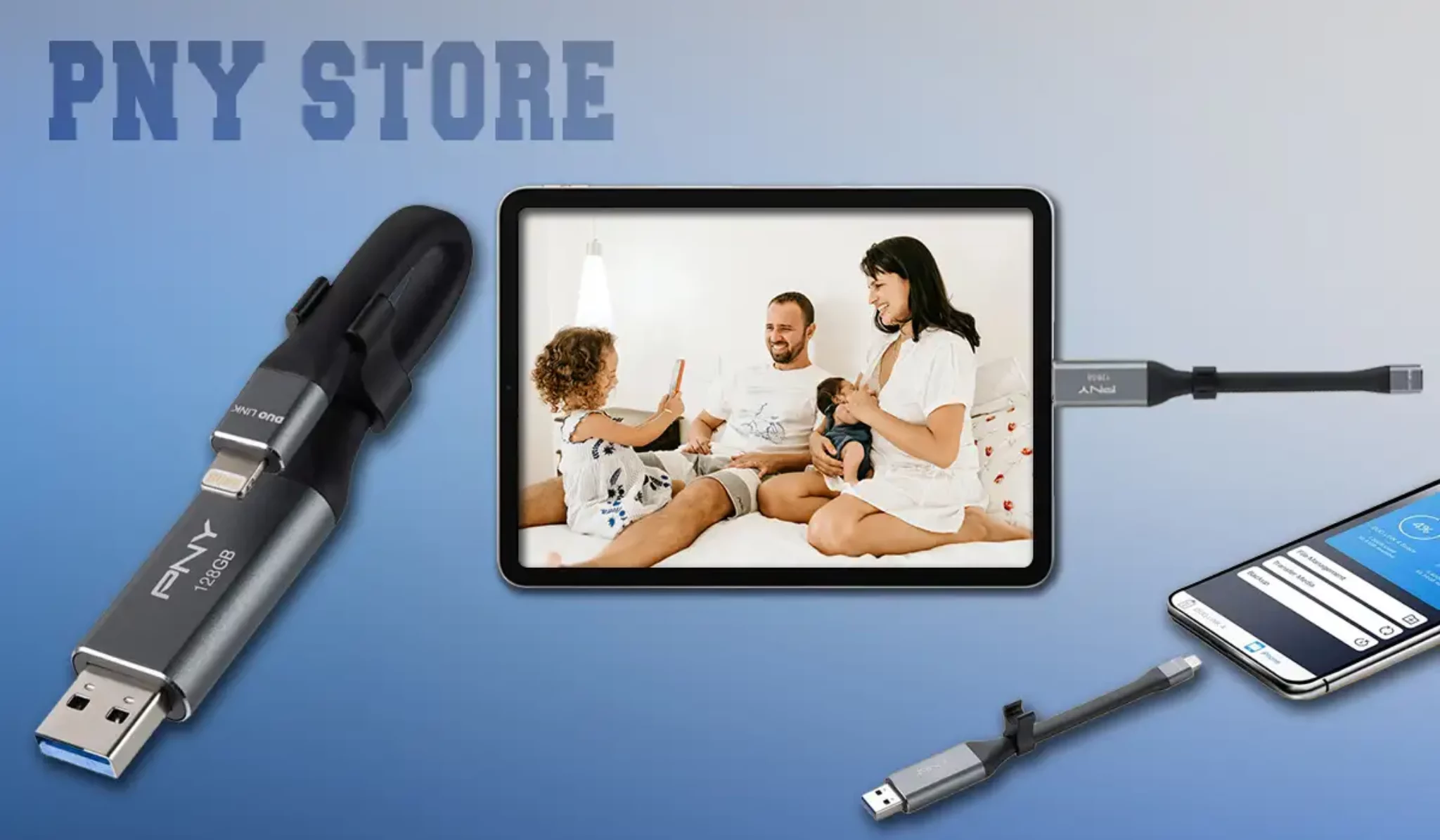 SPECIFICATIONS:
| | |
| --- | --- |
| Memory Storage Capacity:- | 128 GB |
| Hardware Interface:- | USB 3.0 |
| Write Speed:- | 100 MB/s |
| Special Feature:- | Lightweight |
| Color:- | Metal Gray |
PNY SPECIFICATIONS
Pros
Smooth sync and backup
Flexible and durable cable design
Broad OS compatibility
Spacious storage space
Elegant design
Cons
May malfunction after sometime
Do you want to free up space on your iPad and iPhone quickly? If yes, the drive is one of the Best flash drives for iPad Air iPad mini iPad Pro. It is a duo link USB 3.0 OTG flash drive that backs up, syncs, stores, and shares all your digital content. It automatically or manually backs up your contacts anywhere, anytime. Moreover, it also allows you to charge your iPad or iPhone.
The robust, flexible cable design lets you transfer files concurrently and charge your iOS devices. You can easily access and stream photos and videos without depending on a Wi-Fi connection. Note that this drive is compatible with iOS devices running on iOS 8.0 and above, Mac OS 10.8 and above, and Windows/PC Win 7 and above.
3. iDiskk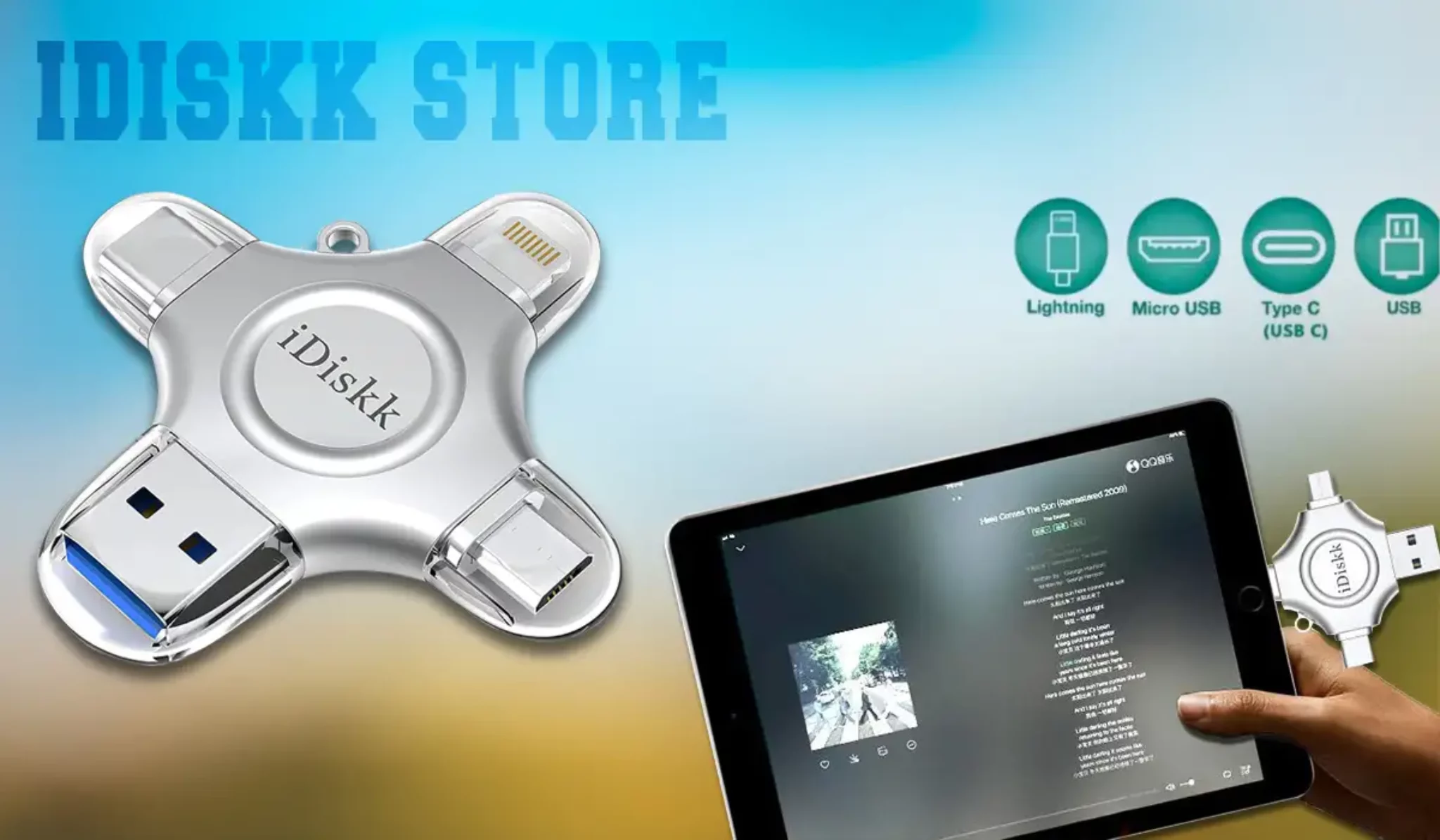 SPECIFICATIONS:
| | |
| --- | --- |
| Memory Storage Capacity:- | 256 GB |
| Hardware Interface:- | USB Type C |
| Connectivity technology:- | USB |
| Special Feature:- | Compact |
| Color:- | Silver |
iDiskk SPECIFICATIONS
Pros
Versatility compatibility
Quickly frees up space
Automatic photo or video backup
Various video formats supported
Mfi-certified connector
Cons
Connector short for phones with added cases.
If you are looking for a multifunctional flash drive, this one could be your Best USB flash drive for your iPad. It is a 4-in-1 flash drive that works with your devices through its four ports. It contains a flash connector for connecting iOS devices. You can use a Micro USB connector for connecting cameras and Android phones. You can use a USB 3.0 connector for PC/Mac. Use a Type-C connector for Macbook Pro and other Type-C devices.
It is the Best USB C flash drive for iPad Pro because it provides an easy and quick way to transfer huge amounts of data between your iPad, iPhone, and computers—no need to use iCloud or a cable to free up memory on mobile devices.
4. Vansuny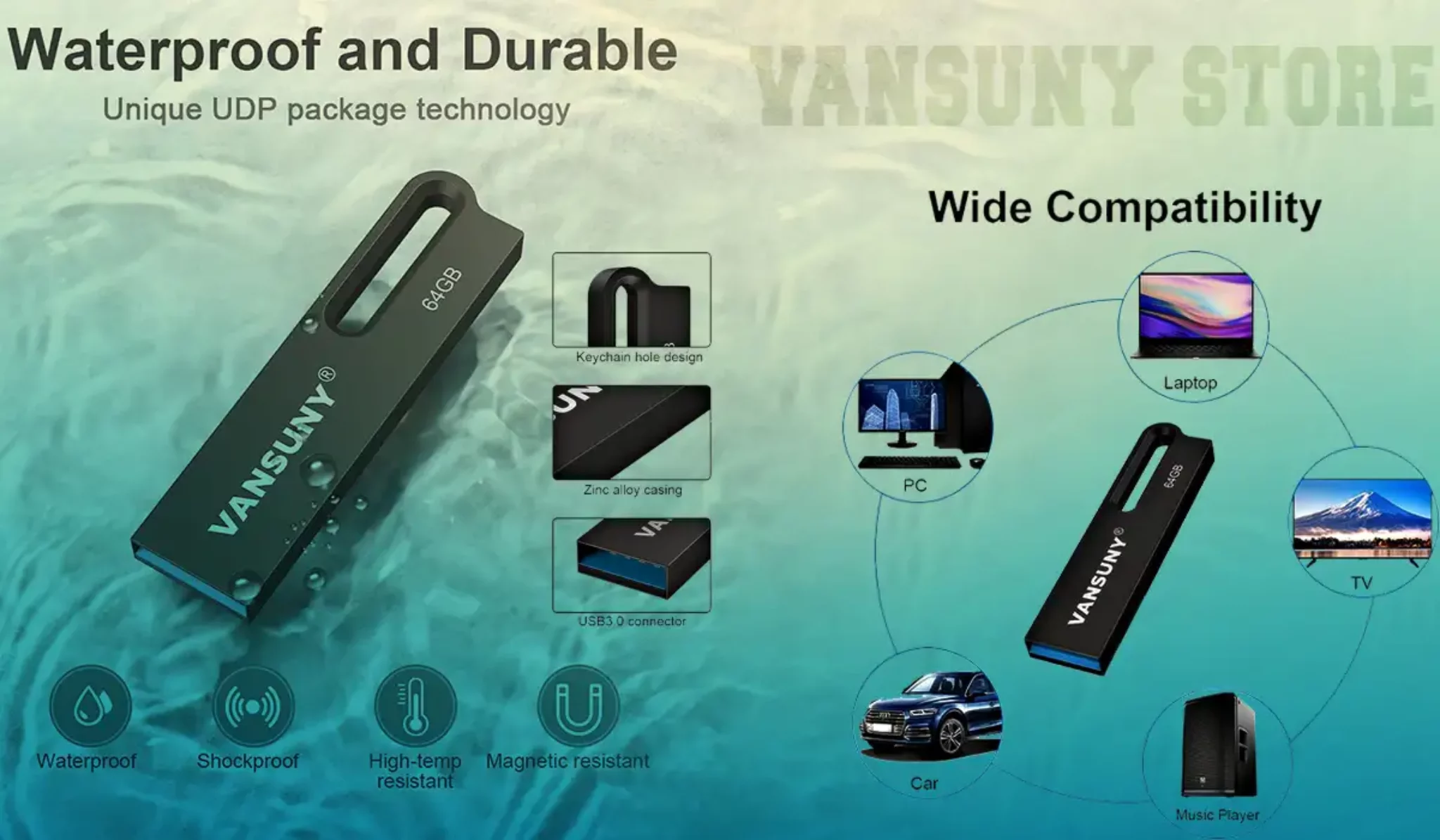 SPECIFICATIONS:
| | |
| --- | --- |
| Memory Storage Capacity:- | 64 GB |
| Hardware Interface:- | USB, USB 3.0, USB 2.0 |
| Write Speed:- | 15 MB/s |
| Special Feature:- | Waterproof |
| Color:- | Black |
Vansuny SPECIFICATIONS
Pros
Portable and convenient design
Durable and waterproof
High-speed and powerful storage
Good heat dissipation
Classic black appearance
What makes this USB C thumb drive iPad Pro one of the best ones on this list is its spacious storage capacity of 64 GB. This capacity lets you save many photos, videos, games, music, and other files. No risk of losing data. It is implemented with a USB 3.0 interface to let you quickly transfer data with an impressive speed of up to 30 MB/s and a read speed of up to 90 MB/s.
No worries about damage to the drive if it falls accidentally. This is because it is implemented with unique UDP packaging technology and equipped with metal housing. Moreover, this USB flash drive comes with impact and dust protection. Hence, all your data stays safe and reliable.
5. SanDisk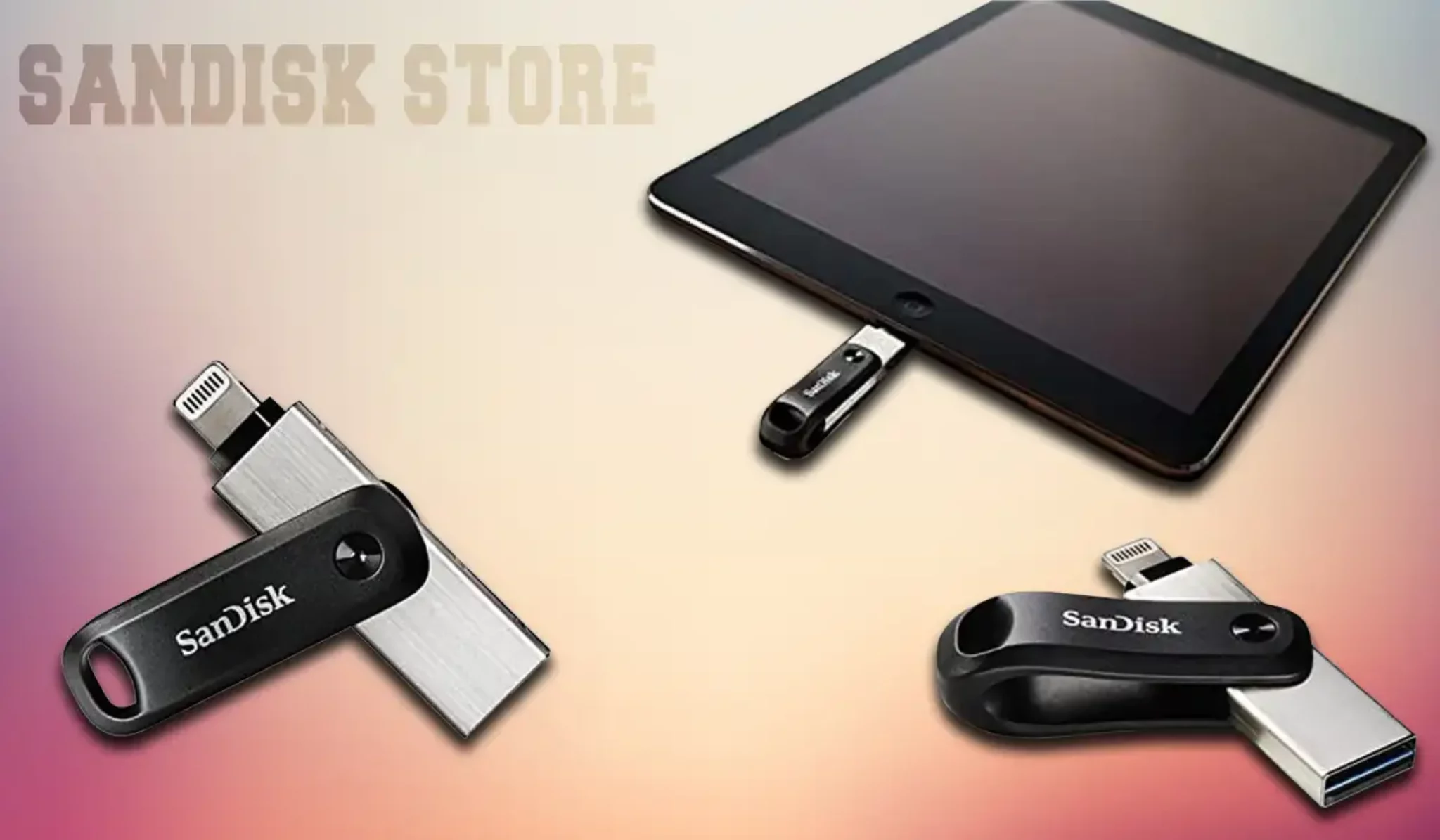 SPECIFICATIONS:
| | |
| --- | --- |
| Memory Storage Capacity:- | 1 MB |
| Hardware Interface:- | USB 3.0 |
| Write Speed:- | 90 MB/s |
| Special Feature:- | Encrypted |
| Color:- | Black |
SanDisk SPECIFICATIONS
Pros
Automatic backs up photos & videos
Password-protect your files
Dual-purpose swivel design
Quick data transfer rate
High-speed connector
Cons
Confusion on transferring data from phone to PC
With the help of this SanDisk flash drive, you can automatically back up your files by connecting to the iXpand Drive app. You will need an iPad or iPhone with iOS 10.0.2 or above. You can directly shoot videos onto the iXpand Drive to free up space on your iPhone. Using the high-speed USB 3.0 connector, the flash drive rapidly transfers your content from iXpand Drive to your PC.
One of the best features of this drive is it password-protects your files over devices like PC, Mac computers, and iPhones. This feature is supported by operating systems like iOS 10.0.2 and above, Mac OS X v10.8 and above, Windows 7, Windows 8, and Windows 10. The dual-purpose swivel design defends the connectors. It also has a keyring hole for portability.
SPECIFICATIONS:
| | |
| --- | --- |
| Memory Storage Capacity:- | 512 GB |
| Hardware Interface:- | USB Type C |
| Write Speed:- | 30 MB/s |
| Special Feature:- | Lightweight |
| Color:- | A-Sky Blue |
ZARMST SPECIFICATIONS
Pros
High-speed transmission chip
Easy file management
Broad system compatibility
High-quality aluminum construction
Easy file management on your devices
Cons
iPhone users may have to flip the connector
This flash drive on iPad Air 4, iPhone, and other compatible devices allows you to free up the memory on your storage device. This process takes place offline without using a Cloud or a data cable. It is a USB-C flash drive built in a high-quality aluminum construction.
Its 4-in-1 design showcases four built-in ports. So, you can connect four devices simultaneously. One end has a USB Type C interface, and the other has a 3-in-1 interface. The other end connects iOS devices, Android devices (Type C or traditional micro USB models), and all traditional USB interface devices (tablets, laptops, TVs, gaming consoles, car audio systems, and more). You can conveniently manage files on your iOS devices through the LUV-Share app.
7. JDTDC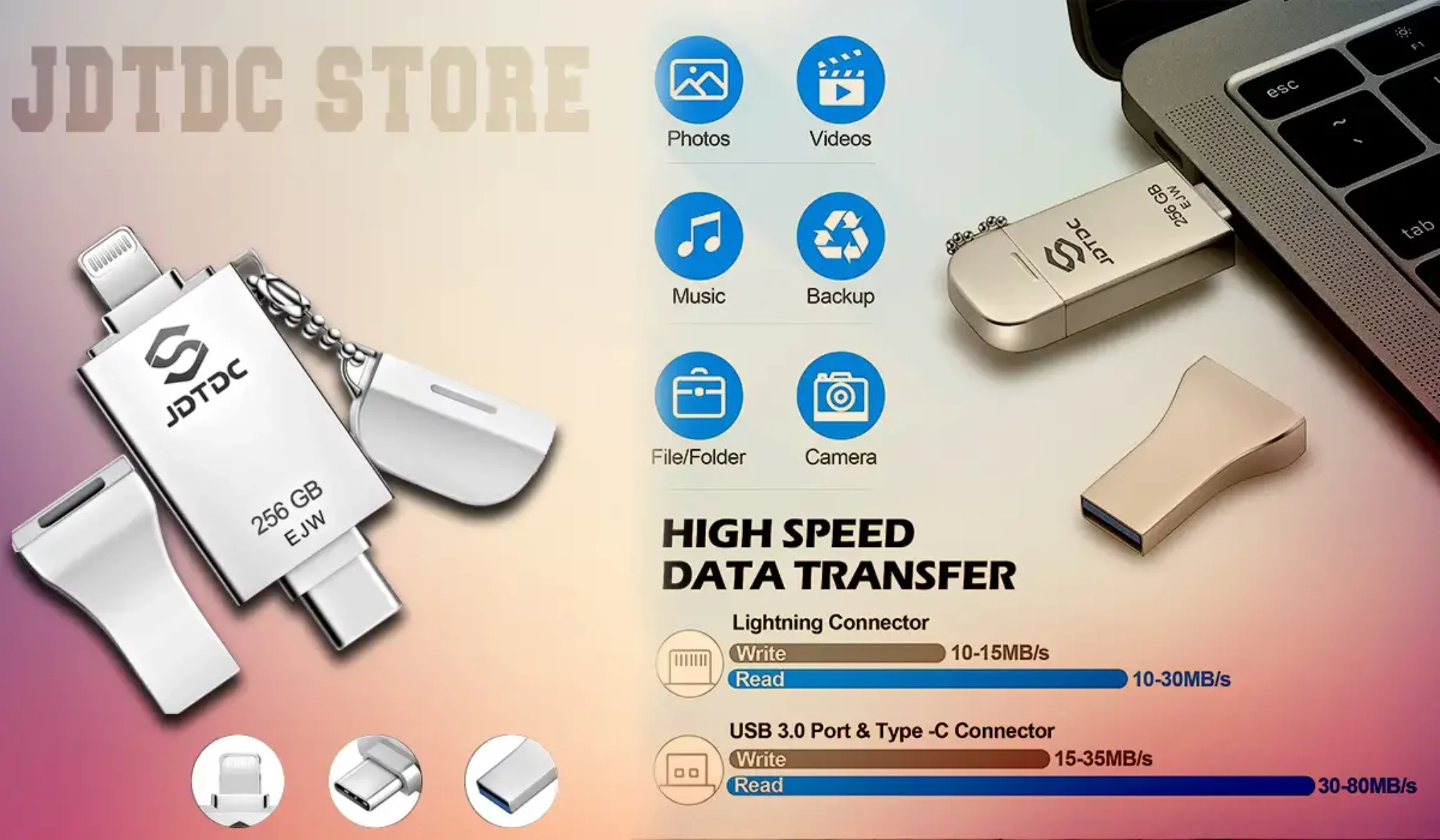 SPECIFICATIONS:
| | |
| --- | --- |
| Memory Storage Capacity:- | 256 GB |
| Hardware Interface:- | USB, USB 3.0 |
| Write Speed:- | 80 MB/s |
| Special Feature:- | Compact, Lightweight |
| Color:- | Silver |
JDTDC SPECIFICATIONS
Pros
MFi Certified Photo Stick
High-speed data transfer
Powerful encryption for security
Easy one-click backup
Smooth Plug & Play interface
Cons
Needs to download the app for iPhone/iPad
This lightning port USB drive has a USB-C Connector, an MFi-Certified Lightening Connector, and USB-A Connector. Hence, it offers broad compatibility. It seamlessly transfers files across iPad, iPhone, MacBook, Windows PCs, and Android Type-C phones. This drive is the best photo stick for iPad because it contains three ports that offer versatility. These ports free up memory space on your iPhone and iPad.
One of its ports provides 80MB/s as the read speed and 40MB/s as the write speed. MFi Lightening port provides a read speed of 15MB/s and a write speed of 10MB/s. Due to excellent stability and speed, this drive can easily transfer huge files. The support for file encryption suggests that this drive ensures safety and reliability during data transfer and access.
8. Idoove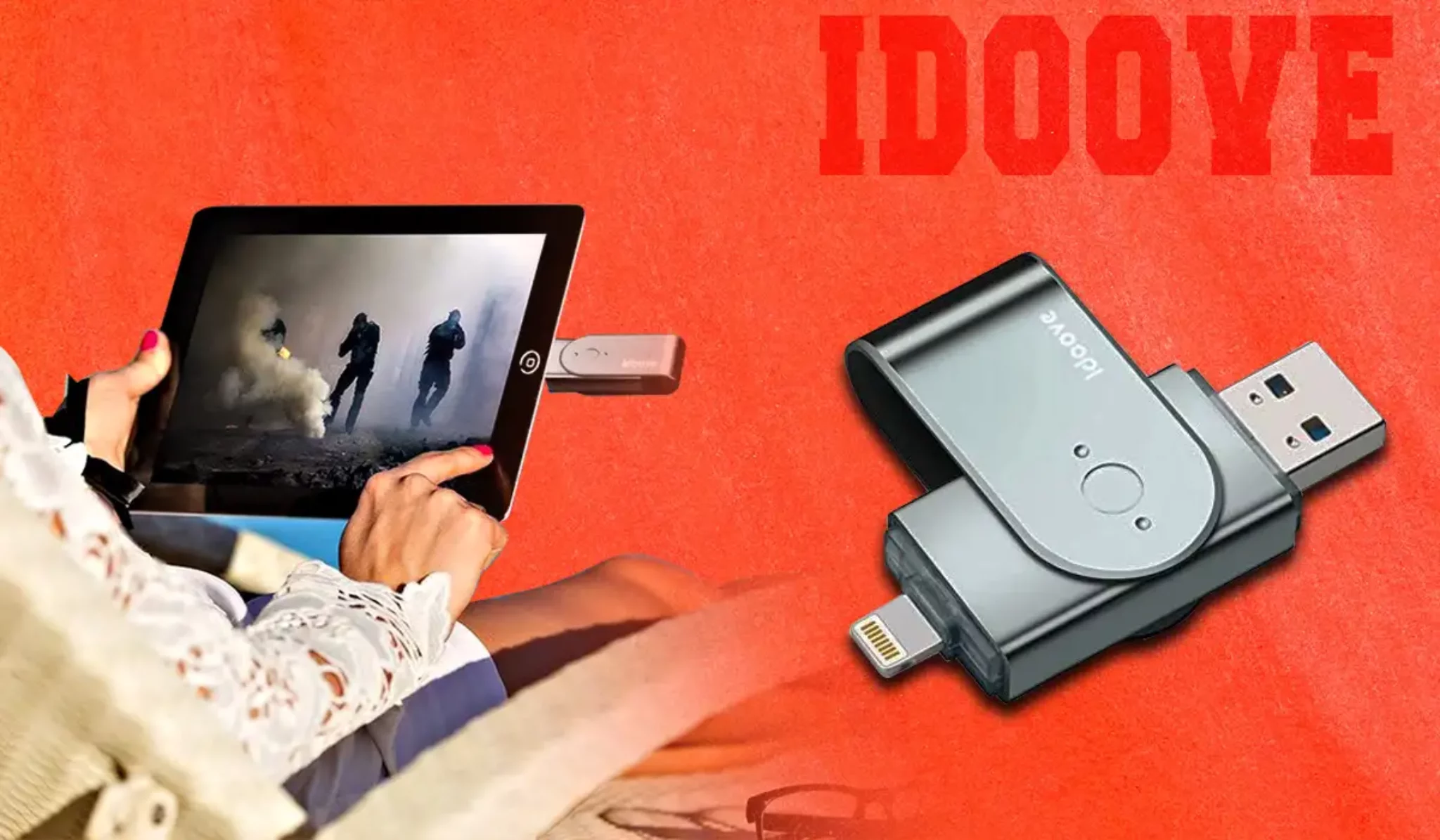 SPECIFICATIONS:
| | |
| --- | --- |
| Memory Storage Capacity:- | 128 GB |
| Hardware Interface:- | USB 3.0 |
| Write Speed:- | 15 MB/s |
| Special Feature:- | Lightweight |
| Color:- | Grey |
Idoove SPECIFICATIONS
Pros
Reliable backup storage
Fast transfer speed
Privacy protection
No irritating cables
Stylish design
Cons
Doesn't work with mp3 player
This product is one of the Fastest USB flash drive iPad. Try this if you suffer from compatibility issues with your iOS device and USB flash drive. It is a dual-ended flash drive with lighting and standard USB ports. It immediately frees up your iPad or iPhone memory with up to 128 GB of backup space—no need to use iCloud or annoying cables.
This lightning-to-USB flash drive provides a read speed of up to 80 MB/s and 30 MB/s as its read and write speeds through its USB 3.0 port. Its lightning port provides up to 30 MB/s read speed, and 15 MB/s write speed. Including a lightning port provides broad compatibility and versatility to this lightning-compatible drive.
9. ThePhotoStick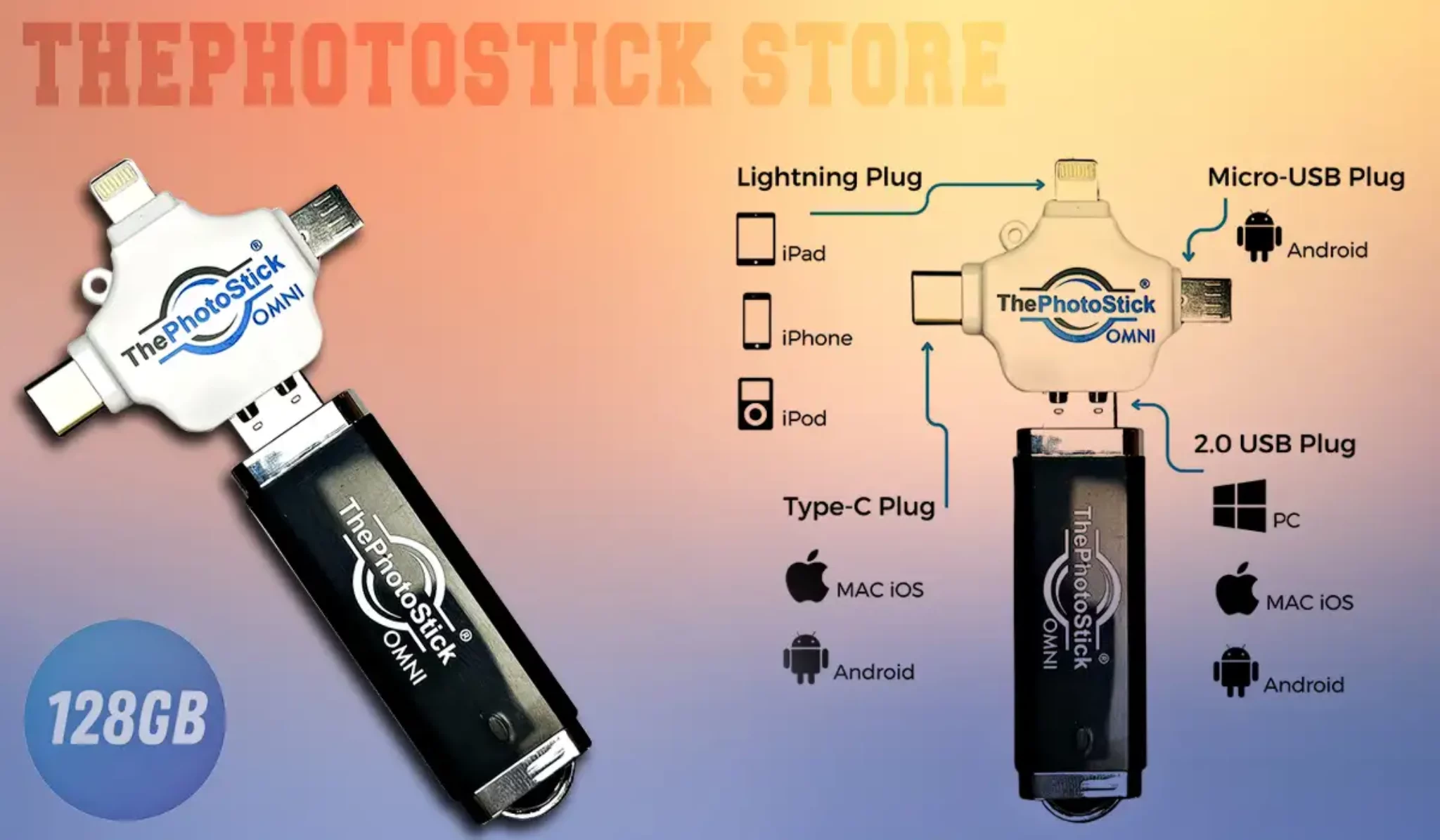 SPECIFICATIONS:
| | |
| --- | --- |
| Memory Storage Capacity:- | 128 GB |
| Hardware Interface:- | USB |
| Write Speed:- | Laptops, Computers, Smartphones |
| Special Feature:- | Plug and Play |
| Color:- | Multicolor |
ThePhotoStick SPECIFICATIONS
Pros
Intuitive backup software
Works on all devices
No subscription or monthly fees
Stores 100+ various files
Never delete photos from your device
Cons
May not transfer some pictures
This lightning flash drive for iPhones and iPads stands out because it ensures no memory is missed. It finds and sorts from thousands of your favorite photos and videos. Subsequently, it removes duplicates from the USB to save space. It has a specialized adapter compatible with all leading desktop computers, laptops, smartphones, and tablets.
In addition to photos and videos, the drive can also sort and store your documents, music files, voice memos, and 100+ file formats. Subsequently, it automatically organizes them for you on the stick. Its 128 GB storage capacity lets you back up more than 51,000 photos and videos—no need to sign up for expensive storage subscriptions.
10. Lexar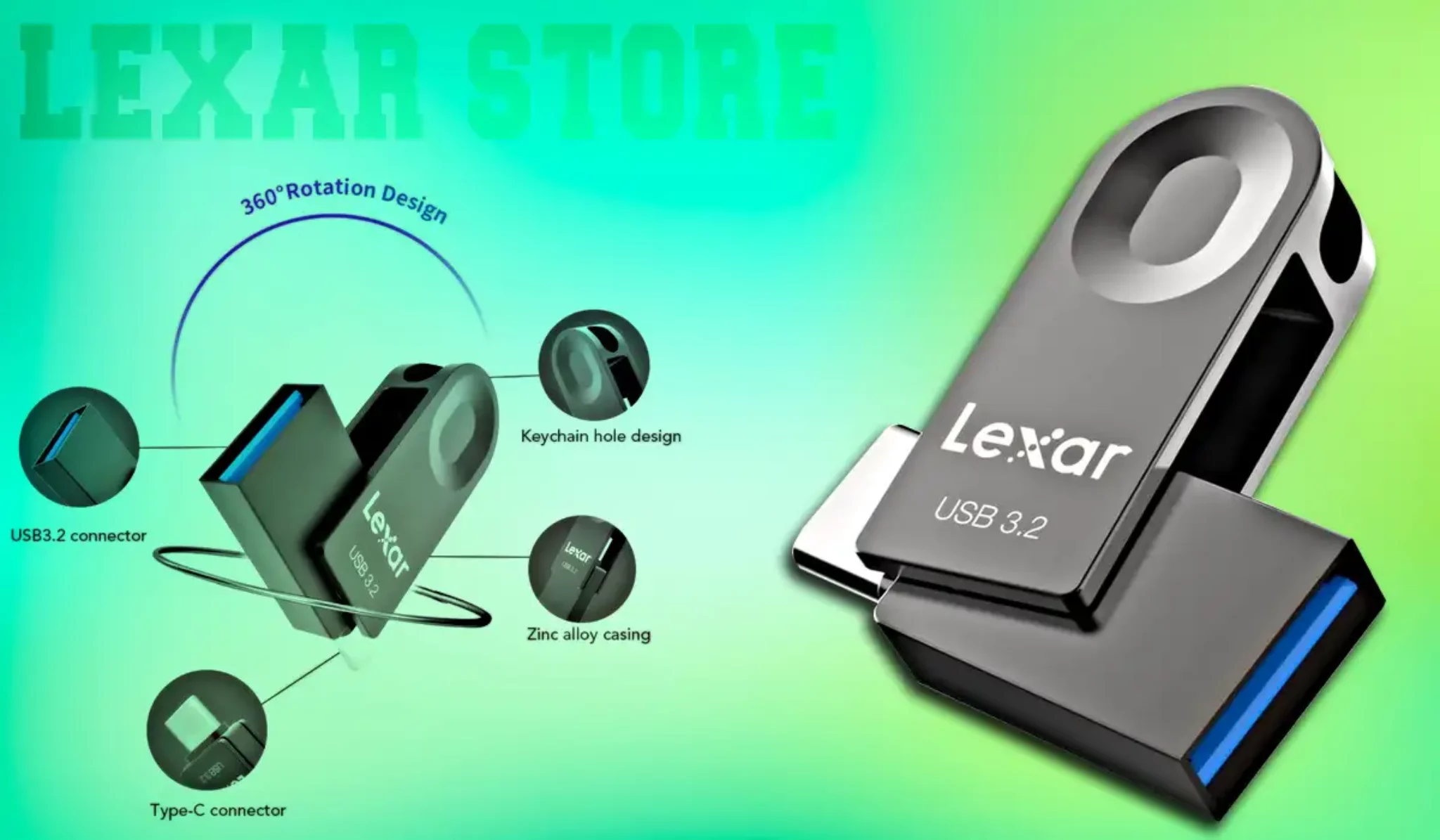 SPECIFICATIONS:
| | |
| --- | --- |
| Memory Storage Capacity:- | 128 GB |
| Hardware Interface:- | USB 3.0 |
| Write Speed:- | 30 MB/s |
| Special Feature:- | Temperature-proof, Shockproof, waterproof |
| Color:- | Grey |
Lexar SPECIFICATIONS
Pros
Safe and reliable
Plug and Play interface
Portable design
Rugged metal casing for durability
High-speed transmission performance
Cons
Needs care during transportation
Experience fast files/data transfer with this Lexar's USB flash drive with iPad. Its read speed of up to 100 MB/s benefits you with quick data transfer to save you time. Its USB Type-C connector allows this USB stick to free up the storage of your Android tablets, smartphones, computers, and other mobile devices with OTG or USB Type-C features.
Its design boasts a small and seamless outlook with rugged metal zinc alloy casting. The portable yet durable design keeps your data safe in a compact structure. Reversible USB 3.2 Gen and USB C interfaces help you easily handle various situations when your device is subjected to outdoor conditions. You can easily hold or accommodate this drive while you are outdoors.
Getting rid of insufficient storage spaces, slow transfer speed, and unreliable backup is possible. You need to invest in a flash drive for your iPad that works as a pen drive. These flash drives are renowned for their massive storage capacity that helps you safely store all your vital information and documents. Most of them are designed to be lightweight and portable to be your best travel companion. Moreover, they are compatible with various devices and operating systems, suggesting versatility. Read the article above to smartly and easily pick the best ios flash drive for iPhone.
Frequently Asked Questions:
1. Is it possible to transfer data from my iPad to my pen drive?
You can transfer files from iPad/iPhone to USB stick through iCloud. First, you can use iCloud to transfer data from your device (iPhone/iPad) to the USB stick. Now iCloud backs up your photos, contacts, calendars, email, and more. Hence, with the ability to work as a USB C pendrive for iPad, you can sync your iPhone's or iPad's content to iCloud and subsequently download it from the iCloud cloud to your USB stick.
2. Is 64 GB enough for an iPad?
A 64GB iPad is sufficient for lightweight gaming, Internet browsing, storing images, videos, etc. You will need at least 128 GB/256 GB for storage-intensive activities like playing graphic-intensive games, editing photos and videos, etc.
If you are a casual gamer willing to play online games that aren't graphic-intensive, then 64 GB may be adequate. However, if you are a hard-core gamer and want to play graphic-intensive games, then 64 GB is quite insufficient for you. Note that 64 GB space for iPad is sufficient for drawing if you don't use demanding applications like Adobe Illustrator, Procreate, and Fresco.
3. How do I transfer Files from iPad to flash drive?
If you want to transfer files from iPad to a flash drive but don't have do not have access to a PC, then you can follow the below steps. Make sure your iPad runs on iPadOS 13 and later.
Step-1: Firstly, connect your flash drive to an iPad.
Step-2: Open the Photos app to choose the photos you wish to transfer to a USB stick.
Step-3: Tap the Share button and tap Save to Files.
Step-4: Select your USB stick and select a folder to save photos.
Windows users can benefit from Windows Explorer to transfer present Camera Roll photos from iPad to a USB flash drive. Follow these steps:
Step-1: Connect your iPad and USB flash drive.
Step-2: Open This PC or Computer and then double-click your iPad.
Step-3: Open Internal Storage and then open the DCIM folder. It will show all your photos saved in the Camera Roll.
Step-4: Copy and paste the photos to your USB flash drive.
Mac and Windows 10 users can use the Photos app to transfer pictures from iPad to a flash drive.
4. Are flash drives good for backing up data long term?
USB flash drives offer excellent reliability if they are properly stored. Note that USB drives and memory cards are not designed for long-term backup. You must always back up your data first onto another device. The corresponding data usually remains valid for up to 10 years if stored under standard conditions.
USB flash drives are popular for backup since they are cost-effective, portable, versatile, easy to customize, withstand wear and tear, and don't need an Internet connection.