🗓️
December 4, 2023
By ✍️
Jaysukh patel
With the increasing popularity of streaming services, having a reliable music-downloading app is essential for enjoying your favorite tunes offline. Fortunately, there are several fantastic options available that cater to the needs of iPhone users. These apps provide an extensive library of songs, convenient downloading features, and user-friendly interfaces. Whether you're a fan of chart-topping hits, indie music, or underground artists, these free offline music download apps for iPhone offer diverse genres to suit every musical taste. Say goodbye to buffering and internet connectivity issues, and start building your personalized music collection on your iPhone with these top-rated free music-downloading apps. 
In this article, we have made the list of Best Free Apps to Download music on iPhone that are amazing and must try.
Best Free Offline Music Apps for iPhone
1. Spotify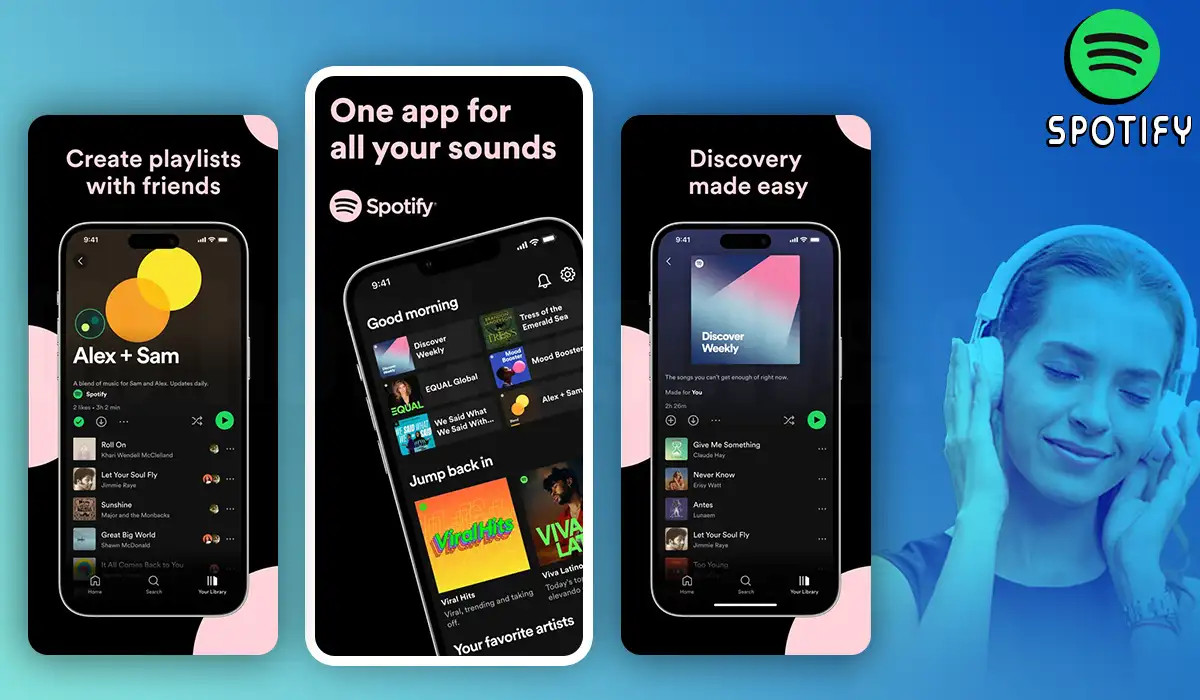 Discover a world of Music Playlists and podcasts with the Spotify app. With the Spotify app, you can quickly find exactly what you want by searching for lyrics or favorite artists. It has breathtaking sound quality across all devices for the best experience. Create and share your personalized playlists or dive into handcrafted mixes just for you. You can also explore top songs from various genres, countries, or decades. You can also sync your music with Netflix shows and hear an episode of your favorite podcasts. With Spotify, music and podcasts are accessible anytime, anywhere, on any device.
Pros of using Spotify:
Allows to bookmark favorite podcasts
Create and share playlists
Easy search by artists and lyrics
Price = Free & In-App Purchase ($3.99 – $12.99)
2. Pandora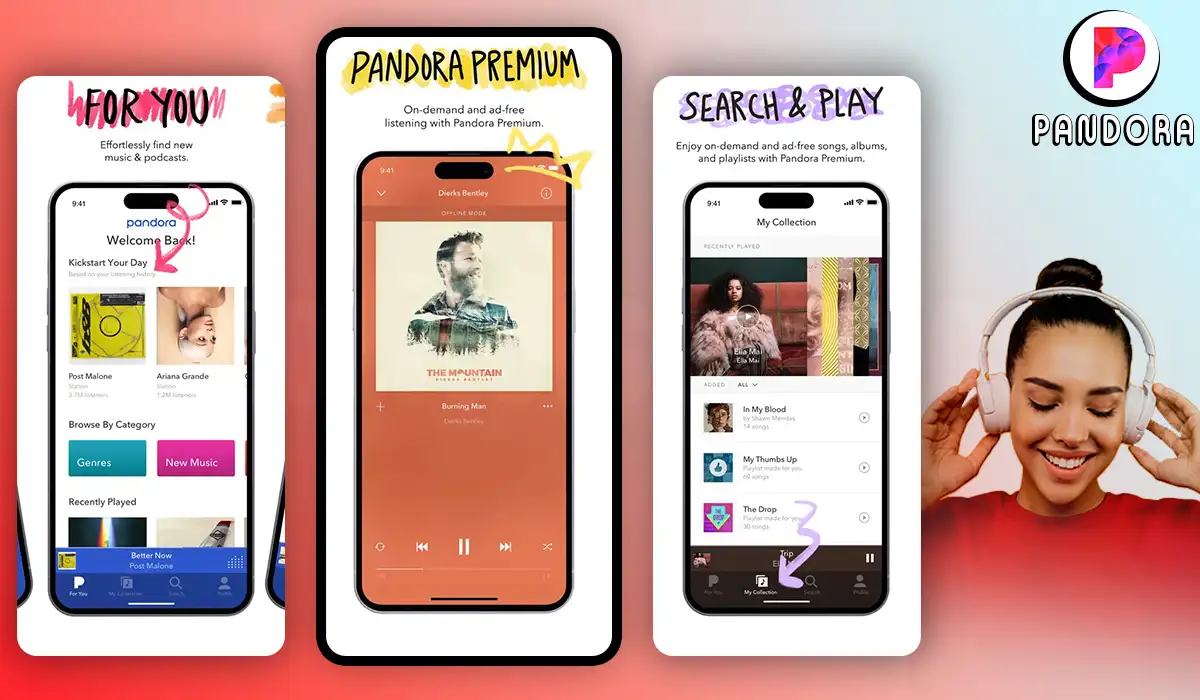 Pandora is the ultimate music discovery platform that allows you to create personalized stations from your favorite songs, artists, or genres. Dive into a world of podcasts that resonate with you, offering thought-provoking content. This app lets you stay updated with the latest singles and releases spanning rap, pop, rock, country, and more. You can use Pandora on the go with CarPlay, enjoying a personalized music and podcast experience wherever you are. Utilize the new voice mode to control playback with simple voice commands. It allows you to add your favorite podcasts to your collection, with over 1,400 options available. Start your free streaming journey today.
Pros of using Pandora:
Free streaming from a wide range of options
Easily connect with Carplay
Create personalized podcasts
Price = Free & In-App Purchase ($3.99 – $12.99)
3. Amazon Music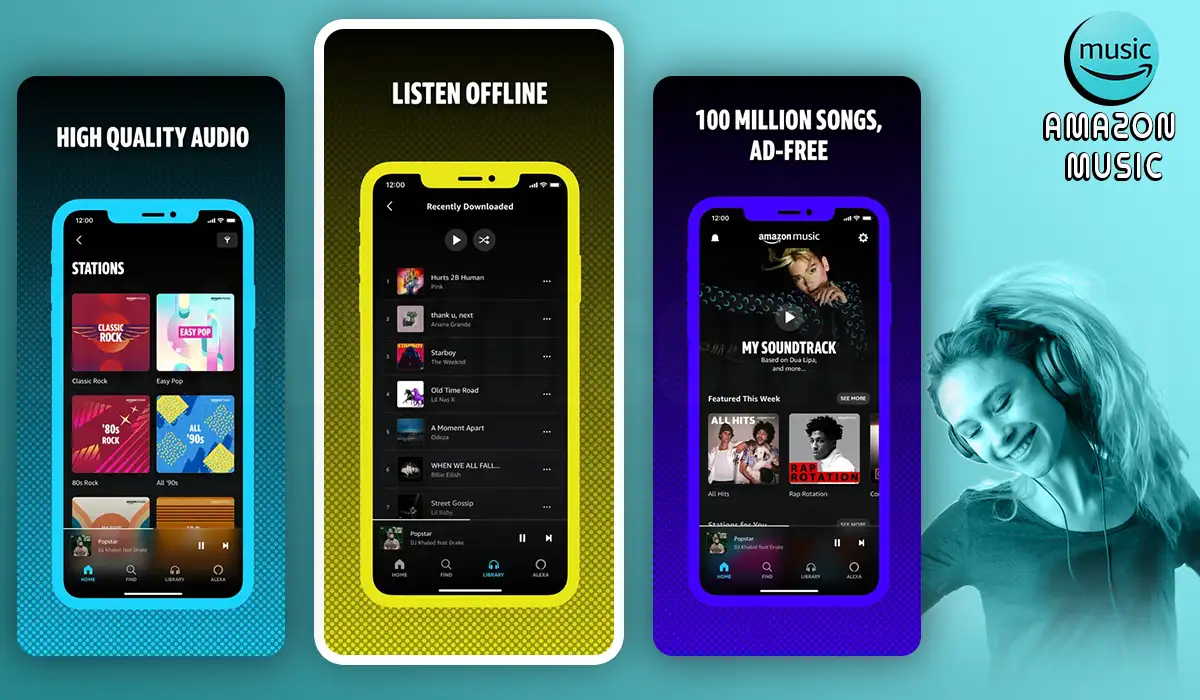 Welcome to Amazon Music, where music and podcasts come alive. Now you can enjoy ad-free music with your Prime membership and the largest catalog of top podcasts. You can easily find new music and podcasts tailored to your preferences. This app has great features, including Shuffle Play for any artist, album, playlist, and much more. Upgrade to Amazon Music Unlimited for unlimited access to 100 million songs, ad-free playback, offline listening, unlimited skips, and the immersive world of spatial audio. Don't have a credit card? No worries! Enjoy free streaming music with thousands of stations, top playlists, and millions of podcast episodes. You can also use Amazon Music on your Apple Watch to stream music directly with playback control.
Pros of using Amazon Music:
Access to the largest podcasts
Also used in the Apple Watch
Enjoy streaming and shuffling stations
Price = Free & In-App Purchase ($11.99)
4. Audiomack
Audiomack is the one-stop destination for music enthusiasts. It enables you to download your favorite songs for offline listening, save your data, and enjoy the hottest tracks wherever you are without wifi. You can explore beyond mixtapes and delve into podcasts, playlists, and songs from your beloved artists. With this app, you can discover curated playlists that match any mood, whether you want to turn up with Hometown Heroes or unwind with a Curator Spotlight mix. It also offers a diverse range of genres, including hip-hop, rap, EDM, Latin, R&B, and many more.
Pros of using Audiomack:
Save data with offline play
Stream the latest trending music
Wide range of music available
Price = Free & In-App Purchase ($0.99- $24.99)
5. YouTube Music
Welcome to YouTube Music, where a world of music awaits you. You can explore over 100 million official songs, including live performances, covers, remixes, and exclusive content you won't find elsewhere. It also offers curated playlists across various genres and activities tailored to individuals' preferences. You can also create playlists with song suggestions or collaborate with fellow music fans. Organize your library with ease, including liked songs, playlists, and subscribed artists. It also allows seamless integration with Google Maps, Waze, Google Assistant, and more.
Pros of using YouTube Music:
Offers curated playlists according to personal taste
Organize music library
Google map integration and much more
Price = Free & In-App Purchase ($12.99- $29.99)
6. Apple Music
Apple Music library ends your search if you are looking for free offline music apps for iPhone. It offers millions of songs with real-time lyrics, and you can easily share your favorite moments with friends through Messages. You can find your favorite songs with the help of Siri based on artists, moods, or genres, and even searching by lyrics. The app also supports real-time listening with friends using SharePlay. You can also download your favorite music and listen it offline , create and share playlists, and discover personalized recommendations in Listen Now. Moreover, you can also hear exclusive interviews, live performances, and radio shows by legendary artists. It also allows integration with Apple Watch, CarPlay, and more for a truly immersive music experience.
Pros of using Apple Music:
Use Siri to find your favorite songs
Download and listen to music offline
Integration with apple watch and car play
Price = Free
7. SoundCloud
SoundCloud is a free music download app for iPhone with over 300 million tracks from 30 million artists spanning 193 countries. Here you can discover new music tailored to your tastes through curated mixes and playlists. You can also connect with your music community, share tracks, reach a global audience, and engage directly with favorite artists and fans. It allows to showcase talent by uploading tracks and tapping into a vast global fanbase. You can enjoy SoundCloud for free or upgrade to SoundCloud Go or SoundCloud Go+ for ad-free listening, offline playback, and additional premium features.
Pros of using SoundCloud:
Allows to connect music community
Share talent on the online platform
Vast range of music tracks
Price = Free & In-App Purchase ($5.99- $16.99)
8. TIDAL Music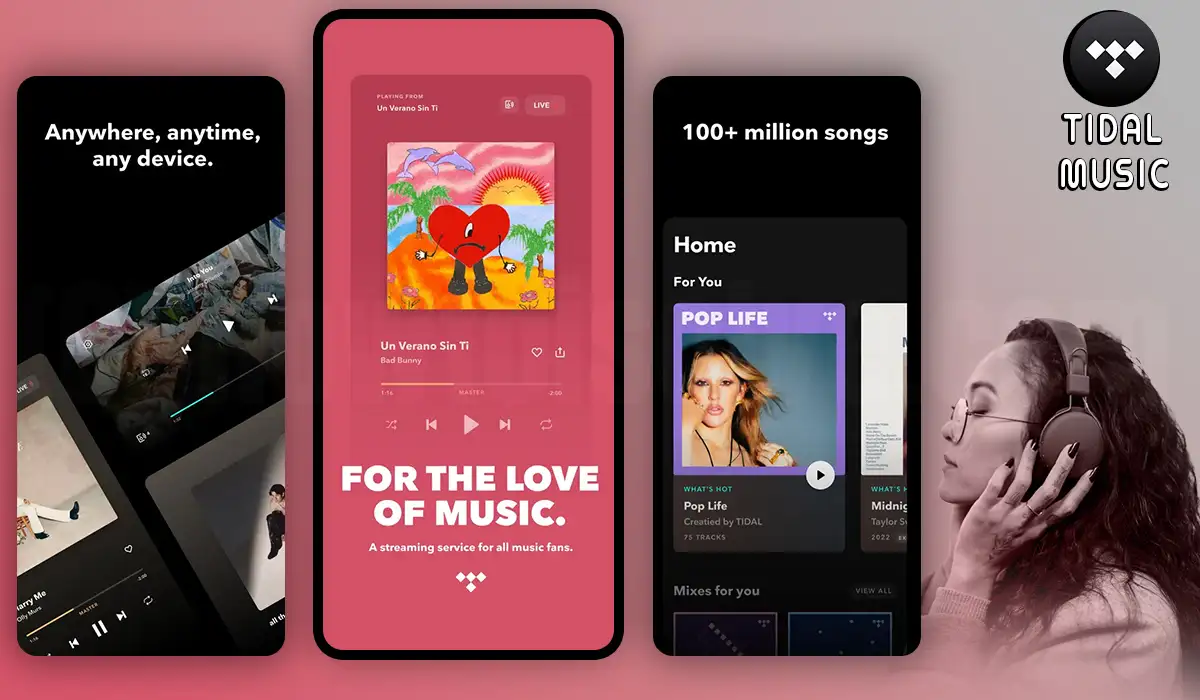 TIDAL is your go-to app if you are looking for a music download app free mp3 iPhone where you can indulge in the music you love and explore new tracks within a vast library of millions of songs and videos. Discover handcrafted playlists from both TIDAL editors and fellow fans. You can try TIDAL free for 30 days and select from various plans, including HiFi, HiFi Plus, family, and more. HiFi and HiFi Plus plans offer unparalleled sound quality up to 1411 kbps (lossless) and up to 9216 kbps, Dolby Atmos, and Reality 360 Audio for an immersive experience. Enjoy ad-free listening, unlimited skips, personalized playlists, offline mode, and the ability to track and share your streaming activity. It has almost collection of over 450,000 music videos and live streams featuring exclusive behind-the-scenes footage and documentaries.
Pros of using TIDAL music:
Offers 30 days free trial
Amazing sound quality
Supports offline mode and sharing music
Price = Free & In-App Purchase ($12.99- $39.99)
9. Music ‣ Play Unlimited Music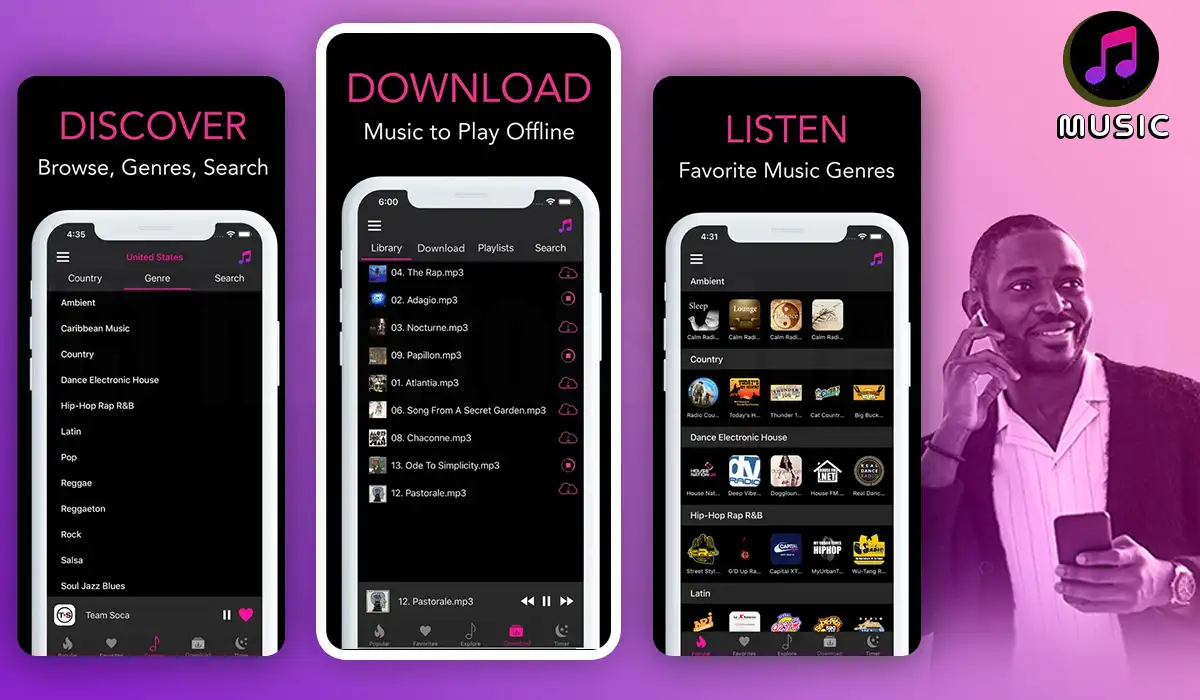 MusiC is the best offline music apps free ios which allows you to discover a world of music with a vast collection of live radio station broadcasts. It offers different cultures and genres, such as Pop, Rock, Hip Hop, Latin, Country, and Relax, all at your fingertips. With music, you can download your favorite tracks directly from Dropbox and enjoy them offline without needing an internet connection. It also allows playing music in the background or lock mode, allowing you to multitask while enjoying your favorite tunes. You can easily browse, search, and add your preferred music stations to your favorites, making them easily accessible whenever you want. The app supports various audio formats, including .mp3, .wav, .aif, .vbr, and .acc, and has a sleep timer feature to set a specific time for the music to automatically stop playing.
Pros of using MusiC:
Search and add preferred music stations
Supports multiple audio formats
It has a sleep timer and lock mode feature
Price = Free & In-App Purchase ($4.99- $49.99)
10. Deezer
Experience personalized mixes that always deliver on-point recommendations, ensuring a tailor-made music journey. It has an amazing SongCatcher feature that identifies any song playing around you, even if you sing or hum it. You can also Challenge yourself with the music quiz game and test how fast you can guess your favorite songs. Explore music based on moods, niche genres, and scenes, giving you the freedom to curate your perfect sound. It allows you to create personal and collaborative playlists, discover new artists on the radio, and more. You can use the sleep timer function and share your favorite music online and with friends. If you wish to have an ad-free experience, offline listening, unlimited skips, and unlimited listening, then upgrade to premium for more amazing features.
Pros of using Deezer:
Interesting music quiz and challenge
Sleep timer and unlimited listening
Create personal music lists
Price = Free & In-App Purchase ($5.49- $20.99)
11. Music Video Player Offline MP3
Music Video Player Offline MP3 is the best MP3 music Downloader free iPhone that allows you to enjoy unlimited free music for an unlimited time, with no restrictions on skips. You don't need to have any accounts or subscriptions, and no purchases are necessary. The app allows you to discover a vast library of over 200 million songs through YouTube streaming. It has vast features such as Multitasking with picture-in-picture mode, repeat and shuffle, AI recommendations, and much more. You can also import your own from YouTube and utilize the smart search feature to find your favorite album. It has a 10-band equalizer and presets to Customise your audio experience with control playback speed and Bluetooth headsets. Choose the ad-free option for uninterrupted music enjoyment.
Pros of using Music Video Player Offline MP3:
Supports picture-in-picture mode, repeat, and shuffle
Get AI recommendations for music
Battery saver and other preset options or customization
Price = Free & In-App Purchase ($3.99- $39.99)
Frequently Asked Questions (FAQ)
Are Apple Music songs free?
Apple Music offers a huge library of songs, but it is not completely free. While there is a limited selection of songs available for free streaming, access to the full catalog and offline downloads requires a paid subscription. However, Apple Music does offer a free trial period for new users to explore its features.
Is it illegal to download music for free?
Downloading music for free without proper authorization from the copyright holder is generally considered illegal and a violation of copyright laws. It is crucial to respect intellectual property rights and support artists by obtaining music through legal channels, such as purchasing from authorized platforms or streaming services that offer licensed content.
What free music app has the best quality?
When it comes to the free song download app iPhone with excellent audio quality, Spotify stands out as a top choice. While the free version includes ads and limitations, it still offers high-quality streaming at 160 kbps. However, premium subscriptions, like Spotify Premium, provide even better audio quality, up to 320 kbps, for an enhanced listening experience.