Last Updated on Sep 14, 2023
Apple's iPhone is already loaded with high-end technology, but a slew of add-ons will take the device to the next level. There has never been greater variety in add-ons, from desk stands to power banks to gaming controllers. You'll rapidly wonder how you used your phone without them, just like you did with the greatest iPad accessories. We looked into the world of iPhone accessories to see what you can get for your phone.
Here's a rundown of the best iPhone 15 Accessories. Also, Check the Best Travel Accessories for iPhone.
Wireless Charging Battery Pack and Pad With 5 Options
Here's the alternate accessories for Battery Charging techniques that depend on your needs and budget. Along with best iPhone 14 Pro Max Battery Cases, We have other options,
1. MagSafe Battery Pack
The MagSafe Battery Pack's 1,460mAh capacity may appear little at first; it's just half the capacity of the iPhone 14 Pro Max's 4,323mAh battery and significantly less than the 5,000mAh external batteries available for a fourth of the price. However, the figures are once again deceptive.

Even the most ardent iPhone 14 users can get a full day of use from the Apple MagSafe Battery Pack. The MagSafe Battery Pack has a 7.6V potential. It's tough enough to get you through your everyday commute, and charging when you get home is simple.
2. Anker Wireless Charger
This is a fantastic offer from Anker, one of the most dependable names in the charging industry. The PowerWave Pad is a basic disc-shaped pad with a soft-touch matte surface on top and bottom for more grip, so your phone won't fall off, or the pad itself will wiggle about on the table. It's tiny, light, and energy-efficient, with a little LED on top to indicate that everything is in working order. A flashing blue light indicates the presence of a metal barrier. In contrast, a flashing green light indicates the presence of an incompatible cable or adapter, but steady blue indicates that all is okay.
The PowerWave Pad enables up to 10W wireless charging with compatible devices, making it one of the fastest versions available. The only drawback is that you'll need to bring your quick-charge power adaptor to connect it to the wall for the best performance.
Best Battery Cases for iPhone 14 Pro Max,
3. Belkin MagSafe Car Vent Mount
This is the ideal option for driving with your iPhone series. It's simple to put up and operate; your iPhone will adjust in position! While driving, this is ideal for hands-free communications, navigation, and music management. Whether you're taller or shorter, the adjustable mount may be adjusted to whatever angle or position you need to drive and utilize your iPhone securely. Just remember to be nice!
The Belkin MagSafe Car Vent magnets will detach with a vigorous shove, but you can always snap them back together in a flash. It's also worth noting that the Belkin mount can be adjusted. You can adjust it up and down and side to side because it employs a ball joint. The mount's whole front may also be moved sideways to make it simpler to utilize in horizontal mode. This purchase makes you comfortable in Car, so that's essential Best iPhone 14 Pro Max Accessories.
4. UCOMX Nano Wireless 4 in One Charging Station
I always charge my gadgets overnight, so knowing that everything is charged before going to bed is essential. I used to wake up to a dead phone since my desk was a jumble of wires, phones, watches, and earphones.
UCOMX Nano is a foldable 3-in-1 magnetic charging station for iPhone, Apple Watch, and AirPods. It is a fast wireless charging pad with an adapter and cable. There are a variety of placement supports for horizontal and vertical installation. It is a fast-charging wireless charger with multiple color options.
Select your favorite color suitable for various scenarios or devices. It is easy to power three devices at the same time. For example, charging your iPhone, AirPods, and Smart Watch, iPhone and Smart Watch takes the same time. It can easily be folded, perfect for men and women both. Buy this portable charging board to charge your apple devices quickly.
5. Wireless Charging Station For Home & Office Desk Compact
Are you fed up with several cords? MIROMTEC's wireless charging dock saves space on your desk or nightstand because it only requires one cable and a QC 3.0 adaptor (Option). Our charging station is appropriate for use at home or in the workplace and provides a truly wireless experience.
The green LED indicator light goes off automatically after 10 seconds, allowing you to work and sleep comfortably without worrying about too much light. Also, the charger's electrostatic-proof silicone coatings make it feel soft and easy to hold.
The MIROMTEC wireless charging station can concurrently charge your iPhone, Apple Watch, and AirPods. This wireless charger works with Qi-enabled phones, including the iPhone 13 series and older iPhone models and Airpods.
2: Anker Nano Charger USB-C Fast Charger Adapter
What comes in the iPhone 14 Pro max box » iPhone itself, USB-C Cable & Document. No Power Adapter. So we must need to buy.
In only a few years, USB-C phone chargers have shrunk in size and cost to the point where you can acquire an excellent, fast charger for less than $12. Anker's PowerPort III Nano, which can supply 20 watts of power through USB-C, is the best and most compact solution for sending the fastest possible charge to most phones.
The PowerPort III Nano is a tiny device. Its proportions are nearly comparable to those of the 5 W charger that Apple included with most iPhones for the previous decade, measuring 1.75 inches long, including the non-folding prongs, and only a little more than an inch broad height. It's less than half the size of Apple's 20 W charger, which is equivalent.
3: iPhone's car Accessories
iOttie Easy One Touch 5 Dashboard
If you're looking for a vehicle mount for your phone, the iOttie Easy One Touch 5 is a great option. It's tough, safe, and provides you with many options for how you use it. Furthermore, that small magnetic cable organizer is pretty useful. You should set the dashboard pad in the appropriate place the first time because it's semi-permanent and can't be reused. The One Touch 5's telescoping arm outperforms its predecessor.
It may be changed from 5-inches to 8-inches in length, with a 225-degree viewing angle. The One Touch 4 could only stretch 6.5 inches to put things in perspective. If necessary, the cradle knob may be adjusted to be changed and locked to landscape orientation.
4: Screen Protector
Spigen Tempered Glass Screen Protector
Two guards are included in the $12.99 price tag for the Glas.tR EX Fit series. It's compatible with all new iPhone models (Xs, Xr, and Xs Max) and may be quickly installed with the aid of the installation tray. Two Steinhall GLAS.tR EZ Fit screen protectors, cleaner, handbook, dust removal stickers, and a microfiber cloth are included in the Spigen GLAS.tR EZ Fit Screen Protector set. The screen protector has a surface hardness of 9H and an oleophobic layer to keep fingerprints and oils off the surface.
The GLAS.tR glass is made to accommodate phones while still giving room for whatever case you could use. This screen protector has a unique feature in that it comes with an easy installation tray, which should alleviate the frustration of placing a glass on the phone.
5: iPhone Cover
iPhone comes in various materials that protect your phone in various ways. The iPhone cover is extremely resistant to heat and dust, and its visual appeal. The following are some of the most frequent materials used in iPhone cases: The plastic iPhone cover is the most common and comes with your iPhone by default. This sort of iPhone case is strong and durable, making it suitable for various uses. The plastic case is the most cost-effective alternative if you're on a tight budget.
Best Silicone cases for iPhone 14 Pro Max
Best Wallet cases for iPhone 14 Pro Max
The best thing about leather cases is that they last a long time. Leather cases, unlike other materials, improve with usage. If you're prone to dropping your phone, leather covers are ideal for anti-slip protection because they're so sticky. Wooden phone cases are a good option if you want an environmentally friendly phone case. It is available in both genuine and imitation wood finishes. Wooden cases provide better protection and are less likely to become soiled.
Carbon fiber cases are ideal for people who want maximum protection. Although this material is more durable than steel, the casings are extremely light. Carbon fiber has a distinctive appearance and a gripping feel that stands out. A soft substance comprised of a blend of petroleum and silicone makes up the silicone casing. Many people believe that this substance is safer than plastic since it is soft and flexible. Silicone is inexpensive and comes in a variety of designs and colors. A battery case can let you charge your iPhone on the move if you're seeking a more practical cover. The battery cover extends the life of your phone's battery.
6: Telescope
Are you finding the cool things to do with iPhone 14 Pro max? Here are the Great accessories for iPhone 14 Pro Max.
With the GSkyer 600 X 90, you get an easy-to-use, decently powerful telescope that is an excellent beginner's pick. It is low-maintenance and has a short learning curve. The optics are nice, the build quality is adequate, and it includes all of the necessary attachments, including three eyepieces, one Barlow lens, and a smartphone adapter.
The materials keep it light enough to transport, it's simple to assemble, and the materials and finish are adequate but not exceptional. It falls somewhere in the center when compared to telescopes of similar aperture. It isn't the best, but it isn't the worst either. The Gskyer 600x90technical mm's specifications are very convenient for its category, which is 70mm-100mm refractors.
7: Plug-in Microphone, Wired Microphone
The Shure MV88 ($149.99) is an iOS-compatible handheld microphone. With numerous patterns and the flexibility to record as a stereo or cardioid mono mic, the MV88 is extremely flexible for a small, reasonably priced mic. Aside from the patterns, the ShurePlus Motiv app ups the ante by giving you complete control over DSP (digital signal processing).
In the right hands, the MV88 can capture some remarkable recordings, whether a rock concert from the public, a string quartet in a small space, foley, vocals for a song, or interviews for a news piece or podcast. Finally, the mic is capable and reasonably priced, and the software provides a straightforward recording platform that simplifies the process. The latency isn't ideal, but there are workarounds depending on your device and headphones, and it's not enough to overshadow the MV88's benefits.
8: Macro Camera & Wide Angle Lens
This kit was well-thought-out by Xenvo. While there are just two lenses, the clip-on light and well-designed accessories for storing and carrying components make it easy to use. The Trueview 0.45x wide-angle lens is ideal for landscapes and group shots with low distortion. To use the kit's Clarus 15x macro lens, detach the wide-angle lens and set it approximately half an inch from the subject.
The Xeno macro lens, mounted on a tiny tripod, recorded clear, minute details. With wide-angle and macro lenses, a lens clamp, a tiny rechargeable clip-on light, a USB cable, a quick-release lanyard, front and rear caps, a microfiber cleaning cloth, and a well-designed carrying bag with a karabiner, Xenvo put together an exceptional kit. Xeno's kit is a touch on the costly side compared to the others we've examined, but the lenses, lens caps, and lens attachment clamp are all quite well-made.
9: Best Thermal imager Camera & Seek Thermal Compact
Flir's One Pro is the company's most powerful phone-based infrared camera. The $ 400 price difference between the $ 200 FlirOne and the $ 300 FlirOne Pro LT is justified by the increased thermal resolution. The ability to monitor considerably higher temperatures is a beneficial feature for certain Extras but essential for others.
FlirOne's center-spot-only meter benefits greatly from the quantity of information provided on every photo, including several measurement choices for measuring the temperature anywhere on the image. As a result, it receives our editorial choice as the best consumer-level thermal imaging camera.
10: For Music
AirPods Pro 2
The AirPods Pro can't quite compete with the best-in-class true wireless noise-canceling headphones in terms of sound quality. Still, the user experience and unrivaled comfort make it a very strong contender in this area. Apple is equally at home on long-distance flights as it cruises around blocks, thanks to its exceptional noise-canceling performance and transparent mode, which feels nearly as natural as wearing non-insulated headphones. Apple designed a set of earbuds. For many people, the Pro model may be all they require. And we can only anticipate the future Pro 2 to support this claim even more.
Volume Up & Down From AirPod's stem.
The Apple AirPods Pro is a tough, genuine wireless earphone with a premium design and superb noise cancellation. Their sound quality may not be as excellent as rivals' alternatives at comparable pricing, but it is much better than the Apple AirPods (2nd Gen) Truly Wireless.
It can also be smoothly linked with Apple devices thanks to the H2 chip. A carrying case is included with the latest model, which enables MagSafe wireless charging.
11: SD Card Reader for iPhone iPad
The plug-and-play SD card for iPhone comes with two different slots and supports SD, SDHC, SDXC, micro SD, micro SDHC, and micro SDXC cards. The Oyuiasle SD card reader allows you to quickly transfer 4K videos and RAW photos without installing a third-party app. It has a transmission rate of 20Mbps to 30Mbps, which is great.
It contains a dedicated USB-C charging port in addition to data transfer. While transferring photographs and movies, you can also charge your iPhone and iPad.
12: For Photography & Camera Accessories
Camera Lens Protector
The lens shield for the camera is only one size available: 7 inches. The aluminum alloy edge cover enhances the camera's look and gives a higher level of protection than other plastics. It is not compatible with the iPhone 14 Pro.
This lens protector protects your lens from daily scratches and dust while not affecting your image's quality. It's a 99 percent optically clear HD screen protector with a smooth glass surface and "True Touch" experience. It keeps the visuals' brightness and colors intact and the display's clarity. Precision laser cutting technique to completely cover the screen of your iPhone 14 Pro Max Camera.
Extendable Tripod Stand with LED Circle light
The SUMCOO Dimmable Beauty USB Ring Light comes with everything you'll need to get started lighting up your video chats, steams, and social media posts. While it isn't the brightest light in our collection, its lightweight frame, flexible design, and compact footprint allow it to be placed closer to the subject for more attractive effects.
The light has ten brightness settings that may be adjusted by the user, as well as three color temperature presets that can be used to match ambient illumination. The stand can be adjusted to fit your needs, and even a flexible smartphone mount is provided. The light is powered by USB, so you can use it with your computer's USB port, a USB mains converter, or a USB power bank for mobile lighting when out and about.
Selfie Desktop Live Stand
The light of the Viozon Selfie Desktop Live Stand Set 6-in-1 comes from a USB Power Supply. Brightness and color tone may both be adjusted. Color tones in three stages (3500k-5500k): Ring light has a Cool/Nature/Warm 1/4 universal threaded interface; universal microphone stand has a 3/8 universal threaded interface and can be adjusted at any angle.
It can flexibly switch between various recording devices, including iPhones, perform a multi-screen operation, maintain the desktop neatly, ease shoulder and neck discomfort, and boost productivity. The product has a basic and attractive design. The primary body is built of a sturdy and long-lasting aluminum alloy. The C clamp design is ideal for desktops with a thickness of 0.6 to 2.36″ and a hole diameter of 2.76″.
13: Gaming Controler
Razer Kishi Mobile Game Controller / Gamepad for iPhone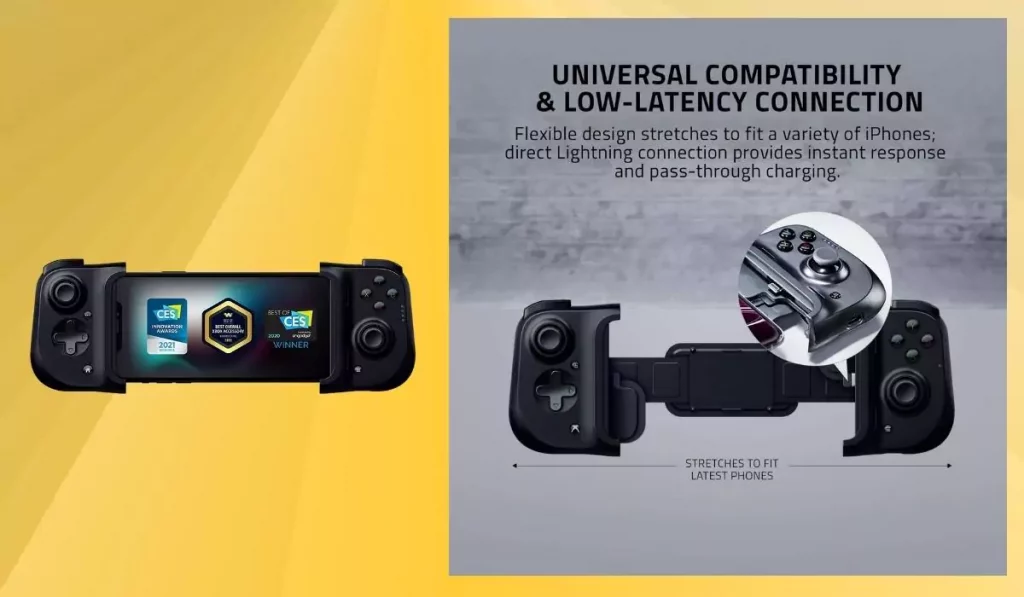 The Razer Kishi iPhone Gaming Controler is a terrific option if you've been envious of gaming phones and their specialized controller attachments but couldn't justify purchasing one as your primary smartphone. It's one of the best phone gaming peripherals we've seen in a long time, and its plug-and-play simplicity is fantastic.
This iPhone controller is designed for a very long duration of gaming sessions and can be stretched and clamped on most iPhones with a Lightning connector, ensuring a firm grasp that won't come away during gameplay. You'll discover a pair of rubberized pockets on the inner edge of both sides of the controller that will hold your phone in place while the elastic band stops it from falling out.
It works with prominent cloud gaming services like as Xbox Game Pass Ultimate, Stadia, Amazon Luna, GeForce NOW, and Steam Link, as well as hundreds of famous mobile games such as Call of Duty Mobile (iPhone only), Fortnite, Minecraft, Genshin Impact, Brawlhalla, Asphalt 9, and many others.
Also, check the Best iPhone 14 Pro accessories.
Cool iPhone 14 Pro Max Accessories
We are updating this list with new upcoming Best iPhone 14 accessories. Stay connected with us for more updates.