Last Updated on Jun 30, 2022
Why are my Calendar reminders on my iPhone not working? Apple's iOS device comes with a built-in calendar app that provides a lot of essential features so beneficial for all. The Calendar app has options to add and set birthday, add Anniversary, Events, and All- day events reminders, besides, you can also sync other third-party apps with the available official Calendar app. there is an easy way to set up Calendar event and its alert, too.
However, Sometimes numerous users encounter issues concern iPhone Calendar reminders not working. Since definitely, we know while the alert has not arrived at the right time on the iPhone screen, then the users will miss their event. So to fix an issue, we come here with potential answers, that would help you to resolve your painful iPhone Calendar notifications running iOS 15 or later problem. Sometimes OTA update arrives with the bug, and so that updating iOS via iTunes/Finder does solve a couple of problems.
You Should try these best Calendar Apps for iPhone.
All Possible Clues to fix iPhone Calendar Alerts Not Working: iPad, iPad Pro, iPod
Fix #1. Make Sure Calendar Alerts ton isn't None
You have to need the following given steps carefully to fix iPhone Calendar Alert not working.
Step 1. Go to Settings App on iPhone, iPad or iPod Touch.
Step 2. Find Sounds & Haptics. [Note: Don't look on the screen if you have iOS 11 or later phone]
Step 3. Now scroll down the screen Tap on Calendar Alerts.
If switch set None then please choose available other sound tones Or keep continues following Steps.
You can also choose Ringtones for your iPhone Calendar Alerts. Besides, on the bottom of the Calendar Alerts screen, you can see Classic tones, there are wonderful tons such as real Alarm, Bark, Belltower, Blues, Crickets, Doorbell, Duck, Robot, Sci-Fi, Timba and more.
Fix -2 Check out iPhone Calendar Notifications Settings
Please change the Notification Alert style and Sound too.
Step 1. Go to the Settings app on your iDevice home screen. More, you can also use Spotlight search to find Settings App quickly.
Step 2. Tap on Notifications.
Step 3. Hit on Calendar.
Step 4. Turn toggle Allow Notification ON/Green.
Step #5. Now you can see various sections on-screen including Upcoming Events, Invitations, invitee Responses, Shared Calendar Changes, and Event found in Mail.
Now, choose one of these to make a change such as Allow Notifications, Calendar Alerts style (on Lock Screen, Alert Show or hide in Notifications Center, Banners Style) Sounds (tap on Sounds and update Settings like vibration, Alert Tones, choose Ringtones as Calendar Alert), Enable Badges to show the number of Alerts on Calendar App icon on Phone or iPad's Home Screen.
You can see the last Section called Options: "Show Previews" (Choose: (Always Default) if you keep when locked then you get alert only your Phone locked screen, and if you go with never then you never get calendar alert preview). That's why I suggest choosing Always default option.
Here, you can see all toggles for Apple's Official iOS calendar app notifications settings.
Note: in case you are using a Phone with headphones at that moment your iPhone calendar notifications alert doesn't work while Bluetooth headphones are connected to the iPhone. So remove headphones and test again. Still, the problem persists then go to the next solution.
Fix #3. Change Default Alert Times
Open Settings App on iPhone/iPad > Scroll the screen Tap Calendars.
Tap Default Alert Time – Birthday, Events, All-Day Events
Set your Reminder Time Just before a Day, Birthday Reminder should be on Day, Event Reminder Just Before a day or Event Reminder you can set as of your need.
That's it.
For iOS 10 and earlier iOS users Settings > Mail, Contacts Calendar > Default Alert Time > Birthday, Events, All-Day Events.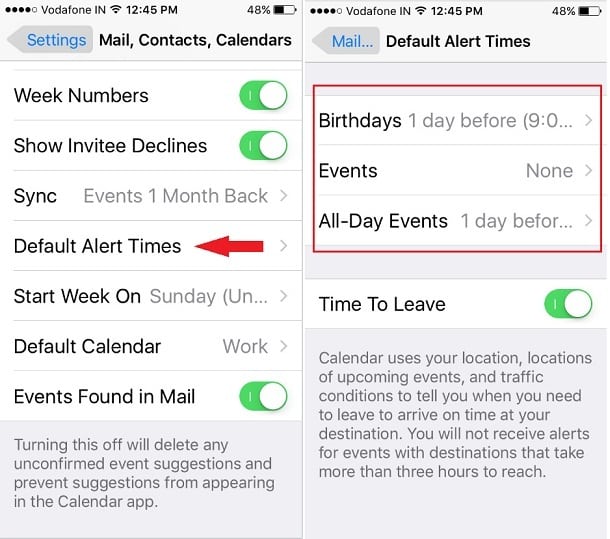 Verify that the switch of Alerts isn't None.
Fix 4. Adjust Correct Time Zone
Please, set up the current time zone where you are currently living.
''According to a piece of information on Apple Site, the iPhone calendar uses your location, locations of upcoming events, and traffic conditions to tell you when you need to leave to arrive on time at your destination. You will not receive alerts for events with destinations that take more than three hours to reach.''
Settings > Mail, Contacts Calendar > scroll down the screen until you see the Calendar label and tap on Time Zone Override > Turn Time Zone Override.
in advance, you should also set up a location-based alert for the calendar App.
Go to Settings App > Privacy > Location Services, then tap an app to turn Calendar alerts ON based on your location.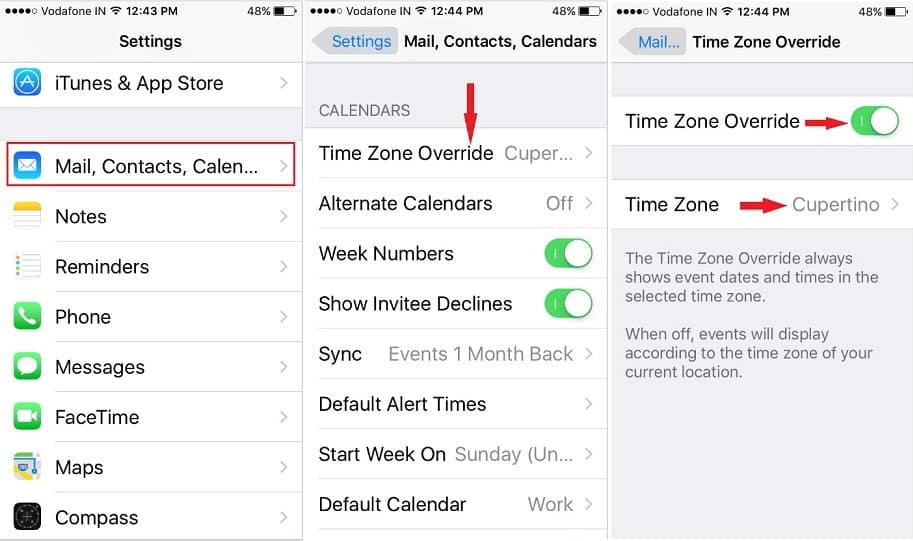 Fixes #5. Force Reboot Your iOS Device
Different iPhone modal has different way to force reboot devices; All iPhone users should follow the bottom given steps to force rebooting devices and get rid of the Phone calendar alert issue.
---
Method to force reboot For iPhone 11(Pro Max), XS Max, XS, XR, X, iPhone 8, and iPhone 8 Plus users
Press and quickly release the Volume up button, then press and promptly release the Volume down button and in the last press and hold on Side button until you appear Apple logo on the screen. After successfully shutdown the Phone, press and hold on the Side button again to Turn On your Phone back.
---
Method to force reboot iPhone 7 and iPhone 7 Plus users
Let's Press and hold on the Power button/ sleep-wake and Volume down button at the same time for 10 seconds and turn off your phone. To turn on the Phone press & hold on to the Power button again.
---
Method to force reboot iPhone 6S and previous iPhone model users
Just press and hold on to the Power button + Home button simultaneously for up to 8 seconds and solve your problem. Don't forget to press and hold the power button again to turn your iPhone On.
iPhone Calendar Second Alert Not Working 2022
Are you sure you've set up the Calendar Second Alert on iPhone? Keep note that the second alert on Calendar is only iCalendar specific feature, meaning it is only Apple's own Calendar feature.
Open the Settings App.
Tap on Calendar.
Select the Default Calendar.
Choose the On My iPhone calendar as your default.
iCloud and Google Calendar are the only calendars that support the second alert, whereas Outlook App doesn't support this feature.
How do I turn off second alert on iPhone Calendar?
Don't know how to disable the second alert on iPhone Calendar? Let's see how to do it.
Go to the Settings App.
Tap Notifications.
Select Messages App.
Find Repeat Alert and choose Never.
Why does my Calendar Keep Sending me Notifications iPhone?
The situation is even if you haven't set up the Calendar Alert or Event, but still the calendar keeps sending notifications on iPhone? There are a few things to check to get rid of spam calendar notifications on the iPhone.
Check for Random Calendar Subscription
Go to the Settings app.
Scroll down to the Calendar app and tap on it.
Under Other or Subscribed, look for any suspicious calendar, if there is any delete it.
Check for Email
Go to the Settings app on the iPhone.
Tap the Mail App.
Tap Accounts.
Delete the Email Account, if you haven't added it.
Check for Profiles
Open the Settings App.
Go to General.
Tap Profiles.
Look for a strange profile that you haven't added, and delete it.
iPhone shared calendar alerts not working
Enable Notifications for Calendar on iCloud.com
To get the Calendar Notifications on iPhone, your iCloud must be set up correctly. Here's how to do it.
Go to iCloud.com.
Click on the settings cog in the upper-left corner.
Select Preferences.
Look for the Advanced pane and from there choose In-app notifications and Save
Now we'll see a miscellaneous workaround to fix this problem.
First Check the Apple System Status and make sure Calendar, iCloud and Reminders are live and working.
Update all of your Apple devices, including iPhone, iPad, Mac, MacBook, or whatever you have.
Verify the Date and Time on all the devices.
Check Internet Connection.
iPhone Calendar Alerts not making sound
in case of your iPhone calendar alert sound not working, If your ringer or silent switch is turned on. however, your iPhone still not receiving any sound for your notifications alerts,
Please head to the bottom steps –
Open iOS Settings App
Tap Sounds & Haptics
Now Drag the 'Ringer And Alerts' slider all the way to the left, then let go of your finger.
Next, Drag the 'Ringer and Alerts slider back to the original position.
That's it.
Even you set up a reminder on iPhone Calendar but that doesn't ring, I hope all listed ways guide you to clear the iPhone Calendar Reminder not Working. For more information, you can read Apple's document Get the sweet and sober guide. And share your feedback on our site. Thanks in advance.
Last sort- You guy after attempting above all workarounds, none of the work in your case, then please take a fresh backup copy of your device and then restore like-new Phone. we know the process is a little long but hope this trick will give you a 100% positive result.
Anything help needs, please contact us! Please share your feedback in the comment box.