Apple's iOS device comes with a built-in calendar app that provides lot essential features so really useful for all. The Calendar app has options to add and set birthday, Events and All- day events reminder, in addition, you can also sync other third-party apps with the available official Calendar app. there is an easy way to setup Calendar event and its alert, too.
However, Sometimes numerous users encounter issue concern iPhone Calendar reminder not working. Since definitely, we know while alert has not arrived at the right time on iPhone screen, then the users will miss their event. So to fix an issue, we come here with potential answers, that would help you to resolve your painful iPhone Calendar notifications running iOS 11 or later issue.
you Should try these best Calendar Apps for iPhone in 2018.
All Possible Clues to fix iPhone Calendar Alerts not Working: iPad, iPad Pro, iPod
Fix #1. Make Sure Calendar Alerts ton isn't None
You have to need the follow given steps carefully to fix iPhone Calendar Alert not working.
Step 1. Go to Settings App on iPhone, iPad or iPod Touch.
Step 2. Find Sounds.
Step 3. Now scroll down the screen Tap on Calendar Alerts.
Step 4. Make sure that Calendar Alert Tones switch isn't None (Mute).
If switch set None then please choose available other sound tones Or keep continues following Steps.
You can also choose Ringtones to your iPhone Calendar Alerts. In addition, on the bottom of the Calendar Alerts screen, you can see Classic tones, there are wonder tons such as real Alarm, Bark, Belltower, Blues, Crickets, Doorbell, Duck, Robot, Sci-Fi, Timba and more.
Fix -2 Check out iPhone Calendar Notifications Settings
Please change Notification Alert style and Sound too.
Step 1. Go to the Settings app.
Step 2. Tap on Notifications.
Step 3. Hit on Calendar.
Here, you can see all toggles for Apple's Official iOS calendar app notifications settings.
If you are using headphone iPhone calendar reminder alert doesn't work while Bluetooth headphone connected to the iPhone.
Note:
Fix #3. Change Default Alert Time
For iOS 11 users– Launch Settings App – Scroll the screen Tap Calendars – Tap Default Alert Time – Birthday, Events, All-Day Events
For iOS 10 and earlier iOS users Settings >  Mail, Contacts Calendar > Default Alert Time > Birthday, Events, All-Day Events.
Verify that the switch of Alerts isn't None.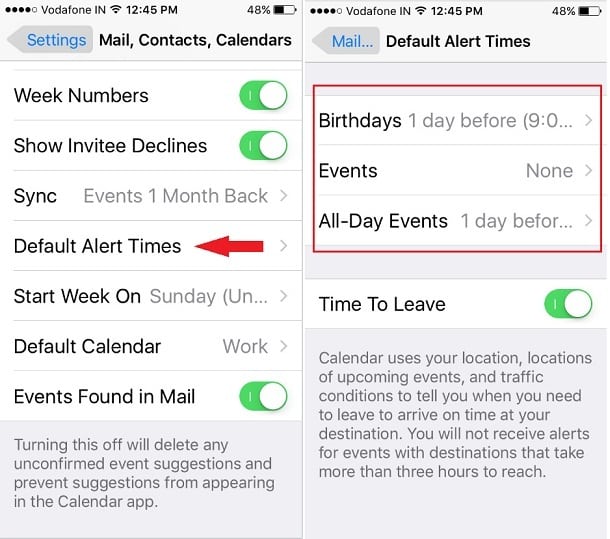 Fix 4. Adjust Correct Time Zone
Please, Setup current time zone where you currently living.
''According to an information on Apple Site, the iPhone calendar uses your location, locations of upcoming events, and traffic conditions to tell you when you need to leave to arrive on time at your destination. You will not receive alerts for events with destinations that takes more than three hours to reach.''
Settings >  Mail, Contacts Calendar > scroll down the screen until you see the Calendar label and tap on Time Zone Override > Turn Time Zone Override.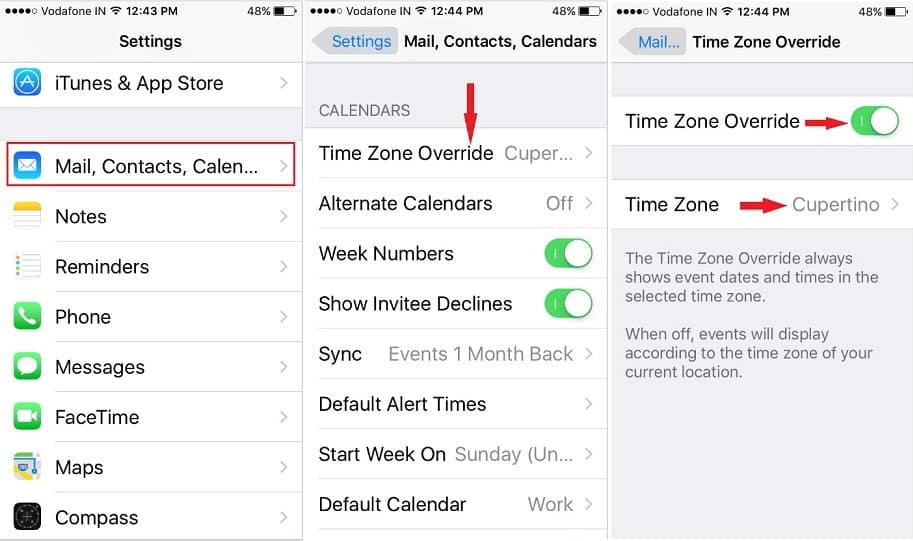 Even you setup reminder on iPhone Calendar but that doesn't ring, I hope above all listed ways guide you to clear iPhone Calendar Reminder not Working.
Please Share your feedback in the comment box. Awesome tip for iPhone X, iPhone 8 (Plus), iPhone 7 (Plus), iPhone 6S plus, iPhone 6 and earlier iPhone 5S/5, iPad Air, iPad Mini, iPad Pro, iPod.