Primarily why your iPhone Camera captures red eyes picture? The reason is mostly flash photography shoot a photo with the light of the flash and so occurs too fast for the pupil to close. Hence, very bright light from the iPhone flash passes into the through the eyes pupil.
Why Only Red color Eye picture? Why not any other color like blue, pink, white? There is a genuine fact that iPhone camera records reflected light and the red color is the ample amount of blood in the choroid which nourishes the back of the human, animal-like pet, cat, etc. eyes and is located behind the retina. Okay, here I can't describe in deep. Now head over on the following tutorial.
There are many Pro and Free Red Eye Remover Apps available in the Apps Store. But if you don't want to download any third-party Red-eye corrector to get rid of red eyes effect on iPhone, then you can apply my listed trick. In this method, you don't need to purchase any red- eyes correction App to remove red eye from Photos not online but Offline.
Here's Remove Red Eye from Photos on iPhone Using Photos app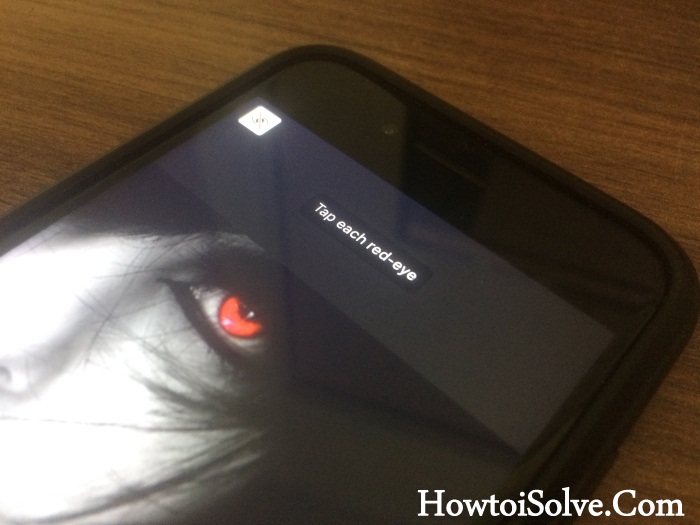 Step #1. Launch the Photos App on your iOS device.
Step #2. Open a picture that you want to edit and for reduction of red-eye.
Step #3. Tap on Edit button appears top-right corner.
Step #4. Choose an eye icon from the left-upper corner.
Step #5. Now, you have to tap on each red-eye to eliminate it. In the end, Tap on Done to save changes.
Note: if you have the picture with numbers of persons or animals and you would like to remove red-eye, then please follow step-5 until all red-eyes removed.
Similar post through you can also edit Live Photo red-eye easily.
If you get alert that you did not find a red-eye to correct, because of you might tapping on an incorrect portion of the picture. Therefore, whenever, red-eye correction won't work at that moment. You should tap on each eye pupil correctly without touching on an unrelated part.
How to Revert Red Eye picture to Original on iPhone
Open a Photo – Tap Edit – Tap on Revert appears lower-right corner- Tap on Revert to original.
So this is the Free Photo editing tip for all iPhone X, iPhone 8/8 Plus, iPhone 7/7 Plus, iPhone 6S/ 6S Plus/ iPhone SE/5S and iPad users.
Redeye correction tool is best for remove redeye of image and fixes it well using this tool. You can quickly remove the red-eye effect of your pet images too. As well some of having yellow shading eye due to this shade some time right capturing image become redeye effect.
Don't Miss out- Best Photo Editing Apps for iPhone
Share and like it so more people gain tips for fixed redeye image. Friend makes use of above steps and gets your positive image and let me know by writing comment how much use full for you fixed redeye image by iPhone, iPad using Photos app.