🗓️
January 19, 2023
By ✍️
Jaysukh patel
Striving to connect to Wi-Fi? Maybe your Mac is connected, but your iPhone is not; you need to share the password with your friend but end up with Forget WiFi Password! But we have tips to find it.
At this point, how to view saved Wi-Fi password on Mac? Is that the same question popping up in your mind? Then you came to the right spot. We will teach you to find a saved Wi-Fi password on Mac or MacBook from Mac Settings or Using Terminal, Keychain, and Router IP Address.
Useful: Free trick to Share App Password Using AirDrop on iPhone to Mac
Helpful: Import/Export your iCloud Keychain passwords on Mac using a Password manager.
Steps for Show Saved WiFi Password on Mac: All MacOS
Setting up a complex password enhances the security, on the other hand, the probability of forgetting it. Fortunately, there are different ways to see Wi-Fi password on Mac. Do follow this guide.
1st Way: Copy The Saved Password Using System Settings…
In the latest macOS(macOS Ventura And Later) you can directly copy the saved password from the System Settings…Older older macOS ignore this way as it's not available.
1→ Go to Apple Logo. Choose System Settings…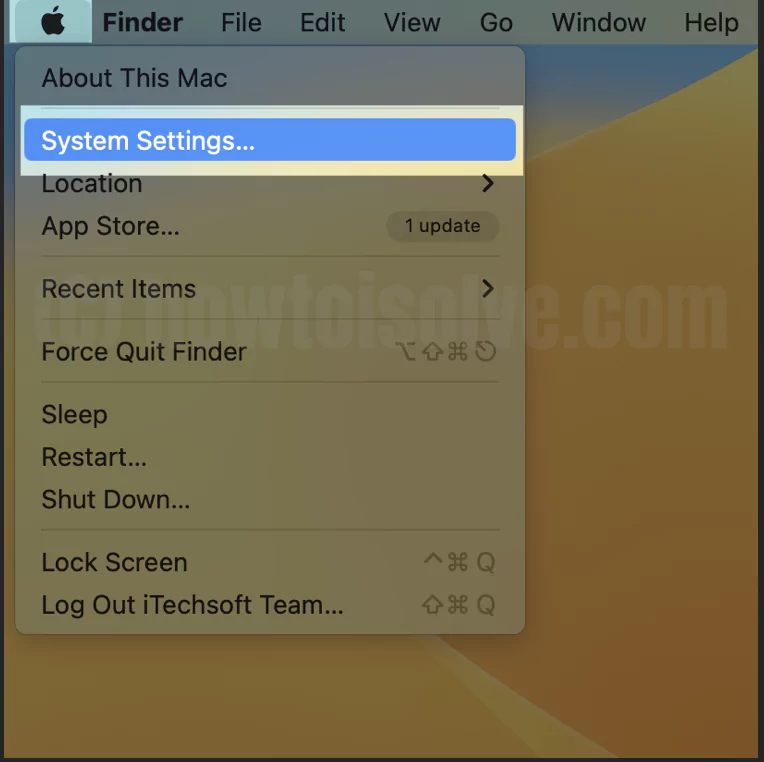 2→ From the left sidebar, click on Wi-Fi.
3→ Click on More Settings (Three Horizontal Dots In Circle) next to the Wi-Fi you are connected or Right Click on Known Networks' name. Now select Copy Password.
That's It!
2nd Way: Know Saved System Wi-Fi Password on Mac Using Keychain
Keychain access on Mac is the app that stores the password and account information. And best of all, it's one of the easiest ways to see Wi-Fi password on Mac. So here is what you need to do.
1→ Press Command + Space, and in the Spotlight, enter Keychain Access.
2→ Click on it, and select Password. Click on the System from the left Sidebar. In this window, enter the Wi-Fi name in the search field. 
You will see the result, click on the corresponding Wi-Fi Name(Tagged as System in Keychain Column).
3→ Select Show Password checkbox.
4→ Enter the Administrator Name And Password. Please follow the guide if you forget your Mac username and password. (Username will appear Under Apple Logo from the top Menu > Log Out "See Username" of your Mac or Type "Ly /Users" in terminal] Here's Full guide to know your Mac Username.)
5→ View your WiFi password saved on your Mac.
That's It!
3rd Way: How To Find A Wi-Fi Password With Terminal On Mac
The terminal is an advanced way to control the Mac operating system. And with it, you can see Wi-Fi passwords on Mac. 
There are different ways to open a terminal, but the most common is by pressing Command + Space and enter Terminal in the search field. Tap on Terminal.
In the Terminal, jot down the command security find-generic-password -ga "Wi-Fi name" | grep "password:" Replace "Wi-Fi Name" in command with an exact name of the network you want to see password. And press Return.
Now you will receive a pop-up; write Administrator Name And Password. After this Terminal window will show the saved Wi-Fi password on Mac.
---
4th Way: Find the Current Wi-Fi password using the Router IP address
Step 1, Find Router IP address on your Mac
Go to the Apple Logo Menu > System Preference > Internet & Wireless > Network Preference.
Next, Click on Advanced Button > TCP/IP.
Get the Router IP address, Should be different depends on your Router company.
Step 2, Open Router login on Mac or PC using Browser
Copy IP address and Enter in your Browser address bar (Use Safari, Chrome, or any other).
Enter username and Password Same: admin.
After login successfully, from right side pane, Tap on Wireless > Wireless Security
See the Wireless Password field and copy the password.
Now you can use this password to login to another device.
Bottom Line
This is how easily you can fiddle the Settings on Mac to find the Wi-Fi password. Do share with your friends who are struggling to find out the right way!
steps to get the current saved WiFi password from your Mac running on macOS Ventura, macOS Monterey, Big Sur, Catalina, macOS Mojave, macOS High Sierra, macOS Sierra, EI Capita, Mavericks, EI Capitan, and Yosemite.
If you like this and helpful, don't miss to share and join us more updates on Facebook, and Twitter.