Why facebook live not showing up? in case of you're experiencing facebook video icon missing on iPhone/ iPad and your friends or other facebook account showing live options. Don't be panic and fix it with below steps that I have experienced and enjoy live video where I didn't see the live icon.
Facebook live explored live video features in the USA first then with some limitations. Officially Android Users are now able to broadcast live video from android mobile/ Tablets.
we are happy to help you, submit this Form, if your solution is not covered in this article.
New features are really awesome that we can use from our Facebook iOS app. But some users missed facebook live video, so then turn on it, after troubleshooting below steps.
Are you verified Facebook users means, Actor, Journalist, musicians or public figures page? Yes, then you are able to use dedicated app behind Facebook live (Facebook Mentions) features more happily (Talk with Followers, Share beautifully, Tell Story and more).
Steps for Facebook Live Video on iPhone/ iPad
I am surprised; when I see the reply from facebook community team (Option is not available to some FB users). But I got solution instantly through below tips,
Use Facebook Live from Tools
Not available on your Facebook home screen, then Go with the new post, Find Live Video option. See my iPhone screen below,
After that, you can see the changed layout instantly, the live option on the Facebook home screen.
Login/ Logout
Open Facebook App,
Move to the Profile view, Scroll down to below and Tap on logout.
Logout your profile, Close App completely from Devices (From multitasking screens). Re-login your FB account on the same app. That's it, Look on screen and enjoy live video broadcasting.
Live video features/ Audio features
Change Viewers privacy: So, Share your live photo with your Friends, Publicly or only you.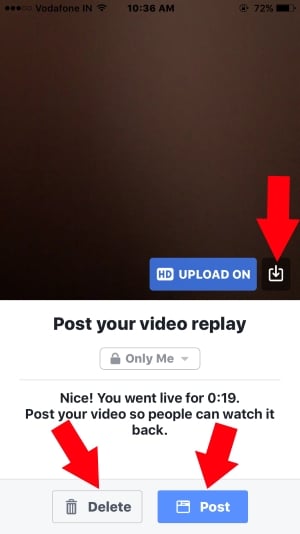 Delete after goes live, for later watch who missed your live event
Download video after stop live recording on iPhone/ iPad in the Camera app
Note: Total length of Facebook live video broadcasting is 30 minutes. More help and guidance on this topic share with me on the comment.
Jaysukh Patel is the founder of howtoisolve. Also self Professional Developer, Techno lover mainly for iPhone, iPad, iPod Touch and iOS, Jaysukh is one of responsible person in his family.
Contact On: [email protected] [OR] [email protected]