Last Updated on Apr 14, 2023
Why Facebook lives not showing up/ disappeared or Live button missing on the Facebook group? If you're experiencing a Facebook video icon missing on iPhone/ iPad and your friends or other Facebook account showing live options. Don't be panic and fix it with the below steps that I have experienced and enjoy the live video where I didn't see the live icon.
Facebook live explored live video features in the USA first, then with some limitations. Officially, Android users can now broadcast live video from android mobile/ Tablets.
New features are really awesome that we can use from our Facebook iOS app. But some users missed the Facebook live video, so they then turn it on after troubleshooting the below steps.
Have you verified Facebook user's means, actors, Journalists, musicians, or public figures page? Yes, then you can use a dedicated app behind Facebook live (Facebook Mentions) features more happily (Talk with Followers, Share beautifully, Tell Story, and more).
Steps for Facebook Live Video on iPhone/ iPad & Troubleshooting
I was surprised; when I saw the reply from the Facebook community team (Option is not available to some FB users). But I got a solution instantly through the below tips,
Where to Use Facebook Live From iPhone App
Facebook Live video option is available on your App in 2 Different ways. Just launch the app, and look at adding a new post to your profile. Then, tap on "+" Button at top right corner of the app UI. Select Live option Start live recording and connect with your friends as well.
Method 2: Not available on your Facebook home screen, then Go with the new post, Find Live Video option. Follow my troubleshooting on how to access or Get Facebook Live normally.
If you are looking for access to Live Option on Post, Then here is your option, Swipe up Using Expand Bar and Tap on Live Option, Given in the below image,
After that, you can see the changed layout instantly, the live option on the Facebook home screen.
Other Troubleshootings: FaceBook Live Not Working in App
Facebook Live streaming not working on iPhone in landscape mode
If you switch your FB app live stream in landscape mode, are you facing camera image stretches and distorts? Please I advise you to follow the bottom clues step-buddy-step, I'm sure this will fix the smartphone FB live stream not working issue 2022.
Force Close FaceBook app,
Force Close All other running Apps,
Restart your iPhone,
Update your Phone software,
Update Facebook App.
Uninstall and Re-install Facebook App
Contact FaceBook App Developer – user can report an issue to Facebook Developer – here's a complete guide on how to contact An App Developer quickly. So, I hope, Facebook will be fixed this issue very soon.
Suppose none of the solutions work for you, I recommended to you that try FaceBook Live on your Computer or via an alternate smartphone.
Logout and Re-Login FaceBook App
Open Facebook App,
Move to the Profile view (Ξ) More Option at Bottom Right Corner, Scroll down to below and Tap on logout.
Logout your profile, Close App completely from Devices (From multitasking screens). Re-login your FB account on the same app. That's it, Look on screen and enjoy live video broadcasting.
Live video features/ Audio features
Change Viewers privacy: So, Share your live photo with your Friends, Publicly or only you.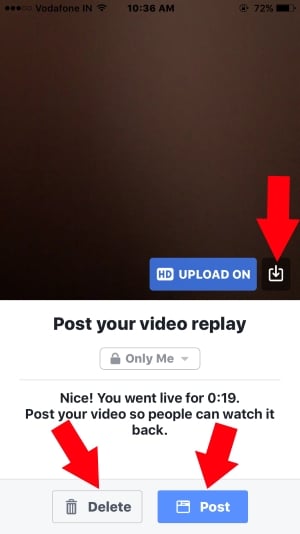 Delete after goes live, for later watch who missed your live event
Download video after stopping live recording on iPhone/ iPad in the Camera app
FaceBook Live Not Working on iPhone: Troubleshooting
Update Facebook App: Delete and Re-Install Facebook App
First, we have to check that installed FaceBook is Updated to the latest App Version. Sometimes outdated Apps create problems like unresponsive, Crashing, Freezing and Some of the App Functionality died automatically. To update the FaceBook app, Open App Store > Search FaceBook in App Search Box > Tap on the Update button. After Update the App, Force Close the old FaceBook App running on your iPhone background and Re-launch App after Update. If you have a problem overriding the Updated app, delete FaceBook App, Reinstall App From App Store. Long Press on FaceBook App from iPhone home screen > Tap on Delete app from Popup.
Enable Microphone, Camera Under the Privacy option
FaceBook Live Required Microphone and Camera access of your iPhone. If the restrictions are enabled for privacy reasons, you should enable them manually if the Facebook app doesn't ask to enable Camera, Microphone access while using Facebook Live for the First time.
Open the Settings app on iPhone > Privacy > Camera > Enable Toggle for Facebook.
That's it.
Enable Camera access on Screen Time Setting
Screen time restriction is advanced control for the apps that we are using on Our iOS, macOS devices. We want to allow Camera, Microphone access to Third-Party Apps from the screen time as well. Follow the below steps to Disable Screen Time restrictions for FaceBook live Camera.
Open the Settings app > Screen Time > Content & Privacy Restrictions > Allowed Apps > Enable Toggle for Camera.
That's it.
Reset All Settings
Reset All Settings is the most useful option to get out your iPhone from internal software glitches and incompatibility issues with the iOS. This option sets your All iPhone settings to the default value. This option will not erase the data types like Contacts, Messages, Photos, Videos, Email Account, and more. This option will reset the Bluetooth, WiFi settings, Assistive touch control, Control center customization. That we can do after Resetting the device.
Settings app on iPhone > Reset > Reset All Settings [Enter your iPhone passcode] > Your iPhone will reboot once and turn on again after the reset.
I hope you fixed after that. Don't miss to turn on WiFi or Celluar Data after resetting the device.
Check Internet Connectivity
Sometimes VPN and Unsecure WiFi connections creating to the problem of internet use. Some Companies blocked the Social connection. If you are using a Public or Private network, try FaceBook live using Your Personal WiFi or mobile data.
Try to search for something on google Safari browser or play an online video to check your network health.
Your Location Does Matter On Facebook App
Some Facebook services depend on your location and your account type, like Age restrictions as well. So make sure if you are comparing your account with your Friends or your family member. Some users are getting the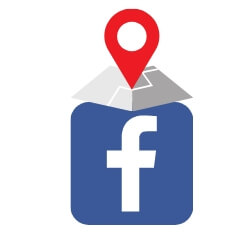 same issues on the Same iOS version, App Version, and Mobile device. But Specifically, you can't find the option for live Facebook on iPhone, iPad app. If you want to discuss this with the Facebook support team, then Get help from FaceBook from here. Double-check the location selected for your profile when you are FaceBook account or Your Age.
FaceBook Server Down issues: App issues
Facebook is a large company in the world. So, Facebook is available worldwide. So the company provides CDN service from different servers that are located in different regions. In most cases, Live streaming and Update are stopped when the Services are under maintenance. So you can check the FaceBook Blog update or Server status. For that, you should wait for the Server to get up or fixed. Or try alternate Group Video Calling apps. – WhatsApp Group, FaceTime Group Video, Skype, and more.
Note: The total length of Facebook live video broadcasting is 30 minutes. More help and guidance on this topic were shared with me on the comment.