Last Updated on Aug 27, 2023
On the Mac, sometimes, the Wi-Fi symbol consumes the exclamation mark. When such a situation occurs, it indicates that the Mac system has encountered the error to connect with Wi-Fi, but unfortunately, it doesn't show what causes the Wi-Fi exclamation error on Mac Menu Bar & Wi-Fi Toggle is Greyed Out. In recent times it's one of the most widespread problems, some of the users complain that when they shut down and re-on the Mac, the issue re-generates without featuring the warning sign, and some users say when they open up Mac Pro the status bar on it, shows the exclamation mark over the wi-fi icon.
Unfortunately, it's hard to tell you that troubleshooting the Wi-Fi exclamation point on Mac is tough to solve. As of now, we don't know what causes it. Considering all the possible reasons, we have covered a feasible solution to fix Mac Wi-Fi Won't turn on. So continue reading the article without missing any essential points.
Why Does Wi-Fi Show Exclamation Marks On Mac?
There are various possibilities behind Wi-Fi having an exclamation symbol on Mac. But some common issues are Software related bugs or Wi-Fi not configured on Mac. In some rare cases, it can be due to the hardware related on Mac, takes place due to the random falls and drops. You can get here how to find wifi password on Mac.
Wi-Fi Exclamation Issue Keeps Showing Up On My Mac; what To Do?
Carrying the Mac without the internet is just like a pen without ink. Because without internet access you can't perform daily tasks. So get your Mac machine fixed by performing the troubleshooting guide.
Keep in mind, before performing any of the workarounds, we suggest checking that the Mac is connected with desired Wi-Fi. And also, check the current status of your Internet Data Plan because there is a chance that your plan might expire and remains un-notable to you.
Solution 1: Restart Your Mac
Starting our journey with a basic solution; Restarting Mac! As of now and forever, restarting the Mac is considered to be the effective and efficient workaround to fix Wi-Fi Related Problems On Mac. Don't know how to restart the Mac, simply follow the steps given below.
Click on the Apple Logo > Restart…
After completion of the restart procedure, check whether your Macbook connects to Wi-Fi or not. Some users might still face the issue, in such situations we suggest moving forward to the next procedure.
Solution 2: Delete Wi-Fi Profile And Add Wi-Fi Profile Again
This is a workable solution in most Exclamation Point on WiFI icon at the top Menu bar because Re-add a New Wi-Fi Profile will Reset Network Settings on mac and Replace the corrupted or Missing file quickly and easily to connect to any WiFi around you. So let's just try with this solution.
Remove And Re-Add Wi-Fi Profile On macOS Ventura & Later Version
To Delete Wi-Fi Profile On macOS Ventura & Later Version
1→ Navigate to the Apple Logo > System Settings.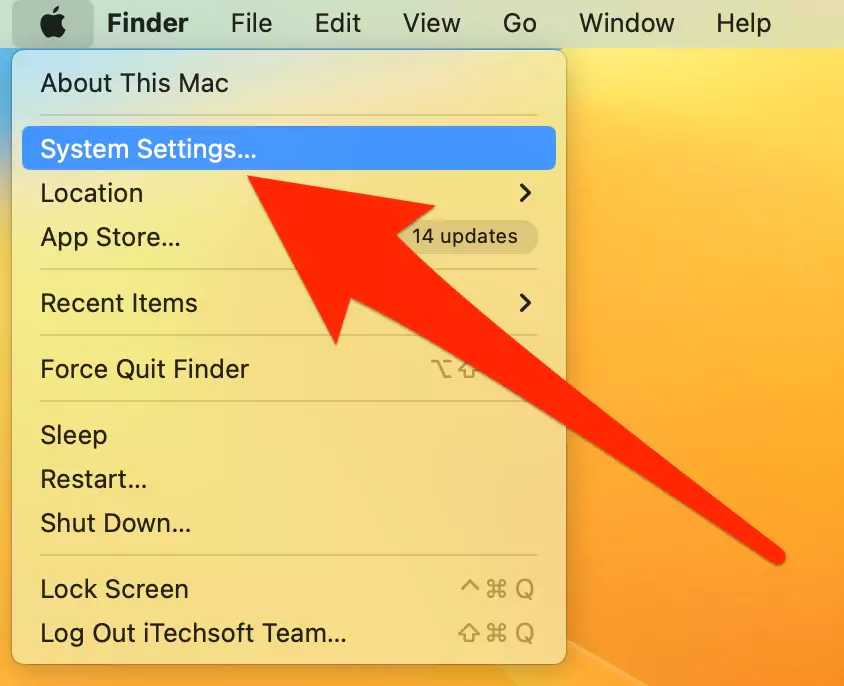 2→ Choose Network > Select Wi-Fi.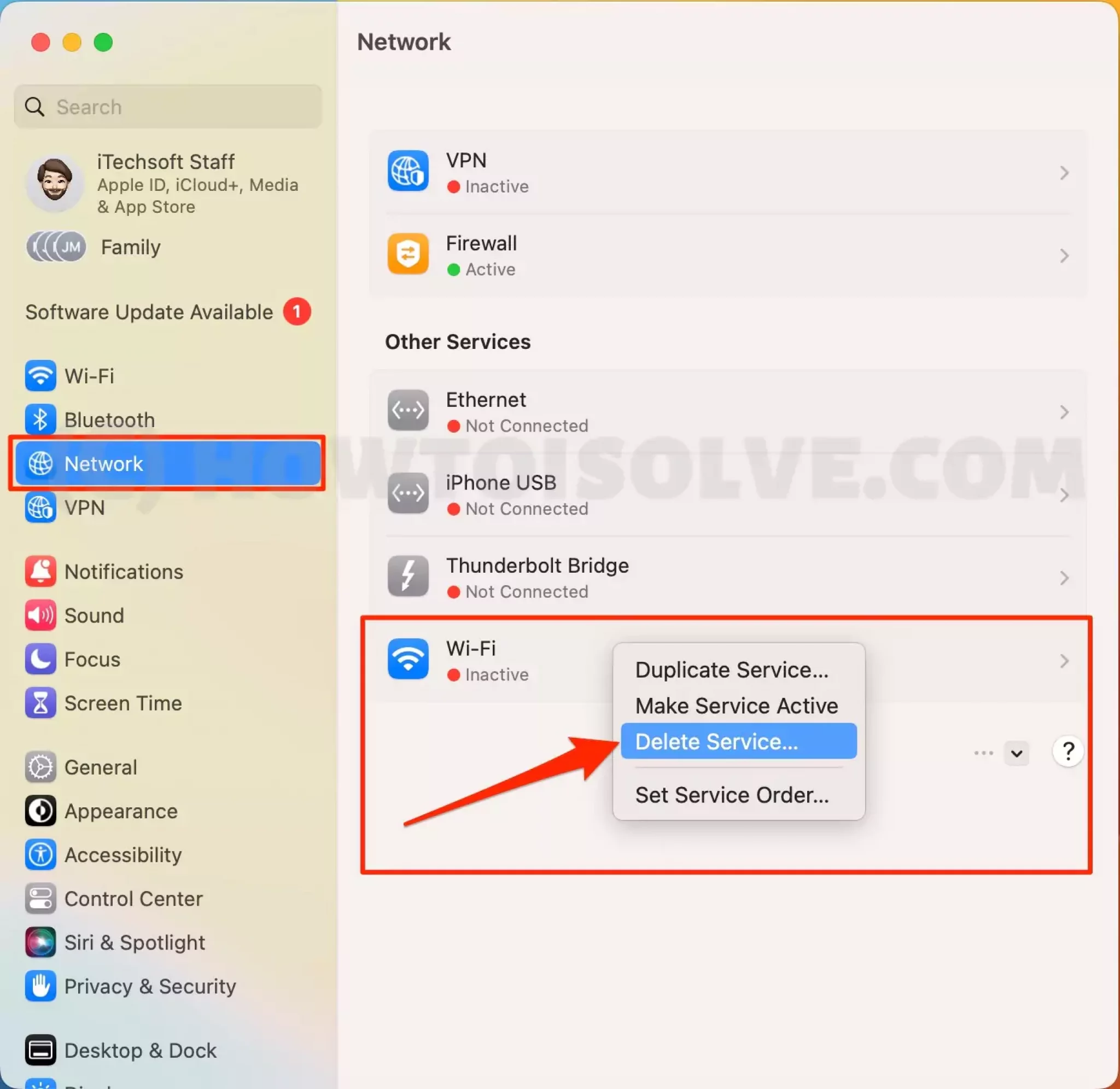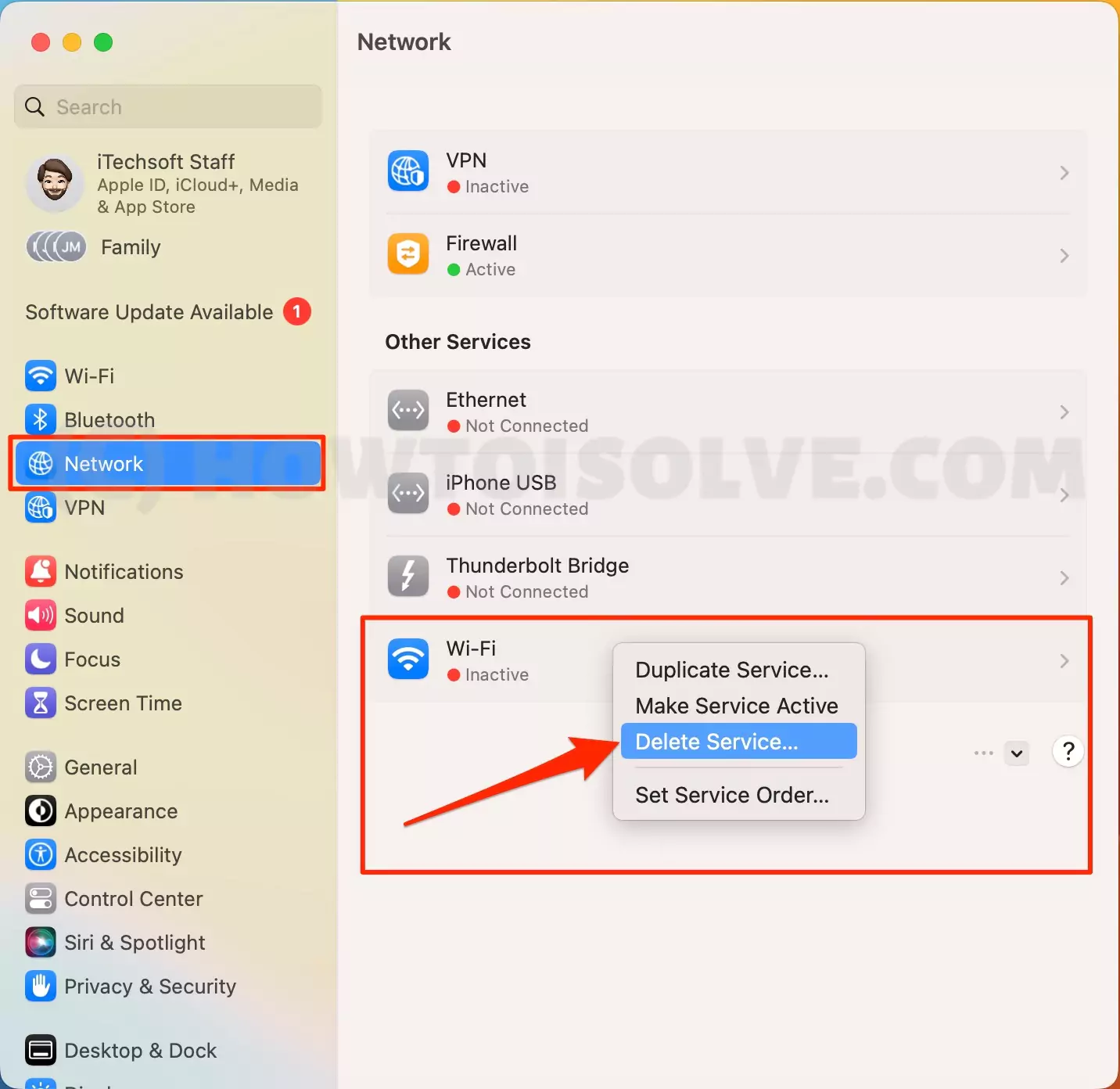 3 → Hit Delete Service > Delete.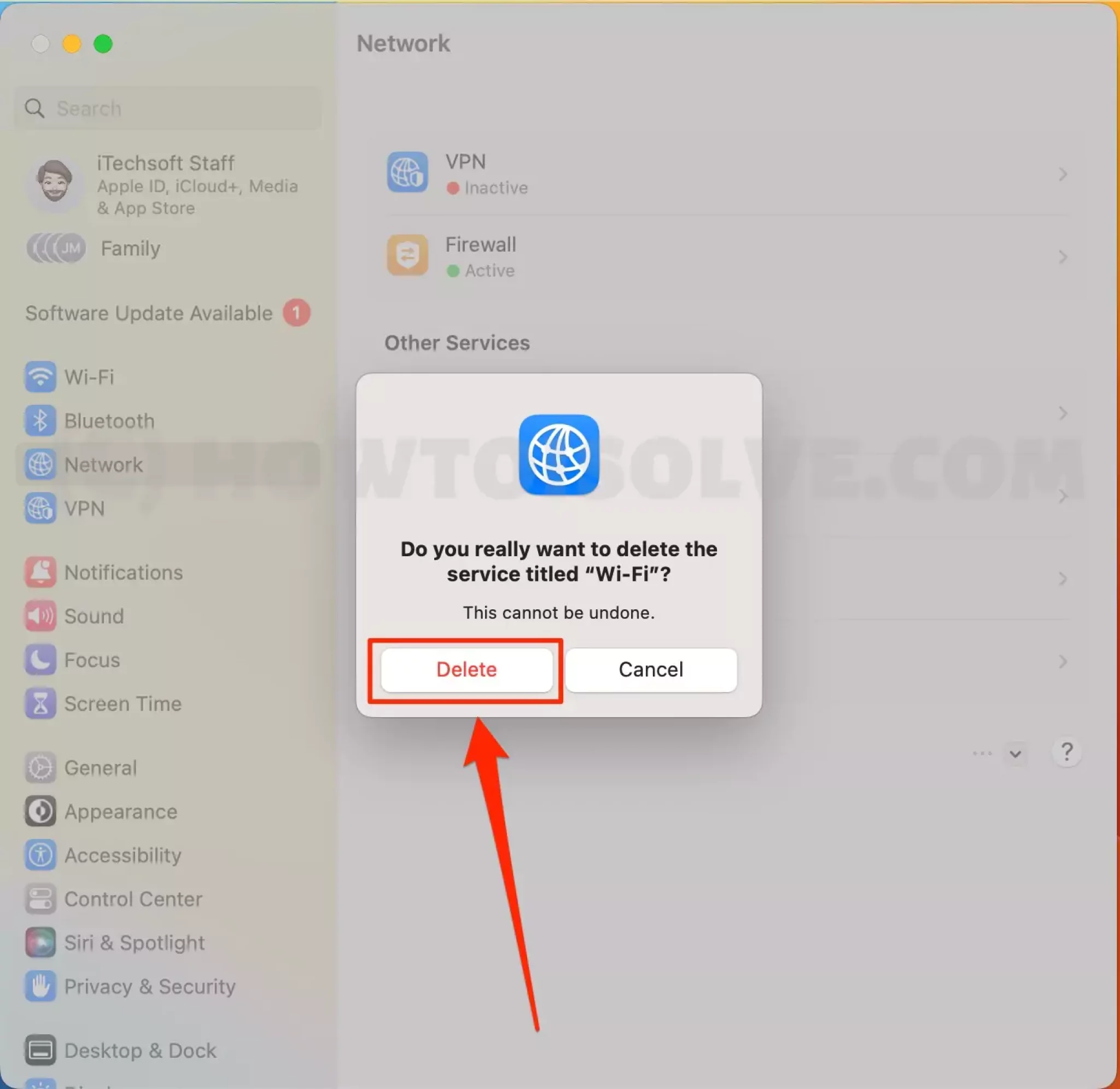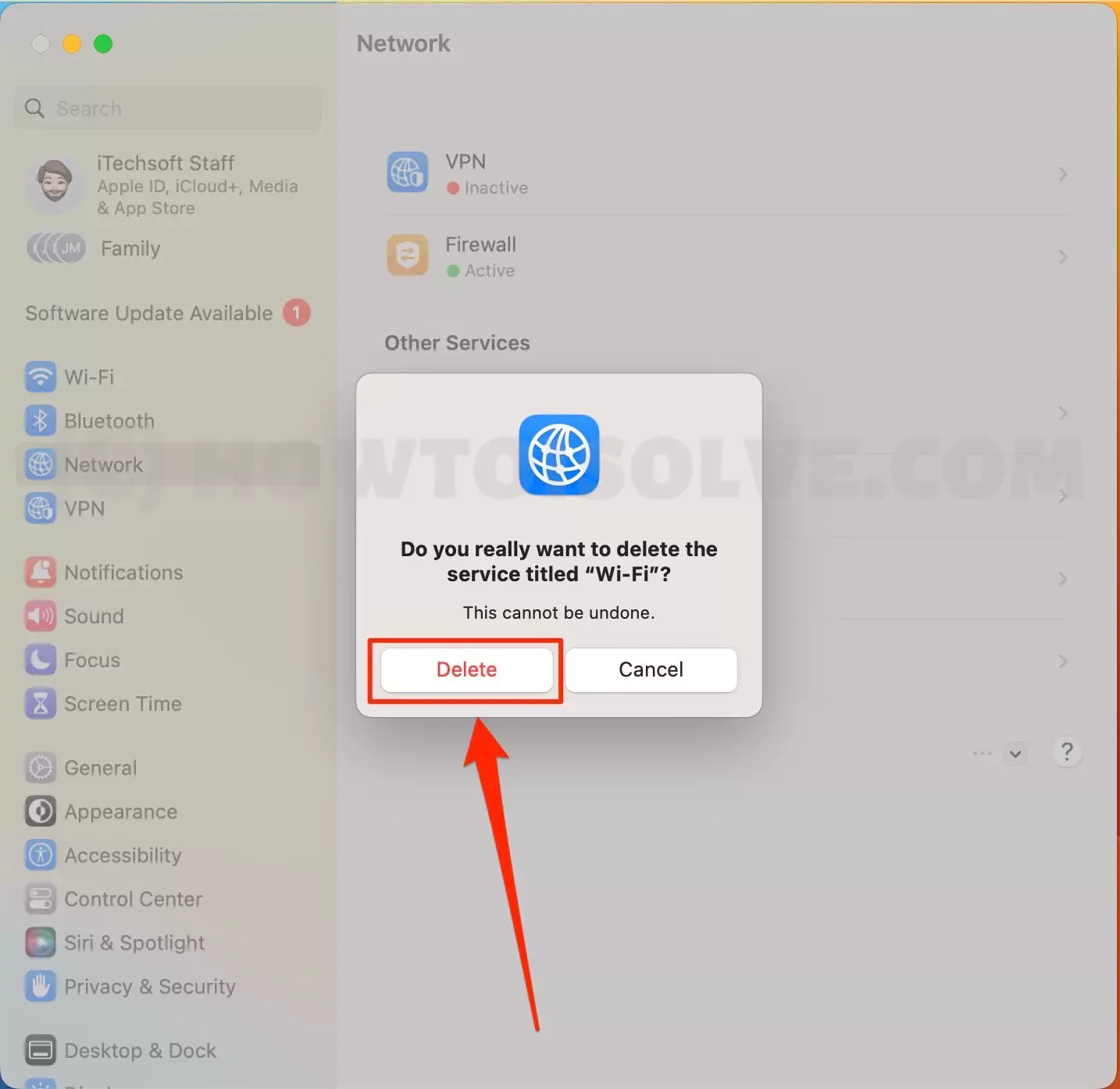 That's it.
To Add Wi-Fi Profile On macOS Ventura & Later Version
1→ Choose the Apple Logo located at the left upper corner > System Settings.
2→ Hit Network > Three-Horizontal Dots > Add Services.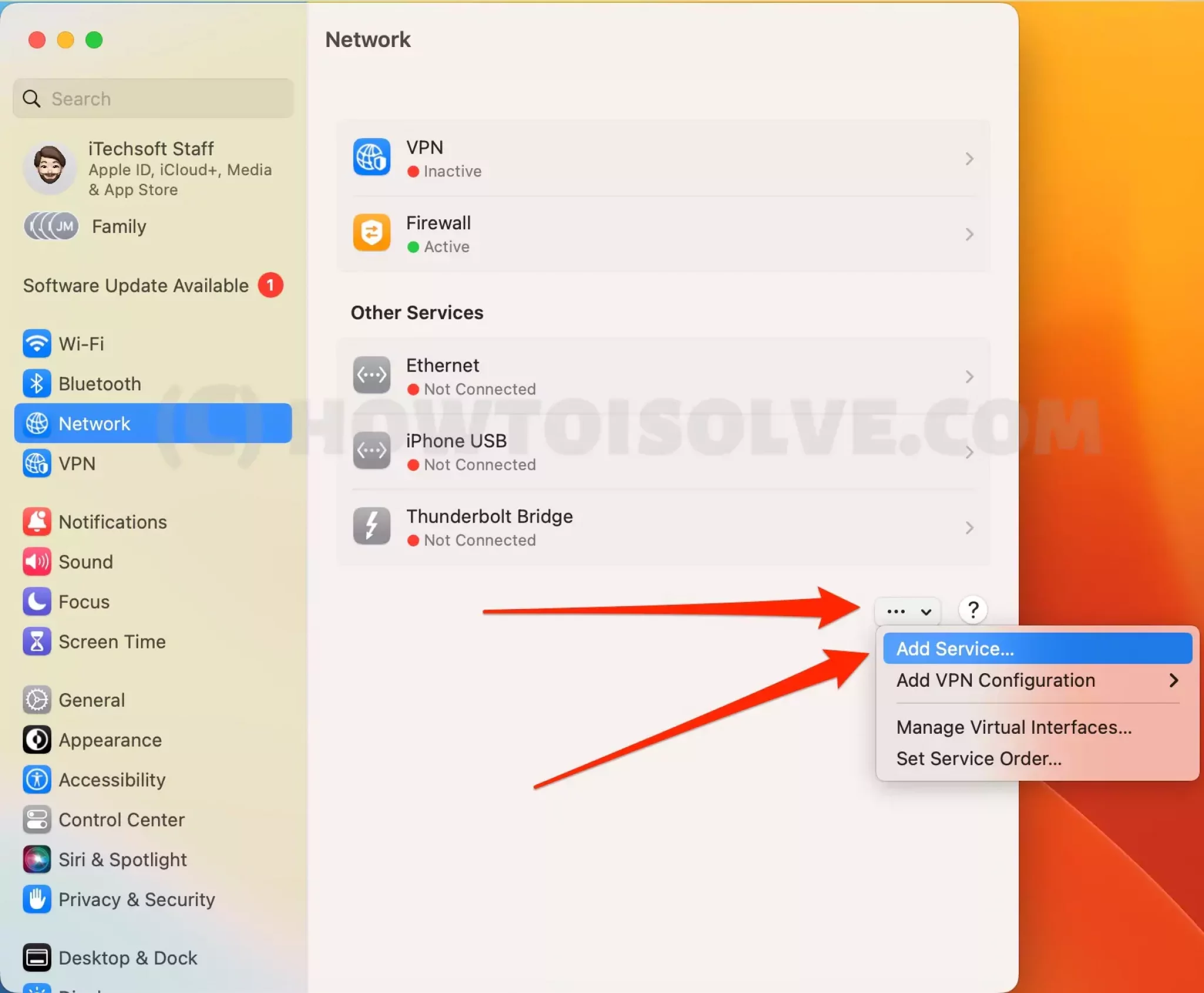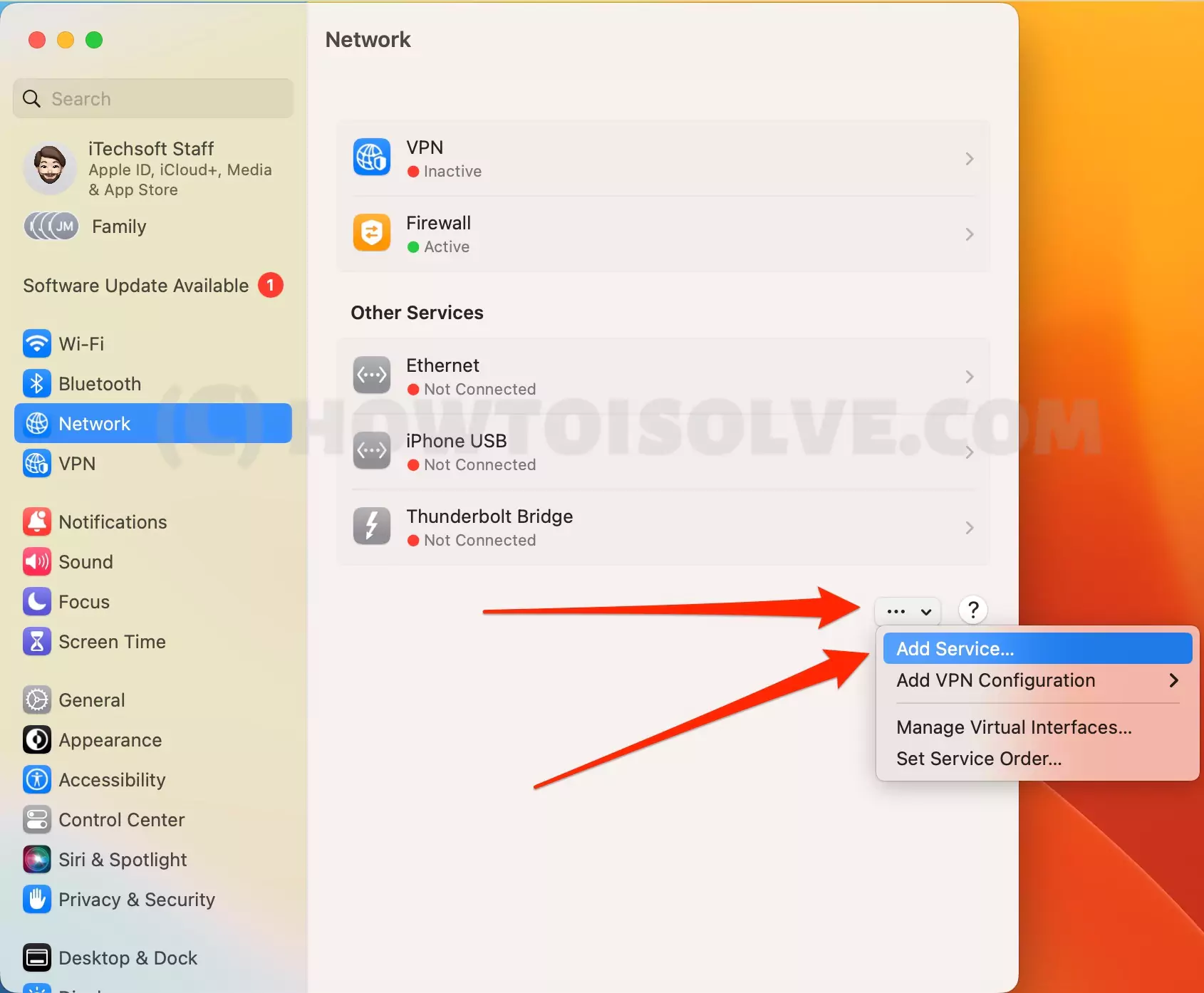 3→ Now Pop-up will be featured saying Select The Interface And Enter A Name For New Service, so select Interface accordingly and enter Service Name, Wi-Fi. Choose to Create.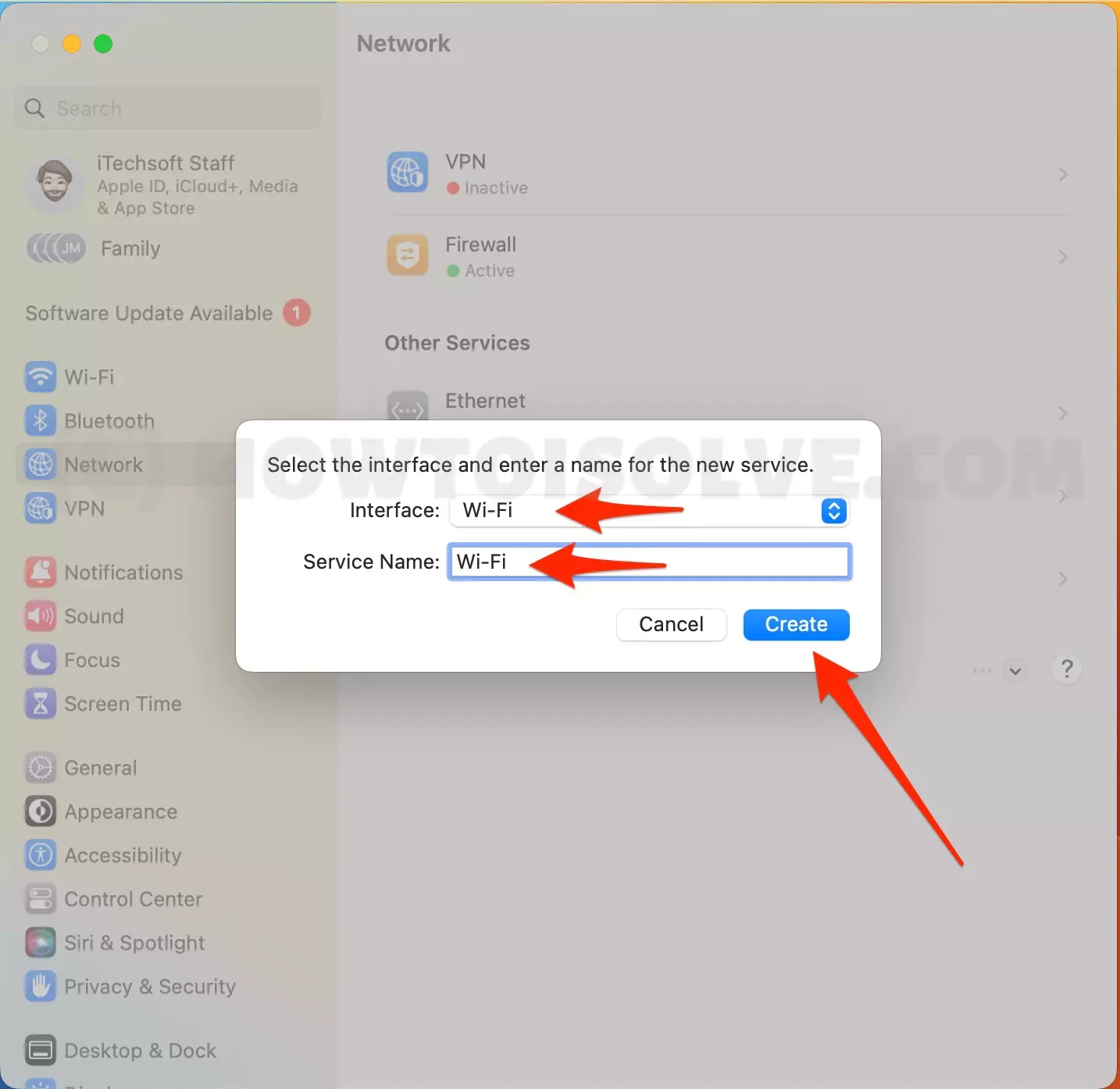 4→ Now, Click on the Added WiFi Profile name and Enable the toggle.
5→ Enable the Wi-Fi toggle, Wait for a few seconds for your Mac to reconfigure the WiFi, Start as Normal. and be ready to join a nearby WiFi network.
Or Use the below terminal command to Reset Wi-Fi Interface, Run both the command in sequence to reset the Wi-Fi interface.
sudo ifconfig en1 down
sudo ifconfig en1 up
OR
sudo ifconfig en0 down
sudo ifconfig en0 up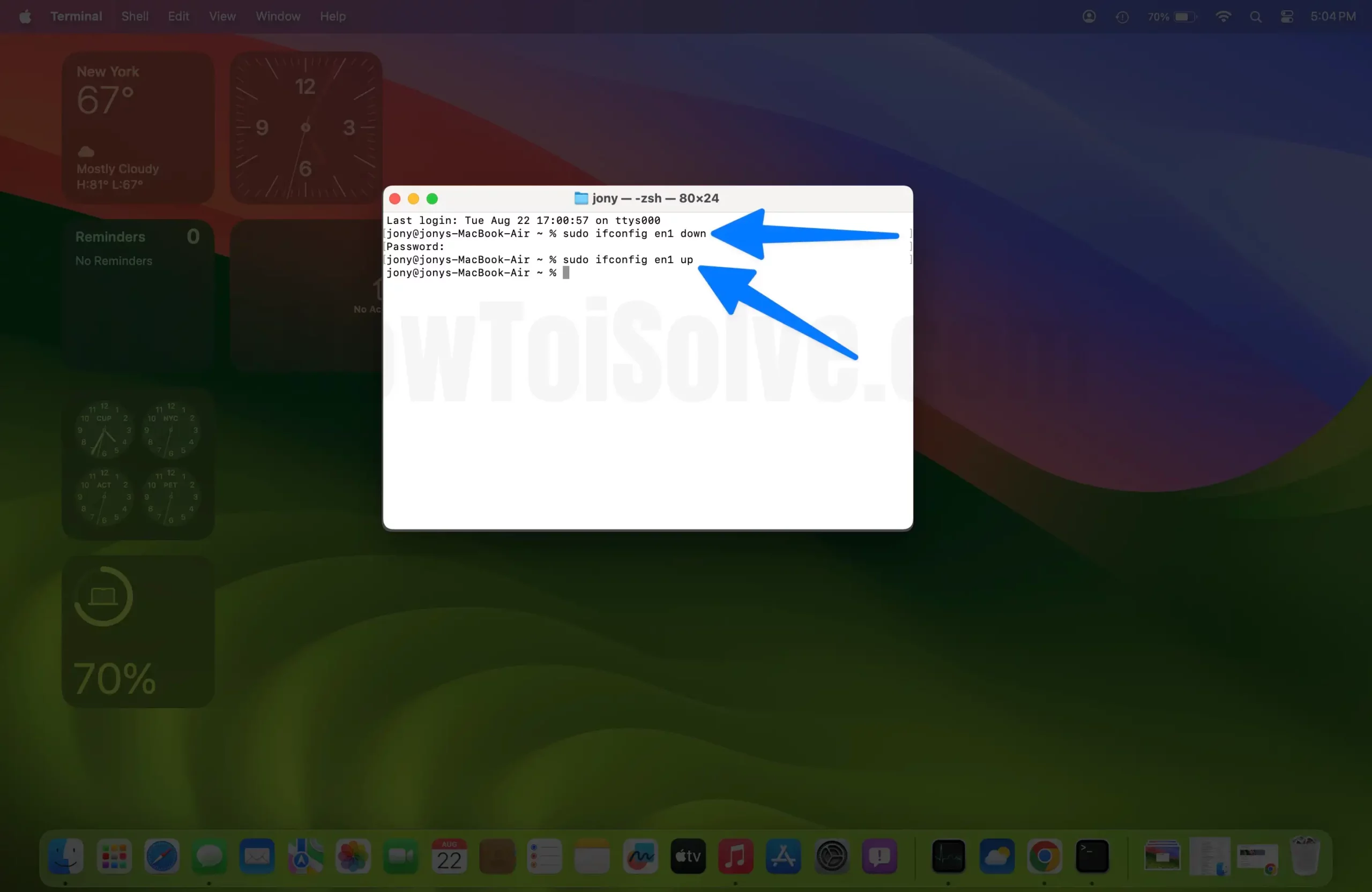 Following the next solutions, if your Mac runs on an older macOS version.
Remove And Re-Add Wi-Fi Profile On macOS Monterey & Earlier Version
To Delete Wi-Fi Profile On macOS Monterey & Earlier Version,
1→ Choose Apple Logo > System Preferences…
2→ Hit Network > Wi-Fi.
3→ Tap on – Minus Icon > Apply.
To Re-Add Wi-Fi Profile On macOS Monterey & Earlier Version,
1→ Select Apple Logo present on the upper left side > System Preferences…
2→ Select Network > + Plus Icon > Wi-Fi.
3→ Doing so, will feature the Pop up featuring Select The Interface And Enter A Name For New Service, so choose Interface accordingly and write Service Name. Select Create.
Most probably this workaround solves the issue and works wonders for many readers. But still if visible again and again; no more worries, simply head to the next workaround.
Solution 3: Recreate WiFi Profile Plist File on Mac
Moving forward in the solution to fix the internet with exclamation point on mac, we have got another troubleshooting step. In which, we have to recreate the Wi-Fi profile Plist file. Here are the steps to do so.
1→ Head to the Finder > Go.
2→ Select Go To Folder.
3→ Write ~/Library > Go.
4→ Head to Preferences > System Configuration.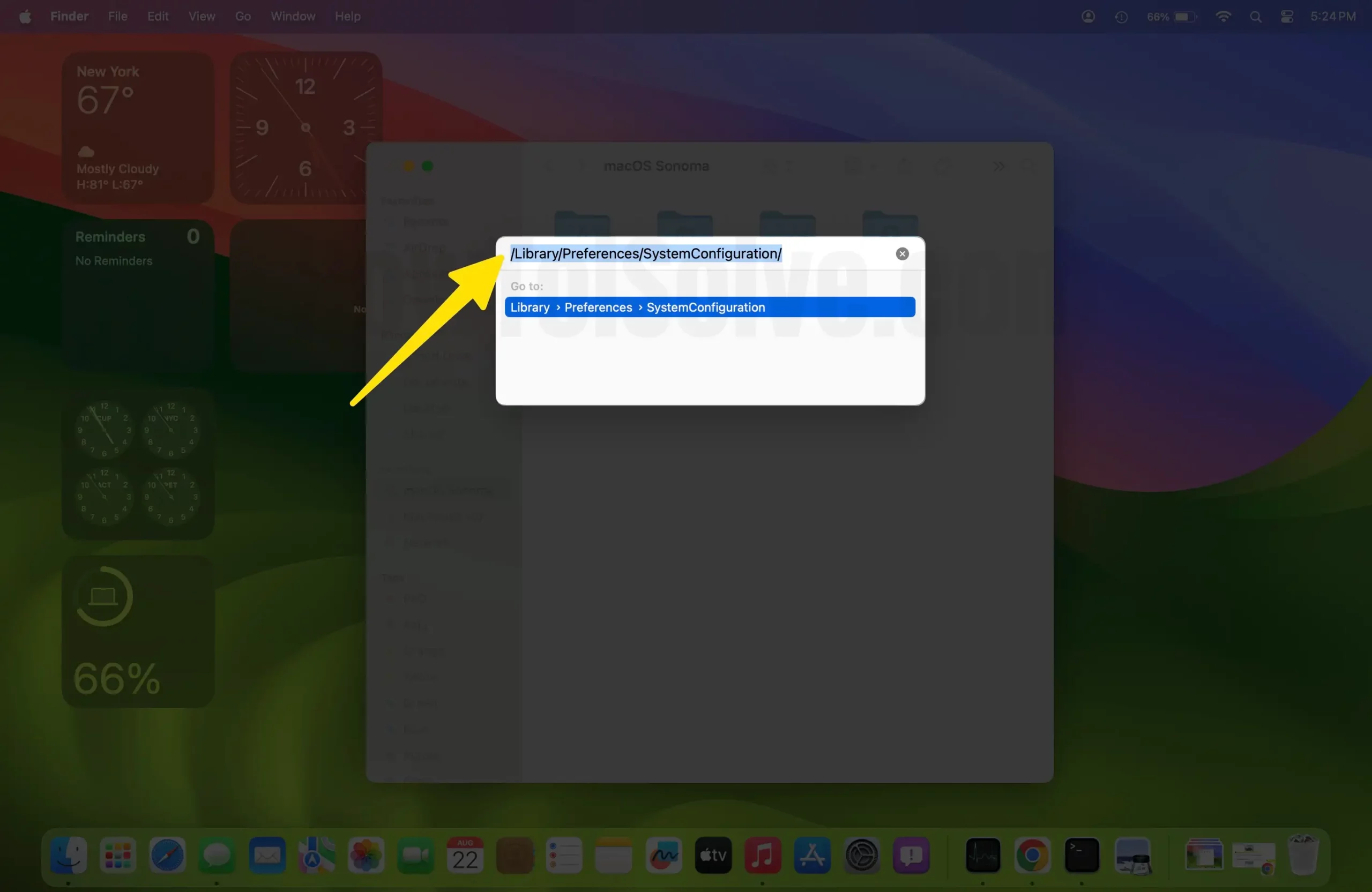 5→ Search for the below-mentioned files and copy them to the desktop
NetworkInterface.plist
preferences.plist
6→ After completion, simply restart the Mac. Doing so will recreate the file and no wifi on Mac might get fixed.
Solution 4: Check Wireless Diagnostics
The pre-installed Wi-Fi troubleshooting steps work great in fixing such an issue. And what's great about this is I have personally fixed the exclamation point on Wi-Fi on my MacBook pro. Without wasting time, follow the given below steps.
1→ Press the Option (⌥) Key and Click on the Wi-Fi icon that appears at the top of the screen in the Status Menu.
Step. 2→ Choose Open Wireless Diagnostics… present in the Drop Down Menu.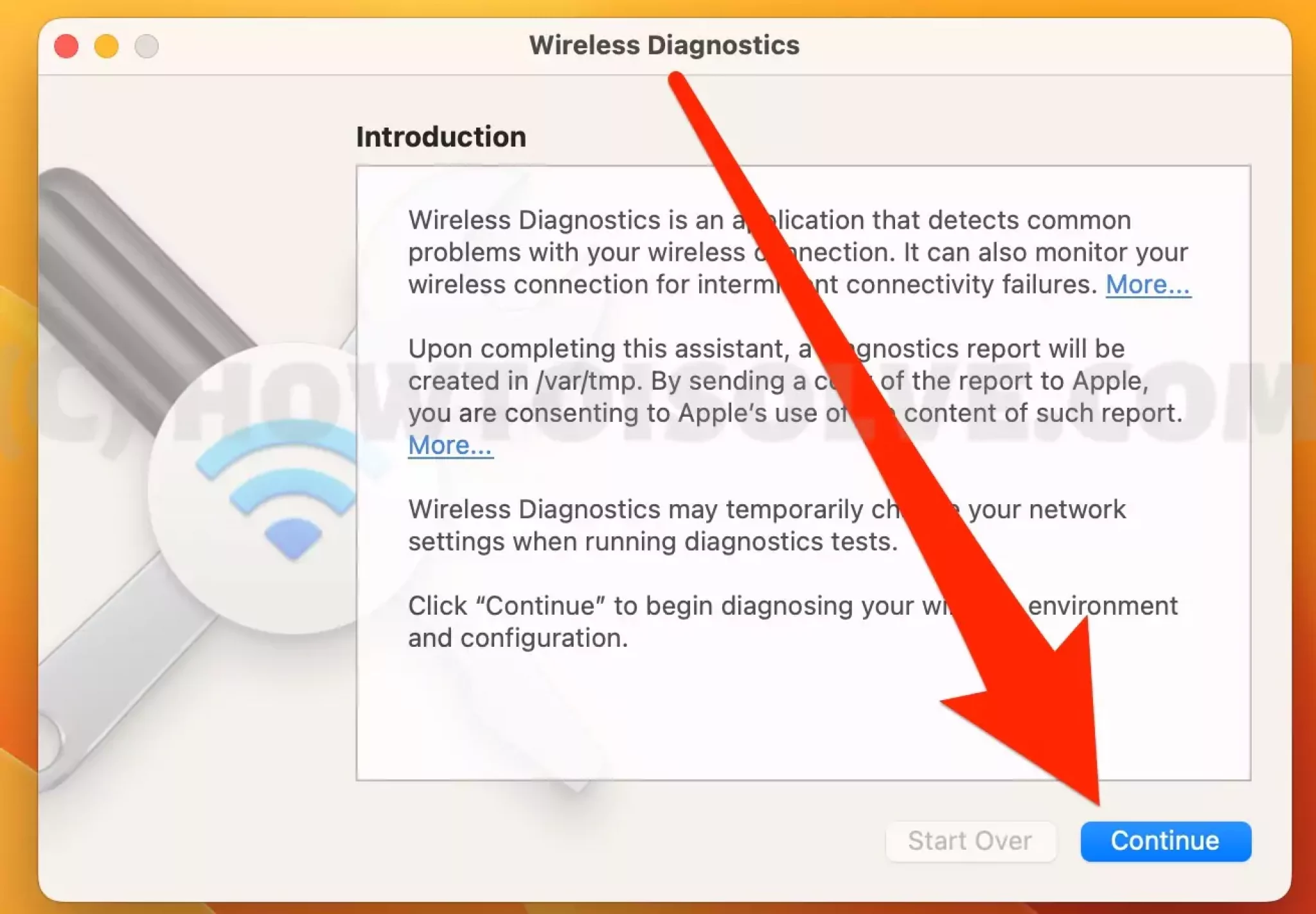 3→ Hit Monitor My Wi-Fi Connection from the Pop-Up menu and choose Continue.
Solution 5: Set A Manual IP Address ( For macOS Monterey & Early Version )
Fortunately, there are different ways to Find an IP Address On Mac. But setting up an IP Address manually, in this case, works better. Keep in mind, that these steps are only for Macs that have macOS Monterey or earlier versions.
1→ Select Apple Logo featured in the upper left corner > System Settings/Preferences.
2→ Click Select WiFi from the left-hand side of the window > Details.
3→ Choose TCP/IP > Now customize the Configure IPv4 option to Using DHCP with Manual Address. After setting the IP Address manually, the rest of the details were automatically filled, Click Ok to Save the changes.
The issue still didn't fix then move forward to the following workaround.
Solution 6: Try Connecting To Another Wi-Fi
To let us know, if that issue lies within the System or Wi-Fi, we suggest connecting the device with an alternate Wi-Fi. If the device didn't connect it confirms that the issue lies within it.
Solution 7: Boot To Safe Mode
Safe Mode is the feature that lets you know the culprit behind the issue. At the same point, it also fixes the issue within the system that leads to the kind of issue like showing an exclamation sign on the Wi-Fi symbol on a Mac. So just let's try this solution!
Steps Of Safe Mode For M1 Chip-Based Mac,
1→ On your device, select Apple Menu > Shut Down. Wait for a while until your Mac shuts down completely.
2→ After the shutdown procedure, press the Power Key until it features Loading Startup Options.
3→ Choose a Volume.
4→ Press the Shift Button, then select Continue In Safe Mode.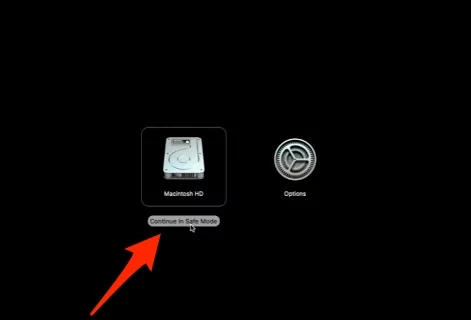 Steps Of Safe Mode For Intel-based Mac,
1→ Enable or Restart your Mac, then instantly press the Shift Button until the screen features the Login Window.
2→ Simply log- into your Mac device. There are chances that you might be asked to log in once again.
3→ After that, select the Safe Boot present Menu Bar featured either in the second or first window.
Solution 8: Reinstall macOS
Even after performing the above-mentioned steps, still, the Mac Wi-Fi's exclamation mark doesn't get fixed, it's time to reinstall macOS. No need to worry about data loss while reinstalling macOS. But for security purposes, it's better to Keep a Backup Of Mac Data.
Solution 9: Check There Is Not Hardware Damage
There are chances where your router might have attended to the hardware damage due to the over-power supply. If you have recently experienced such an issue, it's time to Buy A New Router or else buy External Wi-Fi Adapter because, most probably Wi-Fi Antenna gets damaged. As in this case, your router will not get repaired until and unless it's under a guarantee or warranty period.
Moving forward, in the case of hardware damage, if you have recently experienced the random falls or drops on the Mac, which might ultimately damage the internal part of the device. In such a scenario, it's time to reach the nearest Apple Service Station and ask them for a repair request.
Solution 10: Contact Apple Support!
Now and forever, even after no hardware damage, still your Mac won't connect to the Wi-Fi. It's better to contact the Apple Support team, as they offer a clear view regarding the issue.
KEEP SCROLLING ON THE INTERNET!
We have tried all the best possible solutions to fix the exclamation point on the Wi-Fi symbol. Try performing all these troubleshooting steps and enjoy watching and reading on the Internet.
FAQs
Q. How Do I Fix Exclamation Marks On My Mac Wi-Fi?
The only effective solution to fix this is simply resetting the network settings mentioned above in the troubleshooting steps in Recreate WiFi Profile Plist File On Mac.
Q. What does it mean when Wi-Fi shows with an exclamation mark?
Having exclamation on Wi-Fi means your device is connected with Wi-Fi but some system bugs are causing the issue. Which can be fixed by a bunch of troubleshooting steps like restarting the Mac, removing and re-adding the wifi profile, wireless diagnosis, and many more.
Q. How do you diagnose Wi-Fi on a Mac?
In such a case, there is a built-in option itself in the Mac known as diagnose Wi-Fi, tap on it and see if the issue gets fixed. If not, simply take the support of the Apple Support Team.
Q. Why does My Mac Don't Let Me Turn Wi-Fi On?
As there are various causes of this type of issue, and most probably occurred due to software bugs, and sudden tweaks in the Mac settings. In general, it can be fixed by basic troubleshooting steps like forgetting Wi-Fi and restarting the Mac.